1/8 Inferno MP10T 4X4 Off-Road .21-.28 Nitro Stadium Truck Kit

1/8 Inferno MP10T 4X4 Off-Road .21-.28 Nitro Stadium Truck Kit
Pure-racing Truggy based on the MP10 leaves rivals in the dust!
4WD Chassis Is Based On The 1/8 Scale MP10 Racing Buggy
3mm Thick Aluminum Main Chassis
Battery And Receiver Are Arranged In Separate Radio Box
Fuel Tank Realizes Improved Crash Resistance
Compatible With Most MP10 Optional Parts
1/8 Inferno MP10T 4X4 Off-Road .21-.28 Nitro Stadium Truck Kit
RC Club points earned on this item shown at checkout.
ⓘ
Product Details
In The Box
(1) 1/8 Inferno MP10T
(1) Clear Body
(1) Decal Sheet
Needed to Complete
(1) 2+ Channel Radio System
(2) Standard-Size Servos
(1) Receiver Battery
(1) Battery Charger
(1) 21-28 Class Rear Exhaust Engine (P Shaft Specification)
(1) Muffler Set
(1) Starter Box
(1) Fuel Pump
(4) Wheels And Tires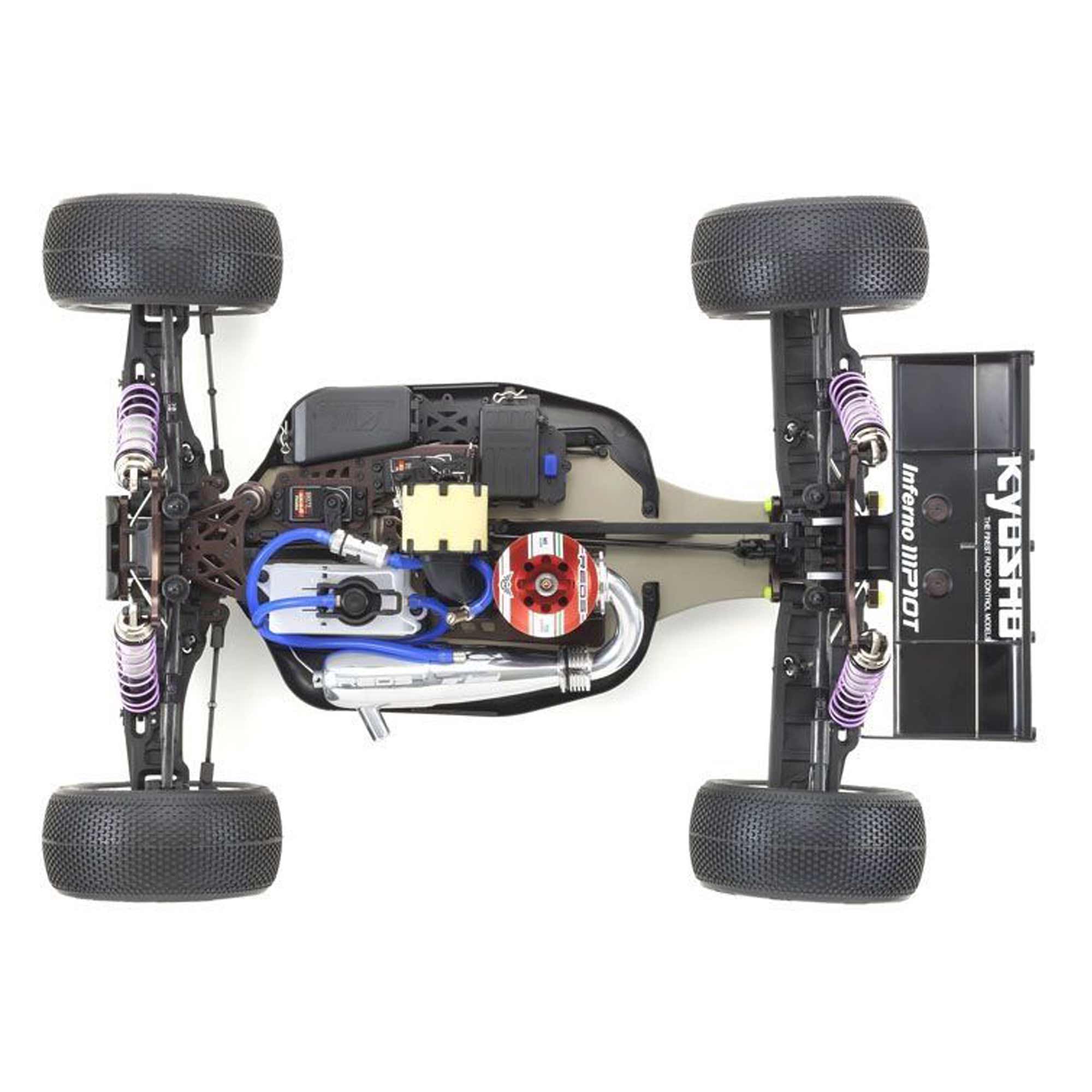 Introduction
The pinnacle of R/C car racing is the IFMAR (International Federation of Model Auto Racing) World Championships. With an unrivaled record of eight championship titles, the INFERNO sets the standard in 1/8 engine buggy racing. Since its release in January 2019, the latest MP10 model has been scorching racetracks around the world. With the MP10 as its base, Kyosho is proud to introduce the pure racing specification MP10T Truggy.
Features
3-diff shaft drive 4WD chassis is based on the 1/8 scale MP10 racing buggy with the most advanced specifications.
Machine cut 3mm thick aluminum main chassis has been hard anodized to produce high strength and durability.
I-arm design on the front upper arm enables easy adjustment of suspension geometry.
Larger φ4.5mm diameter sus shafts deliver both superior durability and reliability.
One-piece clutch bell (lightweight) realizes excellent heat dissipation and response.
Reinforced tie rod ends don't interfere with the inside of the tires when steering is at full throw.
Brake pad features special adhesion between the pad and the plate.
Battery and receiver are arranged in separate radio box to minimize trouble and optimize weight distribution.
Fuel tank realizes improved crash resistance and stable fuel supply.
Newly designed side guard is lighter due to reduced thickness and height.
Wheel nuts with serrated finish on reverse side provide superior wheel security.
Compatible with most MP10 optional parts for upgrading your machine to the next level.
Overview
Representing the latest in off-road racing technology, the Inferno MP10T is a full model change from the previous Inferno ST-RR Evo2. Improved driving performance is complimented by increased reliability and durability for superior endurance racing performance. Maintenance-friendly design features facilitate fast and reliable setup that can be depended on in the pressure of high-intensity racing. Leaving all Truggy rivals behind, the MP10T is the one machine you need to dominate the podium.
1/8 Inferno MP10T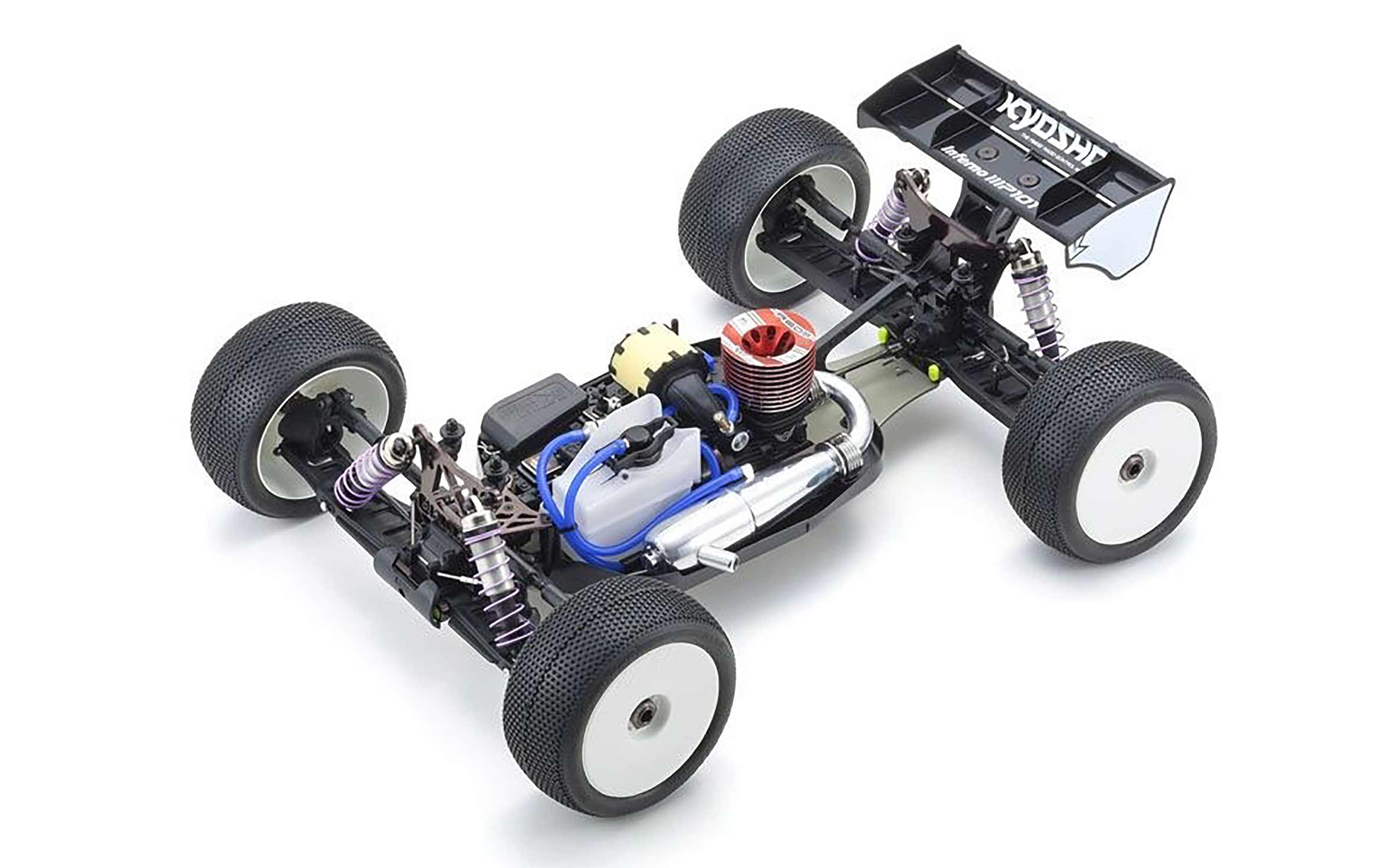 Chassis
Equipment is mounted as far forward on the chassis as possible to rebalance weight distribution for optimal steering control and running performance over rough surfaces.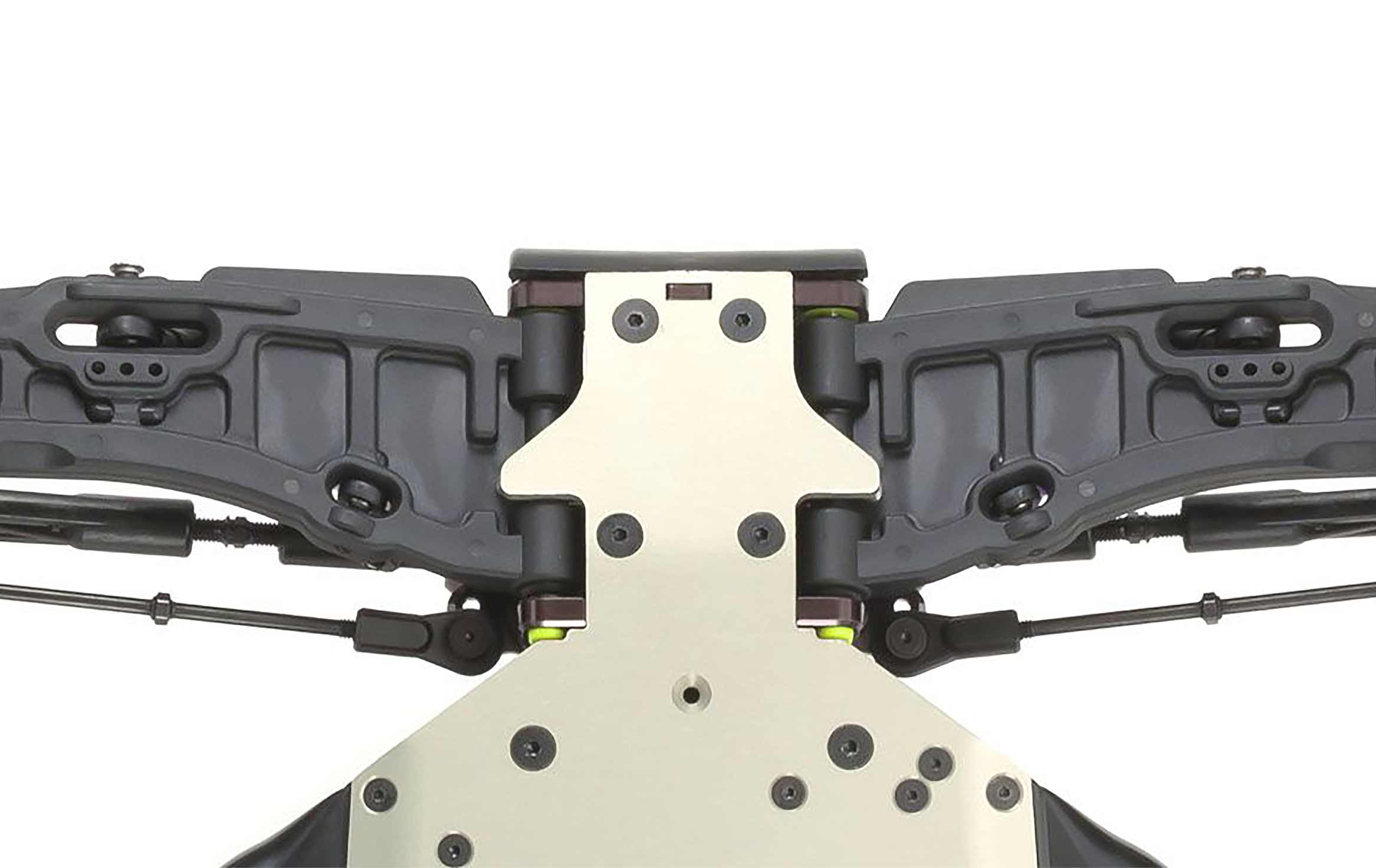 Suspension Arms
Opened sections in the front and rear suspension arms have been made solid to realize increased strength and rigidity as well as preventing dirt build up for easier maintenance. Reinforced sections where the larger diameter sus shafts pass through also improve crash durability.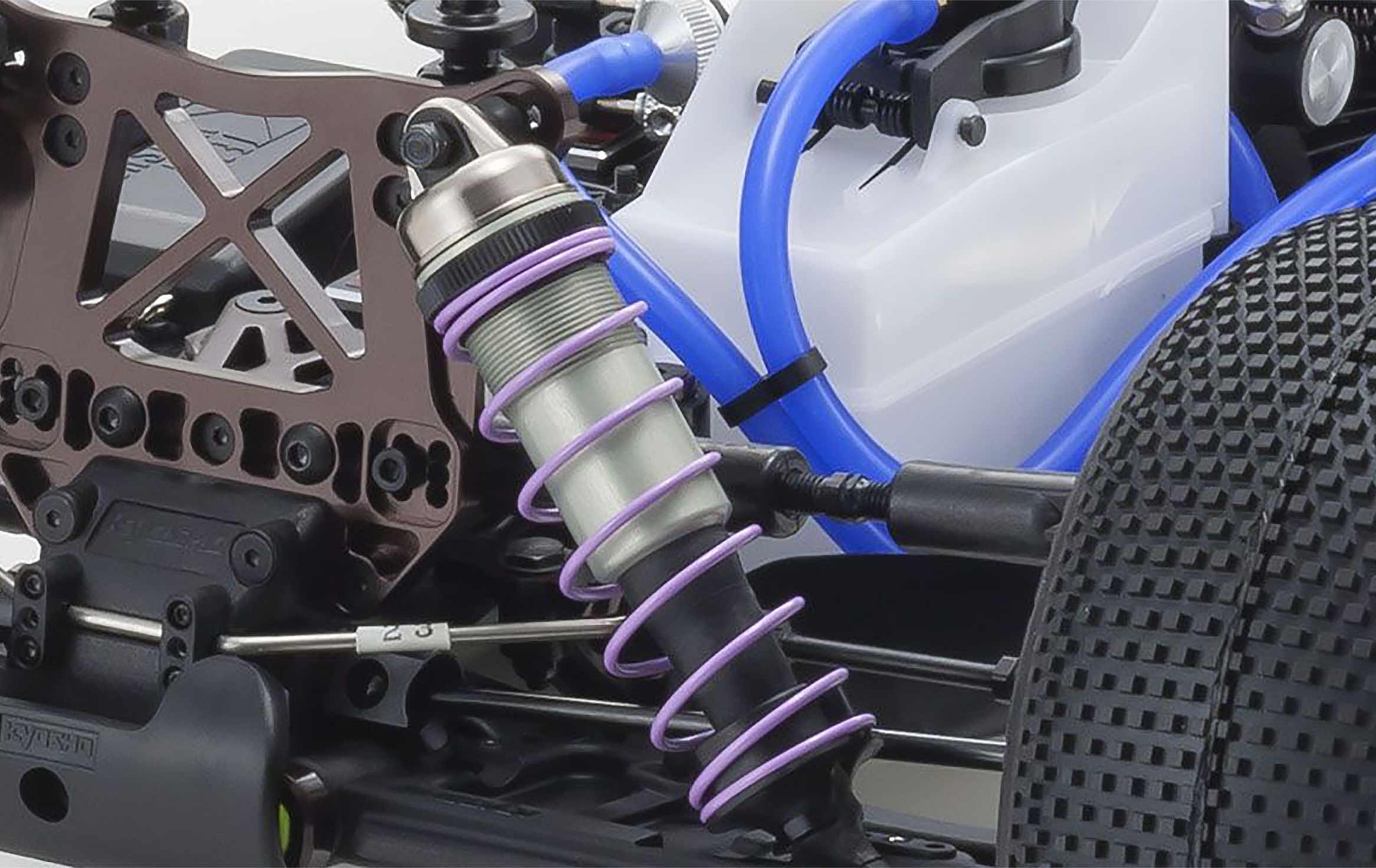 Oil Shocks
Oil shocks based on the MP10 are equipped with the aeration cap set to deliver superior surface tracing over rough roads so you feel the machine grip as it powers forward.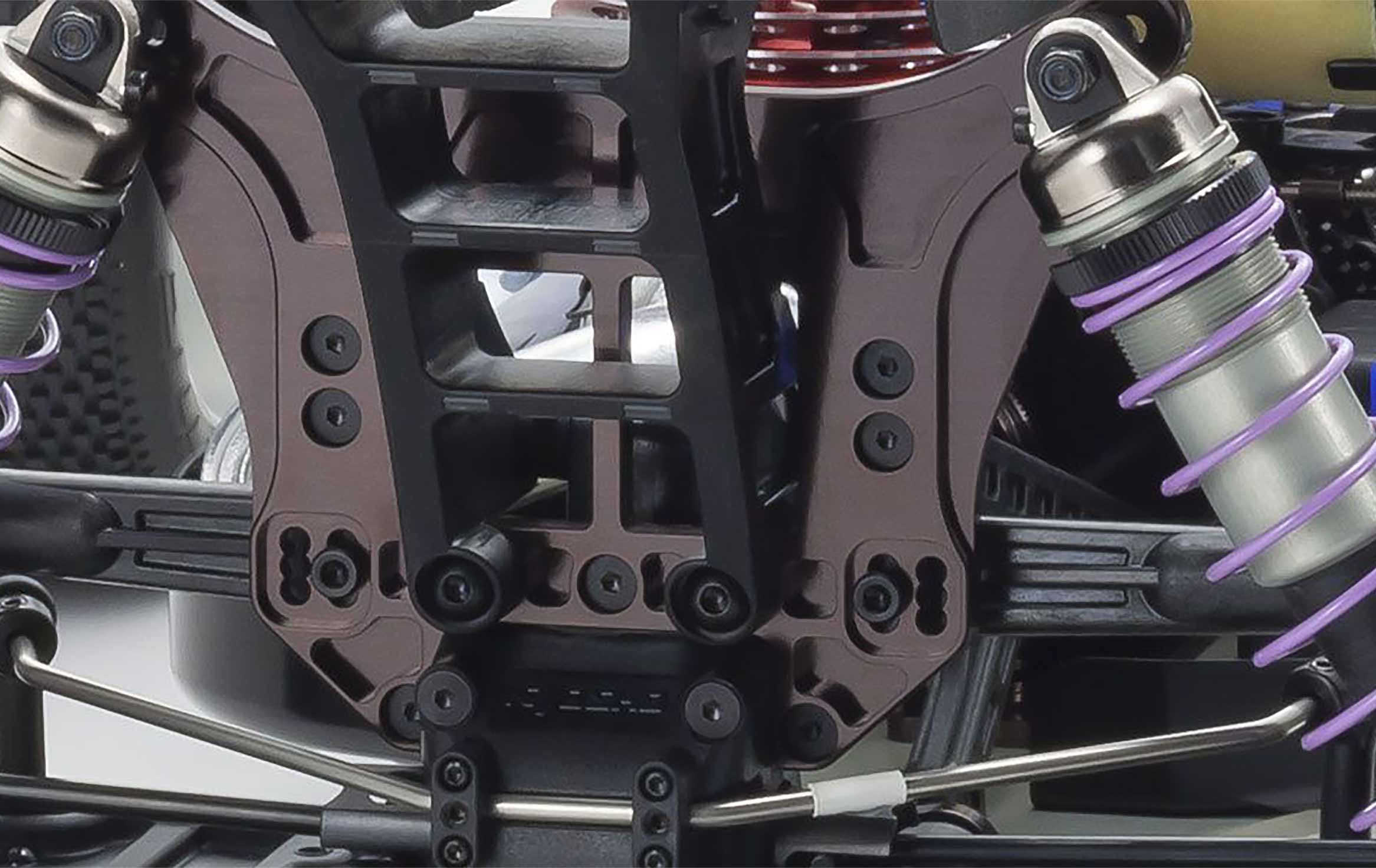 Upper Arms
Shock stay features optimized mounting holes for the shocks and upper arms. In addition, the opened sections on the rear shock stay have been made solid for increased strength and to prevent dirt from catching.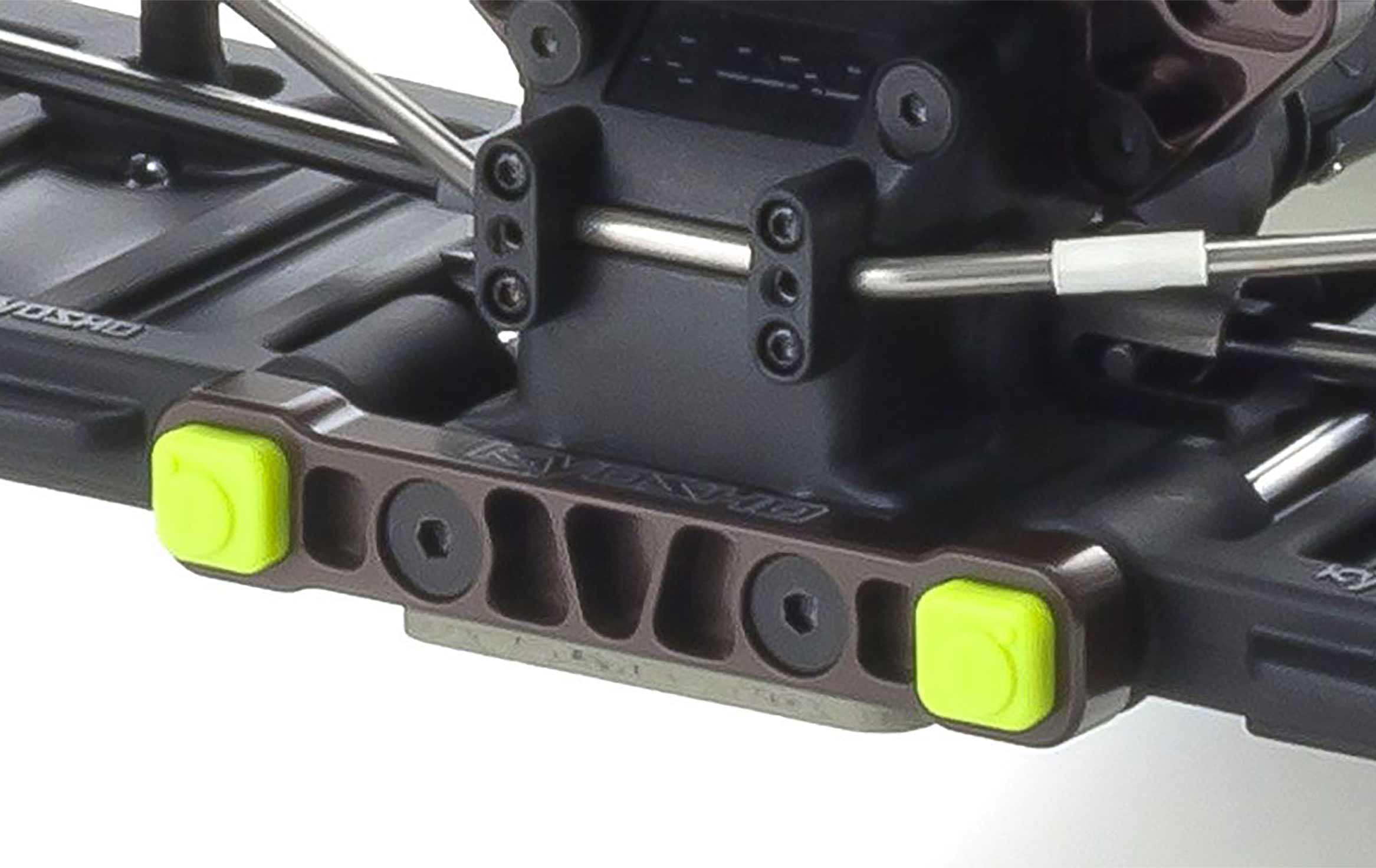 Adjustable Suspension
Suspension geometry can be quickly and easily adjusted with the aluminum suspension holders and sus bushes on front and rear. In addition, the wheelbase can be adjusted to suit course characteristics and your driving style.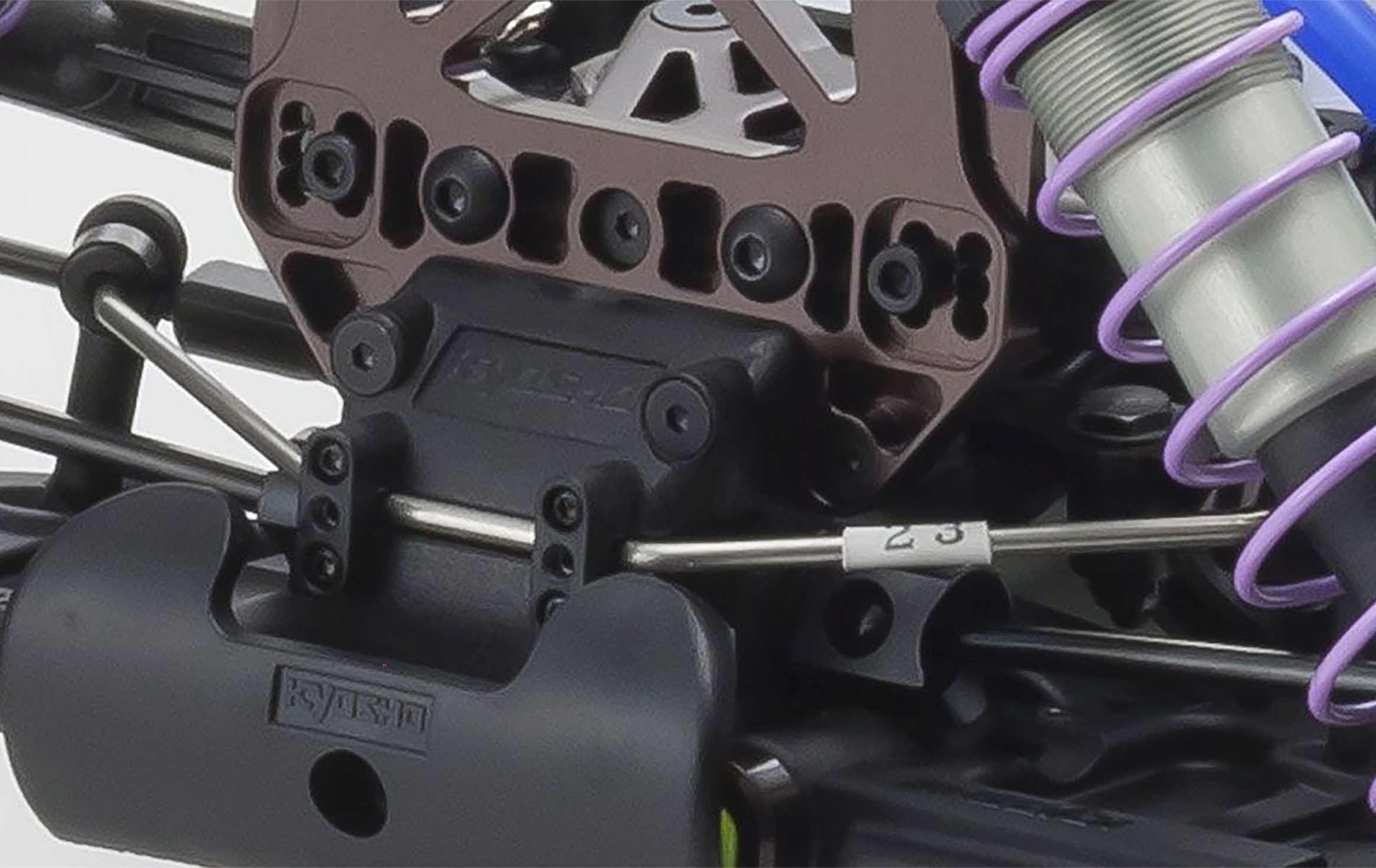 Stabilizers
Stabilizers equipped on front/rear suspension controls the roll of the chassis. Integrated resin parts in the stabilizer link feature two ball ends secured with a setscrew for efficient maintenance.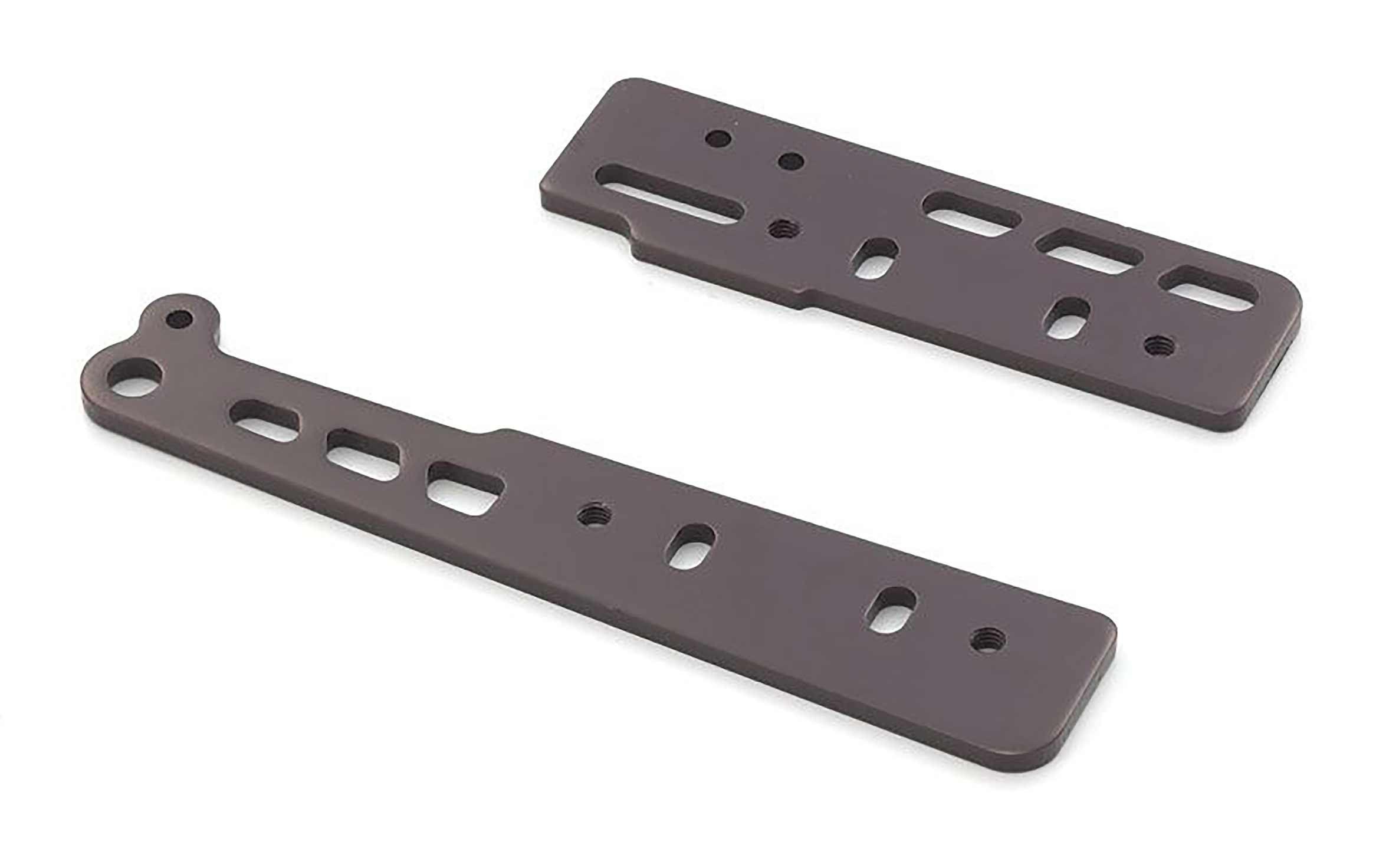 Engine Mount
Engine mount plate minimizes chassis flex through jumps by improving rigidity of the engine mount and chassis pitching characteristics while also protecting the engine block from chassis flex.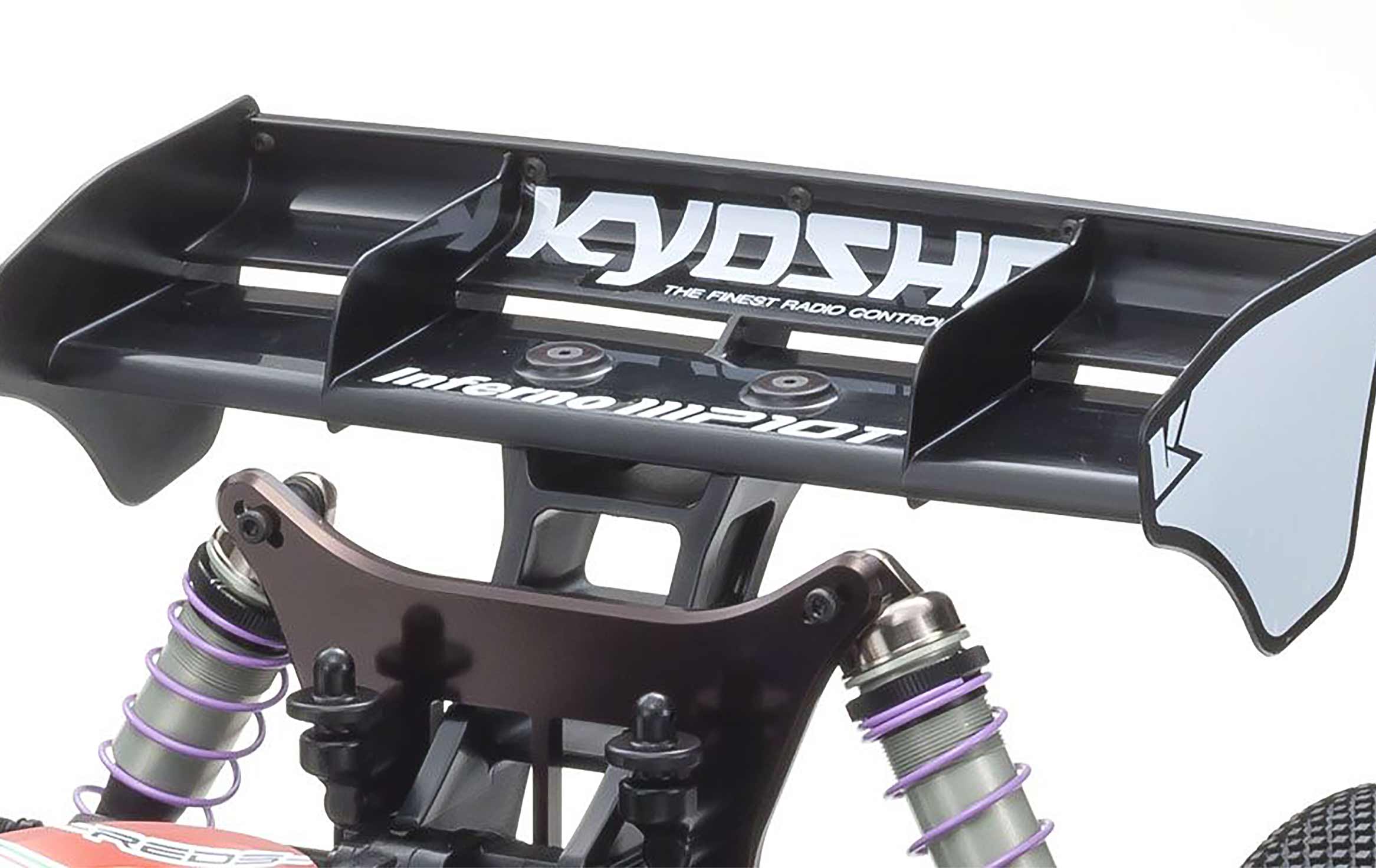 Rear Wing
Rear wing features two vertical fins to enhance stability through jumps. A gurney flap can be attached to the trailing edge for three downforce adjustment settings: without flap/5mm/8mm. Integrated molded resin wing stay produces stable downforce.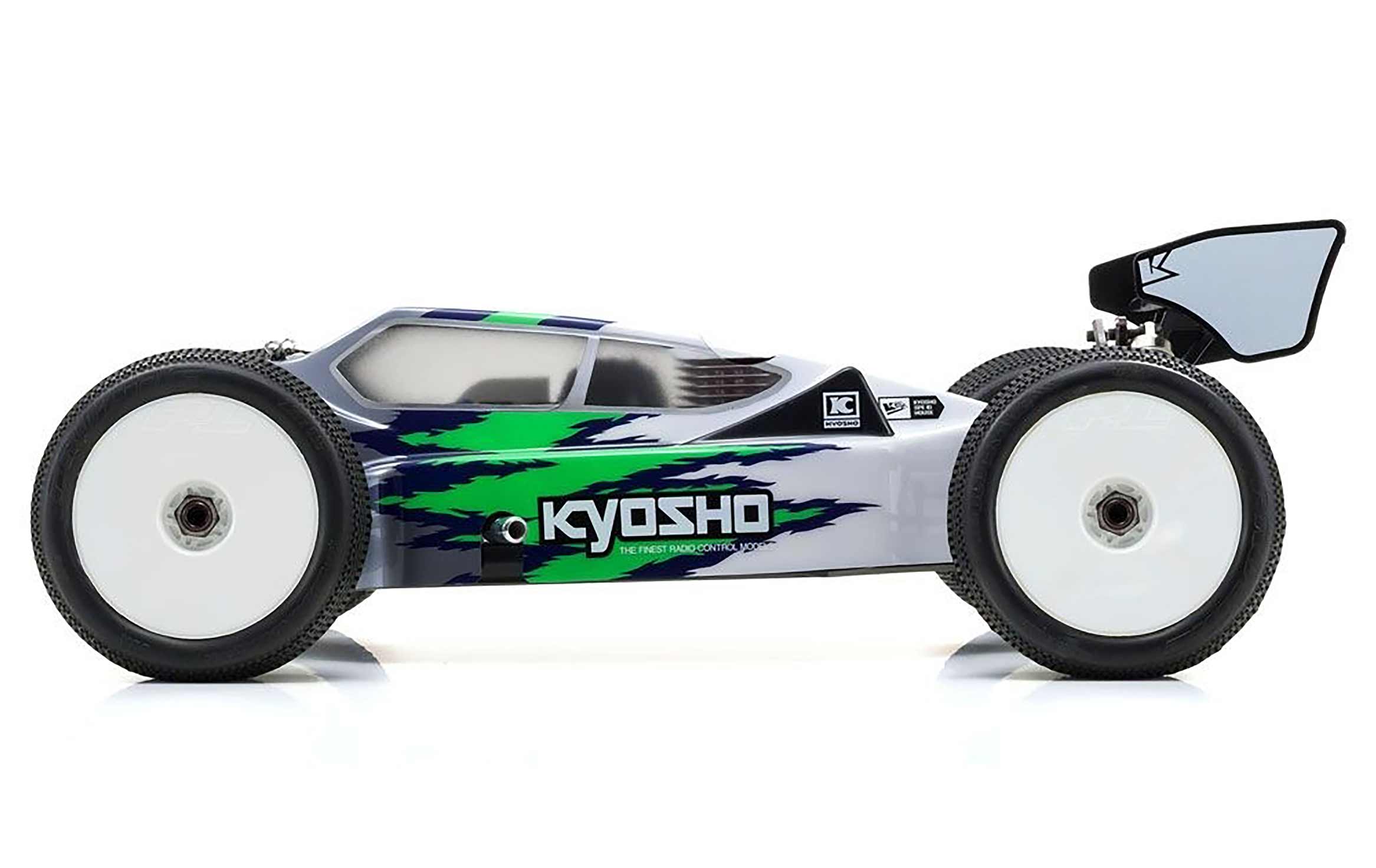 Aerodynamic Body
Aerodynamic body features a compact cabin that narrows towards the rear. Similar to the MP10, wings on trailing edge of the side pontoons also increases rear grip.
Product Specifications
| | |
| --- | --- |
| Wheelbase | 15.1969" (386 mm) |
| Charger | Sold Separately |
| Differential | Gear Diffs |
| Receiver | Sold Separately |
| Shock Type | Oil-filled, Coil-over |
| Servos | Sold Separately |
| Body | Clear Polycarbonate |
| Scale | 1/8 |
| Battery | Sold Separately |
| Gear Ratio | 16.3:1 |
| Motor Size | .21 ~ .28 |
| Product Length | 22.6378" (575 mm) |
| Power Type | Nitro |
| Chassis | Aluminum Chassis |
| Completion Level | Kit |
| Drivetrain | 4WD |
| Product Weight | 3,870g |
| Vehicle Type | Truggy |
| Vehicle Size | Standard |
| Product Width | 16.8504" (428 mm) |
| Radio | Sold Separately |
| Steering Type | 2WS |