Backorder
|
Next Shipment June 2023

1/8 Inferno MP10 TKI2 4WD Nitro Buggy Kit
Backorder
|
Next Shipment June 2023

1/8 Inferno MP10 TKI2 4WD Nitro Buggy Kit
MP10 evolves with even greater performance for racing battle for the never-ending pursuit of victory.
Revised Reduction Ratio Delivers Improved Maneuverability
Features A Combination Of Newly Designed Components
Race-Proven Optional Parts Included As Standard
Front And Rear Oil Shocks Promise Excellent Handling Stability
Uniquely Designed Body Incorporates The Latest Aerodynamic Technology
1/8 Inferno MP10 TKI2 4WD Nitro Buggy Kit
Earn
points on this item
ⓘ
Product Details
In The Box
(1) Inferno MP10 TKI2 4WD Nitro Buggy Kit
(1) Clear Body
(1) Decal Sheet
(1) Window Mask Sheet
(1) Fuel Tube
(4) Wheels
Needed to Complete
(1) 2+ Channel Radio System
(1) Receiver Battery
(1) Battery Charger
(1) 21-28 Class Rear Exhaust Engine
(1) Muffler Set
(1) Starter Box
(1) Glow Igniter
(4) Tires With Foam Inserts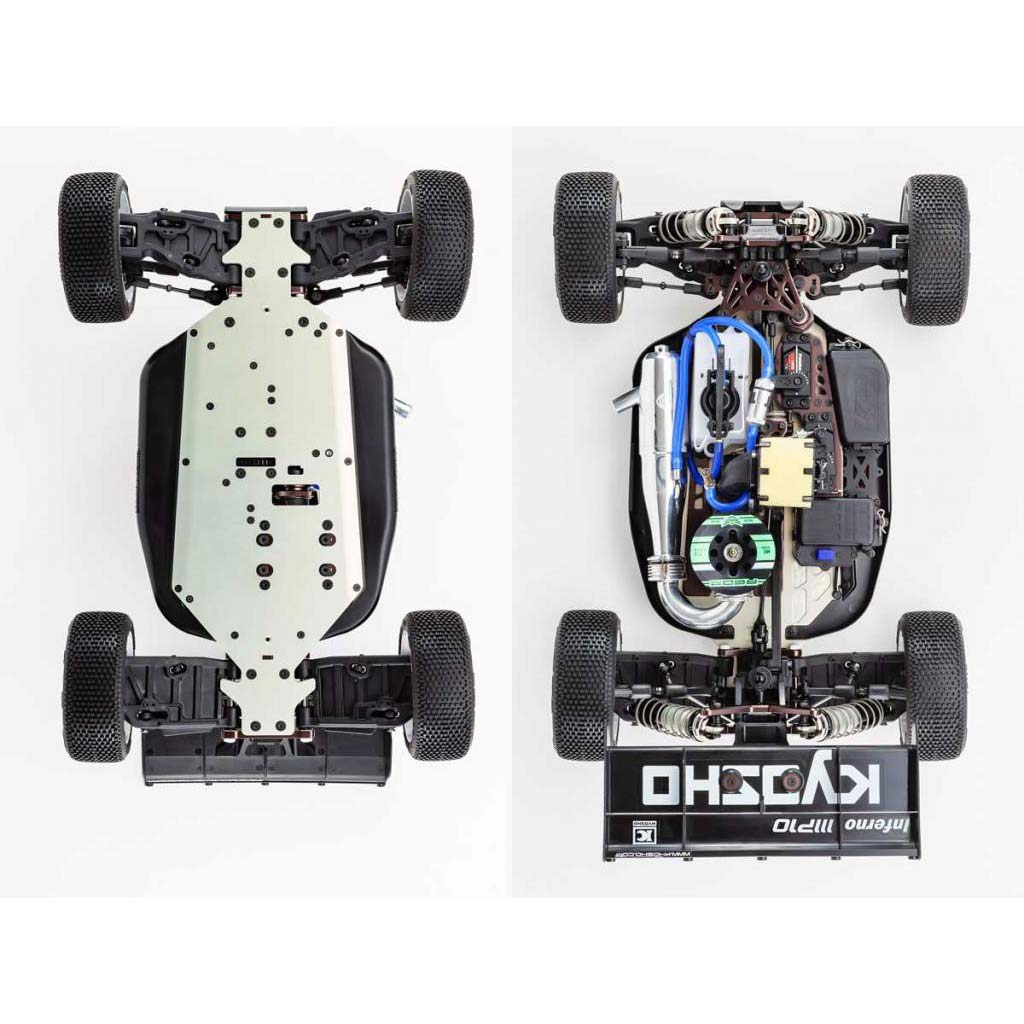 Introduction
For many years the MP9 was at the pinnacle of 1/8 engine racing buggies. Having inherited that DNA, the MP10 embodies new generation re-engineering across the machine with the TKI2 model representing this continued evolution to write another chapter in the storied history of the Inferno series. About 1 year has passed since the release of the Inferno MP10. Based on rigorous test data from actual racing, the TKI2 has been modified to fine-tune performance improvement. Front and rear shock stays have been lengthened together with the actual shocks to improve convergence, especially from jumps to landings. In addition to reinforced shock caps and pistons equipped with 5 x φ1.5 holes as standard (previously optional), improvements to various other parts have enhanced the performance across the chassis. A completely new body design improves aerodynamics for sharper handling characteristics. Of course body selection is a setting option, so the previous body design can also deliver optimal performance depending on course conditions. With a combination of newly designed components and race-proven optional parts included as standard, the new TKI2 promises world-class performance that will exceed expectations.
Features
This model represents the continuous evolution of the Inferno MP10 built on its racing achievements around the world
Revised reduction ratio delivers improved maneuverability from the proven speed and reliability of the inherited shaft-driven 4WD system
Broad ranging modifications have greatly improve handling characteristics
Lengthened diaphragm-type front and rear oil shocks promise excellent handling stability
Addition of collar between the steering rod and knuckle arm optimize bump steer characteristics
Uniquely designed body incorporates the latest aerodynamic technology
Competition-level model features a combination of newly designed components and race-proven optional parts included as standard
Video Overview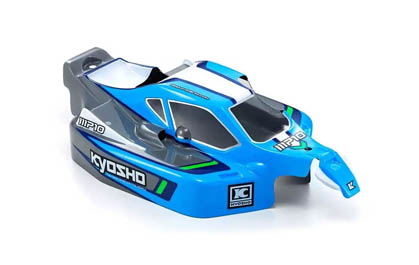 MP10 Body
The body takes the high-level aerodynamic characteristics of the MP10 body in a more aggressive direction. The feeling of lightness through the corners is enhanced, which greatly contributes to faster lap times, especially on more technical circuits.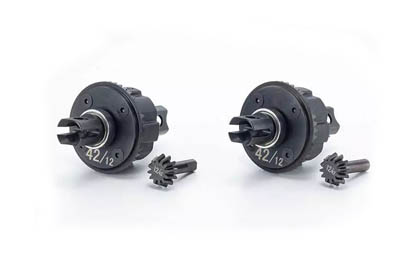 Pinion Gears
Revised gearing results in changes to the teeth of the ring and pinion gears to reduce the secondary reduction ratio from the MP10's 3.31:1 to the TKI2's 3.5:1. This delivers improved acceleration characteristics and response to the driver's throttle inputs for superior maneuverability.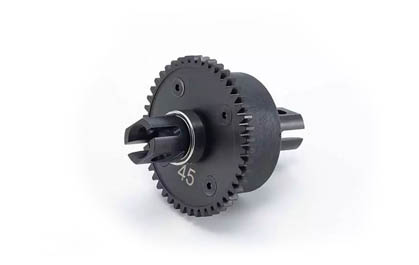 Reduction Ratio
With changes to the reduction ratio, the standard 46T spur gear in the MP10 kit has been changed to 45T. The final reduction ratio is 12.1:1, which places a greater emphasis on acceleration and achieves improved pickup. Different gear settings are also available with optional parts.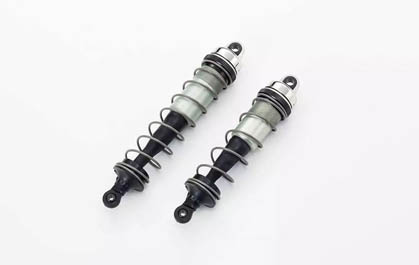 Shocks
The front and rear shocks are 3mm longer than the standard MP10 with 4mm longer front shafts and 3mm longer rear shafts. Springs have been lengthened accordingly. Front length of 78 mm and the rear length of 95 mm provide superior shock absorption through the full suspension stroke.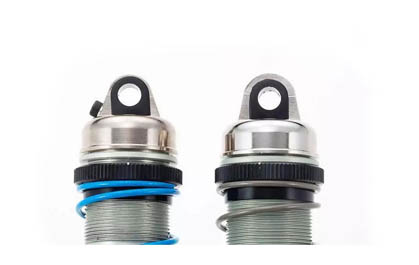 Shock Caps
Increased wall thickness reinforces shock caps and ball housing dramatically improves strength. The shock cap is specific for a diaphragm shock set up and guarantees stable damping force even through endurance races.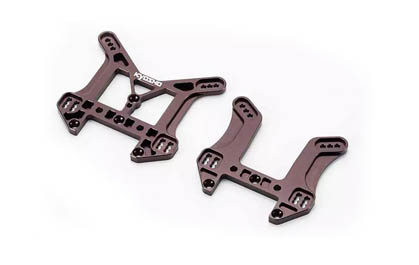 Shock Towers
In combination with the longer shocks, the preiously optional shock towers are now equipped as standard and provide optimimal mounting positions. Suspension stroke can be increased for improved stability and running performance over bumpy tracks and large jumps.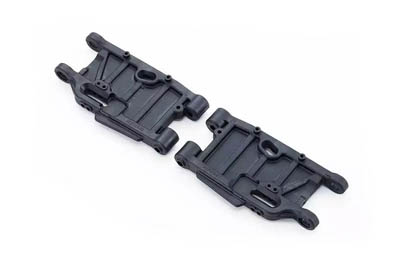 Rear A-arms
Rear arm shape has been modified for the longer shocks to prevent interference with the spring retainer when the suspension is at full droop. This provides optimal suspension stroke.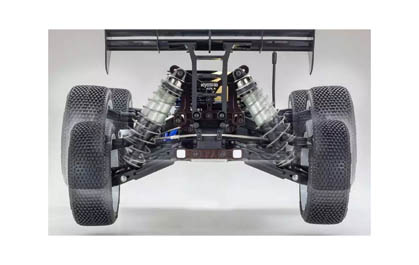 Optimal Droop
With the longer rear shocks, towers, and revised rear arms, optimal droop is acheived, providing a smoother feel on rough tracks and large jumps.
Product Specifications
| | |
| --- | --- |
| Power Type | Nitro |
| Servos | Sold Separately |
| Scale | 1/8 |
| Charger | Sold Separately |
| Shock Type | Oil-Filled, Coil-Over |
| Battery | Sold Separately |
| Gear Ratio | 12.1:1 |
| Ground Clearance | 28mm |
| Product Length | 19.2913" (490 mm) |
| Steering Type | 2WS |
| Wheelbase | 12.7953" (325 mm) |
| Vehicle Size | Standard |
| Product Width | 12.0866" (307 mm) |
| Product Weight | 3,360g |
| Vehicle Type | Buggy |
| Completion Level | Kit |
| Drivetrain | 4WD |
| Product Height | 7.08661" (180 mm) |