Backorder
|
Next Shipment July 2023

1/8 HONDA NSR500 Hang On Racer Electric Motorcycle Kit
Backorder
|
Next Shipment July 2023

1/8 HONDA NSR500 Hang On Racer Electric Motorcycle Kit
1/8 HONDA NSR500 Hang On Racer Electric Motorcycle Kit
Earn
points on this item
ⓘ
Product Details
Features
Recreation of the Honda NSR500 that competed in the 1991 Road Racing World Championship Grand Prix (WGP) 500cc class.
Features chain drive system incorporating sprocket and mini chain, similar to a real motorbike.
Includes Le Mans DM20 motor with moderate power and easy control characteristics.
Unique S.D.S.S enables full bank cornering.
Twin tube style mainframe optimizes space utilization with air-cooling.
Inverted front fork suspension.
Rear suspension uses asymmetrical swing arm with mono-shock friction damper.
Overview
Since it's first release in 1992, Kyosho's long selling Hanging On Racer model is still as popular as ever. The S.D.S.S (semi direct steering system) delivers high performance fully independent motion with the rider figure construction incorporating 13 different connections so it hangs on to the bike as it leans into corners. The result is driving performance just like a real motorbike that is easy enough for anyone to control. In addition, each section of the bike is designed with an incredible level of scale detail from the body cowl, inverted front fork suspension, brake disk & calipers, wheels, drive chain, sprocket and asymmetrical swing arm to recreate a model of display standard quality. However, as only a few parts are used in construction, even beginners can enjoy the satisfaction of the assembly that only takes a short time to complete. Dive deep into the fascinating realm of R/C electric motorbike driving like never before and discover the pure enjoyment of building, displaying and driving your own Hanging On Racer.
Video Overview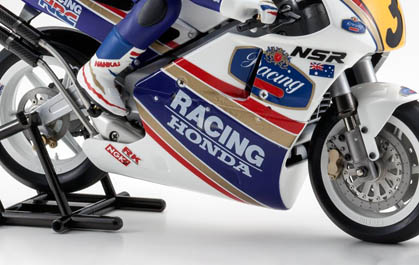 Scale Detail
Amazing level of scale detail is recreated with each component including inverted front fork suspension, brake disk & calipers etc.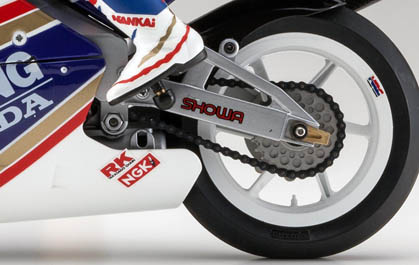 Chain Drive
Power of the Le Mans DM20 motor is transferred to the chain drive system through the drive chain and sprocket. Optional reinforced sprocket is also available.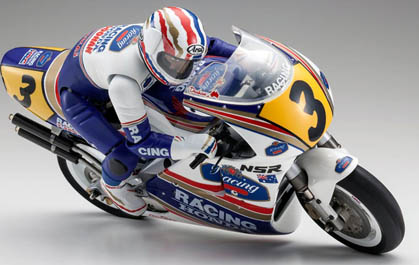 Rider Figure
Rider figure incorporating 13 joints is used to control steering. As the rider's waist drops into the corner, the knee protrudes as the head moves in the direction of the corner exit while the rider hangs on!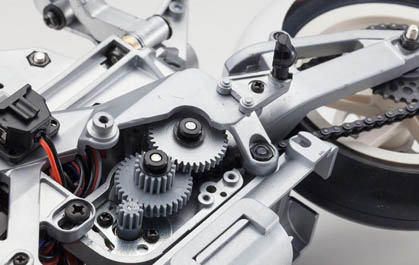 Drive Train
3rd gear changed from resin to metal to increase strength of drive train and improve durability.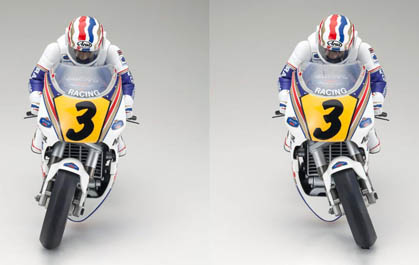 S.D.S.S steering system
Unique S.D.S.S steering system leans the front forks from side to side while the link mechanism in the driver figure drops its waist into corners for steering control.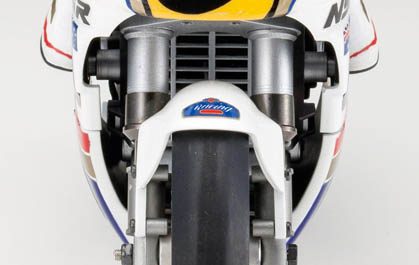 Radiator
Slits in the dummy radiator replicate scale appearance and channel airflow for cooling the motor and ESC.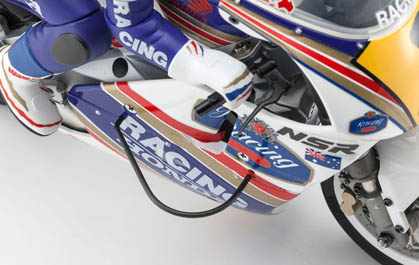 Fall Prevention
Fall prevention guards are effective for when standing starts are difficult and for when the bike leans too far while cornering.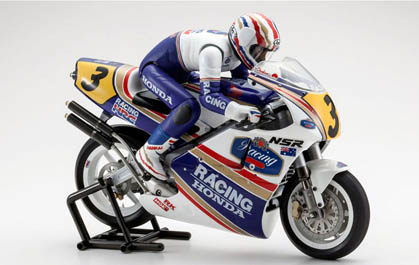 Bike Stand
Includes unique bike stand that can be used to display the stunning scale appearance of the Hanging On Racer when it is not in use.
Product Specifications
| | |
| --- | --- |
| Motor Type | Brushed |
| Speed Control | Sold Separately |
| Scale | 1/8 |
| Completion Level | Kit |
| Drivetrain | 2WD |
| Vehicle Type | Motorcycle |
| Power Type | Electric |
| Receiver | Sold Separately |