Discontinued
|
This Item is No Longer Available

1/8 Epidemic 4WD Monster Truck Brushless RTR
Discontinued
|
This Item is No Longer Available

1/8 Epidemic 4WD Monster Truck Brushless RTR
Product Details

Key Features
Brushless motor and ESC capable of producing speeds of up to 40+ MPH
LiPo compatible power system for up to 4S, 14.8–15.2V battery setups
Shaft-driven 4X4 drivetrain provides great acceleration on all terrains
Sealed differentials and full ball-bearing support
Sway bars and a pillowball front suspension for great handling
Rugged 3mm anodized aluminum chassis for strength and durability
Independent suspension with 16mm aluminum oil-filled shocks
Full ball-bearing support plus standard 17mm hex wheel hubs
Proportional 2.4GHz radio system with throttle and steering control
Waterproof electronics, plus 10kg metal-gear steering servo durability
Stylized wheels, treaded tires and a finished polycarbonate body
Integrated wheelie-bar keeps the rear tires firmly engaged
Needed to Complete
5000mAh 4S 14.8–15.2V LiPo battery or (2) 5000mAh 2S 7.4–7.6V LiPo batteries, with EC5™ connector/s
Suitable LiPo battery charger
What's in the box?
(1) 1/8-Scale Epidemic™ 4X4 Monster Truck
(1) Force RC Pistol Grip Transmitter
(1) Force RC 2.4GHz Waterproof Receiver
(1) Dynamite Fuze Brushless Waterproof ESC
(1) Dynamite Fuze Brushless Motor
(1) User Manual
Overview
The Force RC® 1/8-Scale Epidemic 4X4 Monster Truck is an all-terrain electric vehicle designed to take the Earth by storm and leave the weak in the dust. Besides having a practically impenetrable chassis and muscle-bound appearance, what makes this beast even more exciting is that it comes out of the box ready to run. At the heart of this monster is a brushless power system interlinked with a shaft-driven drivetrain that can handle up to a 4S LiPo battery. Massive, aluminum oil-filled shocks keep the independent suspension in check, while a wheelie bar at the rear keeps the back tires firmly engaged. The body, wheels, and tires join to a super tough 3.0mm anodized aluminum chassis for long-lasting dependability. Waterproof electronics and a glitch-free 2.4GHz radio system ensure that the control you need won't wimp out. Looking ferocious just standing still and capable of reaching 40+ MPH, don't be surprised if your gasp for breath quickly turns into a big cheesy grin.
About Force RC
Spend more time enjoying your RC hobby and less money to do so with Force RC® products. Force RC products are hand-picked for their exceptional quality, performance, and value—all designed to allow you to maximize your fun without breaking the bank. Force RC surface vehicles come out of the box at the Ready-to-Run completion level further reducing your cost. Developed and backed by Horizon Hobby, Force RC delivers a truly awesome RC experience.
Video Overview
40+ MPH Capable
The brushless electric power system pushes the Epidemic to speeds of 40+ MPH when used with your 4S LiPo battery, thanks to the awesome output of its brushless 4274-1600Kv motor and 100-Amp ESC.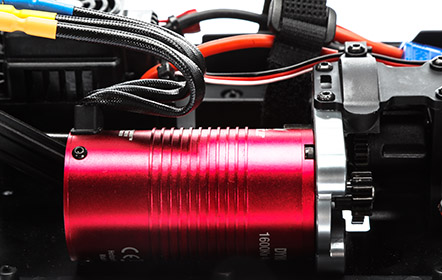 4X4 Drivetrain
The 4X4 drive system, large wheels and tires are ready to take on even the roughest terrain. Traction is further enhanced with sway bars and a pillowball front suspension.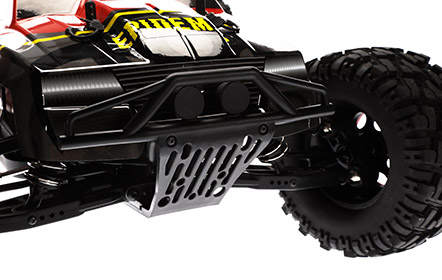 Durable Chassis
The 3mm aluminum chassis stands up to the toughest of beatings, while the large capacity, 16mm oil filled shocks with threaded shock body adjustability helps you handle bumps and jumps with ease.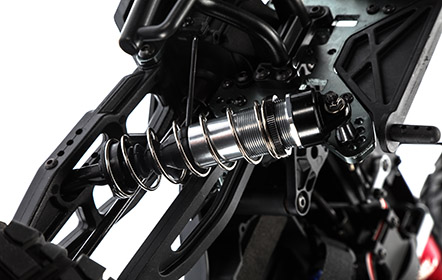 Capable Electronics
Waterproof electronics give you the option to run the Epidemic through puddles, rain, and all the mud you want to throw. This factory-assembled basher package comes Ready-to-Run with a 2.4 GHz transmitter.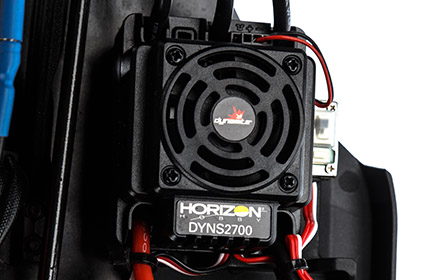 Stability
Want to go fast? Enjoy the solid steering a 10kg metal-gear servo can provide. The center differential design improves traction, response and wheelie-on-command power, while the wheelie bar on the back keeps the truck planted on the rear wheels without flipping over.