1/6 Masher X HP BELTED F/R 5.7" Tires MTD 24mm Blk Raid 8x48 Hex (2)
Item No.
Pro-Line Racing -
PRO1017611

1/6 Masher X HP BELTED F/R 5.7" Tires MTD 24mm Blk Raid 8x48 Hex (2)
Item No.
Pro-Line Racing -
PRO1017611
Lightweight, BELTED, and eXtremely Durable
BELTED Tire Handles eXtreme Power and High Speeds with Ease
Maximum All-Terrain Traction
Raid Wheel with Replaceable 24mm Hexes to fit KRATON 8S or X-MAXX
Made in the USA, Since 1982
1/6 Masher X HP BELTED F/R 5.7" Tires MTD 24mm Blk Raid 8x48 Hex (2)
Item No.
Pro-Line Racing -
PRO1017611
RC Club points earned on this item shown at checkout.
ⓘ
Product Details
In The Box
(2) Masher X HP Belted F/R Tires Mounted on Black Raid 24mm Wheels
(2) Foam Inserts
(2) KRATON 8S 8x48 24mm Wheel Hexes
(2) X-MAXX 8x48 24mm Wheel Hexes
(16) M3x16 Socket Head Screws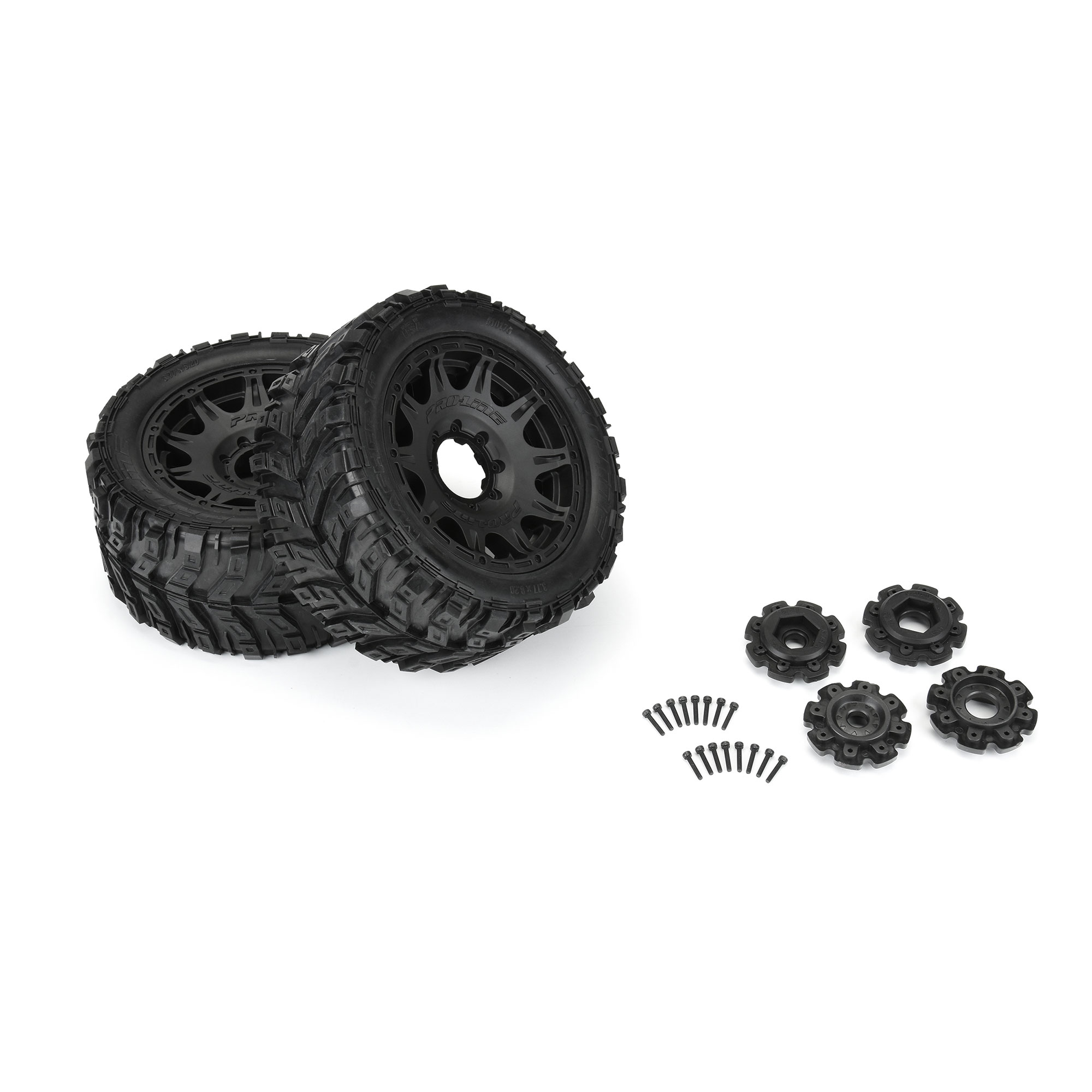 Overview
Pro-Line is ready to unleash the long-awaited lightweight, belted tire solution for X-MAXX® and KRATON™ 8S owners with the highest performance tire and wheel combo ever conceived: The Masher X HP tires mounted on Raid 5.7" Wheels! Pro-Line Masher tires are known for being the standard when it comes to chevron Monster Truck style tread and Pro-Line took it to the eXtreme on the Masher X by adding futuristic tread and sidewall detail that will make your truck look incredible and perform amazingly everywhere you go. The all-new Masher X HP tires go one step further by being BELTED to handle extreme power and high speeds with ease. No tire ballooning here! These tires and Raid 5.7" wheels have been developed from the ground up to be lightweight and durable enough to handle extreme X-MAXX® and KRATON™ 8S punishment to give you the best all-around bashing experience possible.
The Raid 5.7" Black Wheel now features a removable hex for ultimate versatility! Not only do the included hexes allow you to choose between the KRATON™ 8S and X-MAXX® axle sizes, but they also allow you to easily replace a damaged wheel hex without needing to replace your glued tires and eliminate the need for other adapters or wheel modification. The hefty 8x48 interlocking hex design is secured to the wheel by 8 M3 screws that are spaced 48mm across. Replacement Hexes are available separately (PRO638300).
Inspired by popular full-size off-road wheels, the Raid 5.7" wheel is extremely tough and has a bold style to match. The low-profile Masher X HP tires are glued to the big diameter Raid wheel for the ultimate in lightweight, all-terrain performance. The Masher X HP tires are made for unmatched grip on dirt, street, grass, and gravel. This tire and wheel package is proudly manufactured at Pro-Line Headquarters in the USA! If you are ready to take your X-MAXX® and KRATON™ 8S to the next level of Performance and Durability, then you need Pro-Line's new Masher X HP BELTED Tires mounted to Raid 5.7" Wheels!
*Note that the Masher X HP tires have a maximum speed rating that, if exceeded, could result in permanently damaging the internal belt. Over-revving your Masher X HP tires could result in breaking the internal belt, which will NOT be covered under warranty. This can be caused by "diffing out" your tires or holding the throttle open while one, two, or three of your tires are stopped, which substantially increases the RPM sent to the free-spinning tire or tires. *
Please note: All tires & wheels are sold in pairs, unless otherwise noted
PRO1017611 | Masher X HP 5.7" All Terrain BELTED Tires Mounted on Raid Black 8x48 Removable 24mm Hex Wheels (2) for X-MAXX®, KRATON™ 8S & Other Large Vehicles Front or Rear
X-MAXX® is a registered trademark of Traxxas® L.P.

Features
TIRE FEATURES
Lightweight, BELTED, and eXtremely Durable
BELTED Tire Handles eXtreme Power and High Speeds with Ease
Raid Wheel with Replaceable 24mm Hexes to fit KRATON™ 8S or X-MAXX®
Maximum All-Terrain Traction
Made in the USA, Since 1982
WHEEL FEATURES
Easily Replace Damaged Hexes
KRATON™ 8S or X-MAXX® 8x48 24mm Hexes are Included
Wheel Made from High-strength, Durable DuPont Nylon Material
Raid 10-spoke Wheel Design Mimics Full-size Racing Wheels
M3 Wheel Hex Hardware Included
Made in the USA, since 1982
Fits
KRATON™ 8S (ARA110002) Front or Rear
X-MAXX® Front or Rear
Other Large-Scale Vehicles with 24mm Hexes
Product Specifications
| | |
| --- | --- |
| Insert Material | Open Cell |
| Product Height | 8.2" (208 mm) |
| Quantity Option | 2 in a package |
| Wheel Hex Size | 24mm |
| Inner Tire / Outer Wheel Diameter | 5.7 in |
| Product Width | 3.77" (96 mm) |
| Compound / Hardness | Soft |
| Color | Black |
| Scale | 1/6 |
| Package Type | Pre-Mounted |
| Tire Type | All-Terrain |
| Track Surface | All-Terrain / Backyard |
| Wheel Position | Front/Rear |
| Tire Tread | Masher X HP BELTED |
| Vehicle Type | Monster Truck |
| Wheel Type | Raid Removable Hex |