1/5 Rampage XT 4X4 Gas Monster Truck RTR, Blue

1/5 Rampage XT 4X4 Gas Monster Truck RTR, Blue
Get ready to unleash the Rampage!
Powerful 2-Stroke Gas Engine
Threaded Aluminum Body Oil Filled Shocks
Huge Monster Truck Tires
Dual High Torque 1/5 Scale Steering Servos
2.4GHz Radio System
1/5 Rampage XT 4X4 Gas Monster Truck RTR, Blue
RC Club points earned on this item shown at checkout.
ⓘ
Product Details
In The Box
(1) 1/5 Rampage XT 4X4 Gas Monster Truck RTR
(1) 2.4GHz Radio System
(1) Receiver Battery
(1) Charger
Needed to Complete
(4) AA Batteries for Transmitter
Unleaded Fuel
2-Stroke Engine Oil
Introduction
There are many fellow RC enthusiasts running their 1/10 scale vehicles at the local RC park. Dropping the large scale Rampage XT to the ground, you fill its 500cc gas tank with pre-mixed unleaded gasoline/oil. You prepare the XT for its starting sequence by pushing the primer bulb a few times and rotating the choke lever. A tug of the starter cord brings the monstrous 30cc HY 2-stroke gasoline engine to life. An angry growl bellows through the surrounding trees as the Rampage XT exhales through its chrome plated performance tuned exhaust pipe. The other RC vehicles roll to a halt, as their drivers peer in your direction. You burp the throttle as if the beast is taunting its prey. Anticipation builds as you get ready to unleash the Rampage!
Like cockroaches, RC vehicles scatter to the field's edge, with their drivers paying full attention to what is about to unfold in front of their eyes. With a brisk stab of the throttle, the Rampage XT claws at the dirt beneath, throwing it rearward. The XT launches itself forward with a loud thunderous roar. You have officially gained the full attention of everyone within hearing distance. The large 1/5 scale Rampage XT monster truck is now hurling dirt in every direction, like a crazed beast frantically searching for underground prey. The Rampage XT is a sight to see.
Features
Powerful 2-stroke gas engine, Pull start, Large capacity fuel tank, Tuned Exhaust pipe, 4mm 6061 T6 Aluminum chassis, Aluminum body oil filled shocks, Front and rear gear differentials, Ball bearings throughout.
Easily tuned gas engine w/ choke, Tunable centrifugal clutch, Adjustable brake linkage, Adjustable ride height, Tunable suspension, Multiple shock locations, Adjustable toe angle, Adjustable camber.
Aggressive monster truck tires, Shaft driven durability, Enclosed battery box, Chrome tuned pipe, Engine enclosed in roll cage.
Powerful 30cc HY 2-Stroke Gas Engine, High torque throttle/brake servo, High torque 1/5 scale steering servo, 2.4GHz radio system.
Overview
The Rampage XT is both fast and powerful. Aluminum bodied oil filled shocks, coupled with 4-wheel independent suspension, add a degree of prowess to the XT's otherwise aggressive display of dominance. The 30cc HY gas engine sends huge amounts of power to its reliable, shaft driven, 4-wheel drive drivetrain. Everything on the Rampage XT is big, including its tunable sealed gear differentials, steel drive cups, and large diameter drive shafts.
The Rampage XT doesn't rely solely on its impressive size and scary power to turn heads. With its aggressive stance and stylish monster truck body, now covered in dirt, the Rampage XT is a great looking vehicle while on the shelf, or attacking nearby terrain.
Get the Rampage XT 1/5 scale monster truck today, and experience the power of the Rampage for yourself!
Video Overview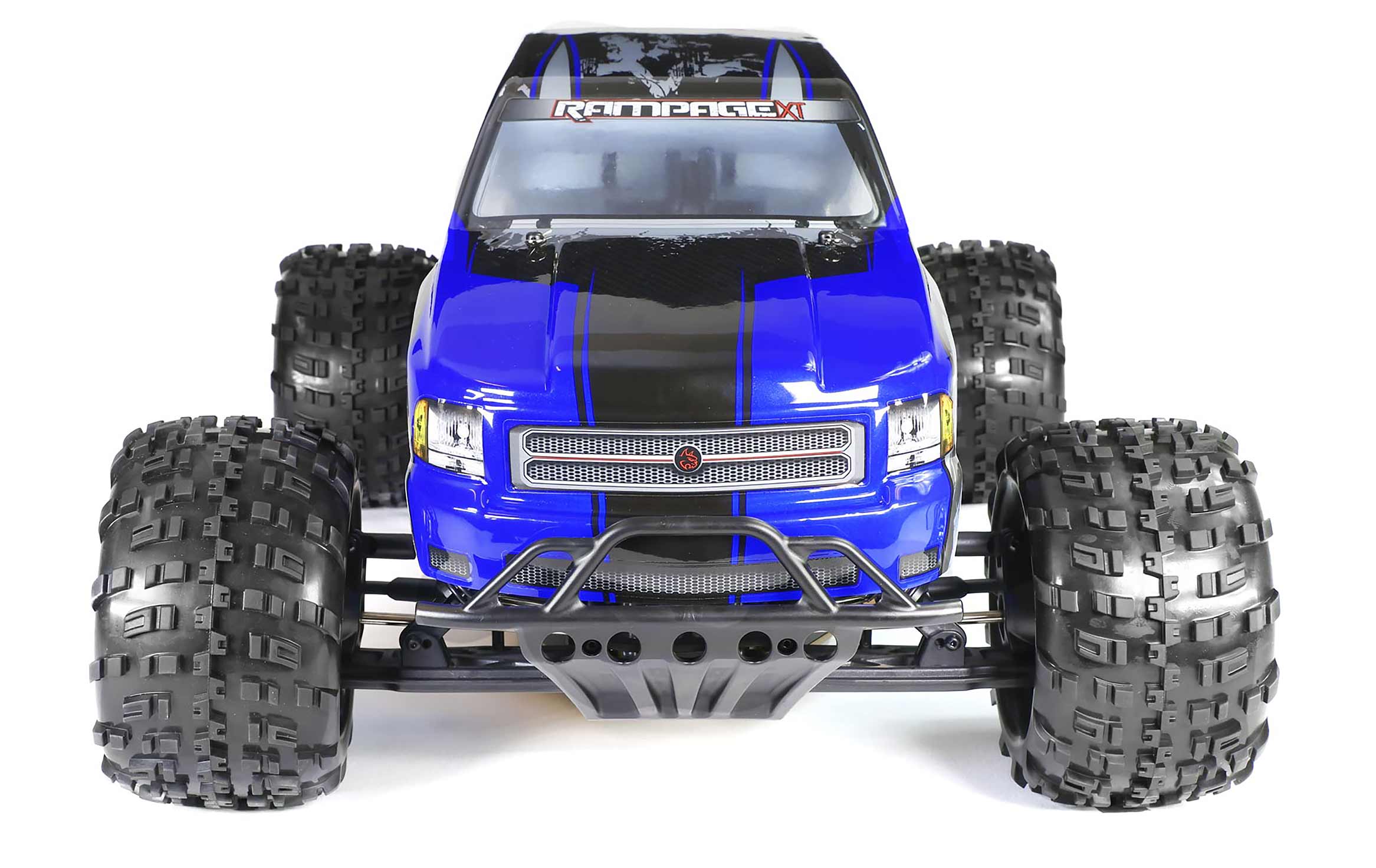 Stylish Monster Truck Body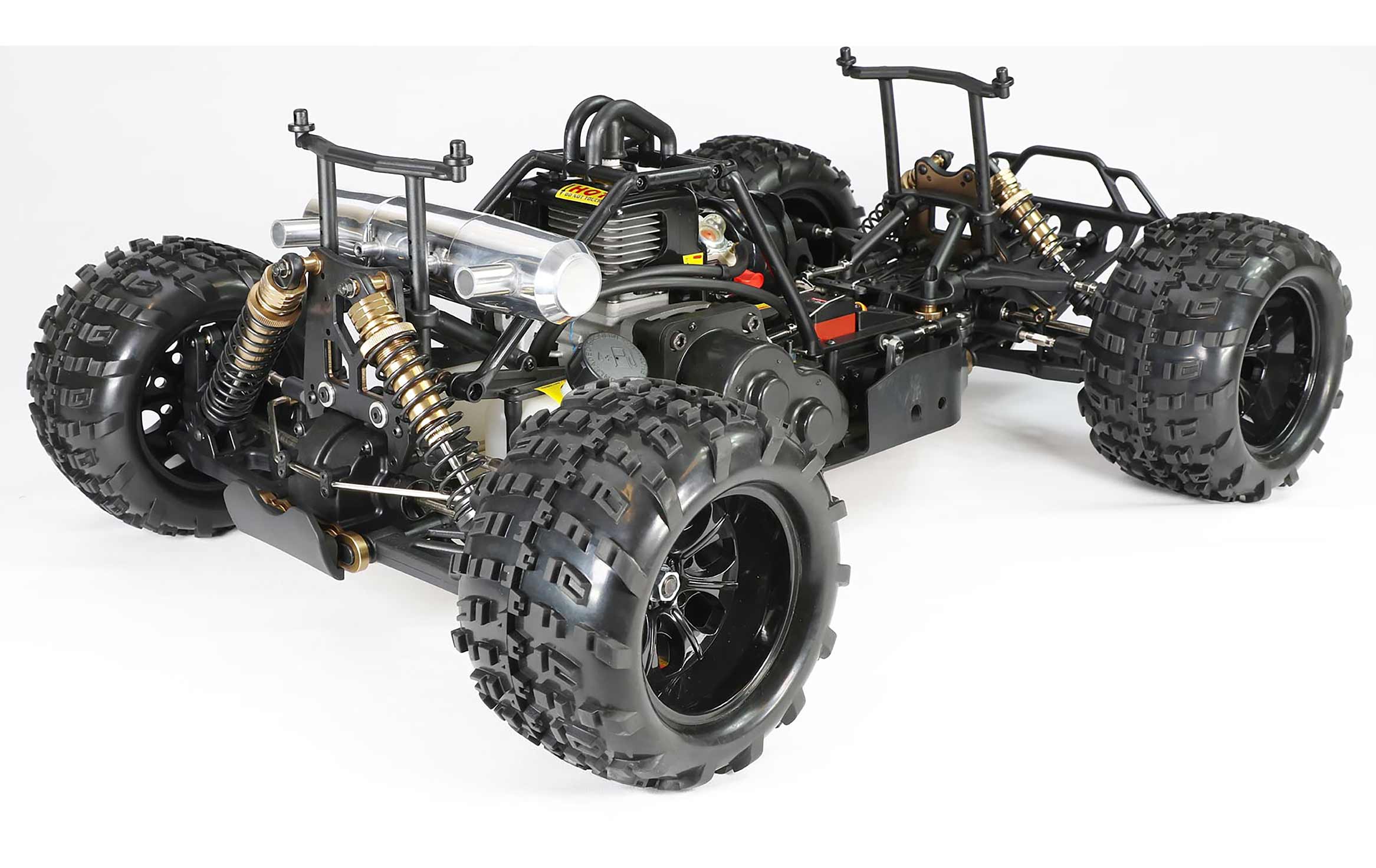 30CC 2-Stroke Engine and Tuned Pipe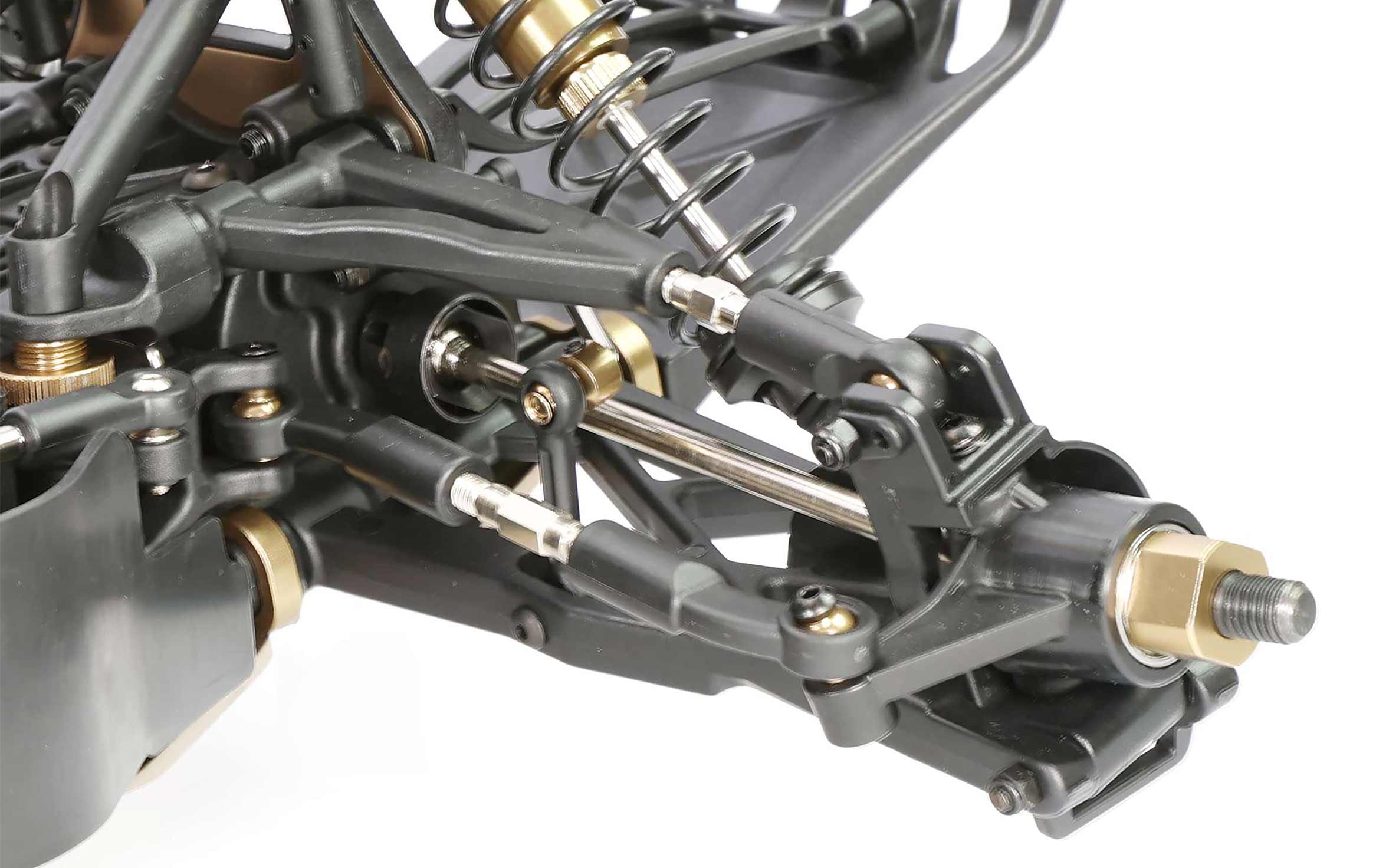 Reinforced Outdrive Cups and CVA Front Axle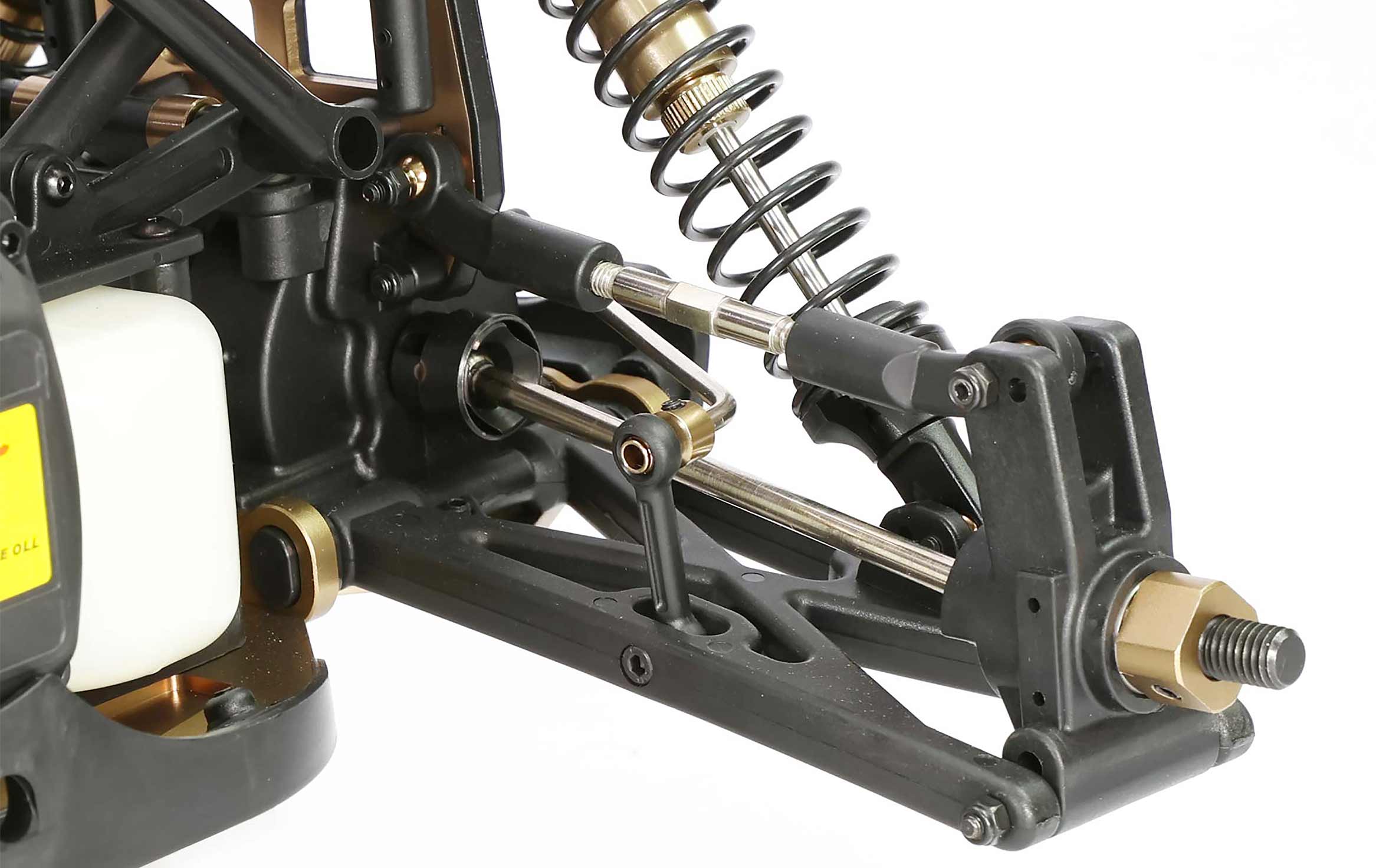 Rear Sway Bar - Reinforced Outdrive Cups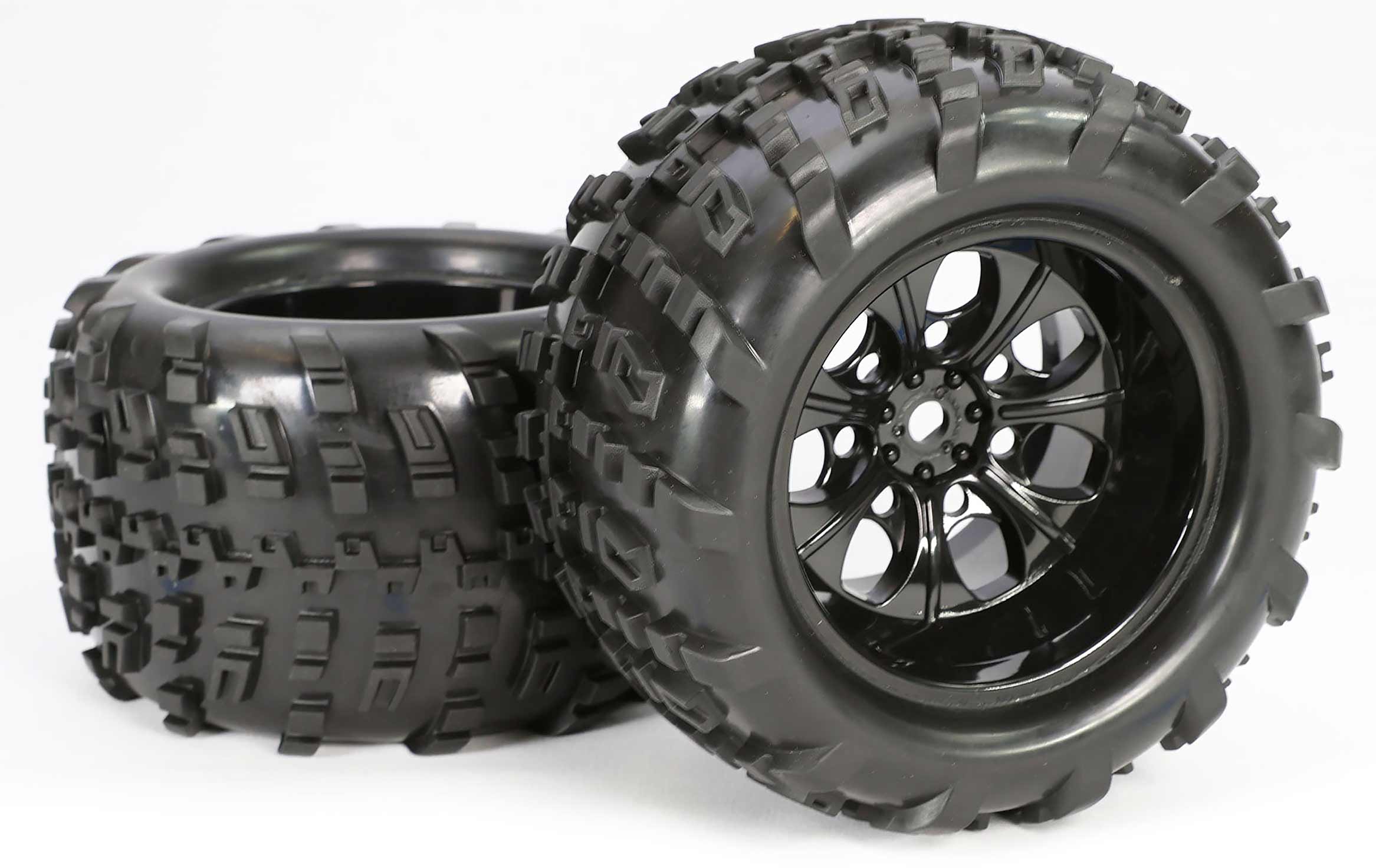 All Terain Tires and Stylish Wheels
Product Specifications
| | |
| --- | --- |
| Chassis | 4mm Aluminum 6061T6 |
| Completion Level | Ready-To-Run |
| Drivetrain | 4WD |
| Product Height | 12.6 in (320mm) |
| Approximate Assembly Time | No assembly required |
| Brakes | Dual Disc |
| Scale | 1/5 |
| Charger | Included |
| Shock Type | Aluminum Body Oil Filled |
| Battery | Included |
| Engine Size | Gas 30cc HY 2 Stroke |
| Fuel Tank Capacity | 16.9 oz (500cc) |
| Ground Clearance | 1.6 in (40mm) |
| Product Length | 29.5 in (750mm) |
| Product Weight | 23.1lbs (10.5kg) Dry |
| Vehicle Type | Monster Truck |
| Water-Resistant | Yes |
| Wheelbase | 19.7 in (500mm) |
| Power Type | Gas |
| Servos | 2 Hi-Torque Servos for Steering and Throttle |
| Product Width | 21.3 in (540mm) |
| Radio | 2.4GHz Radio System |