Sweet 5th Scale Truggy!
Review by Ja T. on 8 Dec 2019
review stating Sweet 5th Scale Truggy!
So I've got this truck and been able to run it over 10 times. Thus far it has been great. It is a little heavy weighing in at 24 lb so you will have to turn the punch setting up on the ESC to 5 to get the most out of it. But I still think for me out the box and turn the punch setting up a little bit gives you great performance. I have jumped in front truck a little over 8 feet in the air and landed and so far it's been pretty durable for me. I'm glad they also have part support out for it as well which is going to be great. This is our arrmas first attempt at a large-scale vehicle like this and I think they did a great job. As always arrma will do improvements when needed as any issue that someone may have and make improvements on it. So I definitely can't wait to see what they do for the version 2 of this.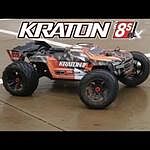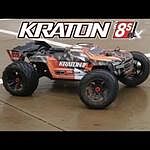 On 15 KRATON 4X4 8S BLX Brushless Speed Monster Truck RTR
Teampacman
5.0 star rating
My Experiance with the Kraton 8s
Review by Teampacman on 30 Nov 2019
review stating My Experiance with the Kraton 8s
I just purchased this last week from Horizon Hobby I got it four days ago. Such a beauty. For a 1/5 scale it handles very well. The design of the truck is really nice. I love Spektrum product. They did such a great job building this truck so much fun to play with. Another great R/C to my collection !!! So glad we have a Company like Horizon Hobby with such great support. Anytime I have purchased a product from them I have had such a great experience.
On 15 KRATON 4X4 8S BLX Brushless Speed Monster Truck RTR
Awesome
Review by Ronnie on 22 Nov 2020
review stating Awesome
This truck is awesome and I have had so much fun with it. I look for jumps everywhere I go. Longest jump is almost 100' !!!
I takes a lot to break it , I've done it a couple of times but user error. I would recommend this RC to everyone. Unless you live in the city this baby needs room to fly.
On 15 KRATON 4X4 8S BLX Brushless Speed Monster Truck RTR
it's MASSIVE!!!!
Review by Matt on 18 Aug 2020
review stating it's MASSIVE!!!!
All you can say when the box shows up is wow.... this thing is HUGE. watching videos on the internet, and even pictured next to other 6s units does it no justice you simply must see this to appreciate. Right out of the box this thing is a little slow for the average RC basher, but durable! it has enough power to definetly have fun but leaves a little to be desired. but not to worry! hobbywing, hobbystar, and castle are there to help! the 56113 motors are simply untamed. torque for days. one thing to keep in mind is this truck stock is 25lbs. not for the faint hearted haha. Love my K8S.. and you'll love yours. Great work Arrma and HH team.
On 15 KRATON 4X4 8S BLX Brushless Speed Monster Truck RTR