Teampacman
5.0 star rating
My Experiance with DBXL-2.0
Review by Teampacman on 30 Nov 2019
review stating My Experiance with DBXL-2.0
This is my first 1/5 Scale RTR from Losi all I can say is wow. One of my favorite R/C cars in my collection !! So much fun. Drivers so nice. Very fast and durable. I would highly recommend using the suggested Spektrum 100C smart battery for it or any of the Horizon batteries. I have had no complaints but a smile on my face every time I have taken it out to play . Picture don't do justice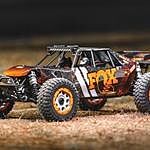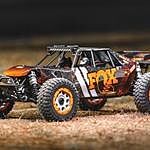 On 15 DBXL-E 2.0 4WD Desert Buggy Brushless RTR with Smart
Love my buggy!
Review by Mr M. on 24 Apr 2020
review stating Love my buggy!
I've always wanted a 1/5 scale rc car..but couldn't see myself paying the price. The wife told me I should treat myself...so I went to Pegasus in Montclair ca to make my purchase..I originally wanted the five-t but I didn't want gas power due to the noise. So I decided on the on the buggy..and I'm so happy I did..the night is amazing.. and it's big!! I'm a novice when dealing with rc..at first it was overwhelming due to the size and speed..but I quickly caught on.
Now the issues..
1. One of my smart batteries had a bad cell. I called in a month ago for warranty.once I spoke to someone they out in an order for a replacement.
2.I guess at the time when I purchased the buggy the correct batteries I needed were on back order. The batteries I purchased were i3..fyi, you'll need 2. So I rushed home, and that's when I discovered the batteries I purchased had a i3 connector..and the buggy has an i5 connector. UGH! So I headed to Pegasus and they made me connectors that would work.
3. I think it's the main pinion that makes the car work..well 3 times it slipped and buggy would not move. First time I took it to Pegasus to have it looked at. The salesman Arron tighten it. But I noticed it may slipped again because there's nothing from stopping it from slipping again. Well it slipped off 2 more times. The last time I made sure to use loc tight and tighten it super good.
Other then those issues..I absolutely love the car. Fyi to anyone who's thinking of getting this buggy or any other..MAKE YOU GET A REPLACEMENT SCREW KIT just in case you lose a screw. Of course that's a message for novice like myself.
On 15 DBXL-E 2.0 4WD Desert Buggy Brushless RTR with Smart
Awesome!
Review by Brian D. on 17 Sep 2020
review stating Awesome!
I pre-bought this off of Horizon when it was released. I have owned this ever since. Easily, its become my go to basher. I have yet to replace one part on it and its something that I drive and my 8 year old. And 8 years are not known for their ability to drive cleanly HAHA. Its big, its heavy, runs forever, but it handles and corners like a dream despite the size.
On 15 DBXL-E 2.0 4WD Desert Buggy Brushless RTR with Smart
Go Anywhere, Drive on Anything
Review by Quentus on 24 Mar 2020
review stating Go Anywhere, Drive on Anything
I usually don't write reviews on products I buy. I was just here to see what HH had in terms of parts for the dbxle2, but I couldn't help myself given the solid satisfaction I have had with the dbxle2. Well, maybe not solid since I am on my fourth wing. For some reason I am constantly breaking the wing – same spot every time too. I cannot say it's a defect since all the bashing I do with my dbxle2 has been done with a friend who also has a dbxle2 and he is still on his first wing. Anyway, I should also note that I have never owned a 5th scale rc vehicle of any kind, so I am reviewing from the perspective of not having any experience with this scale of an off-road car. With that in mind, I cannot say how overwhelming satisfied I am with the stability, power and down-right ruggedness of the dbxle2. It does not discriminate between road conditions, takes whatever you throw at it, and comes back for more. It takes some serious lack of control to get it to roll. In and out of turns, in mud, dirt, rocks, etc. it performs amazingly. It has no bad tendencies, and it can take some serious punishment. Unlike the 6th scale Losi Super Rock Rey that I also have that breaks every time I run it, my dbxle2 takes a beating and comes back for more. I love how the top of the body lifts up to make cleaning, battery changing and adjustments a breeze. There is no 50 screws that have to be removed one by one just to get the body off (Super Rock Rey). There is ample power on 8S. Off-road (which is the only surface I run it on) I have the throttle limit switch on the DX2-E set in the middle (I think its 75% power). Anything more and it's a beast. A few runs over grass and you have done what would take a rototiller several hours to accomplish. I don't know if it's just because of the large scale or whether HH actually got it right with this one, but if you are stuck between buying a 6th or 5th scale off-road vehicle, go 5th scale. All in all, the dbxle2 is probably the best all round fun I have ever had with an off-road rc vehicle.
On 15 DBXL-E 2.0 4WD Desert Buggy Brushless RTR with Smart
Great car
Review by Hunter on 1 Sep 2020
review stating Great car
I've had it for 4 months and had a problem with the pinion coming off every run and decided to call tech support and they told me to tighten it down alot more than a regular car and that fixed it,this would be the only complaint
On 15 DBXL-E 2.0 4WD Desert Buggy Brushless RTR with Smart