1/28 2015 Audi R8 LMS MINI-Z RWD RTR, White

1/28 2015 Audi R8 LMS MINI-Z RWD RTR, White
RWD series is a Rear-Wheel Drive design that emphasizes superior handling paired with the Syncro KT-531P Transmitter.
Includes The Newly Developed Syncro KT-531P Transmitter
Circuit Board With Newly Developed Control Program
Highly Detailed Display-Standard Body
Full Ball Bearing Specifications
Compatible With All MINI-Z Racer Body Styles
1/28 2015 Audi R8 LMS MINI-Z RWD RTR, White
RC Club points earned on this item shown at checkout.
ⓘ
Product Details
In The Box
(1) MINI-Z RWD Audi R8 LMS 2015 RTR
(1) 2.4GHz Perfex KT-531P Transmitter
(1) Front Tread Adjustment Parts Set
(1) Set Of Front Suspension Adjustment Spacers
(4) Pinion Gears (6T, 7T, 8T, 9T)
(1) Wheel Wrench
(1) Pinion Gear Tool
(1) Set Of Spare Nuts
(1) Pairing Stick
(4) Tires and Wheels
Needed to Complete
(4) AAA Batteries for Chassis
(4) AAA Batteries for Transmitter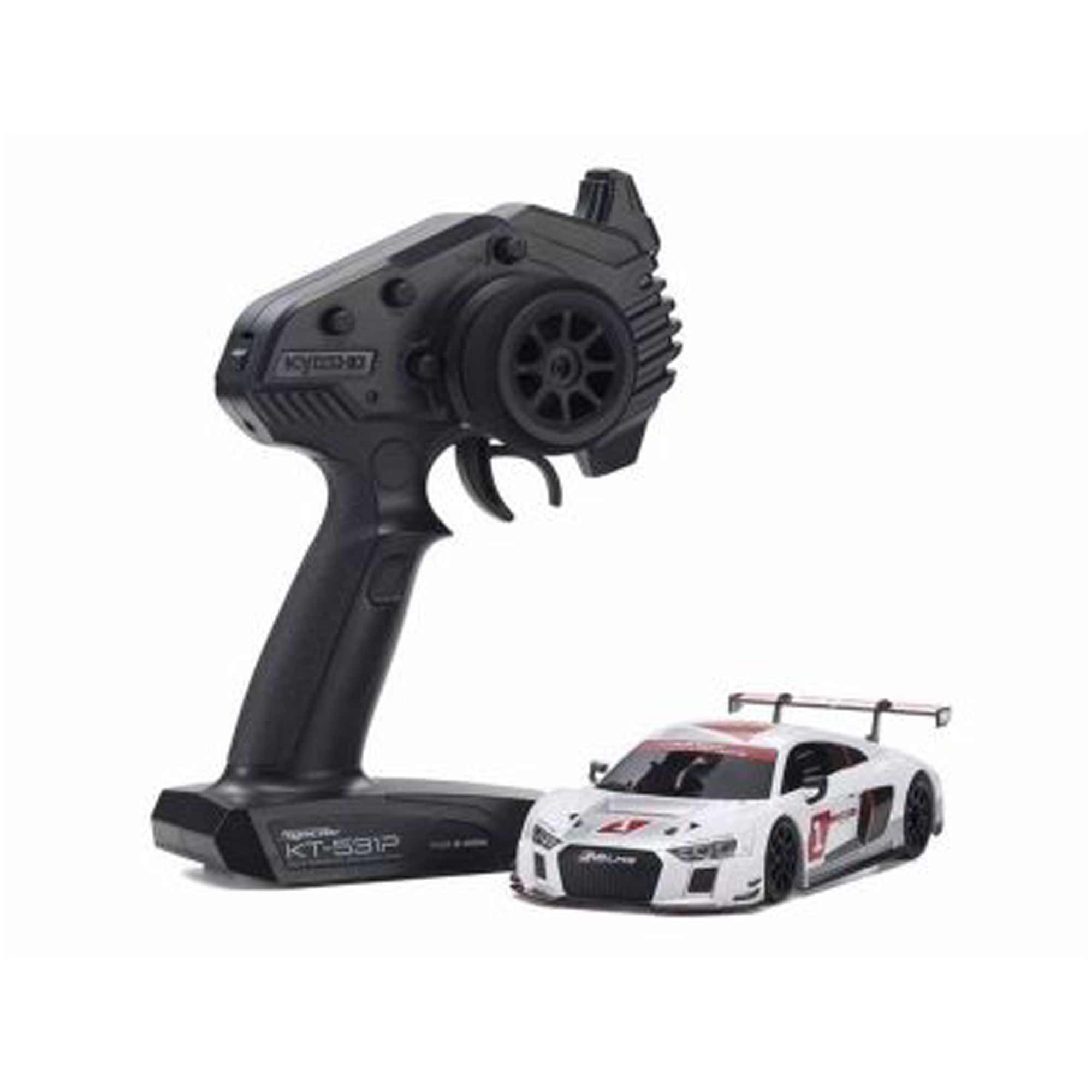 Introduction
With just 8 x AAA-size batteries, the MINI-Z Racer allows anyone to enjoy the beautiful style and advanced performance of R/C cars. First launched in 2013, Kyosho has renewed the MINI-Z Racer Sports MR-03 concept to be even more user-friendly and appealing to more drivers with the MINI-Z RWD series! Widely popular body styles in highly detailed body sets create the incredibly realistic model lineup. Including the latest Syncro KT-531P transmitter with steering trim, throttle trim, dual rate, LED control function, the sponge grip of the steering wheel provides comfortable fit for precision control feel. The set also includes a car body finished to display-model standard that matches stunning style with the performance, reliability and durability of the MR-03 chassis. The control program on the newly designed circuit board provides linear handling characteristics and can be further enhanced for even easier control by installing the optional gyro unit (MZW446). This series represents the perfect package for a deep dive into the amazing world of R/C cars!
Features
New series includes the newly developed Syncro KT-531P transmitter with multiple setting options.
Circuit board with newly developed control program provides dramatically improved steering feel.
Highly detailed display-standard body is fully factory finished.
Full ball bearing specifications include 7 bearings, previously an optional upgrade.
Compatible with all MINI-Z Racer body styles. **Motor case and diff gear assembly to suit body are required to be purchased separately.
Front suspension incorporates VCS that optimizes camber angle with suspension stroke.
Compatible with optional gyro unit (MZW446). Volume of gyro effect can be adjusted on the chassis. (**Settings can be adjusted from the transmitter if using KT-432PT transmitter (sold separately)).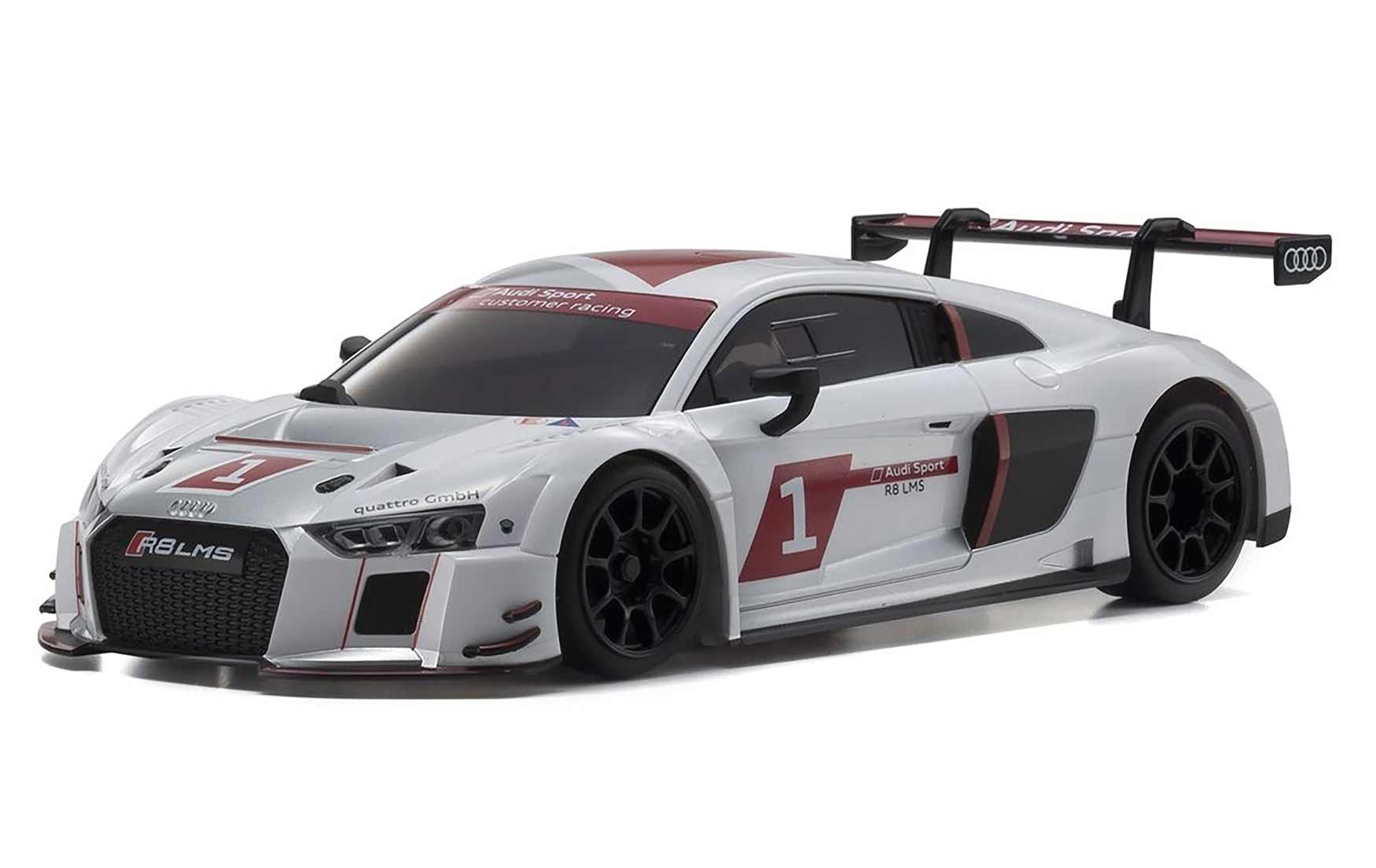 Audi R8 LMS
Audi motorsport division developed the LMS racing machine from the R8 production car base to comply with FIA GT3 rules. Victory at the 2015 24 Hours Nürburgring endurance race was a spectacular achievement in its debut year.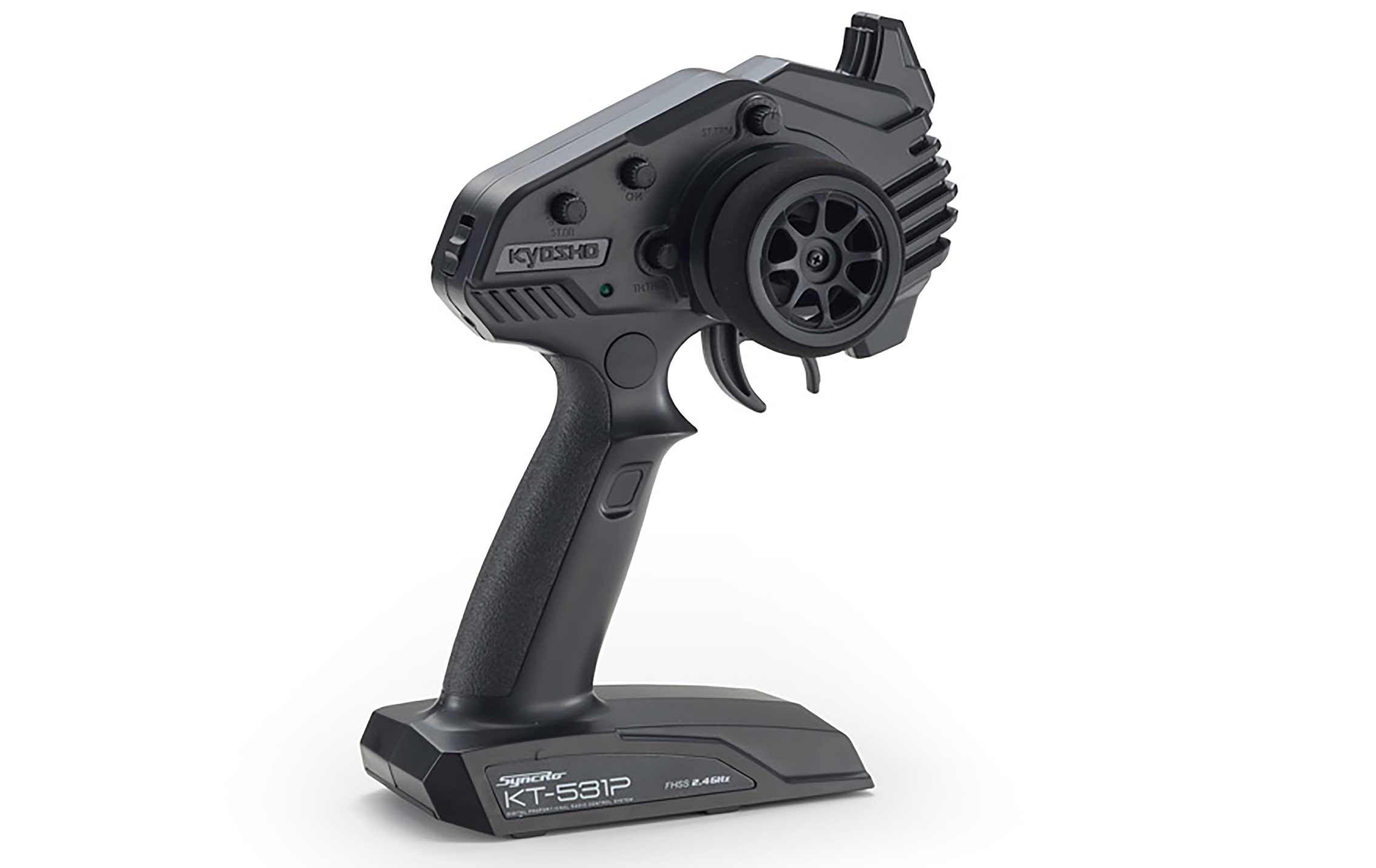 Syncro KT-531P
Includes stylish design of Syncro KT-531P transmitter. Features steering / throttle trim as well as dual rate adjustment of steering angle and control the flashing speed of optional LEDs. In addition, the transmitter has a Training Mode feature which limits speed of the car for easy learning(default setting at the time of shipment is Training Mode).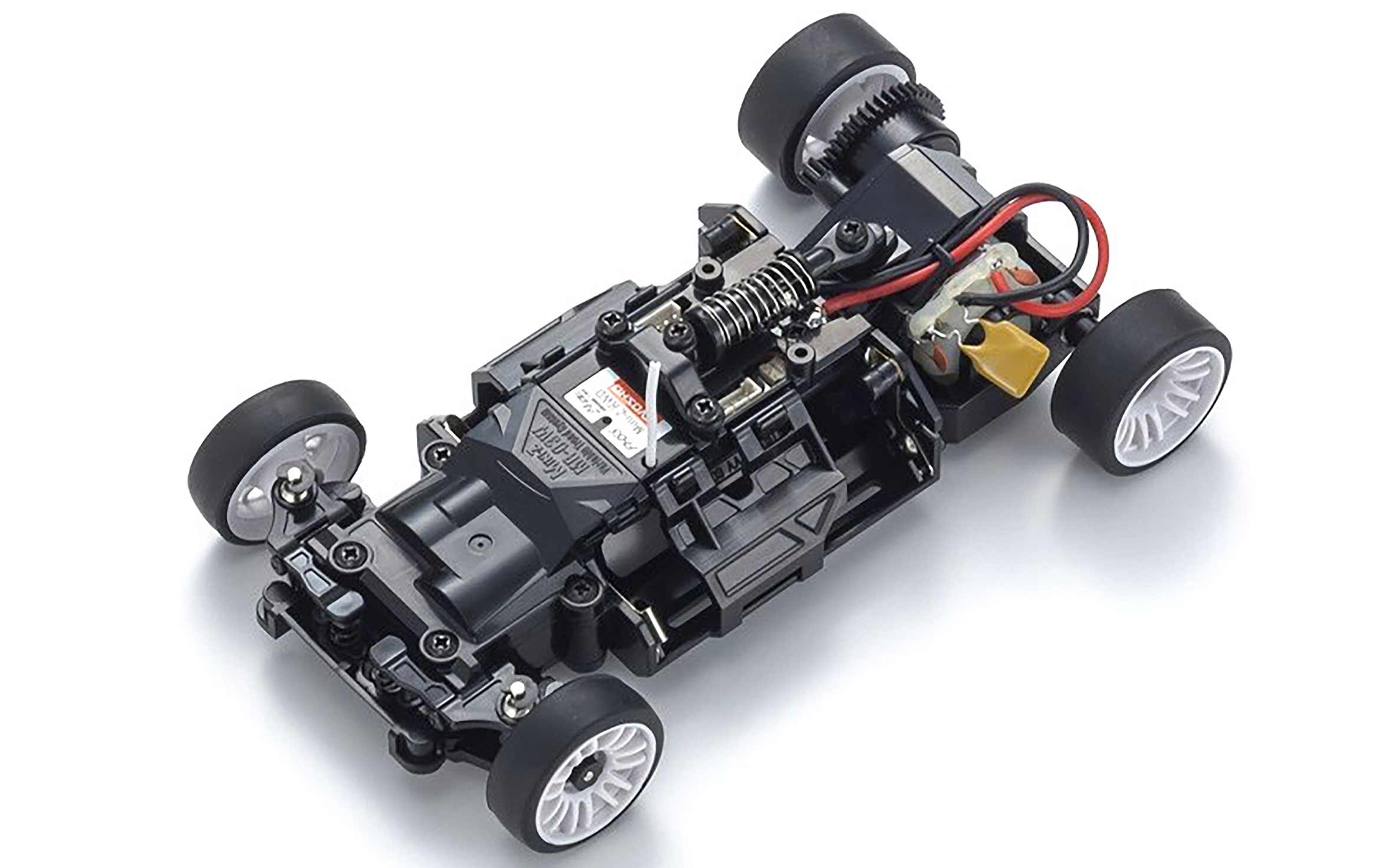 MR-03 Chassis
As the chassis is based on the proven MR-03 design, existing parts for the MR-03 and the optional gyro unit (MZW446) can be installed to enhance driving control.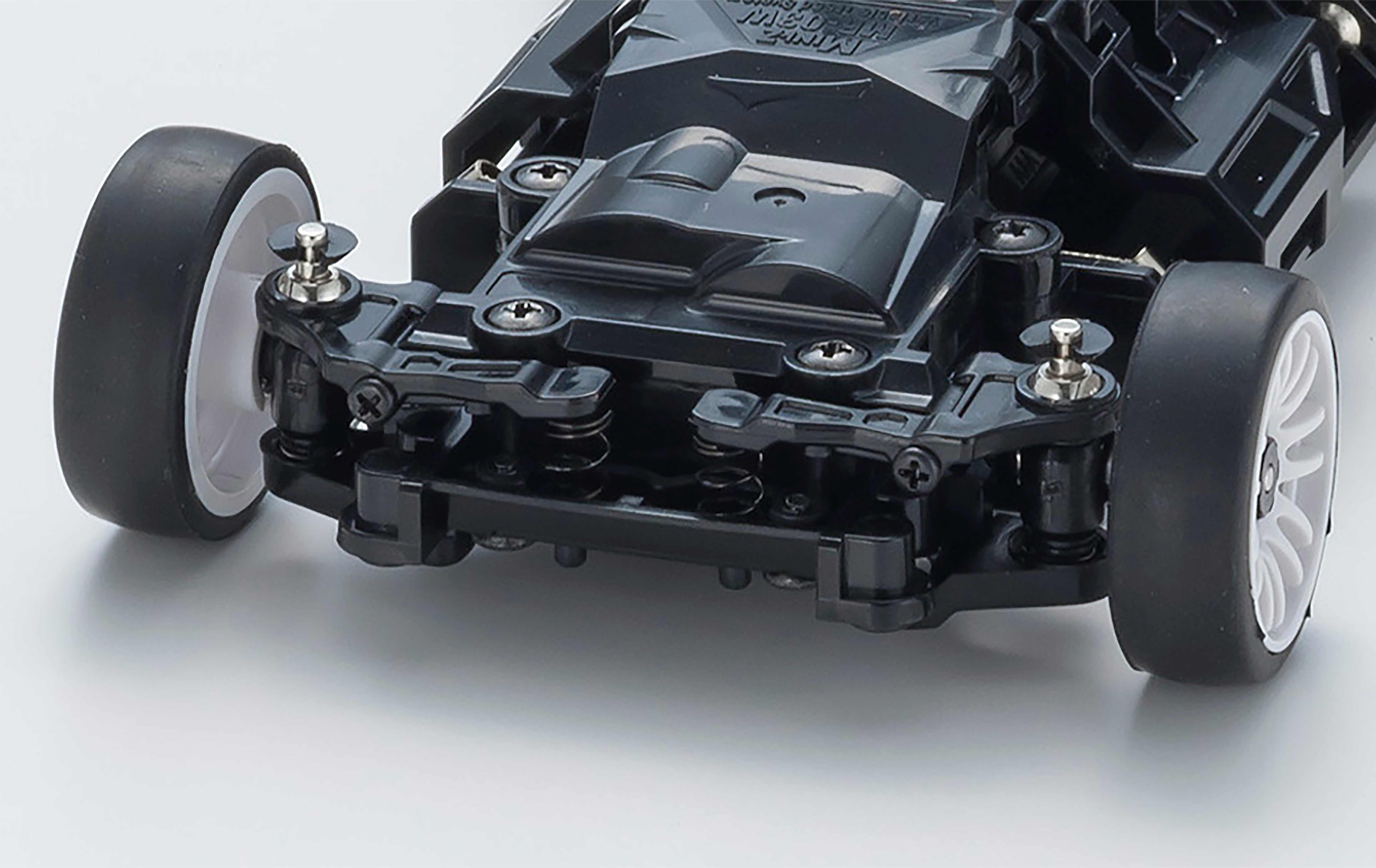 Fully Adjustable
Tread can be set to narrow or wide by changing steering tie rods on front lower and upper plates. Wheelbase can also be changed to suit body style. (**Changing requires parts to be purchased separately).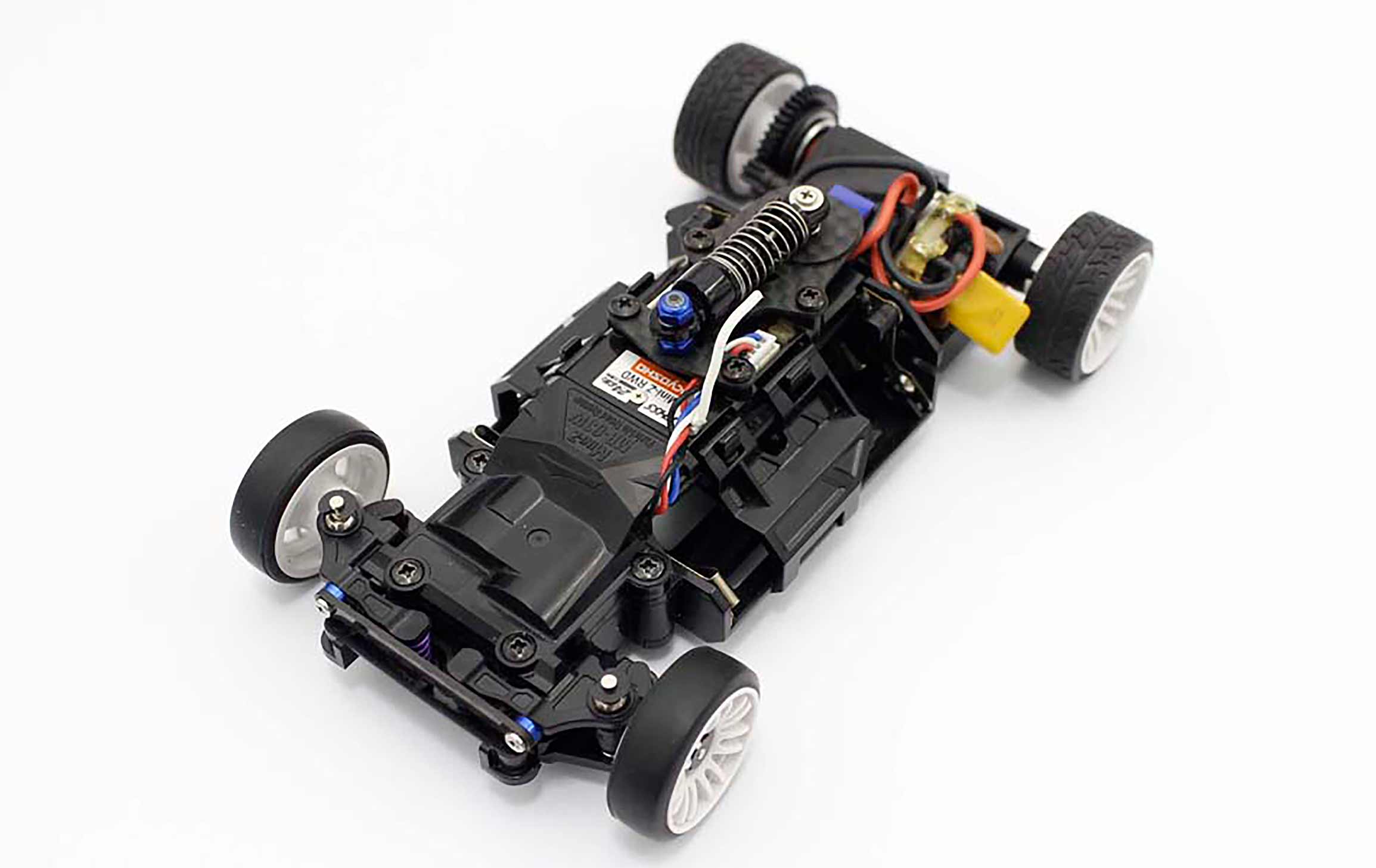 Optional Parts
Compatible with huge lineup of optional parts for MR-03 that allows you to improve your machine according to your skill level and budget.
Product Specifications
| | |
| --- | --- |
| Vehicle Type | On-Road |
| Water-Resistant | No |
| Battery | Sold Separately |
| Product Length | 6.5551181" (166 mm) |
| Vehicle Size | Mini |
| Product Width | 2.95276" (75 mm) |
| Radio | Included |
| Steering Type | 2WS |
| Suspension | Independent |
| Power Type | Electric |
| Servos | Included |
| Motor Type | Brushed |
| Speed Control | Included |
| Wheelbase | 3.85827" (98 mm) |
| Charger | Sold Separately |
| Differential | Gear Diffs |
| Receiver | Included |
| Shock Type | Coil-Over |
| Body | Pre-painted plastic body, complete with markings |
| Scale | 1/28 |
| Ball Bearings | Full Ball Bearings |
| Chassis | MR-03 Chassis |
| Completion Level | Ready-To-Run |
| Drivetrain | 2WD |
| Drive Type | Forward/Brake/Reverse |
| Product Height | 1.73228" (44 mm) |