Discontinued
|
Select Styles for Availability

1/10 Wraith 1.9 4WD Rock Crawler Brushed RTR
Discontinued
|
Select Styles for Availability

1/10 Wraith 1.9 4WD Rock Crawler Brushed RTR
Product Details
In The Box
(1) Axial Wraith 1.9 1/10 4WD RTR
(1) Spektrum™ SRX200 Receiver (installed)
(1) Tactic® TSX45 Metal Gear Servo (installed)
(1) Axial® 35T Electric Motor (installed)
(1) Dynamite® Electronic Speed Control with Drag Brake (installed)
(1) Spektrum™ STX2 Transmitter
(1) Product Manual
Needed to Complete
(1) 2-3 Cell LiPo or 5-9 Cell NiMH/NiCd battery with EC3™ or IC3™ connector
(1) Compatible battery charger
(4) AA Batteries for Transmitter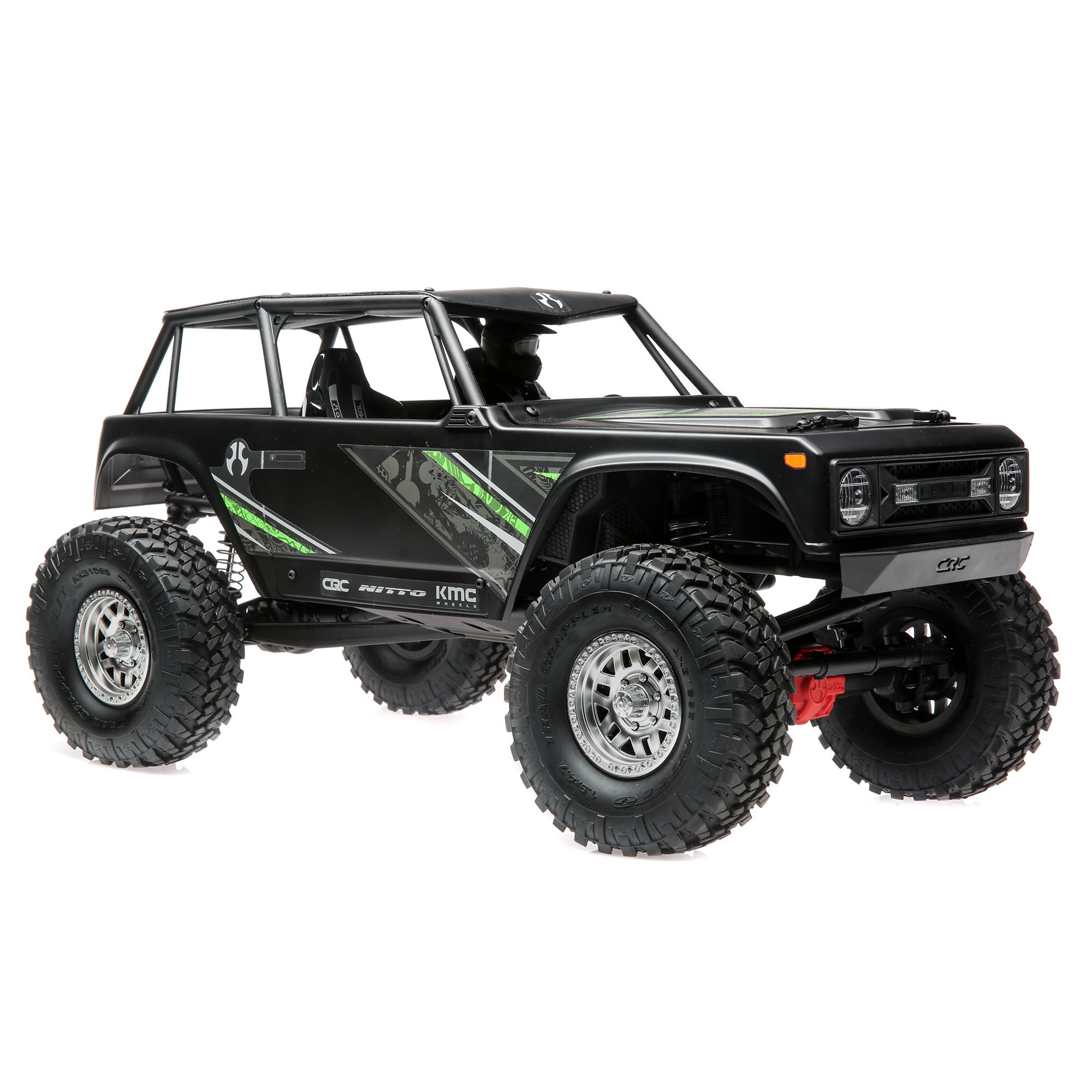 Introduction
The Axial® Wraith™ 1.9 4x4 is a new, 1/10 scale, ready-to-run platform that delivers it all - technical rock crawling prowess and detailed scale looks. Take the wheel and take command over mud, rocks, sand, and through any kind of backyard terrain!
Features
Strong tube chassis with forward-mounted battery position
Boatsides/skid plate for extra clearance
Chassis-mounted servo for a realistic look
Easy access to electronics, and adjustable battery tray
New body design with LED lights, and grille, radiator, fender, and V8 engine details
Spektrum™ Transmitter and Receiver
Licensed 1.9 Nitto Trail Grappler M/T tires on KMC XD229 Machete crawl wheels
Compact AX10™ transmission
AR44™ hi-pinion axles for added ground clearance
WB8 HD Wildboar™ driveshafts
Dual slipper clutch with 32-pitch gearing
4-Link rear suspension
Overview
At its foundation the Axial Wraith 1.9 4x4 is the first full tube frame chassis in RC, providing the durability you need for aggressive action on tough terrain. Refining the proven 2.2 Wraith chassis design, Axial improved the ground clearance for this version by reducing the size of its skid plate and lower rails. Boatsides on the skid plate improve handling by helping the vehicle slip through and past obstacles.
Your battery mounts at the front of the chassis, for easy access and to provide the best weight distribution for aggressive climbing. For scale looks, Axial moved the servo off the top of the axle and onto the chassis - just as a full-size truck has its steering box located on the frame.
The Wraith 1.9 truck's drivetrain uses a powerful brushed 540 motor to turn its proven front and rear, single piece AR44™ axles. The pinion gear is 6mm above center, raising the ground clearance and improving driveshaft angles. Axial boosts the overall strength with metal gear construction; large, flex-reducing load bearings; increased gear surface contact; and a gear ratio that's optimized to reduce torque twist.
Adjustable oil-filled, coil over shocks allow you to tune dampening for the best handling on any track. Molded from durable S30 compound, the officially licensed Nitto Grappler tires have a large block tread that gets excellent bite on a wide range of surfaces.
The Wraith 1.9 truck looks ready to climb mountains even when it's standing still. At the front end of its polycarbonate body you'll find a molded plastic grille, radiator detail, and two large, LED-equipped headlights. Raise the hood and you'll see a replica V8 engine tucked in front of the chassis battery mount. That V8 isn't just for show. It's also a rugged receiver box that guards the model's Spektrum™ SRX200 receiver from water, dust, and debris.
The Axial Wraith 1.9 RTR comes factory-assembled and requires only a battery pack with IC3™ connector, compatible battery charger, and four AAs for the included Spektrum 2.4GHz transmitter. It's easy enough for new RC hobbyists, with the design sophistication to take experienced drivers on incredible adventures far beyond the end of the road.
Video Overview
Key Features
Strong Tube Chassis With Forward-Mounted Battery Position
The foundation of the Wraith 1.9 platform is a refined, full-tube frame chassis - the first full tube frame in RC, with the durability you'll need for aggressive action on, up and over the rocks. The chassis mounts your battery in front, allowing easy access and providing the perfect weight distribution for aggressive climbing.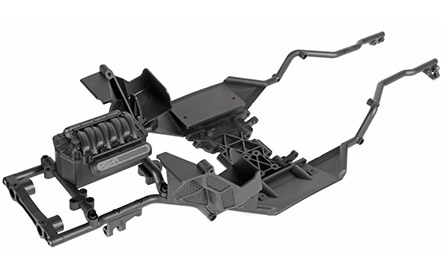 Boat Sides/Skid Plate For Extra Clearance
Refining the successful 2.2 Wraith chassis design, Axial increases the ground clearance for this version by reducing the size of its skid plate and lower rails. Boatsides on the skid plate improve handling on rough terrain by helping the vehicle slip through and past obstacles.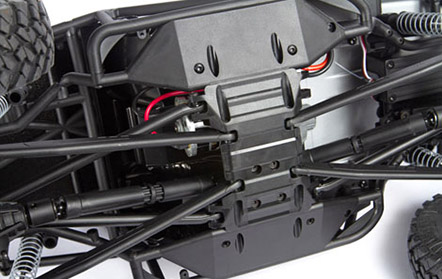 Chassis-Mounted Servo For Realistic Looks
In pursuit of scale looks, Axial moves the servo off the top of the axle and onto the chassis - just as a full-size truck has its steering box located on the frame. The front suspension design also helps reduce bump steer as much as possible for the best driving experience.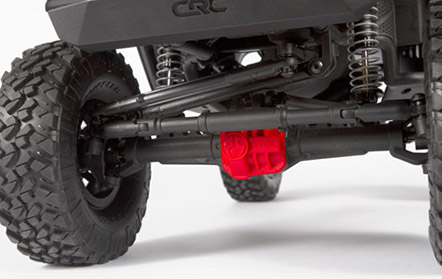 New Body Design
Molded Plastic Grille With Led Lights
The front end of the polycarbonate Wraith 1.9 body is highlighted by a molded plastic grille featuring two large, 5mm lamps with factory-installed LEDs. Your vehicle's realism keeps on shining after the sun goes down! Clear rectangular lenses cover two smaller, 3mm holes (LEDs for these are not included).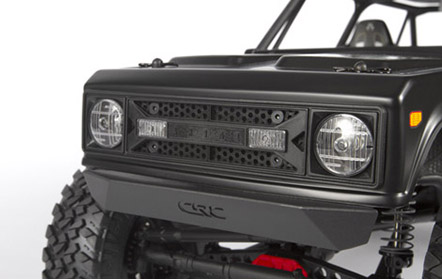 Radiator Detail Behind Front Grille
The Axial attention to scale realism is on display throughout the Wraith 1.9 RTR's front end. Look closely into the front grille, for example, and you'll notice additional molded detail that reproduces an intricate honeycomb of (non-functional) radiator cooling fins.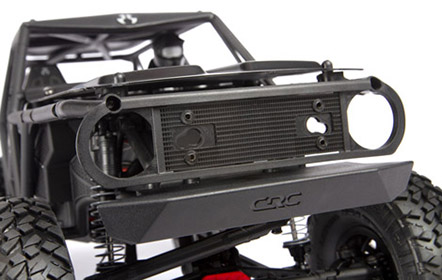 Protective Inner Fender Wells
Molded inner fender wells help to reduce routine maintenance by keeping dirt and debris kicked up by the tires from entering the chassis. Plus, they're another example of Axial ingenuity: the wells double as part of the battery tray and feature simulated cooling vents for added realism.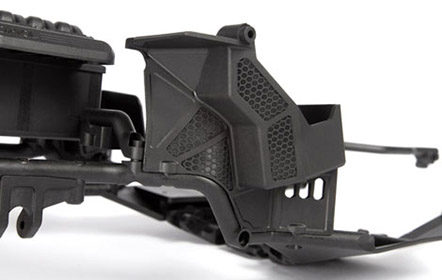 Receiver Box Molded As Replica V8 Engine
Accessing the vehicle's on-board electronics is as simple as pulling out two body clips and raising the hood. Inside and out, Axial finds clever ways to enhance the scale looks. For example, the waterproof receiver box does more than guard your sensitive electronics from potentially damaging off-road dust and debris. It also contributes to the thrilling scale realism by recreating the rocker arm covers and other contours of a V8 engine.

Included Radio Equipment
Spektrum™ STX2 Transmitter
The STX2 2-channel radio system offers many features of higher-end 2.4GHz radio systems.
Built-in 3-position throttle limiter
Steering and throttle rate and trim adjustments with throttle and steering reversing
FHSS 2.4GHz protocol for extended range and interference-free performance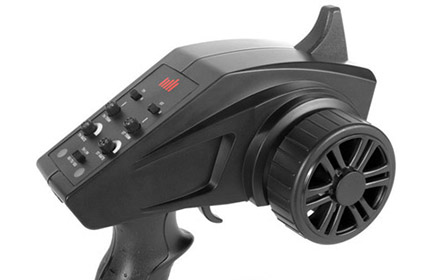 Spektrum™ SRX200 Receiver
The SRX200 is a 2-channel 2.4GHz receiver that operates on the FHSS modulation. It's conformal coated to help prevent damage from water, dust, and other elements, and also features an extra-long antenna lead for easy and effective antenna placement.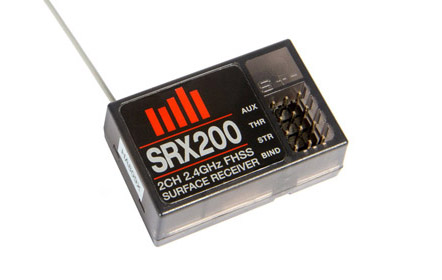 Tactic® TSX45 Metal Gear Servo
The included, water-resistant Tactic TSX45 metal gear servo is rated at 151 oz-in of torque for massive turning power. Dual ball bearings provide smooth, precise movement for the metal gear train.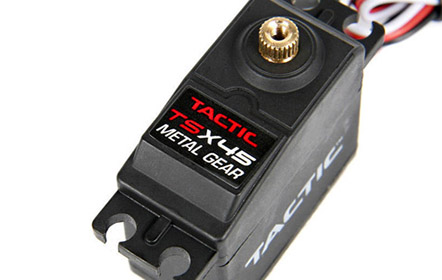 Included Motor And Esc
Axial® 35T Electric Motor
Providing an even balance of speed and crawling, the 35-turn brushed motor features a worry-free design with an integrated cooling fan for extended periods of use. Just plug and go!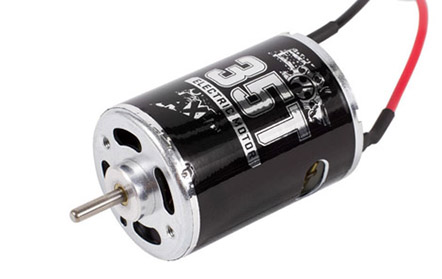 Dynamite® Electronic Speed Control With Drag Brake
The Dynamite ESC is 3S LiPo capable, yet easily switched between LiPo and NiMH batteries with a simple jumper. No more complicated procedures!
LED light controller built-in with dual LED outputs for headlights/taillights
Jumper 1 provides a simple plug and play choice between LiPo or NiMh
Jumper 2 switches Drag Brake settings
Waterproof design with IC3™ plug / laser etched heat sink
Laser-etched heat sink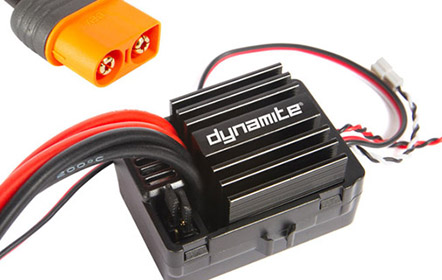 Additional Features
Licensed 1.9 Nitto Trail Grappler M/T Tires *
The officially licensed Nitto Trail Grappler M/T Tires offer fantastic off-road performance while still retaining excellent composure for on-road use. They're molded in durable S30 compound with large blocks that provide excellent bite when the going gets tough. 4.7" x 1.9" (119.4 x 48.2mm).
4.7" x 1.9" (119.4mm x 48.2mm)
S30 Compound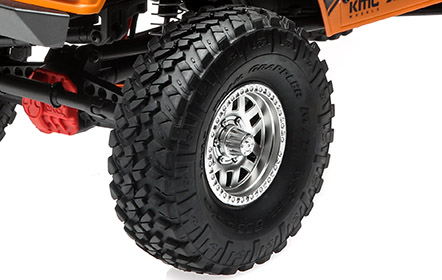 Licensed KMC XD229 Machete Crawl Wheels *
Officially licensed KMC XD Machete wheels are legendary in the off-road world. They are molded in satin silver and feature stunning scale detailing on the front and a standard 12mm hex on the back.
26mm (1.02") wide
53.9mm (2.12") tall
KMC Wheels, Nitto® and Trail Grappler® are the property of their respective owners and are used with permission or under license by Horizon Hobby, LLC.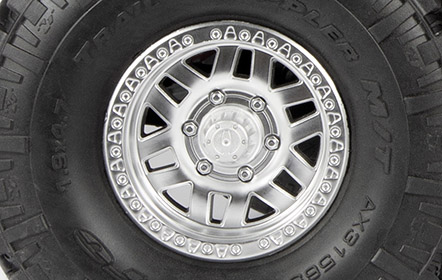 AX10™ Transmission
The ultra-compact, all metal gear transmission provides a wide range of gearing choices. The overall ratio can be adjusted using different pinion and spur gear choices, allowing super high speed or competition-level crawling.
Final drive ratio (FDR) 42.00
Original SCX10 FDR was 33.06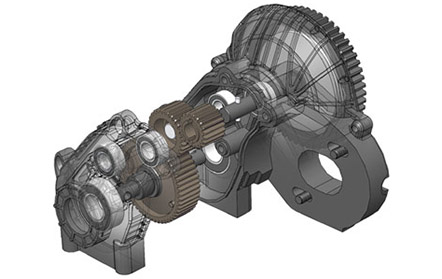 The pinion gear is 6mm above center. This allows for added ground clearance and better driveshaft angles. The high pinion design has an increased surface contact for greater durability. The optimized gear ratio reduces torque twist at the axle which is typically seen with other small pumpkin axle designs. Metal gears are standard, as is a one piece all-metal locker front and rear. The smaller pinion is HD machine cut. Larger load bearings used around the gear set reduce flex and create a stronger drivetrain.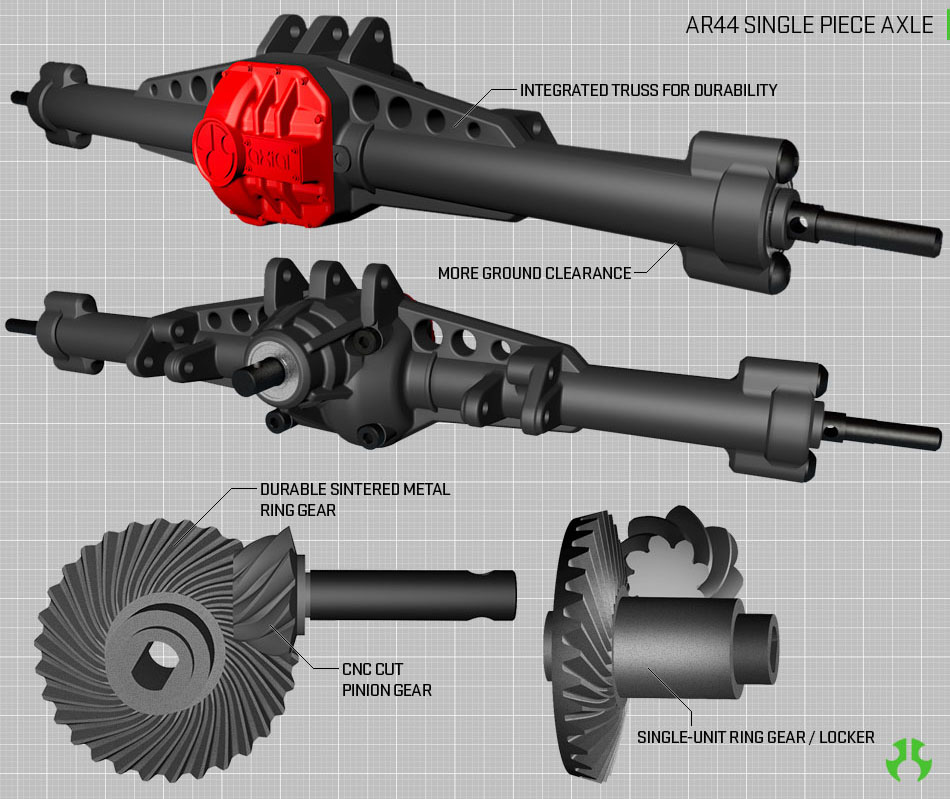 WB8 HD Wildboar™ Driveshafts
WB8 HD Wildboar front and rear driveshafts feature a large diameter cross pin (2x11mm) along with an M4 screw shaft (2mm hex drive) for added strength. A center splined slider floats between each end and features added material which reduces flex and fatigue.
3-piece driveshaft with strengthened slider-floater tube
Captured cross pin design eliminates older set screw design for more durability/easy maintenance
Adjustable length driveline parts included in box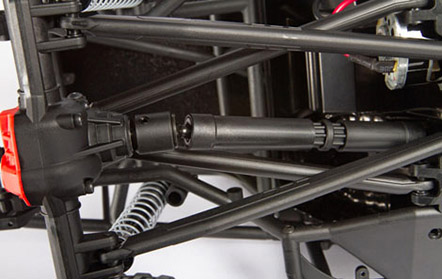 Adjustable Battery Tray
The new adjustable battery tray is now relocated lower and further forward for better weight distribution and center of gravity (COG).
Adjustable tray that prevents the battery from coming loose or shifting while driving.
Can accommodate batteries up to 32x44x147mm (3S/5,000 mAh).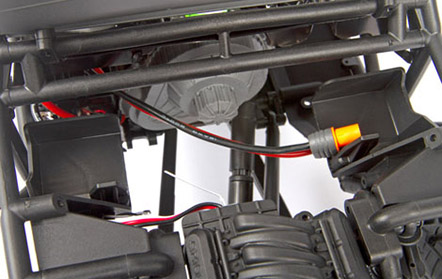 Scale Accessories
In the box you'll find two highly detailed turbochargers. Install them under the hood for added scale realism! (Two turbochargers included but not installed. Hardware for installation not included.)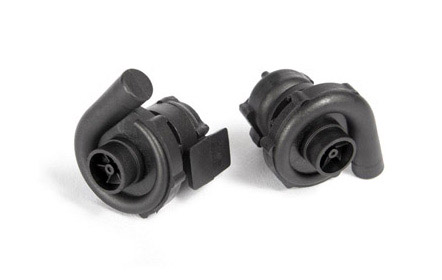 Dual Slipper Clutch
Our dual slipper design uses a pad on each side of the spur gear to increase surface area. This allows for more precise tuning and holding power. The spur gear features strong, 32-pitch gearing for high torque applications.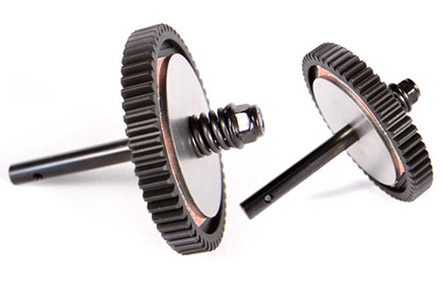 4-Link Rear Suspension
The suspension geometry uses a 4-link design for the rear which is optimized to reduce axle steer and torque twist. It also helps with steep off-camber climbs by having the proper amount of anti-squat and roll characteristics.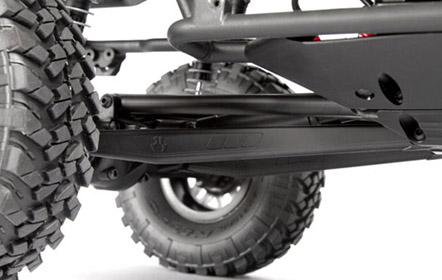 Product Specifications
| | |
| --- | --- |
| Product Width | 8.8" (224 mm) |
| Radio | Included |
| Charger | Sold Separately |
| Differential | Bevel gear |
| Receiver | Included |
| Wheel Type | KMC XD229 Machete |
| Final Drive Ratio | 42:1 |
| Motor Type | Brushed |
| Speed Control | Included |
| Wheelbase | 12.13" (308 mm) |
| Power Type | Electric |
| Gear Pitch | 32-Pitch |
| Approximate Assembly Time | No assembly required |
| Body | Molded polycarbonate with plastic grille and molded plastic inner fender wells |
| Pinion | 13T |
| Scale | 1/10 |
| Ball Bearings | Full set included |
| Chassis | Full tube frame constructed of high-strength impact resistant composite plastic, new chassis design moves battery tray to front for easier access and better weight distribution, new lower rails and skid plates are narrower for added clearance |
| Completion Level | Ready-To-Run |
| Drivetrain | 4WD |
| Product Height | 8.8" (224 mm) |
| Tire Compound | Sticky R35 firmness compound |
| Wheel Hex Size | 12mm |
| Product Weight | 4.65lb (2.1kg) |
| Tire Tread | Grappler |
| Vehicle Type | Rock Crawler |
| Water-Resistant | Yes |
| Battery | Sold Separately |
| Internal Gear Ratio | 2.6:1 |
| Motor Size | 540 |
| Product Length | 17.8" (452 mm) |
| Spur Gear | 56T |
| Steering Type | 2WS |
| Wheel Width | 1.2" (26mm) |