1/10 Warthog F/R 2.8" Monster Truck Tires MTD 12mm Black Ripper (2)

1/10 Warthog F/R 2.8" Monster Truck Tires MTD 12mm Black Ripper (2)
All-Terrain performance for your 1/10 scale Monster Truck
Lightweight and Durable
Pre-mounted for your convenience
Removable Hexes Allow you to Easily Replace Damaged Hexes
Ripper 2.8" Wheels accept Clip-Lock Chrome Wheel Faces
1/10 Warthog F/R 2.8" Monster Truck Tires MTD 12mm Black Ripper (2)
RC Club points earned on this item shown at checkout.
ⓘ
Product Details
In The Box
(2) Warthog All-Terrain Tires Mounted on Ripper 2.8" Black Wheels
(2) 6x30 to 12mm Hex Adapters (Narrow)
(2) 6x30 to 12mm Hex Adapters (Wide)
(12) M3x12 Socket Head Screws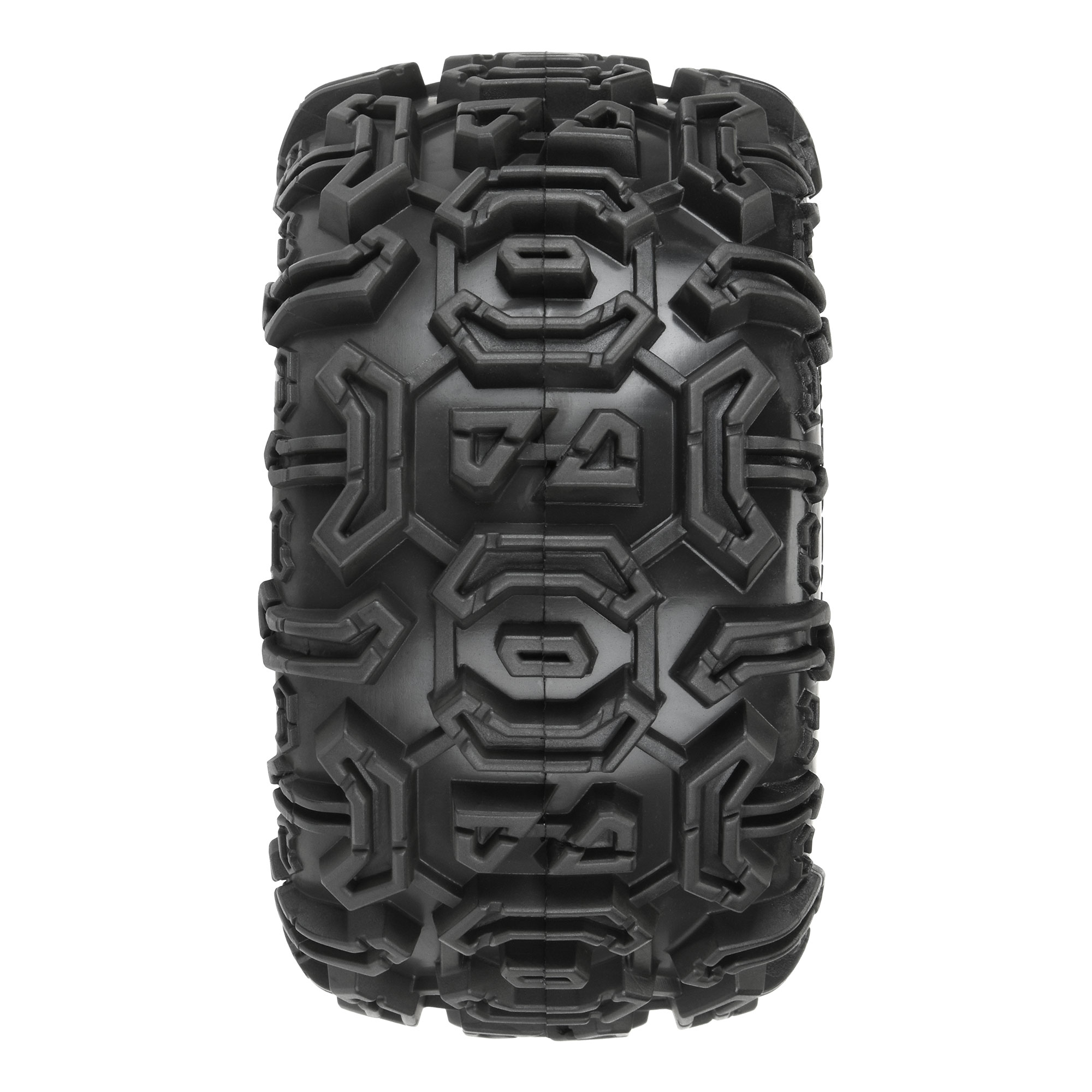 Overview
This is a pair of Warthog 2.8" tires. The Duratrax Warthog tire is an all-terrain beast, ready to tackle whatever you throw at it! Whether its dirt, grass, gravel, sand or street, strap on some Warthogs to give your rig massive traction. The beefy center lugs, precisely shaped side tread team up to create an outstanding new look, while the long-lasting compound provides the value and performance you've come to love from Duratrax.
The Warthog 2.8" tires are conveniently pre-mounted on black Ripper wheels with a removable hex for ultimate versatility! Not only do the included hexes allow you to choose between the different offset and hex sizes, they also allow you to easily replace a damaged wheel hex without needing to replace your glued tires. The hefty 6x30 interlocking hex design is secured to the wheel by 6 M3 screws that are spaced 48mm across. Replacement Hexes are available separately (12mm PRO633500, 14mm PRO634700).
The Ripper 2.8" wheel is also compatible with the Duratrax Clip-Lock wheel face customization system (sold separately)! Choose between Mirror Chrome (DTX2820), Red Chrome (DTX2821) or Black Chrome (DTX2822) color options to give your rig some massive Bling Factor at your local bash spot. The wheel faces clip into the front spokes of your Ripper Wheels securely with no tools required and are easily removed if you want to change up your color scheme or freshen them up after an intense bash session.
Get your Warthog + Ripper combo from Duratrax, the leader in value and performance!
Please note: All tires & wheels are sold in pairs, unless otherwise noted.
Features
TIRE FEATURES
All-terrain performance for your 1/10 scale Monster Truck
Lightweight and Durable
Pre-mounted for your convenience
Made in USA
WHEEL FEATURES
Removable Hexes Allow you to Easily Replace Damaged Hexes
The 2 Most Common 12mm Offsets are Included
Ripper 2.8" Wheels accept Clip-Lock Chrome Wheel Faces
M3 Wheel Hex Hardware Included
Fits
Stampede® 2wd
Stampede® 4x4
Granite™ Voltage™ 2wd (ARA102727)
Granite™ 4X4 (ARA4202V3, ARA4302V3, ARA4102V4) with the use of optional 14mm Hex Adapters (sold separately)
Other 1/10 Monster Trucks with 12mm Hexes
Stampede® is a registered trademark of Traxxas® L.P.
Product Specifications
| | |
| --- | --- |
| Wheel Type | Ripper |
| Package Type | Pre-Mounted |
| Tire Type | Off-Road |
| Track Surface | All-Terrain / Backyard |
| Wheel Position | Front/Rear |
| Tire Tread | Warthog |
| Vehicle Type | Monster Truck |
| Compound / Hardness | Soft |
| Color | Black |
| Scale | 1/10 |
| Insert Material | Open Cell |
| Product Height | 4.9" (124 mm) |
| Quantity Option | 2 in a package |
| Wheel Hex Size | 12mm |
| Inner Tire / Outer Wheel Diameter | 2.8 in |
| Product Width | 2.9" (74 mm) |