1/10 VQS 4x4 Buggy Kit (2020)

1/10 VQS 4x4 Buggy Kit (2020)
The Vanquish is a legendary buggy from our R/C back catalog. It's now available again in the form of a re-issue assembly kit renamed the VQS. The kit receives tweaks to the original to bring it into the modern age of R/C fun! We have also saved builders some work too, with a pre-cut and pre-painted body!
Lightweight And Durable Polycarbonate, Pre-Painted Body
Body Stickers Are Based Upon Those In The Original Release
ABS Plastic Monocoque Bathtub Chassis
Aluminum Front Uprights And Efficient Universal Shafts
Planetary Gear Differential Units From The Original Avante
1/10 VQS 4x4 Buggy Kit (2020)
RC Club points earned on this item shown at checkout.
ⓘ
Product Details
In The Box
(1) 1/10 R/C VQS Kit
(1) TBLE-02S ESC
(1) 540-Size Brushed Motor
(1) Instruction Manual
Needed to Complete
(1) 2+ Channel Radio System
(1) Standard-Size Steering Servo
(1) 7.2V - 7.4V Battery
(1) Battery Charger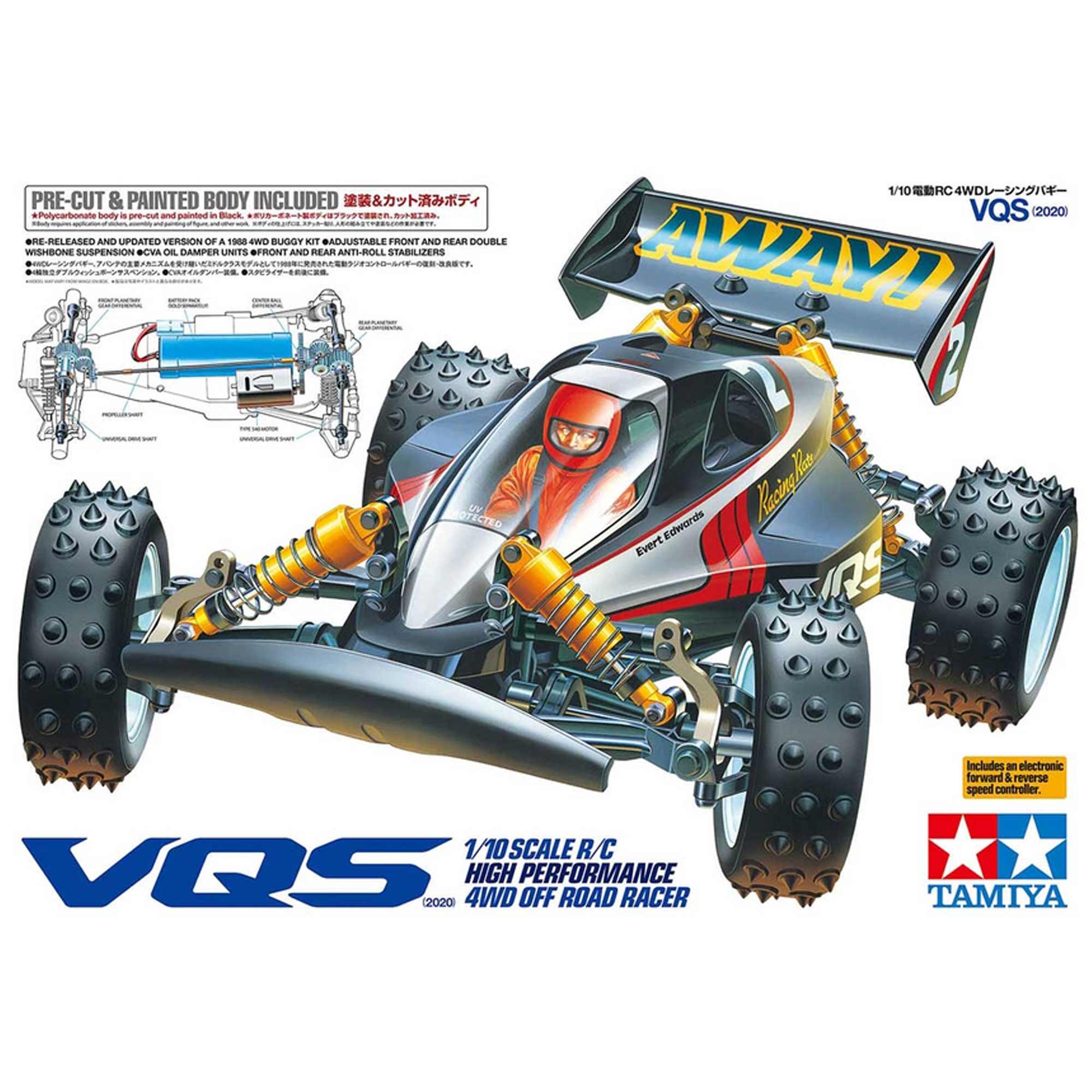 Features
Lightweight and durable polycarbonate, pre-painted and cut, with body mount holes already pre-drilled.
Body stickers are based upon those in the original release, and just require application to complete the body.
ABS plastic monocoque bathtub chassis.
Aluminum front uprights and efficient universal shafts are designs inherited from the 2011 re-issue of the Avante.
Planetary gear differential units from the original Avante.
Includes 540-Size brushed motor and Tamiya TBLE-02S ESC, capable of running sensored brushless motors and brushed motors alike.
Capable Off-Road Chassis
This R/C model assembly kit is an updated re-release version of a 1988 buggy from the Tamiya back catalog, which inherited its make-up from the legendary race-oriented Avante. The forward cockpit body design - and the rear wing - are molded in lightweight polycarbonate and pre-painted black, pre-cut with body mount holes pre-made to save on some preparation work. An ABS plastic monocoque frame is employed, with responsive shaft-driven 4WD plus a triple differential setup, four-wheel double wishbone suspension and plenty more - superb off-road driving awaits!
This model's durable ABS plastic monocoque frame protects vital R/C equipment and boosts suspension performance with its excellent rigidity. A total of three differentials are employed: small front and rear planetary gear differentials, and a center differential with ball thrust bearing; front and rear gearboxes also have maintenance hatches. Universal shafts front and rear ensure smooth, efficient drive and minimal worry about parts coming loose due to bumps and shocks, while the Avante-based 4-wheel double wishbone suspension employs plastic lower arms with threaded shaft upper arms that allow swift adjustment of camber. Front uprights are aluminum, and stabilizers are included for the front and rear.
Video Overview
Video Overview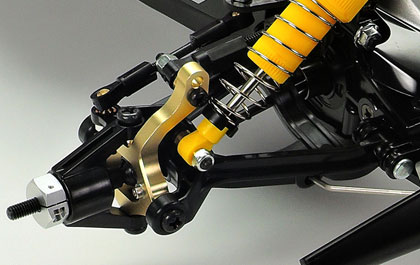 Front Suspension
The front double wishbone suspension employs aluminum uprights, while universal drive shafts are used front and rear.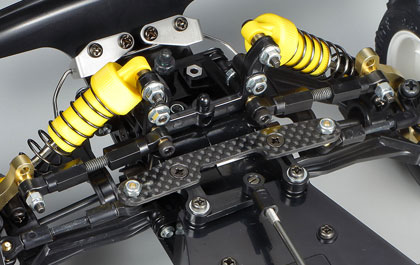 Tie Rod Setup
Three-piece steering tie rod setup. The center plate is crafted in 2mm carbon fiber.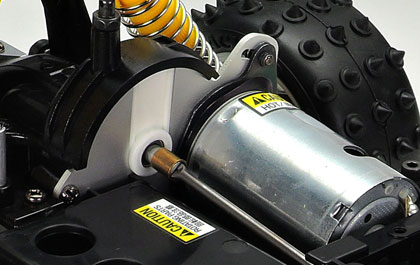 Shaft-driven 4WD
Reponsive shaft-driven 4WD is powered by a longitudinally-placed motor, with a ball differential in the drive gear.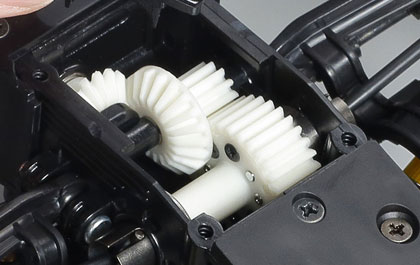 Gear Box
Sealed gearboxes front and rear house compact planetary gear differentials which utilize the Avante design.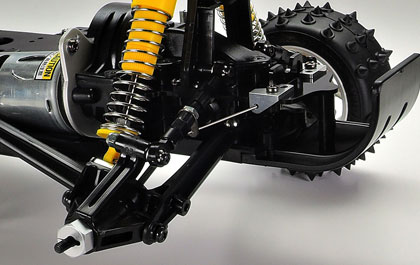 Rear Suspension
The rear suspension setup features long, ball-mounted lower arms. Threaded upper arms (front and rear) allow adjustment of camber.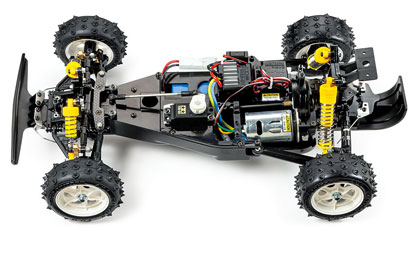 Bathtub Frame
The monocoque bathtub frame is a lightweight, durable design that protects and allows easy access to R/C equipment.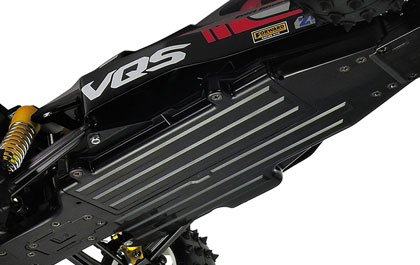 Battery Compartment
Battery changes are made from the underside. The model is compatible with Tamiya 7.2V Racing Pack and LF2200-6.6V battery packs.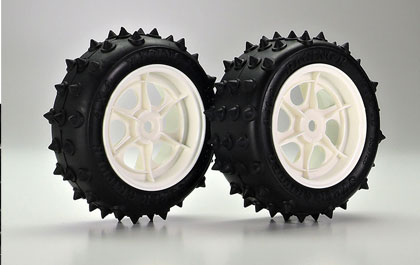 Tires and Wheels
Lightweight 6-spoke wheels are paired with pin spike tires. Front wheels are narrow, and rear wheels are wide designs.
Product Specifications
| | |
| --- | --- |
| Charger | Sold Separately |
| Body | Polycarbonate |
| Scale | 1/10 |
| Motor Type | Brushed |
| Speed Control | Included |
| Wheelbase | 10.82" (275 mm) |
| Vehicle Type | Buggy |
| Power Type | Electric |
| Ball Bearings | Includes full ball bearings |
| Chassis | ABS Plastic |
| Completion Level | Kit |
| Drivetrain | 4WD |
| Product Height | 5.9" (150 mm) |
| Battery | Sold Separately |
| Motor Size | 540 |
| Product Length | 17.12" (435 mm) |
| Suspension | Fully Independent Double Wishbone |
| Product Width | 9.25" (235 mm) |
| Radio | Sold Separately |