Backorder
|
Next Shipment October 2023

1/10 Turbo Scorpion 2WD Buggy Kit
Backorder
|
Next Shipment October 2023

1/10 Turbo Scorpion 2WD Buggy Kit
More performance and style with improvements to each key component, this machine is more than just a reproduction!
Updated To Meet The Demands Of Modern Racing
Kit Includes Pre-Assembled Gearbox
Features Same Race-Style Mini Bumper As The Original
Optional LED Lights Can Be Simply Bolted On
Screwed Surfaces Are Countersunk For Flat Finish
1/10 Turbo Scorpion 2WD Buggy Kit
Earn
points on this item
ⓘ
Product Details
In The Box
(1) 1/10 Turbo Scorpion 2WD Buggy Kit
(1) Clear Polycarbonate Body
(1) Decal Sheet
(1) Instruction Manual
Needed to Complete
(1) 2+ Channel Radio System
(1) Standard-Size Steering Servo
(1) 540-Size Motor
(1) Electronic Speed Control
(1) 7.2V - 7.4V Battery
(1) Battery Charger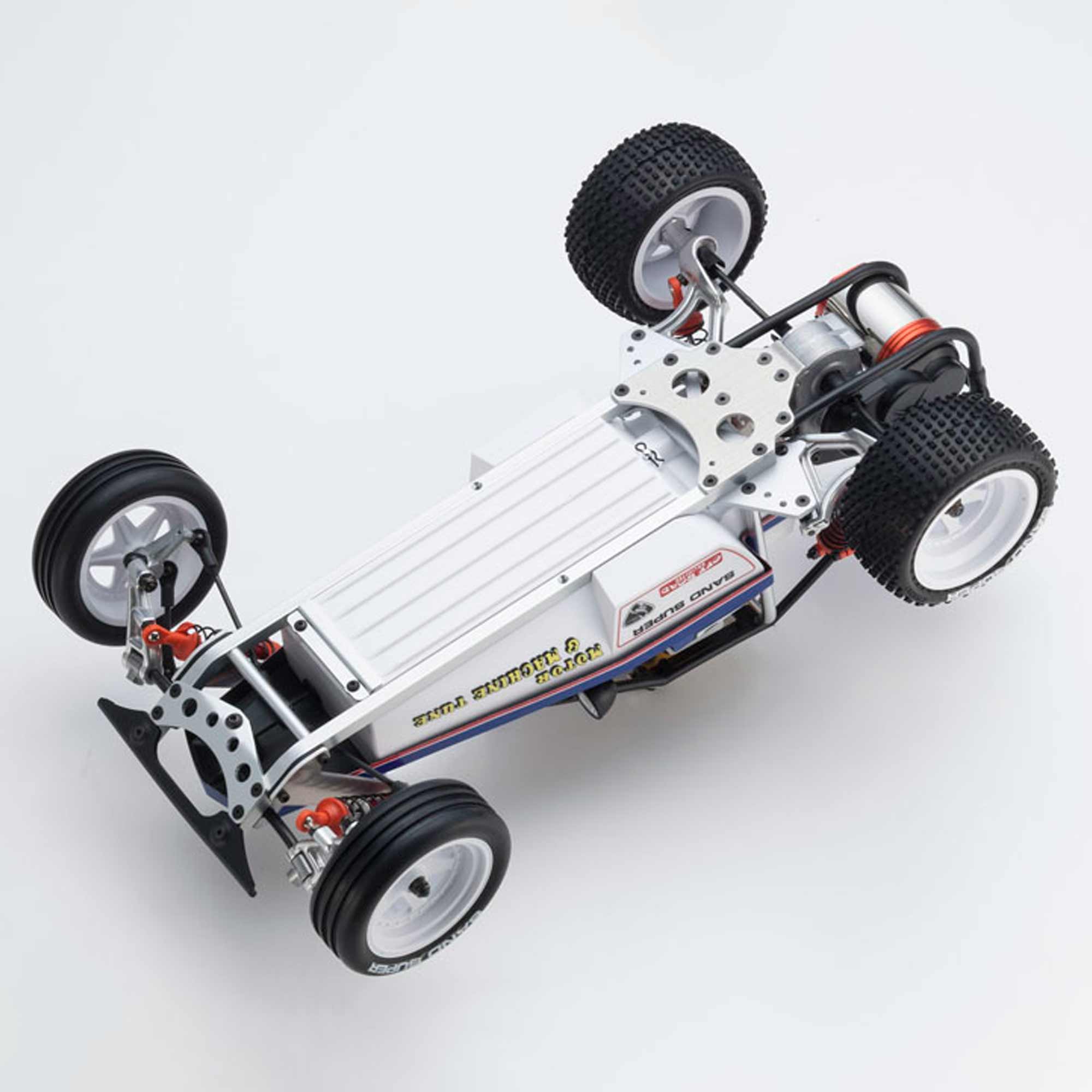 Introduction
As the 5th model to make its return as part of the vintage series, the ever-popular Scorpion released in 1982 was relaunched 2 years ago and has undergone a detailed overhaul to match modern performance with retro styling. The new Turbo Scorpion remains true to the essence of the unique Scorpion design throughout, but features Scorpion-style wheels in the larger 2.2 inch modern standard wheels for improved off-road performance. In addition, 12mm oil shocks based on the Optima deliver rock-solid running stability and excellent damping characteristics that work in combination with high-grip front and rear tires with a 20mm wider front tread and 10mm longer wheelbase than the original Scorpion to realize improved control and handling performance. With a thorough modernization, the new Turbo Scorpion is ready and willing to accept modern-day power sources and compete on modern race circuits. The standard Turbo Scorpion is a fully optioned chassis configuration and is ready to take the punishment that goes with hard driving.
Features
Turbo Scorpion updated to meet the demands of the modern off-road racing scene.
Kit includes pre-assembled gearbox.
Features same racy-style mini bumper as the original.
Rear section reinforced with Rear Sus Post L, strengthened by added flange.
Features accurate recreation of the original loop-mount light buckets. Optional LED lights can be simply bolted on.
Screwed surfaces are countersunk for flat finish.
Decals included in kit are diecut. Stretch for easy application and beautiful body finish.
Kyosho Turbo Scorpion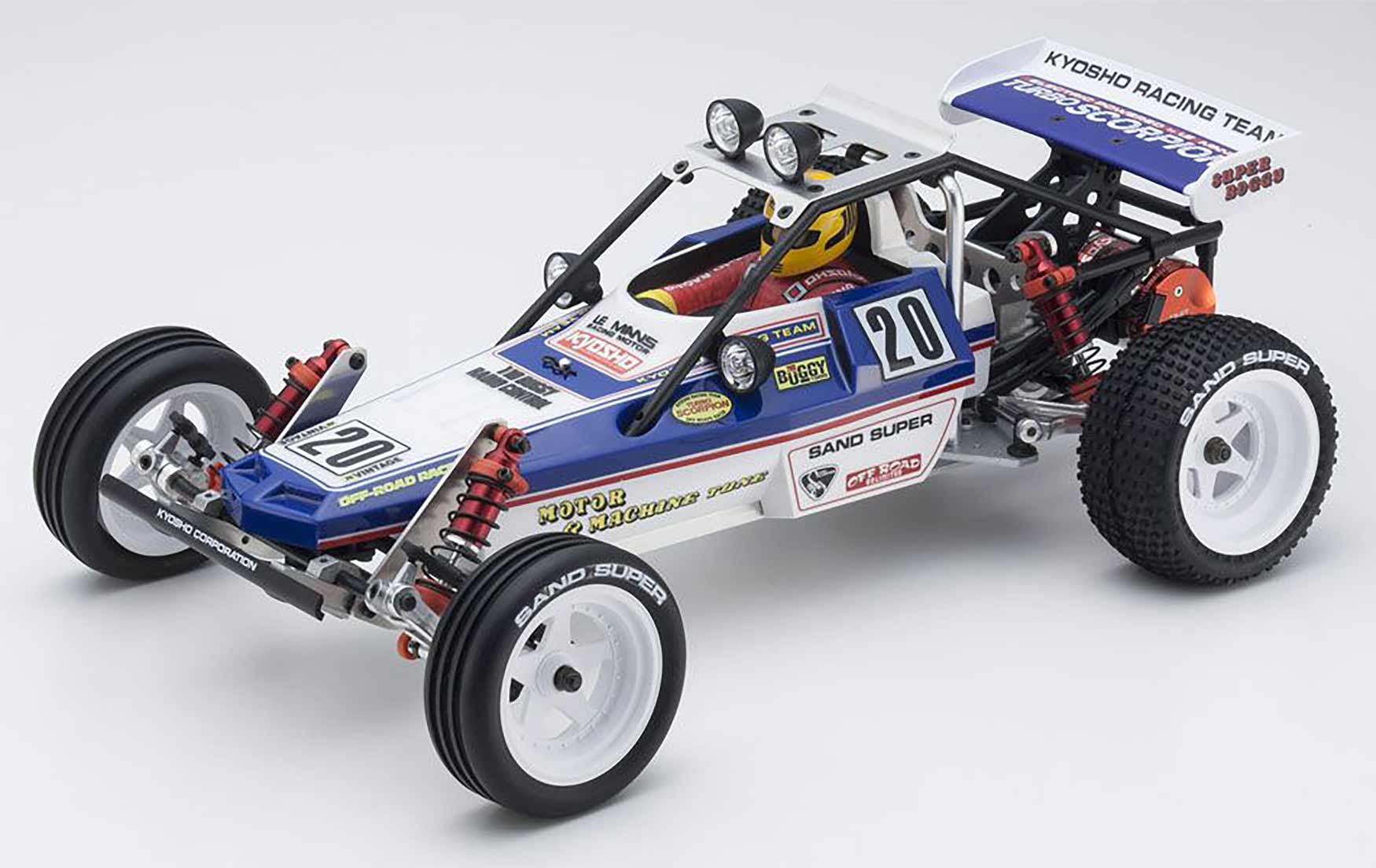 Body Design
Recreation of the original body design. Roll bar position moved back 6mm and compatible with the original light buckets from the first Scorpion.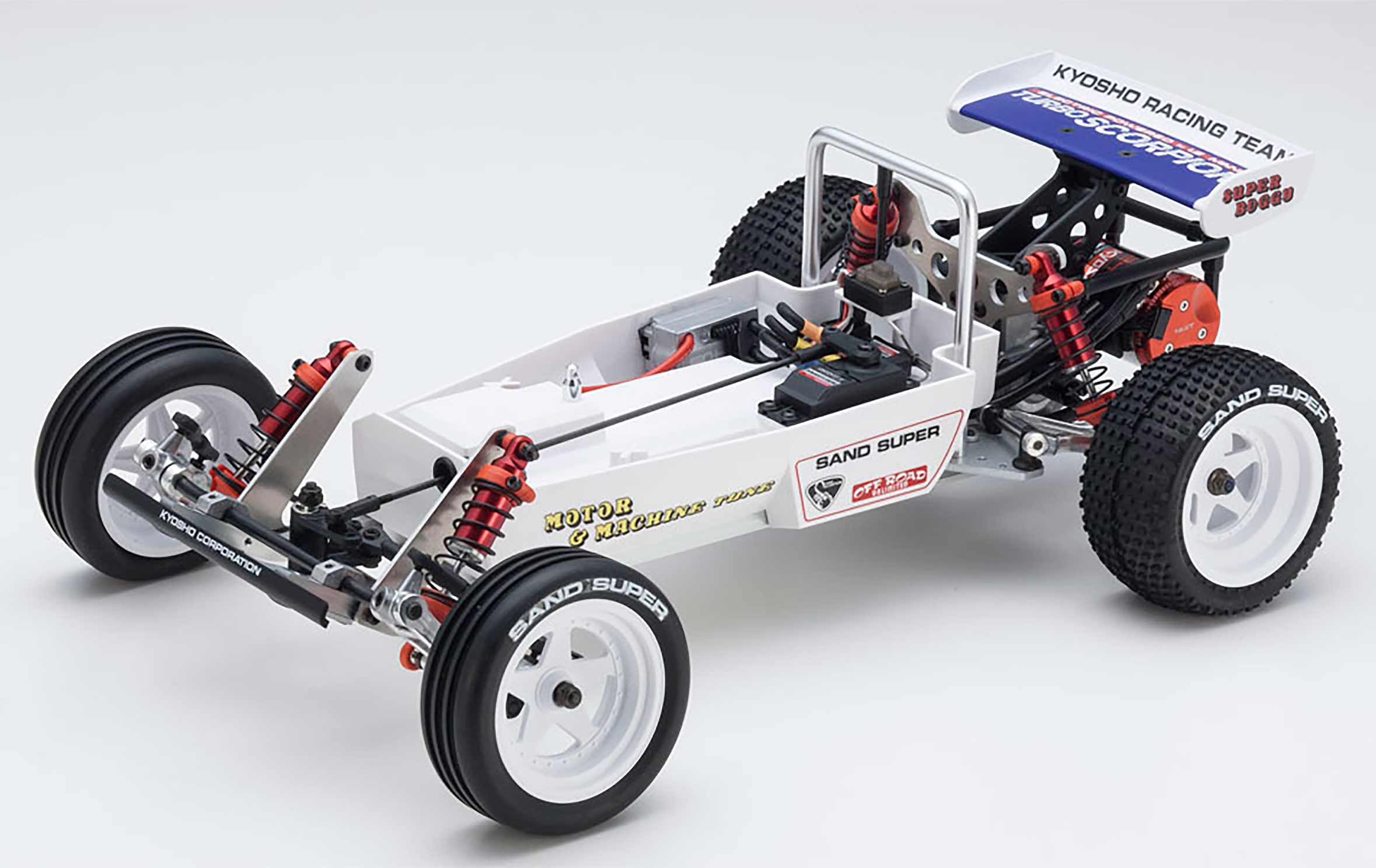 Chassis Design
Stylish design features modern standard 2.2 inch wheels with a 20mm wider front tread and 10mm longer wheelbase than the original Scorpion.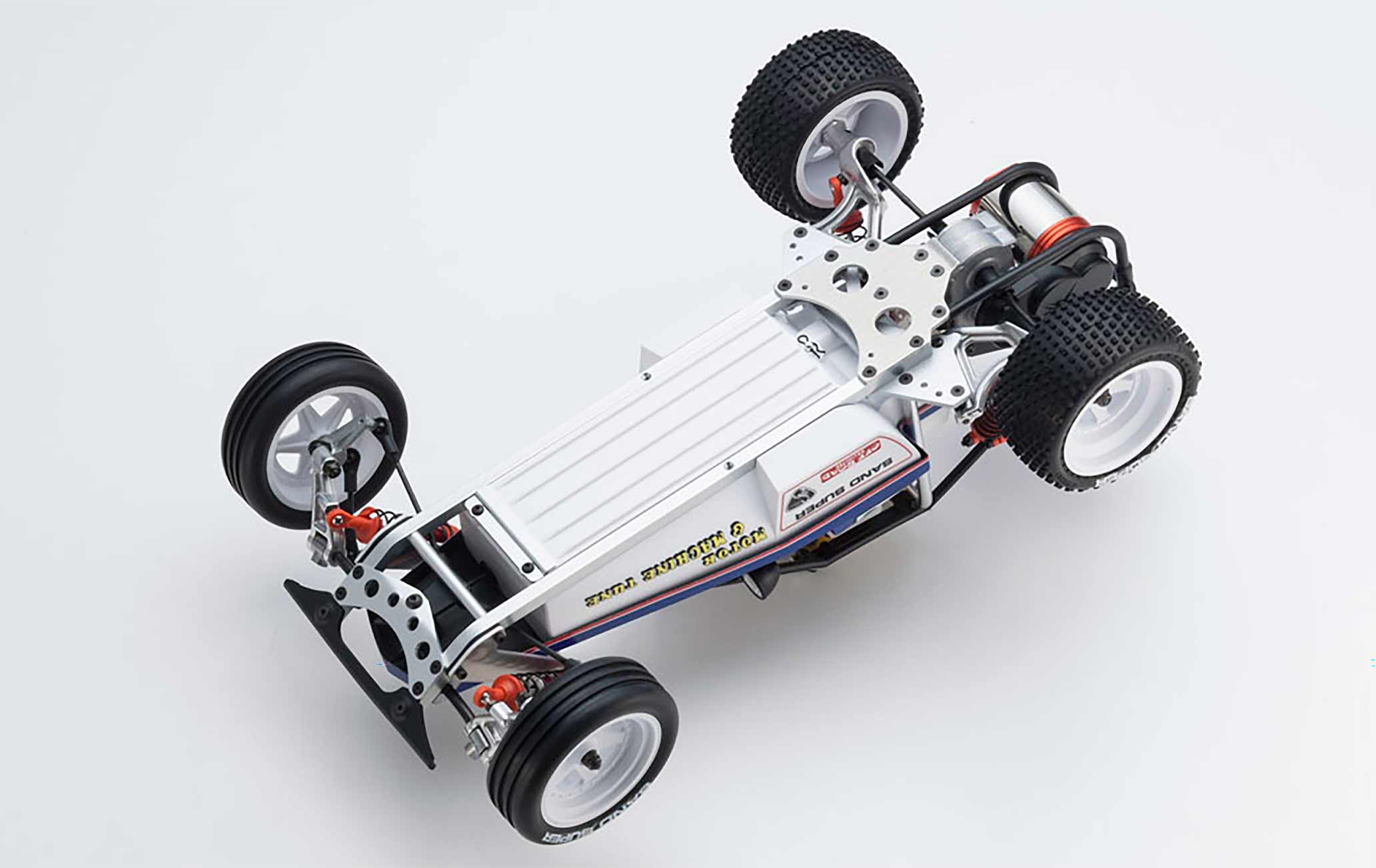 Ladder Frame
Ladder frame is made from strong and lightweight A6061T6. The radio box is compatible with various battery types and with the same white color as the original recreates that racy style.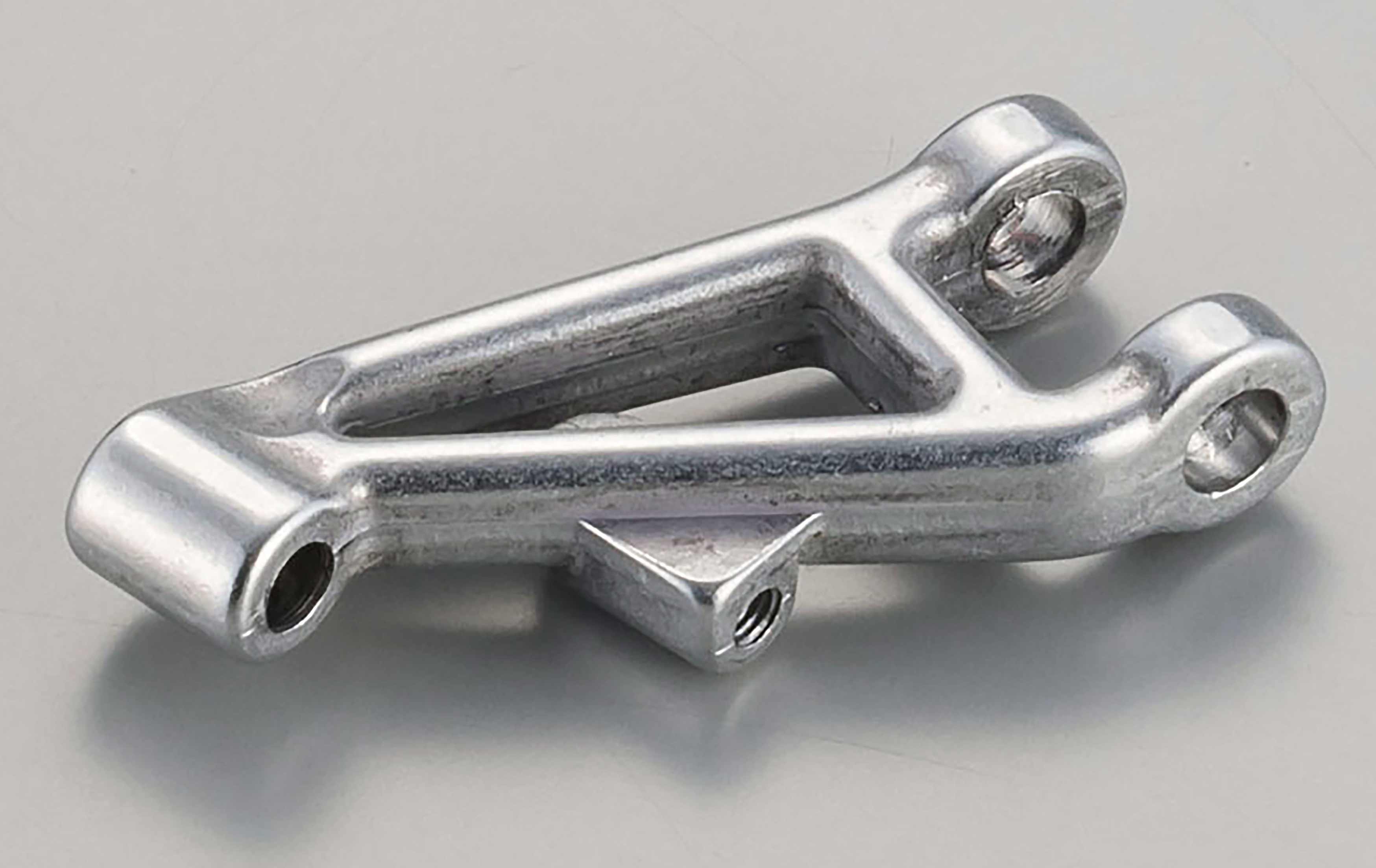 Aluminum Suspension
Forged A6061T6 suspension arms deliver superior strength, rigidity and durability and combine with 12mm oil shocks based on the Optima to realize high-level performance.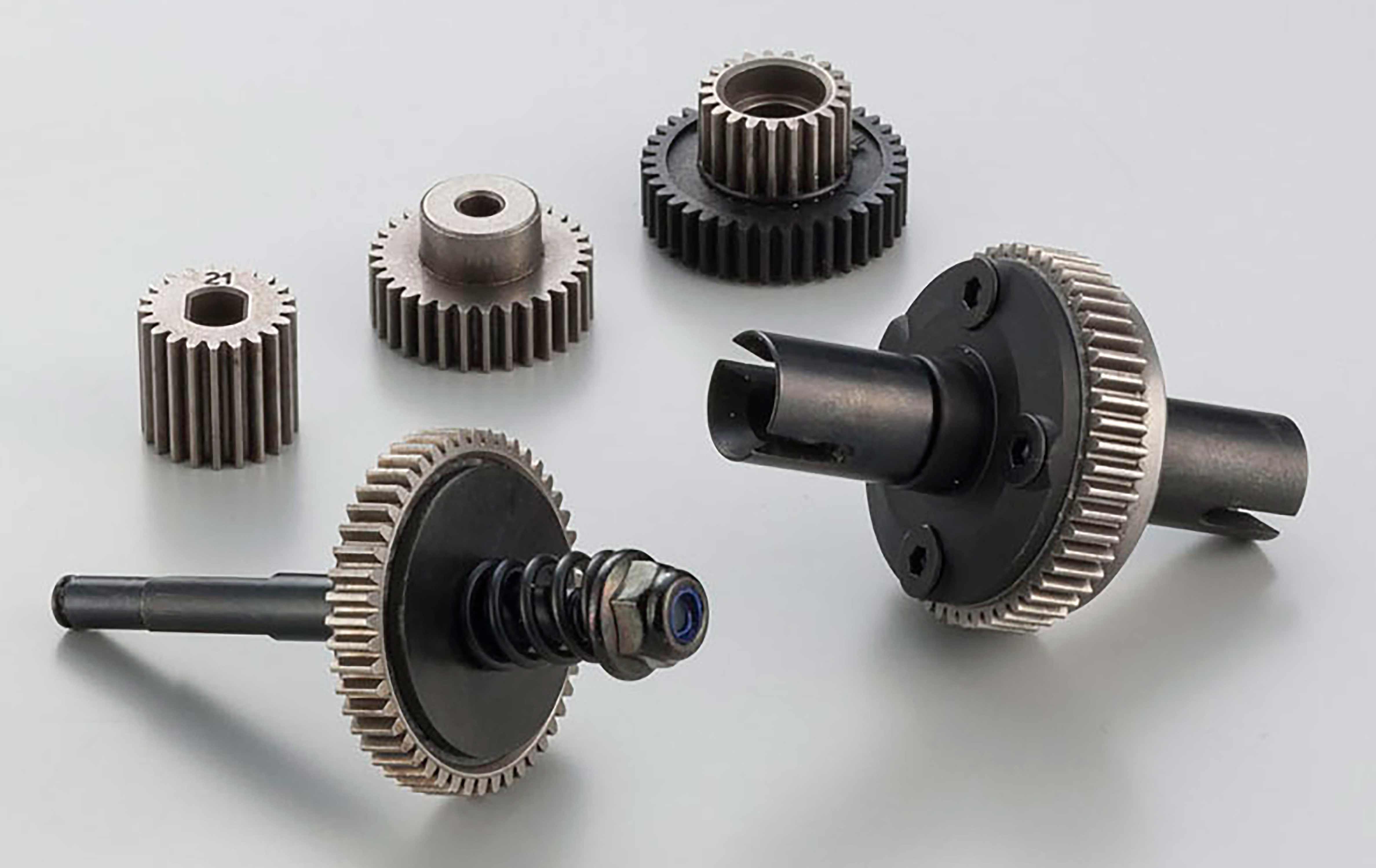 Alloy Gears
Optimal use of nylon and sintered alloy in the 48 pitch gears realizes low noise and high efficiency. Optional ball diff for the Ultima RB can be installed.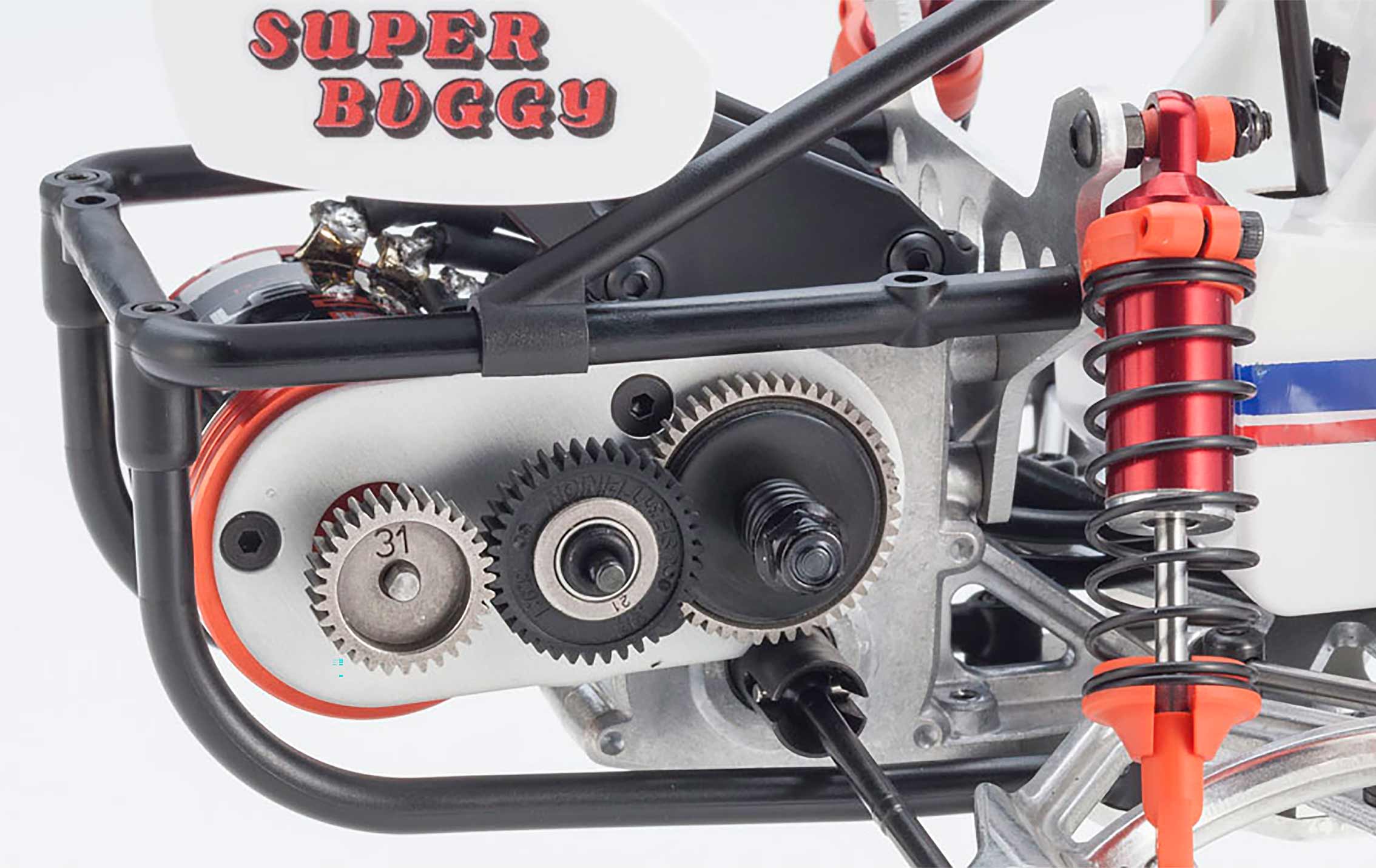 Gear Box
Gear cover enclosing two-piece aluminum diecast gearbox with built-in gear diff features a slipper clutch to protect gears from damage.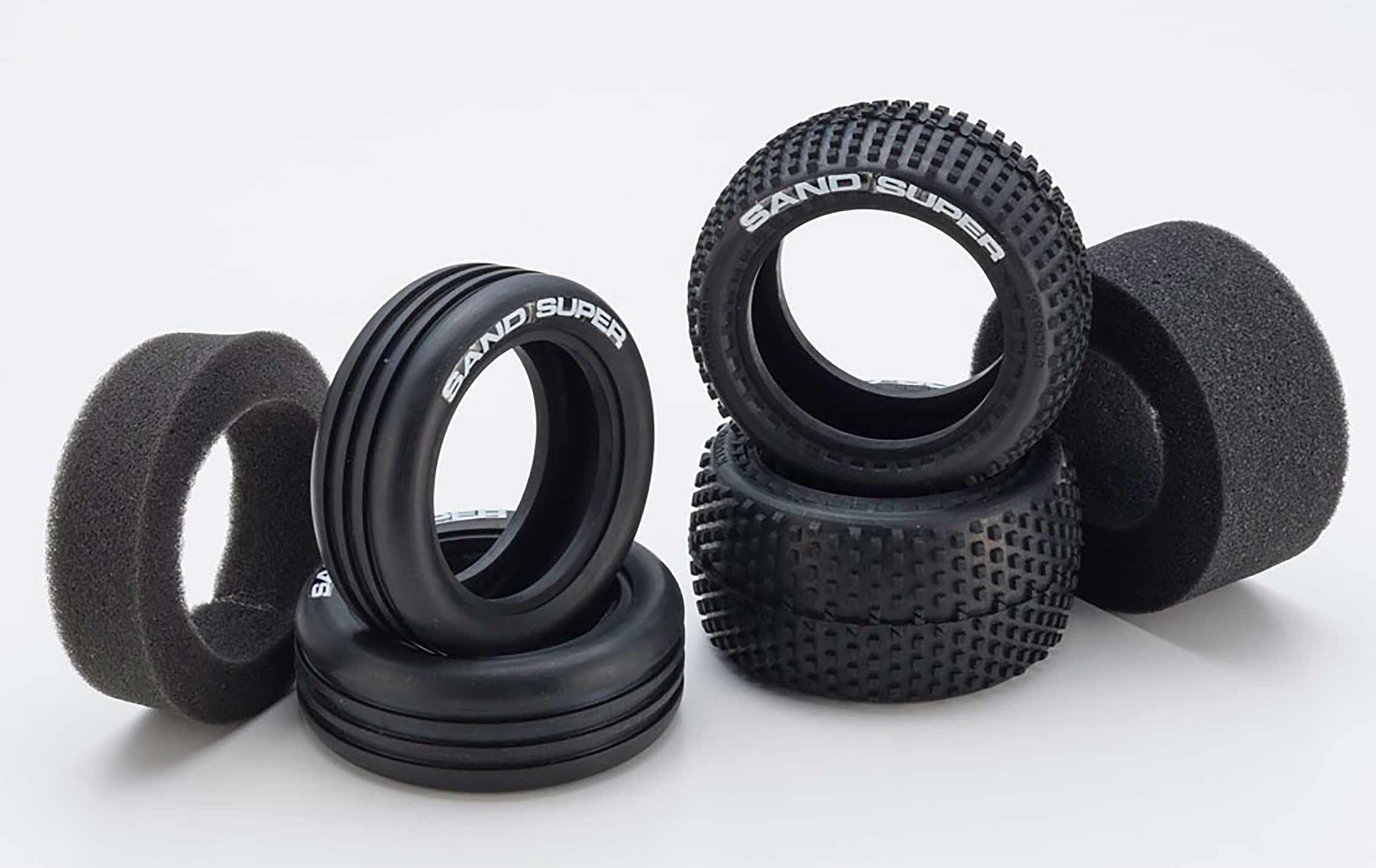 Tires and Inserts
Soft compound removes understeer from ribbed front tires. Block-pattern rear tires maintain sure-footed grip and traction.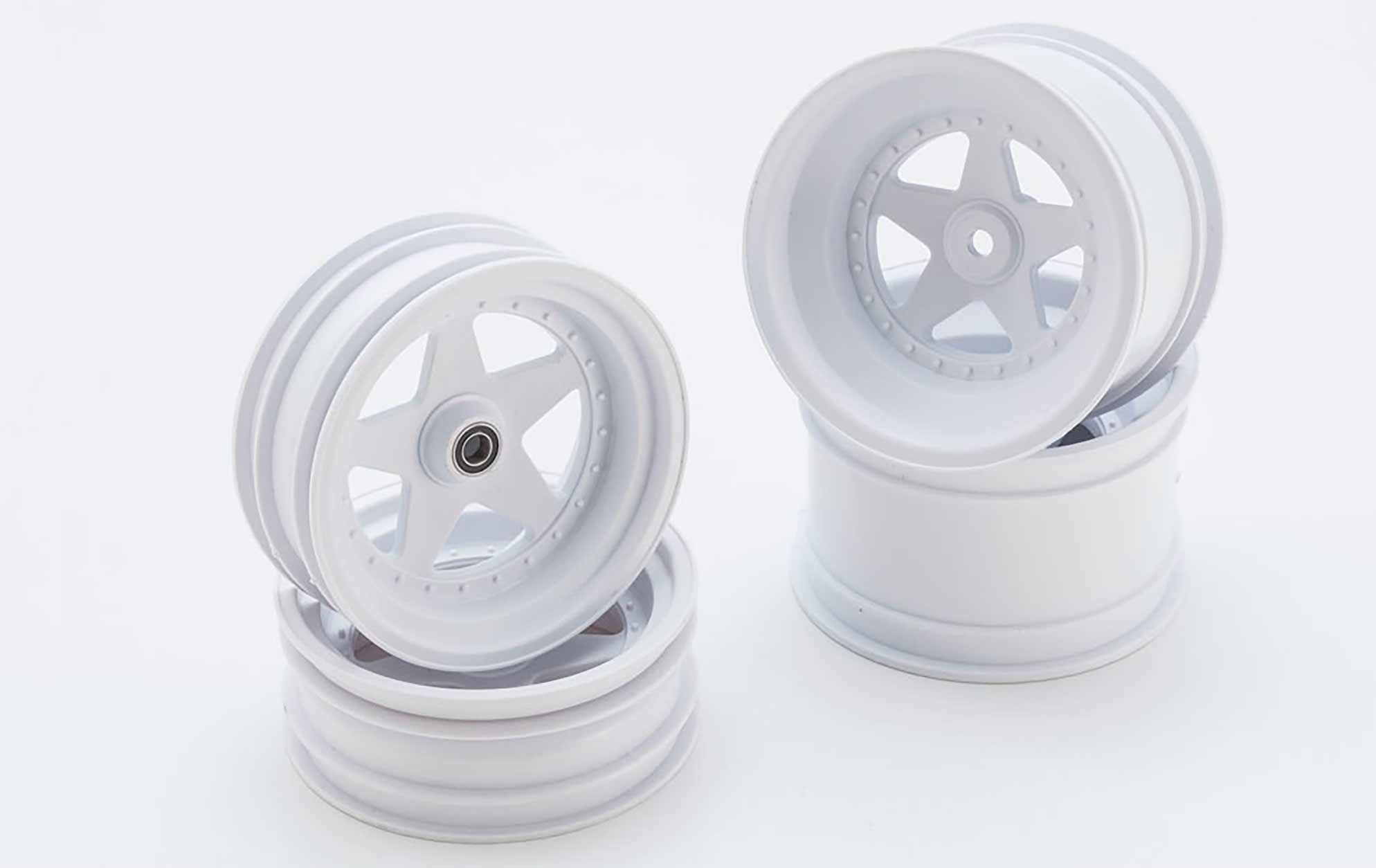 Modern Wheels
Equipped with modern standard 2.2 inch wheels in the 5-spoke style of the original Scorpion era that are normally sold as an optional upgrade for the vintage series.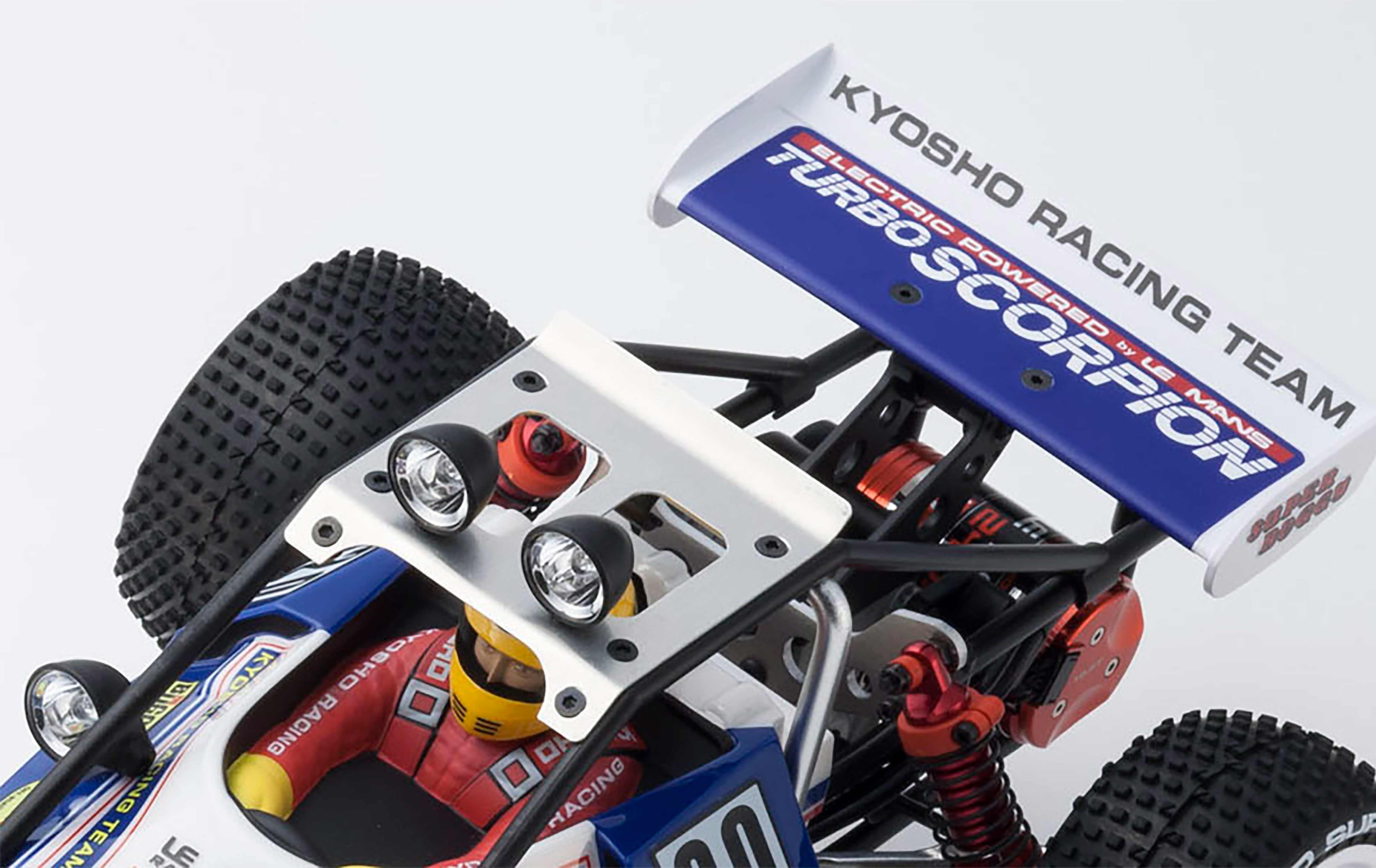 Rear Wing
White rear wing included matches vintage color scheme with reinforced nylon resin wing stay. Kit also includes resin parts that allow the wing angle to be adjusted.
Product Specifications
| | |
| --- | --- |
| Power Type | Electric |
| Servos | Sold Separately |
| Charger | Sold Separately |
| Differential | Gear Diffs |
| Receiver | Sold Separately |
| Approximate Assembly Time | 10-15 Hours |
| Motor Type | Brushed |
| Speed Control | Sold Separately |
| Wheelbase | 10.7" (272 mm) |
| Body | Clear Polycarbonate |
| Scale | 1/10 |
| Shock Type | Oil-Filled, Coil-Over |
| Vehicle Size | Standard |
| Product Width | 10.1" (257 mm) |
| Radio | Sold Separately |
| Completion Level | Kit |
| Drivetrain | 2WD |
| Drive Type | Forward/Brake/Reverse |
| Product Height | 5.7" (145 mm) |
| Chassis | Ladder Frame |
| Battery | Sold Separately |
| Gear Ratio | 6.9 : 1 / 8.3 : 1 (select from 2 types) |
| Motor Size | 540-Size |
| Product Length | 16.1" (409 mm) |
| Steering Type | 2WS |
| Suspension | Independent Suspension |
| Product Weight | 3.3 lbs (1500g) without battery |
| Tire Tread | Off-Road |
| Vehicle Type | Buggy |