Discontinued
|
This Item is No Longer Available

1/10 TENACITY 4WD SCT Brushless RTR with AVC, Black/Yellow
Discontinued
|
This Item is No Longer Available

1/10 TENACITY 4WD SCT Brushless RTR with AVC, Black/Yellow
Product Details

If you can dish it out, the Losi® TENACITY™ short course truck can take it. This basher is built on the original TEN platform-known worldwide as one of the toughest platforms around. Now Losi is bringing the TEN to the masses with easy-to-use features and Spektrum™ AVC® technology (including the option of telemetry). The TENACITY borrows some of its design from the TEN MT, such as the bottom-loading battery configuration for simple and quick battery changes. But it also adds a spin on the TEN platform with a Dynamite® 130A brushless ESC and Fuze™ 4-pole 3800Kv 550 motor that lets you tear up the terrain at speeds of 50 MPH or more with 3S power.
Needed to Complete
7.4 5000mAh 2S 30C or 11.1V 5000mAh 30C 3S Hardcase Li-Po Battery with EC3™ connector
Balance Charger capable of charging a 2 to 3 cell Li-Po with an EC3 connector
What's in the box?
(1) Losi TENACITY SCT 4WD RTR
(1) Spektrum DX2E ACTIVE™ 2.4GHz Transmitter with AVC
(1) User Manual

Legendary TEN 4WD Platform
Based on the world-famous TEN MT, the TENACITY is a durable, high-performing short course truck with a racing pedigree. Its tough composite chassis helps lower the weight and you won't believe how easy battery changes are with the bottom-load battery door.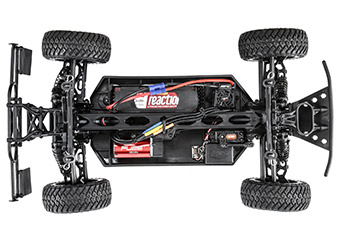 Dynamite 130A Brushless ESC and Fuze 4-Pole 3800Kv 550 Motor
The TENACITY's brushless ESC and 3800Kv motor provide incredible power with a 2-3 cell LiPo (not included). The Dynamite Fuze 130A ESC is the newest addition to the Fuze ESC lineup. It's waterproof, completely programmable and comes pre-wired with a high-current EC3 connector. The ESC works with most sensorless brushless motors and is Ni-MH and 2S and 3S LiPo compatible-allowing you to run at speeds of 50 MPH or more.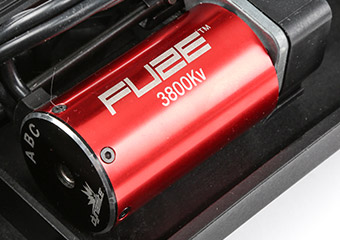 Waterproof Components
To provide you with added flexibility, all the TENACITY's components are waterproof so you can run in wet conditions, pretty much wherever and however you want. No more shying away from puddles-now you can rip across them whenever you want.
12mm Race-Inspired Composite-Bodied Shock Absorbers
These shock absorbers help keep the TENACITY incredibly stable and so you can maintain control on even the toughest terrain.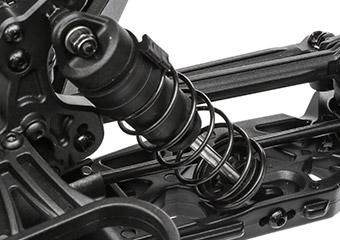 MAXXIS Razr MT Tires
Working together with MAXXIS Tires, Losi added scaled-down Razr MT tires with an aggressive tread pattern that will help you tackle any terrain. Whether you're driving on asphalt or dirt, these tough tires provide long-lasting tread life and world-class performance.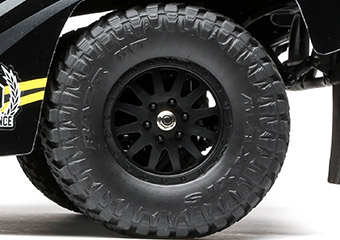 Race-Inspired Scale Body
The TENACITY's scale, race-inspired short course body features sleek graphics in two different color variations.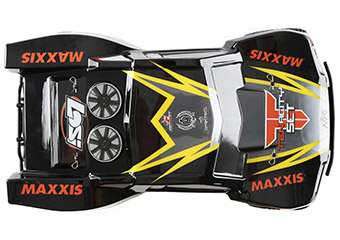 Spektrum DX2E ACTIVE Radio System
The Spektrum DX2E ACTIVE transmitter gives you the control you need to take on obstacles in your backyard or at the local track. Its proven performance, reliability and range are trusted by RC enthusiasts around the world. The TENACITY also comes with the new SPMSRS6000 Spektrum receiver with steering priority, so you'll no longer under-steer when the AVC dial is turned on.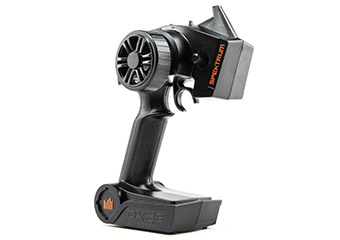 Speedometer Option
Adding telemetry (not included) to the Spektrum DX2E ACTIVE is easy-all you need is the optional add-on Bluetooth speedometer module. This module gives you access to a full suite of programing and telemetry through the new DX2E ACTIVE Raceware app. The speedometer's three-position throttle and steering limiter switches will help beginners progress from slow to full speed.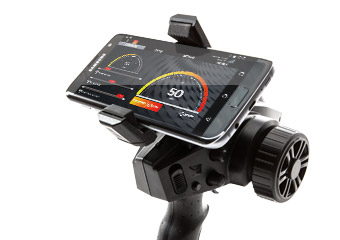 The Full-Throttle Freedom of AVC Technology
When you're ready to let the brushless motor off the chain, don't hold back. The receiver's built-in AVC (Active Vehicle Control) system will work behind the scenes, making hundreds of tiny throttle and steering adjustments per second, so more of the motor's power is translated into ballistic speed and acceleration instead of just flying dirt. An AVC adjustment knob on the included DX2E ACTIVE transmitter lets you adjust how much traction control the system provides. You can even turn it off.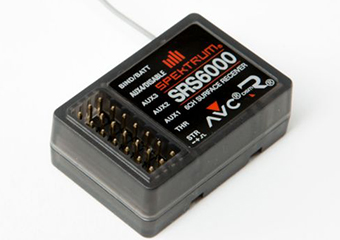 Product Specifications
| | |
| --- | --- |
| Power Type | Electric |
| Spur Gear | 40T |
| Suspension | Independent |
| Track Surface | 11.5 in (292.1mm) |
| Gear Pitch | 1.0 Module |
| Servos | Included |
| Differential | Sealed Spiral Cut Bevel |
| Wheel Type | Short Course |
| Speed Control | Included |
| Wheelbase | 13.1 in (332.7mm) |
| Battery | 7.4 5000mAh 2S 30C or 11.1V 5000mAh 30C 3S Hardcase Li-Po Battery with EC3 connector (Sold Separately) |
| Ground Clearance | 1.5 in (38mm) |
| Motor Size | 550 4-Pole 3800Kv |
| Product Length | 21.1 in (535mm) |
| Approximate Assembly Time | No assembly required |
| Brakes | Electronic |
| Pinion | 16T |
| Scale | 1/10 |
| Wheel Hex Size | 12mm |
| Drivetrain | 4WD |
| Product Height | 8 in (203mm) |
| Ball Bearings | Complete |
| Chassis | 5mm Composite |
| Completion Level | Ready-To-Run |
| Water-Resistant | Yes |
| Product Weight | 5.45 lbs (2.47 Kg) |
| Tire Tread | Maxxis Razr MT |
| Vehicle Type | Short Course Truck |
| Inner Tire / Outer Wheel Diameter | 2.2 in x 3.0 in |
| Product Width | 11.7 in (297mm) |
| Radio | Spektrum DX2E ACTIVE 2-Channel with AVC |
| Charger | Sold Separately |