Discontinued
|
This Item is No Longer Available

1/10 TEN-SCTE 3.0 4WD SCT Race Kit
Item No.
Team Losi Racing -
TLR03008
Discontinued
|
This Item is No Longer Available

1/10 TEN-SCTE 3.0 4WD SCT Race Kit
Item No.
Team Losi Racing -
TLR03008
Product Details
In The Box
(1) 1/10 TEN-SCTE 3.0 4WD SCT Race Kit
(1) Clear Polycarbonate Body
(4) 2.2/3.0 Wheels, 12mm Hex, Black
(1) Instruction Manual
Needed to Complete
(1) Transmitter and Receiver
(1) Steering Servo
(1) 2S LiPo or LiHV Battery
(1) Compatible Battery Charger
(1) 16T Mod 1 Pinion Gear
(1) Motor
(1) ESC
(1) Tire Glue
(4) Tires
Polycarbonate Paint
Tools (Please reference the manual for more details)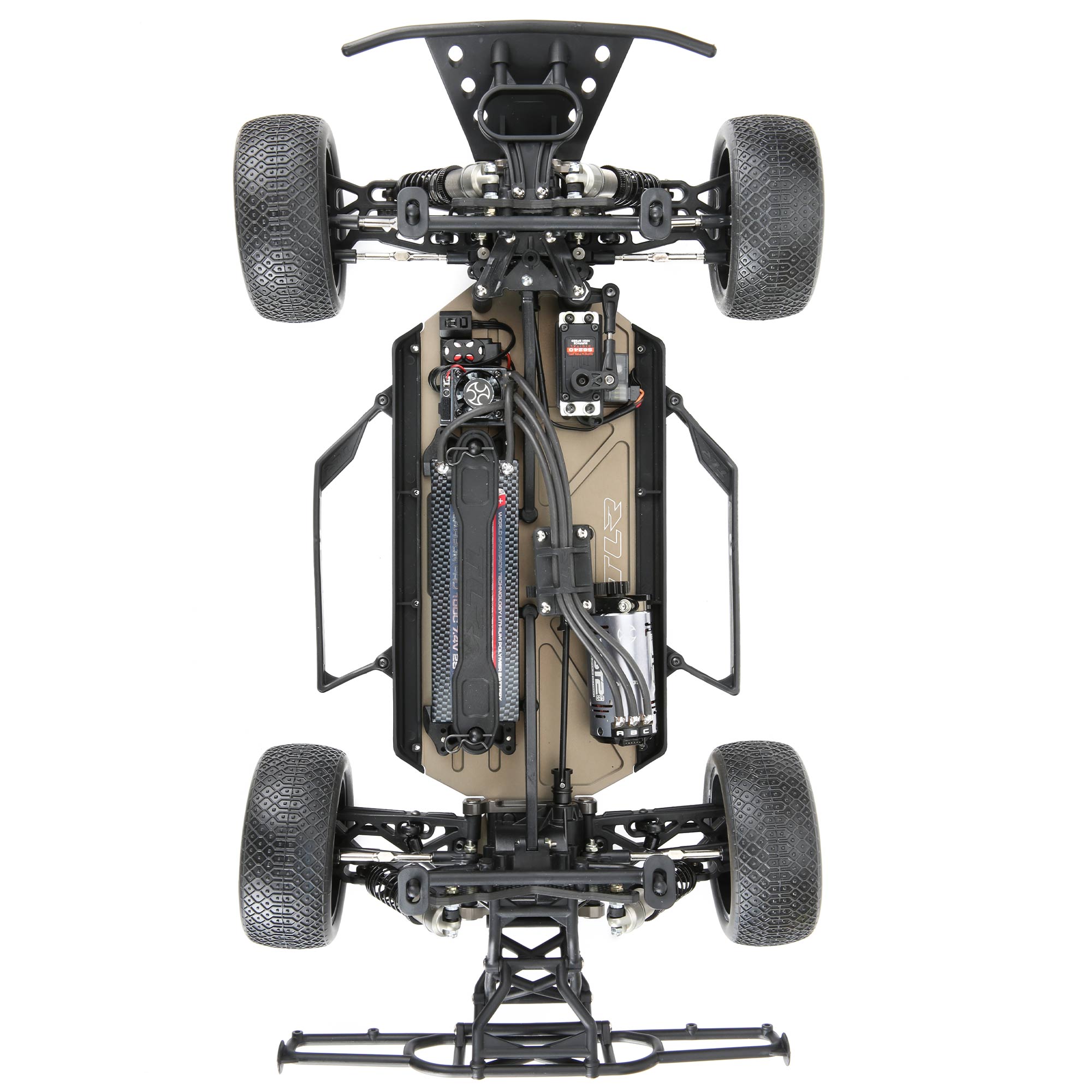 Key Features
Champion pedigree
Adjustable center driveline
22™ platform Gen II shocks
Dog bone center drive
Many popular tuning parts included as standard
Lightweight, hard-anodized 7075-T6 aluminum chassis
3mm shorter chassis
Carbon fiber shock towers
Hard-anodized suspension balls
Lightweight, CNC-machined outdrives
High-performance TLR® body
Video Overview
Overview
The TEN-SCTE platform has been the dominant force in the 4WD SCT class since its inception. With the TEN-SCTE 3.0 kit, TLR engineers started with the championship-winning 2.0 and refined its suspension geometry to be optimized for all track conditions. These refinements also make the truck easier to drive. Other changes include center driveline adjustability and the inclusion of parts that were considered optional on the SCTE 2.0 kit.
Champion Pedigree
The TEN-SCTE platform's extensive list of race wins includes the ROAR Nationals, the Cactus Classic and a multitude of other major events. The TEN-SCTE 3.0 kit builds on this heritage by giving racers yet another superbly engineered SCT that can put them on the top of the podium.
Adjustable Center Driveline
The motor and center diff can be mounted at an angle or in line with the chassis, allowing adjustment of the power bleed between the front and rear drivetrain. Mounted at an angle, the power bleeds evenly front-to-rear and the truck will drive out of the turns harder from point to point. Mounted in line, more power bleeds to the rear, giving the truck more aggressive on-power steering.
22™ Platform Shocks
Gen II platform shocks reduce overall weight and lower the CG. Machined shock internals, X-rings, TiCN shock shafts and aluminum bleeder caps provide a smoother, more consistent shock. The truck lands better, jumps better, corners quicker and has a lighter, more nimble feel.
Dog-Bone Center Drive
The center dog bones provide less friction than CVA-type driveshafts, allowing for easier front-to-rear power transfer. This smoothes out changes in power delivery, making the truck easier to drive.
Popular Tuning Parts Included
Many parts that were previously considered options come standard on the TEN-SCTE 3.0. These include a chassis that is 3mm shorter, 22 platform shocks, a dog-bone center driveline, 15° caster blocks, hard-anodized aluminum suspension balls, a 2.3mm thick front sway bar, lightweight outdrives, and adjustable aluminum front and rear pivots.
CNC-Machined Aluminum Chassis
The lightweight chassis is machined from durable 7075-T6 hard-anodized aluminum and is 3mm shorter than the stock TEN-SCTE 2.0 chassis. The shorter chassis makes the 3.0 a nimble truck that changes direction quicker and exits turns harder. It also makes it easier to drive fast and lower lap times.
Carbon Fiber Shock Towers
The ultimate in performance and durability, carbon-fiber shock towers save weight and help lower the CG.
Hard-Anodized Suspension Balls
To keep the suspension links smooth and free of slop, hard-anodized aluminum suspension balls are used throughout the truck. They are lighter than their steel counterparts and the hard-anodized coating keeps them from wearing so connector fit is always perfect.
Lightweight Outdrives
Lightweight, CNC-machined outdrives are used throughout the truck. This makes the entire drivetrain lighter so drivers enjoy quicker, more responsive acceleration.
High-Performance TLR® Body
This incredibly popular body is back for the 3.0. Made from durable 1.2mm polycarbonate, it delivers all the downforce needed to corner fast and stay in control when flying down the straights. During jumps, air under the body is channeled through strategically placed vents so the truck is more stable while airborne. Finishing the body is easy thanks to its pre-cut wheel wells, bumpers and edges. About all that's left to do is cut the vent holes and apply the paint scheme.
Note: Kit includes clear body. Shown painted for example only.
Product Specifications
| | |
| --- | --- |
| Power Type | Electric |
| Gear Pitch | 1.0 Module |
| Speed Control | Sold Separately |
| Wheelbase | 13.15 in (334mm) |
| Product Weight | 6.3 lb (2.9 kg) |
| Vehicle Type | Short Course Truck |
| Product Width | 11.65 in (295.8mm) |
| Ball Bearings | Full Sealed Ball Bearing |
| Chassis | 3mm plate, 7075-T6 aluminum |
| Completion Level | Kit |
| Drivetrain | 4WD |
| Product Height | 7.3 in (185mm) |
| Receiver | Sold Separately |
| Shock Type | Hard Anodized Aluminum |
| Approximate Assembly Time | 3-5 Hours |
| Body | Clear, 1.2 PC Hi-Performance SCT |
| Scale | 1/10 |
| Internal Gear Ratio | 3.9:1 |
| Product Length | 21.34 in (524mm) |
| Spur Gear | 40T |
| Suspension | Independent |