Lots of Bang for the Buck
Review by Rc N. on 7 Sep 2019
review stating Lots of Bang for the Buck
I have many RC vehicles including a brushed 2wd SCT. This is my first brushless 4x4 SCT. The Senton 4x4 BLX is much faster and more capable than my 2wd SCT. Unlike my 2wd SCT, the Senton has no trouble running on short grass. With a 3S LiPo battery, it's quick, really quick. I thought and still think the small wheels on the bottom of the rear bumper bracket look goofy. But they are definitely needed. The truck will wheelie in grass at full throttle with the 3S battery. It's so fast that the front end will catch air and lift the front wheels off the ground. The suspension has no problems soaking up bumps. The shock guards are a nice touch to prevent a shock from being broken by rocks and debris. Definitely recommend going through the manual and setting up the ESC with a charged battery and the transmitter trims zeroed and the throttle limit switch set to 100%. If you're new to the RC world, you can run the truck on a 2S battery or set the throttle limit to 50% or 75% on the transmitter if you need to slow the truck down to get used to the controls. Also recommend running the truck in a big field that has been recently mowed or on a big open dirt lot for the first time since it will cover lots of ground.
On 1/10 SENTON 3S BLX 4WD Brushless Short Course Truck with Spektrum RTR
StomperAK
5.0 star rating
If you're reading this just get one.
Review by StomperAK on 27 Jul 2020
review stating If you're reading this just get one.
I got this for myself and just want to say Arrma has lived up to its name. I'm not much of a basher however my 5 yo is. He's blasted, bashed, and sent it over and over (pavement, lawn and dirt). Through water, mud, wet rocks/pebbles and it's held up amazingly. Playtime in 3S venom and 3S lectron have been shocking (thumbs up). Only minor issue has been small debris (pebbles) that have gotten stuck in the steering area and locks up the steering.
On 1/10 SENTON 3S BLX 4WD Brushless Short Course Truck with Spektrum RTR
Phreakboy
4.0 star rating
Great Basher, however one issue
Review by Phreakboy on 4 Apr 2020
review stating Great Basher, however one issue
First off I will say this truck is a ton of fun and does take a beating. Car is very fast on 3s and handles terrain very good. However my only real issue is while running only my second battery pack through it, I had a tire completely blow out on me. This is the earliest I have ever had that happen with any new rc and is definitely a little disappointing to be already down for a tire.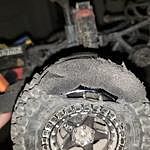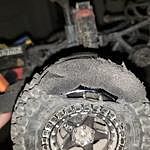 On 1/10 SENTON 3S BLX 4WD Brushless Short Course Truck with Spektrum RTR
Durability of Senton transmission/motor
Review by Marc M. on 4 Oct 2020
review stating Durability of Senton transmission/motor
Have had the Senton for about a week now and yes its extremely fast , however , it is advertised as an off road 4wd stadium truck so that's how I drive it....not just for long jumps and bashing. We have a very challenging course with lots of hairpin turns and deep sand/dirt ( Florida clay!). I run 3s and after maybe a dozen runs( not in the same session of course ( batteries...20 min each) the truck stopped running. Put in new battery and hit throttle and it made a clicking noise , nothing moving and then looked as if ESC shut it down. So I tried to rotate the wheels and they were locked. Then finally they seemed to break free and rotate but still no power. So I took the motor /transmission out and found that the pinion gear was not engaged in the spur gear and the nylon spur gear was heavily chewed up. The motor shaft would not turn freely and lots of fine grey dusty powder inside transmission. So I took the motor apart and found that the out shaft case bearing had totally disentigrated. This caused the shaft and pinion to wobble and not align correctly with the spur gear, damaging nylon teeth of spur gear and eventually causing the truck drive line to disengage. I'm disappointed that the truck did not hold up to off road driving any better than it did and cant really understand what caused bearing failure so quickly. I'm surprised that they would mate a metal pinion gear with a nylon spur gear, in the first place . Its possible that I got a lemon of a motor to have a bearing failure so soon, IDK. Horizon Hobbies is sending me another motor and spur gear. Outside of that , the rest of the truck construction and handling is fantastic. but none of that does you any good if you cant keep the motor functioning.
On 1/10 SENTON 3S BLX 4WD Brushless Short Course Truck with Spektrum RTR
Terrible customer service
Review by Paulb211 on 10 Jan 2020
review stating Terrible customer service
Will never purchase a product from them again I bought the senton 4x4 a day after Christmas it worked for 10 minutes and quit working contacted them about i emailed them everything they asked for and still have not heard back and I have sent them several emails and still nothing I should of just bought another Traxxas I guess you get what you pay for
On 1/10 SENTON 3S BLX 4WD Brushless Short Course Truck with Spektrum RTR