Discontinued
|
This Item is No Longer Available

1/10 SCX10 II UMG10 4WD Rock Crawler Kit
Discontinued
|
This Item is No Longer Available

1/10 SCX10 II UMG10 4WD Rock Crawler Kit
Product Details
In The Box
(1) Axial SCX10™ II UMG10 Kit
(1) Product Manual
Needed to Complete
(1) 2 or 3 channel surface radio system
(1) Steering servo
(1) ESC with on/off switch
(1) 540 size motor
(1) 2-cell LiPo or 6-cell NiMh battery
(1) Appropriate battery charger
(1) Polycarbonate paint for body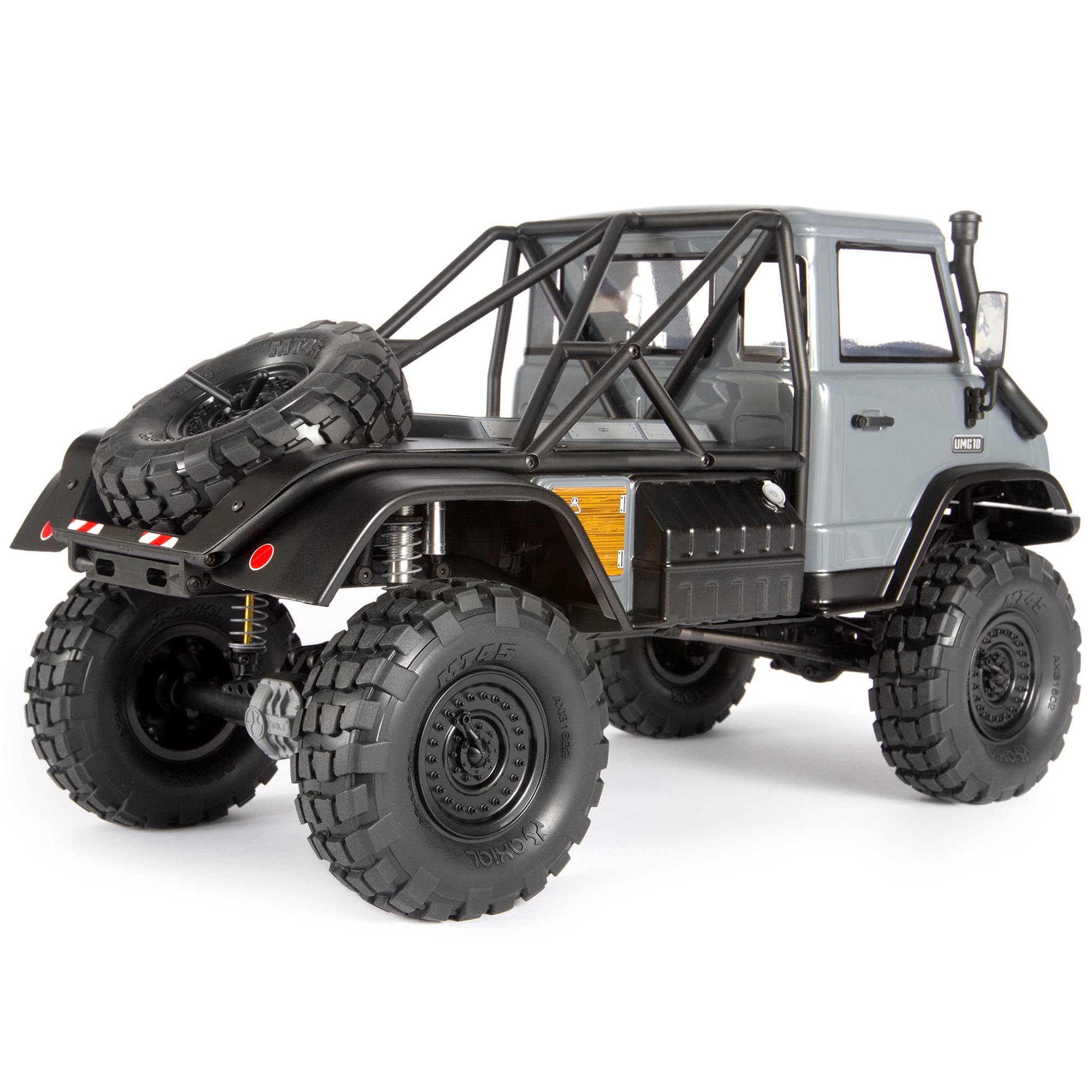 Introduction
Axial® introduces a 1/10 scale truck kit for experienced drivers that features the unrelenting SCX10™ II chassis with an aggressive forward cab body. Trick out the kit to your personal specs — an optional 2-speed gear set is also available — and prevail on any trail!
Features
Kit completion level gives experienced drivers the ability to customize the vehicle with their favorite equipment
New, realistic body design scaled after forward cab military style trucks
Plenty of locations for mounting LED lighting
Included options for customizing interior details
New rear cage hinged design allows easy access to interior components
Optional 2-speed gear set provides a functional low/high transmission when paired with optional servo
SCX10™ transmission mimics a real transmission and includes full ball bearings and metal gears
Chassis mounted servo for scale looks and close to zero bump steering
AR44™ single piece axle with high pinion gear set for a much lower gear ratio
New military-style MW19 beadlock wheels and MT45 tires, including a functional, mounted spare
All aluminimum suspension links
Adjustable battery tray
WB8 HD Wildboar™ 3-piece driveshafts with updated design and larger diameter
Waterproof receiver box
High strength, C-channel frame rail chassis
Overview
Axial recreates the forward cab look in a body with many military-inspired scale features. It has a full-scale truck's aggressive approach and departure angles. Axial also includes military-style 1.9 MW19 beadlock wheels and 1.9 MT45 tires, as well as a functional spare tire.
The kit's off-road performance more than does justice to the vehicles that provide its all-terrain inspiration. Its tried-and-true SCX10™ transmission combines scale looks with the durability of all-metal internal gears. A full set of ball bearings is included. A 2-Speed Gear Set is available separately (Option Part AX31440), for builders who'd like to install a functional low/high speed transmission — an additional servo for the shifting fork is also required.
Along with adding scale realism, the AR44™ single-piece axles feature a high-pinion design with a much lower gear ratio than most cars on the market, plus increased strength. It also avoids the torque twist often associated with smaller gear sets. And like the transmission and axle designs, the kit's chassis-mounted steering servo boosts its scale looks — while at the same time, supplying the correct steering geometry with virtually no bump steer.
Enjoy class-leading performance and forward cab realism with this latest Axial vehicle to take advantage of the proven SCX10 II chassis. Produced in kit form, it gives you the freedom to customize and add your preferred radio and electronics for a trailblazing machine that's all your own.
Quick Look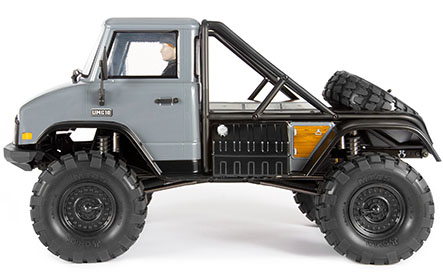 CAB FORWARD BODY DESIGN
The kit comes with a realistic, military based, cab forward body. The aggressive approach angle created by its front end design enables the UMG10™ to take on steep inclines. It's 11.4" (288mm) wheelbase helps with agility in challenging terrain.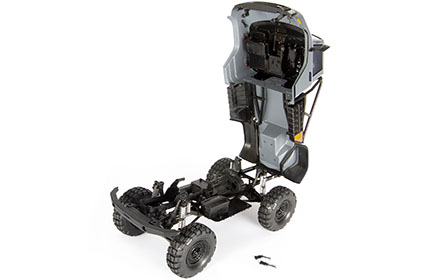 NEW REAR CAGE DESIGN
Features a spare tire carrier and hinge design that allows easy access to the battery and on-board components. The body and cage are bolted together. The hinge at the rear of the chassis will tilt the body and cage up and out of the way.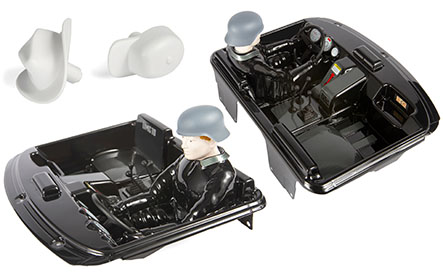 INTERIOR DETAILS
Detail your UMG10 kit's interior with the parts provided. Choose from three hat styles for the driver's plastic molded head. Shift levers, a steering wheel, and a variety of decals are also included.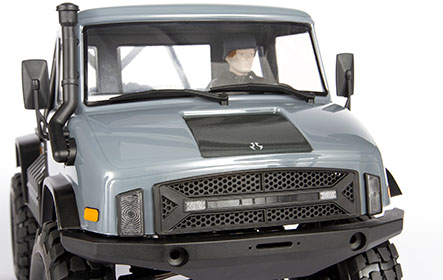 LED MOUNTING
A total of eight mounting locations for LEDs are found throughout the vehicle. Four lights can be mounted in the front grille, two in the front bumper, and two in the rear frame plate. (LED lights are not included)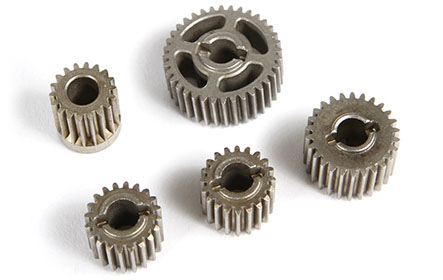 SCX10™ TRANSMISSION
The SCX10™ transmission mimics a real transmission with a bell housing, oil pan and 4X4 transfer case. By placing the transfer case lower in the chassis and centering the driveshafts with the axle input housings, Axial created a more efficient driveline with improved driveshaft angles to reduce stress on moving parts. The transmission also includes a full set of ball bearings and all-metal internal gears.
Transfer case design helps keep the driveshafts centered and as low as possible in the chassis
Final drive ratio range 33.69 – 54.15 with available spur and pinion gear combinations
Comes with 56T spur gear and 15T pinion / 32-pitch for durability
All-metal internal gears provide strength and durability
Final drive ratio (FDR) 40.44 with a range from 33.69 - 54.15
Scale looks mimic a full-size transmission and transfer case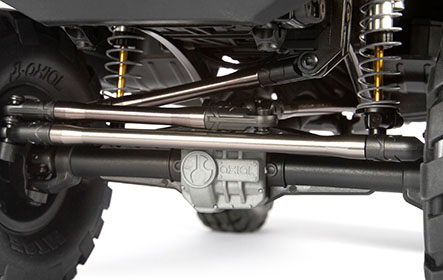 CHASSIS MOUNTED SERVO (CMS)
For scale looks, Axial moved the servo off the top of the axle and onto the chassis, just as a full size truck has its steering box located on the frame. The front suspension design comes as close as possible to zero bump steer, to help give you the best driving experience possible.
Scale looks with proper suspension geometry
Anodized aluminum links included with M4 rod ends
Adjustable servo mounting system allowing a wide range of servos to be used
Properly designed suspension for nearly zero bump steering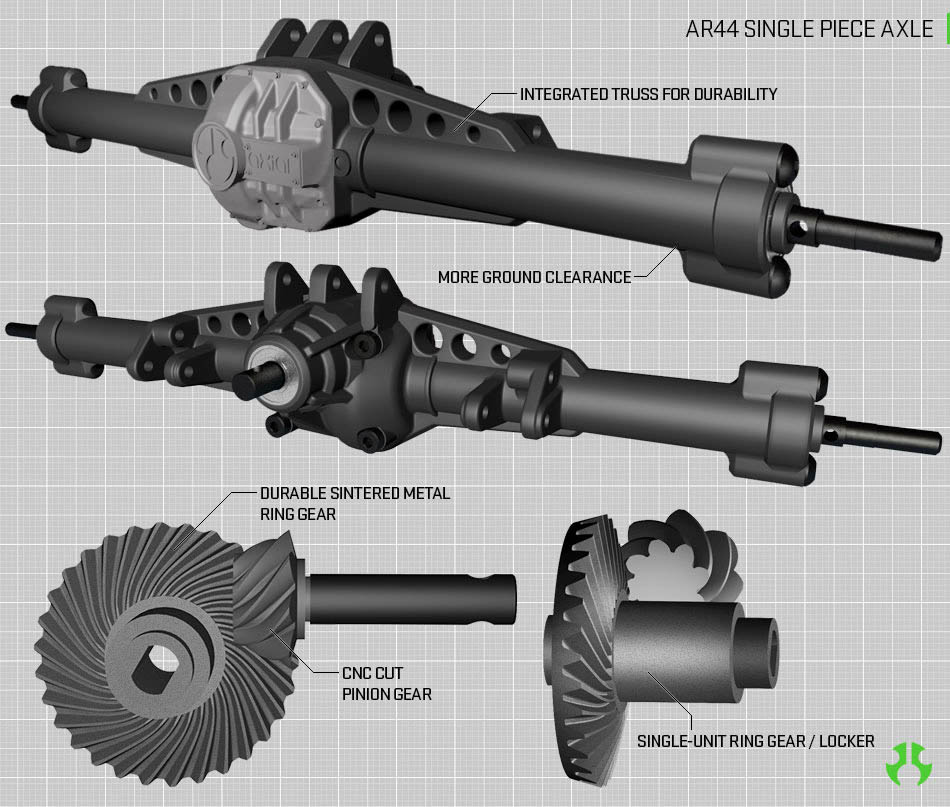 AR44™ SINGLE PIECE HI-PINION AXLES
The AR44™ axle features a high pinion gear set for a much lower gear ratio than most cars, plus a smaller pumpkin and added strength. The gear set overcomes the torque twist often associated with smaller gear sets. The axle itself retains the durability associated with the SCX10, despite being delivered in a smaller axle housing.
High pinion gears for added ground clearance and better driveshaft angles
High pinion design increases gear surface contact for greater durability
Larger load bearings around the gear set reduce flex and strengthen the drivetrain
Single piece axle housing adds strength
One-piece all-metal locker front and rear
Small pumpkin for increased clearance and a more scale look
Optimized gear ratio reduces torque twist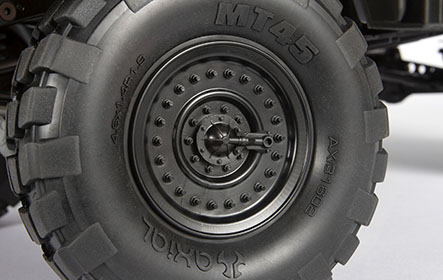 1.9 MW19™ BEADLOCK WHEELS
The UMG10 kit features a full set of 1.9 MW19 beadlock wheels, along with a spare mounted on the back of the truck – five in total. It's a three piece wheel design, utilizing six screws which help the wheel firmly grip the MT45 tires. The wheel nut cap resembles a receptacle for a simulated central tire inflation system. The wheels are molded in black plastic and feature a standard 12mm wheel hex hub.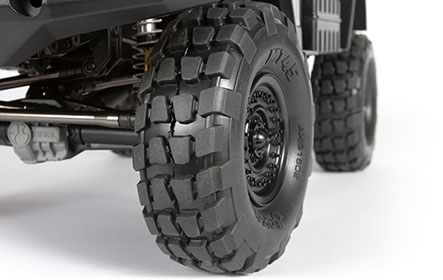 1.9 MT45™ TIRES
Keeping the truck on course and climbing difficult terrain are a set of MT45 tires molded in our sticky R35 compound rubber. The big block symmetrical tread pattern provides plenty of grip for climbing steep obstacles.
4.6" x 1.4" / 1.9 (117mm x 35.6mm)
R35 compound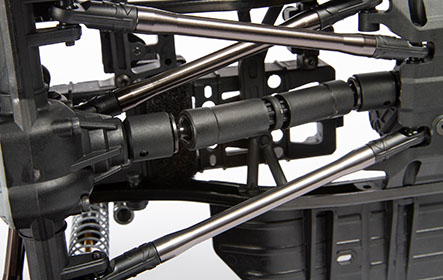 WB8 HD WILDBOAR™ DRIVESHAFTS
WB8 HD Wildboar™ front and rear driveshafts feature an updated design with a larger diameter cross pin (2x11mm) along with an M4 Screw Shaft (2mm hex drive) for added strength. A center splined slider floats between each end and features added material which reduces flex and fatigue.
3-piece driveshaft with strengthened slider-floater tube
Increased surface at the connection between the ball joints and output shaft tubes
2x11mm cross pin adds 25% more surface area providing more strength for the ball joint
Captured cross pin design eliminates older set screw design for more durability/easy maintenance
Adjustable length driveline parts included in box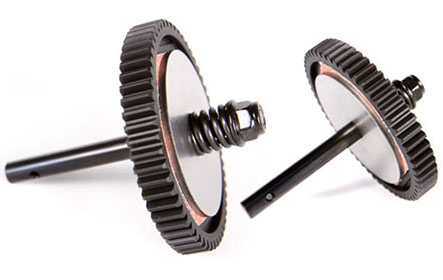 DUAL SLIPPER CLUTCH
Dual slipper design uses a pad on each side of the spur gear for added surface area. This allows for more precise tuning and holding power. The spur gear features strong, 32 pitch gearing for high torque applications.
Slipper design uses a pad on each side of the spur gear for added surface contact area
More precise tuning and holding power
Strong 32P gear pitch for high torque applications

STEEL C-CHANNEL FRAME RAIL CHASSIS
The realistic high strength c-channel chassis frame is made of durable steel with cross bracing for reinforcement and is held together with all hex hardware. Realistic looking frame and cross braces improve chassis rigidity (torsional stiffness). Realistic shock hoops with multiple shock mounting positions allows you to adjust your suspension for maximum performance. The simplified design makes maintenance and assembly quick and easy. The contoured skid plate significantly reduces hang-ups on terrain. Compared to the previous design, additional holes have been added to the rear portion of the frame rails for making wheelbase adjustments.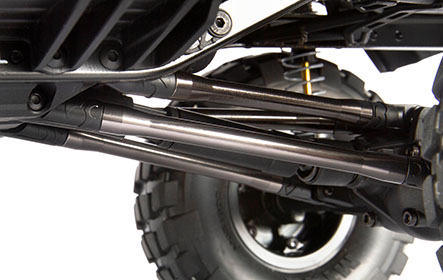 ALL ALUMINUM SUSPENSION LINKS
The suspension geometry utilizes a 4-Link design for the rear which is optimized to reduce axle steer and torque twist. It also helps with steep off-camber climbs by having the proper amount of anti-squat and roll characteristics. The 4-Link system also aids against suspension wrap-up in high power applications.
All links are metal including the steering
Custom tapered center - flared ends design
Large M4 rod ends
Grey anodized aluminum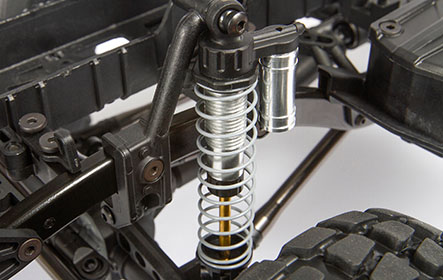 ADJUSTABLE ALUMINUM SHOCKS
Made to tight tolerances, the included aluminum shocks feature precision-machined pistons for smooth performance throughout their range of travel. The shocks have clear-coated, polished aluminum bodies and are threaded for quick ride height adjustments and pre-load tuning ability.
Product Specifications
| | |
| --- | --- |
| Battery Tray Dimensions | 5.44 x .94" (138 x 24mm) |
| Front Track | 9.1 in (230mm) |
| Outer Diameter | 4.6 in (117mm) |
| Product Width | 9.1" (230mm) |
| Approximate Assembly Time | 7-10 Hours |
| Body | Cab forward (clear, unpainted body included) requires trimming and painting |
| Pinion | 15T |
| Scale | 1/10 |
| Tire Tread | MT45 |
| Vehicle Type | Rock Crawler |
| Water-Resistant | Yes |
| Power Type | Electric |
| Gear Pitch | 32-Pitch |
| Charger | Sold Separately |
| Differential | Bevel Gear 30T/8T |
| Max Battery Dimensions | 5.75 x 1.2" (147 x 32mm) |
| Receiver | Sold Separately |
| Shock Type | Oil-filled aluminum body |
| Wheel Type | Black plastic 3-piece beadlock |
| Ground Clearance | 2.6" (66mm) |
| Motor Size | 35T brushed (sold separately) |
| Product Length | 17.9" (455mm) |
| Spur Gear | 56T |
| Suspension | 4-link solid axle front and rear |
| Wheel Width | 1" (25.4mm) |
| Ball Bearings | Full set |
| Chassis | Steel C-channel |
| Completion Level | Kit |
| Drivetrain | 4WD |
| Product Height | 9.6" (245mm) |
| Final Drive Ratio | 40.44, range of 33.69 - 54.15 with available spur and pinion gear combinations |
| Rear Track | 9.1 in (230mm) |
| Speed Control | Sold Separately |
| Wheelbase | 11.4" (288mm) |