Discontinued
|
This Item is No Longer Available

1/10 SCX10 II Trail Honcho 4WD Rock Crawler Brushed RTR
Discontinued
|
This Item is No Longer Available

1/10 SCX10 II Trail Honcho 4WD Rock Crawler Brushed RTR
Product Details
In The Box
(1) RTR SCX10 II Trail Honcho with Oil-Filled Shocks, Wheels, Tires, Body, Rock Sliders, Radio, ESC, Motor, Decals, Waterproof Receiver Box, LED Lights
(4) AA Batteries
(1) User Manual
Needed to Complete
(1) 5-9cell NiMH/NiCD stick pack or 2S-3S LiPo with T-plug
(1) Compatible Charger
(4) AA Batteries for Transmitter
Features
High-strength steel C-channel frame rail chassis with cross bracing and hex hardware.
4WD.
Water-resistant 35T brushed motor with integrated cooling fan.
Waterproof, 3S LiPo-compatible AE-5L ESC with drag brake easily switches between NiMH and LiPo batteries with a single jumper.
Tactic™ TTX200 2.4GHz 2-channel SLT™ radio system with TR325 2.4GHz receiver and water-resistant Tactic TSX45 metal-gear servo rated at 151 oz.-in. of torque.
Painted and detailed body.
Adjustable coil-over oil shocks with threaded bodies and realistic hoops with multiple mounting positions.
Adjustable AX10™ transmission with 20T metal drive gear and a final drive ratio of 42.00.
WB8 HD Wildboar™ driveshafts with a center-splined slider, a 2x11 mm diameter cross pin and an M4 Screw Shaft (2 mm hex drive).
Front/rear AR44 single-piece axles with 8° kingpin angle, molded trusses, integrated C-hubs and lockouts, metal dogbones, helical-cut internal gears and high-quality bearings.
Front suspension design virtually eliminates bump steer.
4-link rear suspension reduces axle steer and torque twist.
Chassis-mounted servo for improved geometry.
Waterproof receiver box.
Dual slipper clutch with 32P spur gear for high-torque applications.
Adjustable battery tray accommodates batteries up to 3S 5000mAh in capacity and 1.3" x 1.7" x 5.8" (32 x 44 x 147 mm) in size.
Scale front tube bumper with aluminum skid plates and two PIAA LED light buckets.
Wheelbase can be adjusted from the stock 12.3" (312 mm) length to 11.4" (290 mm) or 12.0" (305 mm) lengths.
Two white LEDs in the front and two red rear LEDs.
1.5" (38 mm) wide, 4.7" (119 mm) tall 1.9" Falken WildPeak M/T tires.
Licensed 1.02" (26 mm) wide, 2.1" (54 mm) tall 1.9" Method Hole wheels.
Simplified wire routing keeps your layout looking clean.
Overview
The 1/10 SCX10 II Trail Honcho is the ultimate adventure rig, taking you to unimaginable extremes with every expedition. Based on the proven SCX10 II platform, the Trail Honcho boasts a tough steel C-channel frame rail chassis, adjustable coil-over oil shocks, an adjustable AX10 transmission, a four-LED set, 1.9" Falken WildPeak M/T tires and 1.9 Method Hole wheels. A water-resistant 35T motor, a waterproof AE-5L ESC and Tactic TTX200 SLT radio system add to the quality – and convenience.
Video Overview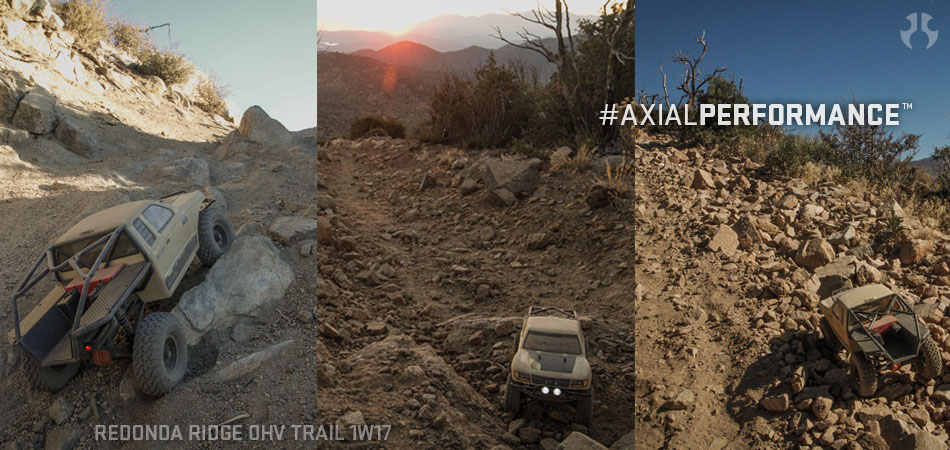 Redonda Ridge OHV Trail
The Redonda Ridge Trail, within the mountains of Big Bear California, is mostly used by off road motorcyclist, and revered as the Malcolm Smith Trail due to it's technical tenacity. The trail was recently re-visited by one of Axial's own; part of a crew who had traversed the 9.68 mile OHV trail a few times in the past on motorcycles. The thought came about that it would make for a great SCX10 proving ground, thus the idea was conceptualized to hike the trail, and put the latest version of the Trail Honcho through its paces, to uphold the "Trail Honcho" name by putting it on a "black diamond" trail for full size vehicles. Axial takes toys seriously, plays seriously, and made plans to go the extra mile to showcase the Axial SCX10 Trail Honcho in it's true, namesake terrain.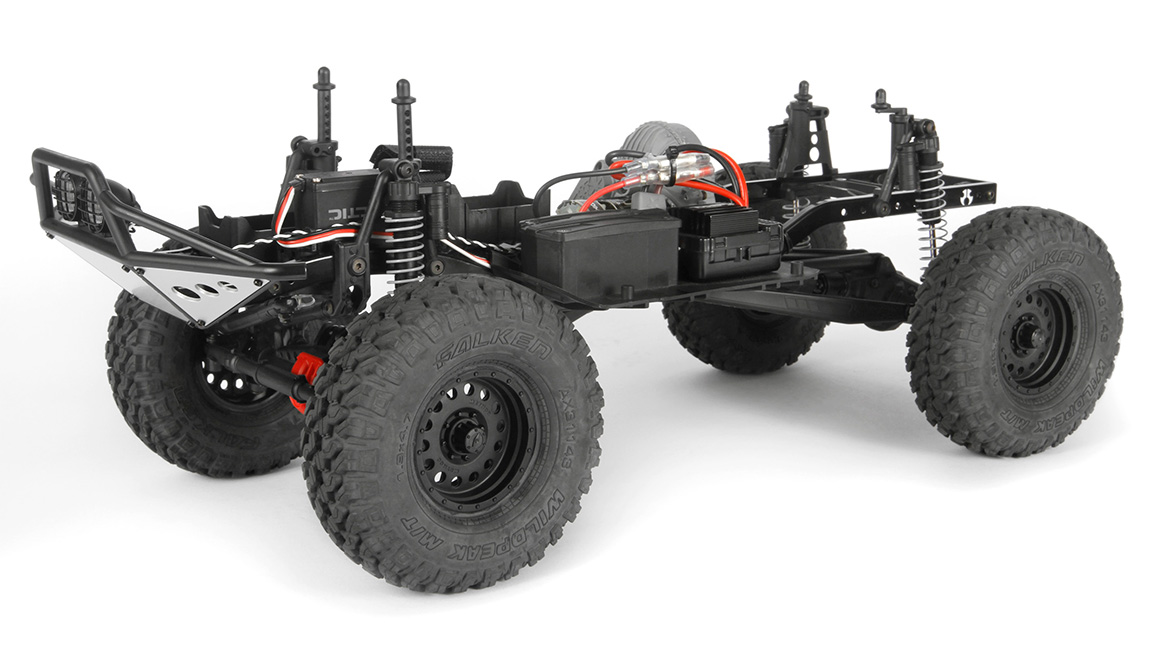 Chassis
Equipped for heavy duty trailing – AX10™ transmission, single-piece AR44 axles, Method Hole wheels, Falken Wildpeak M/T tires and a set of four LED lights – the Trail Honcho™ takes the lead and puts your stamina to the test.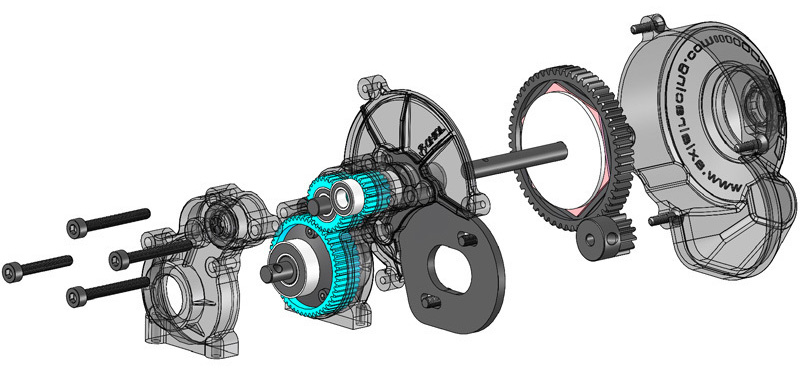 Dual Slipper
The dual slipper design uses a pad on each side of the spur gear for added surface area. This allows for more precise tuning and holding power. The spur gear features strong, 32 pitch gearing for high torque applications.
Slipper design uses a pad on each side of the spur gear for added surface contact area
More precise tuning and holding power
Strong 32P gear pitch for high torque applications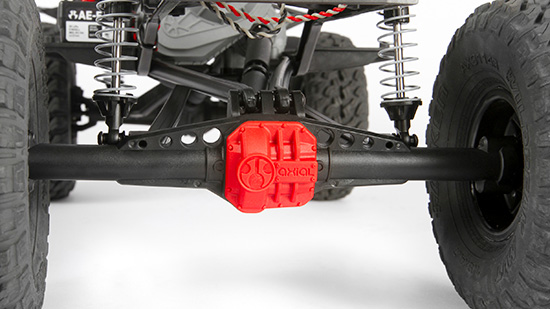 Axles
The pinion gear is 6mm above center, this allows for added ground clearance and better driveshaft angles. The high pinion design has an increased surface contact for increased durability. AR44 front and rear axles feature a single-piece design with molded truss for extreme durability. Integrated C-hubs and lockouts offer optimized performance as well as improved ground clearance. Metal dogbones, helical cut internal gears and high-quality bearings are all standard equipment. The ring gear/locker is a single-unit piece made of strong sintered metal, and the pinion is CNC cut for durability.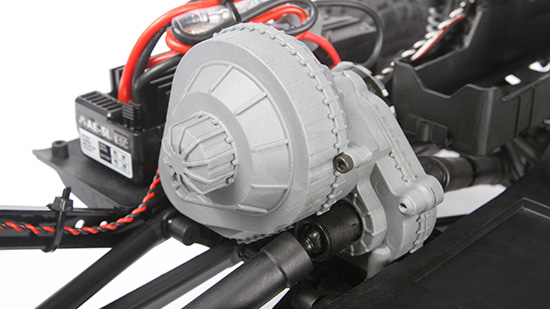 Transmission
The ultra compact transmission allows for a wide range of gearing choices. The overall ratio can be adjusted using different pinion and spur gear choices allowing super high speed or competition level crawling speed. The new transmission housing design still retains the basic function of the original transmission but in a new more scale looking case.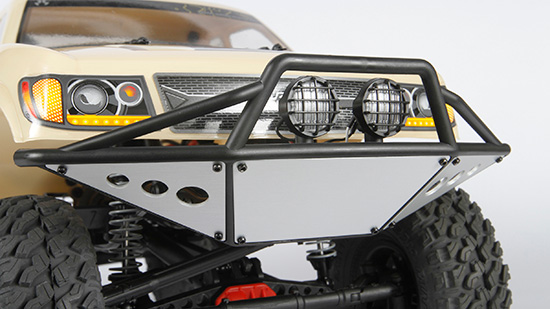 Front Bumper
Scale front tube bumper with aluminum skid plates
Two PIAA LED light buckets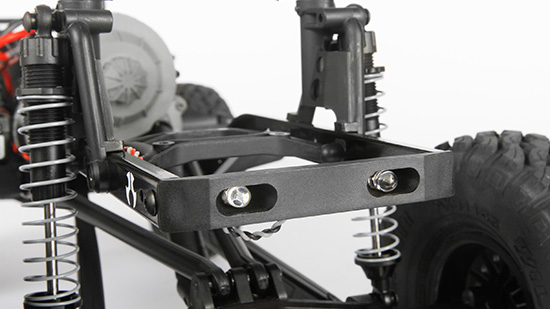 LED Lights
Two white LED lights in the front
Two red LED lights in the rear

Axial AE-5L ESC
The Axial AE-5L ESC is 3S LiPo capable yet easily switched "in the field" between LiPo and NiMh battery types with a simple jumper – no more complex procedures.
LED Light controller built-in with dual LED outputs for headlights/taillights.
Male Star Plug lead - compatible with the most common polarized plug.
Jumper 1 provides a simple plug and play choice between LiPo or NiMh.
Jumper 2 switches Drag Brake settings.
Waterproof design with Star Plug / laser etched heat sink.
NOTE: LED LEADS NOT COMPATIBLE WITH OLD AXIAL LED LIGHT STRINGS, or THIRD PARTY LED LIGHT STRINGS. Connecting your old LED light strings to these leads will cause damage to the AE-5L ESC and the light strings.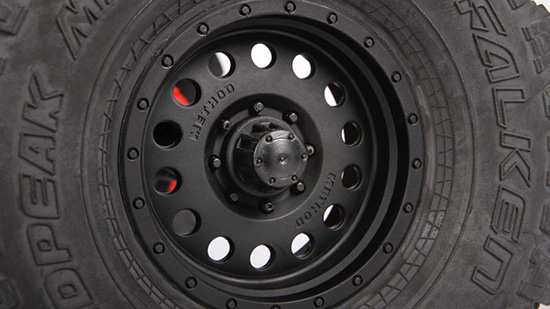 METHOD Hole Wheels
In an industry that's all about the latest and greatest, while taking advantage of styling trends, sometimes the 'less is more' approach is quite refreshing and the hole wheel offers just that. Clean, simple and METHOD STRONG! These officially licensed METHOD Hole Wheels are replicated in true form for durability and a clean line look.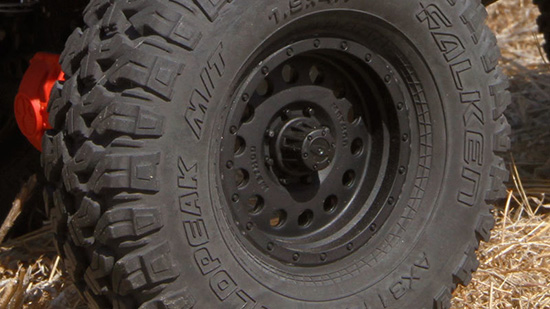 Falken WildPeak Mud Terrain Tires
The Falken WildPeak Mud Terrain tire has made a name for itself in the off road industry with tremendous success in competitive rock racing. Falken did their homework working with industry insiders to develop the knowledge for Falken to dive head first into the more aggressively treaded Mud Terrain tire market proving amazing traction on many surfaces. The Axial version of the Falken WildPeak M/T tire stands 4.7" tall with a width of 1.5". The extra height of this tire will offer additional ground clearance for those tough trails.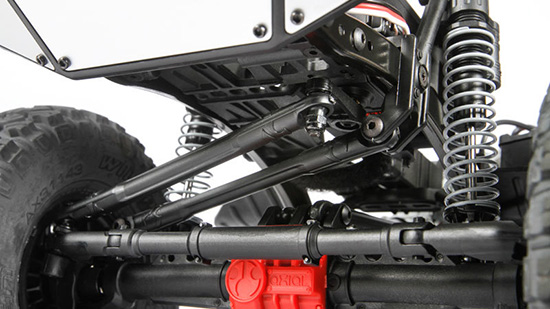 Servo Mount
Scale matters, but so does geometry! In pursuit of scale looks, the servo has moved off the top of the axle and onto the chassis, just as a full size truck has its steering box located on the frame. The front suspension design also helps eliminate bump steer as much as possible for the best driving experience.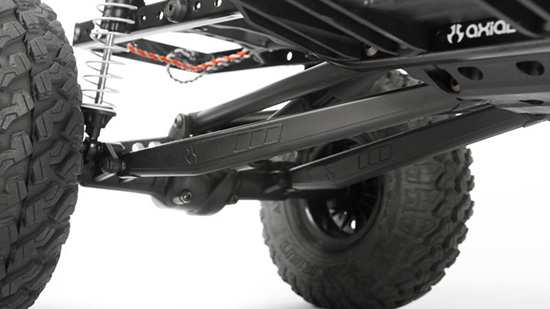 Suspension
The suspension geometry utilizes a 4-Link design for the rear which is optimized to reduce axle steer and torque twist. It also helps with steep off-camber climbs by having the proper amount of anti-squat and roll characteristics.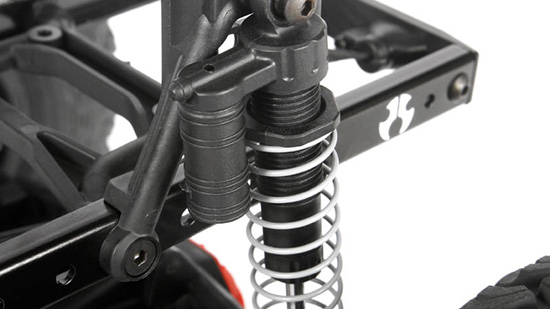 Shocks
Threaded shock bodies hold a single coilover spring and they're oil filled shocks which allow you to tune the dampening rate. Realistic shock hoops with multiple shock mounting positions allows you to adjust your suspension for maximum performance. There's also coilover shock reservoirs for realistic scale looks.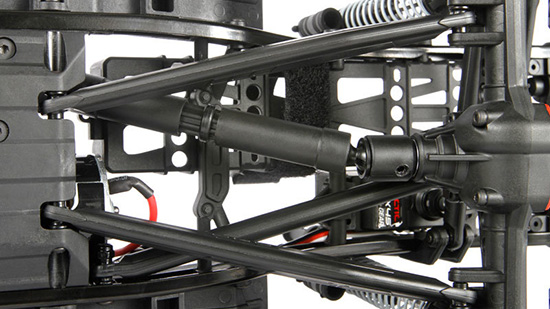 Driveshaft
WB8 HD Wildboar™ front and rear driveshafts feature an updated design with a larger diameter cross pin (2x11mm) along with an M4 Screw Shaft (2mm hex drive) for added strength. A center splined slider floats between each end and features added material which reduces flex and fatigue.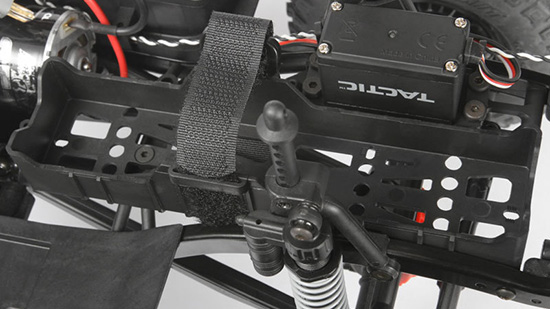 Battery Tray
The adjustable battery tray is located low and in the forward position for better weight distribution and center of gravity (COG).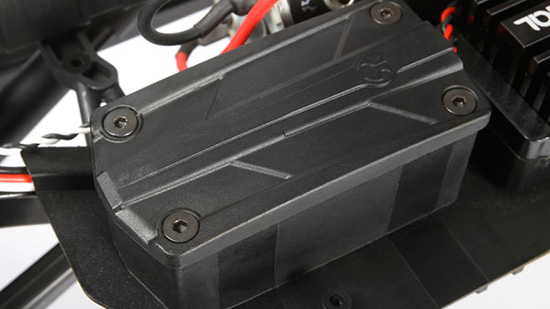 Receiver Box
Three different silicone seals are included, one for the antenna, one for the servo wires (includes three slots for three channels), and one that acts as a gasket for the receiver box cover. No more stress when running in mud, water, or snow!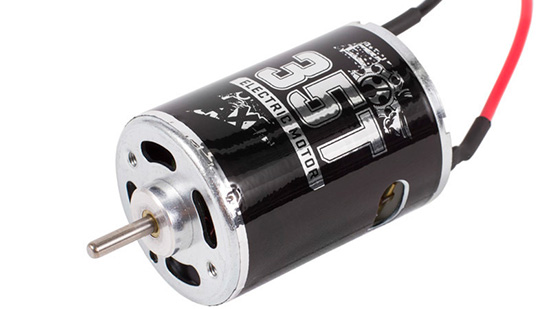 Brushed Motor
Providing an even balance of speed and crawling, the 35-turn brushed motor features a worry-free design with an integrated cooling fan allowing for extended periods of use. Easy operation: no tuning, no fuel, and no loud exhaust noise. Just plug 'n' go!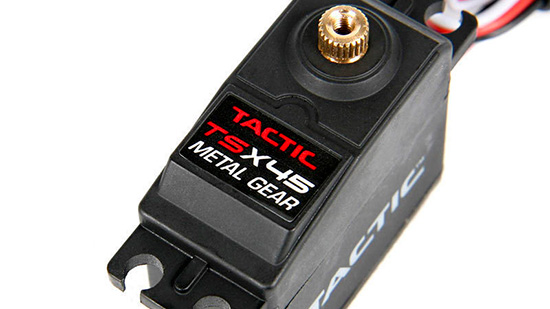 Servo
The included Tactic TSX45 metal gear servo is rated at 151 oz-in of torque for massive turning power and dual ball bearings provide smooth and precise movement for the metal gear train.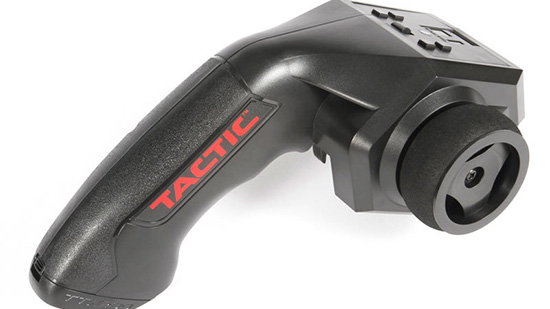 2.4GHz transmitter
The TTX200 2.4GHz transmitter is a two-channel pistol grip radio with digital channel reversing for both steering and throttle along with digital trim and end point adjustment. The radio is powered by four AA batteries (included) and also features SLT (Secure Link Technology), which creates an unbreakable link between the receiver and your transmitter featuring an auto-bind design.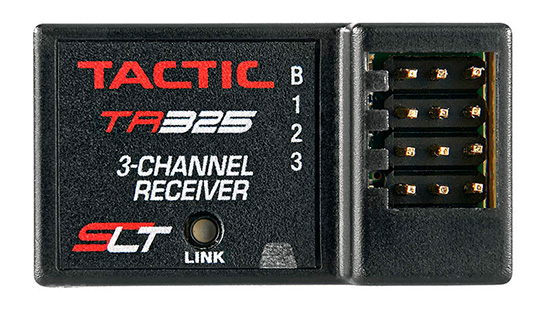 Receiver
The Tactic TR325 2.4GHz receiver uses no crystals and features an internal antenna, so you'll experience worry free driving without frequency conflicts or antenna damage. This lightweight, compact, and bind button equipped receiver with LED indicator makes setup easy!
Product Specifications
| | |
| --- | --- |
| Completion Level | Ready-To-Run |
| Drivetrain | 4WD |
| Product Height | 9.0 in (229mm) |
| Product Weight | 4.5 lb (2.04 kg) |
| Vehicle Type | Rock Crawler |
| Water-Resistant | Yes |
| Connector Type | IC3 |
| Ground Clearance | 3.0 in (77mm) |
| Motor Size | 35T |
| Product Length | 19.7 in (501mm) |
| Steering Type | 2WS |
| Motor Type | Brushed |
| Speed Control | Included |
| Wheelbase | 12.3 in (313mm) |
| Product Width | 9.0 in (229mm) |
| Power Type | Electric |
| Receiver | Included |
| Scale | 1/10 |