Discontinued
|
This Item is No Longer Available

1/10 Pre-Assembled Pro-Spec Front Shocks: Short Course
Item No.
Pro-Line Racing -
PRO630830
Discontinued
|
This Item is No Longer Available

1/10 Pre-Assembled Pro-Spec Front Shocks: Short Course
Item No.
Pro-Line Racing -
PRO630830
Product Details
In The Box
All Components required to build a pair of Front Pro-Spec Shocks
PRO630802 Pro-Spec Delrin Piston & Guide Tree
PRO630803 Pro-Spec Plastic Tree
PRO630804 Pro-Spec Shock O-Rings
PRO630805 Pro-Spec Shock Hardware
PRO630806 Pro-Spec Shock Cartridges
PRO630807 Pro-Spec Front Shock Shafts
PRO630809 Pro-Spec Front Shock Bodies
PRO630813 Pro-Spec Front Yellow (Medium) Springs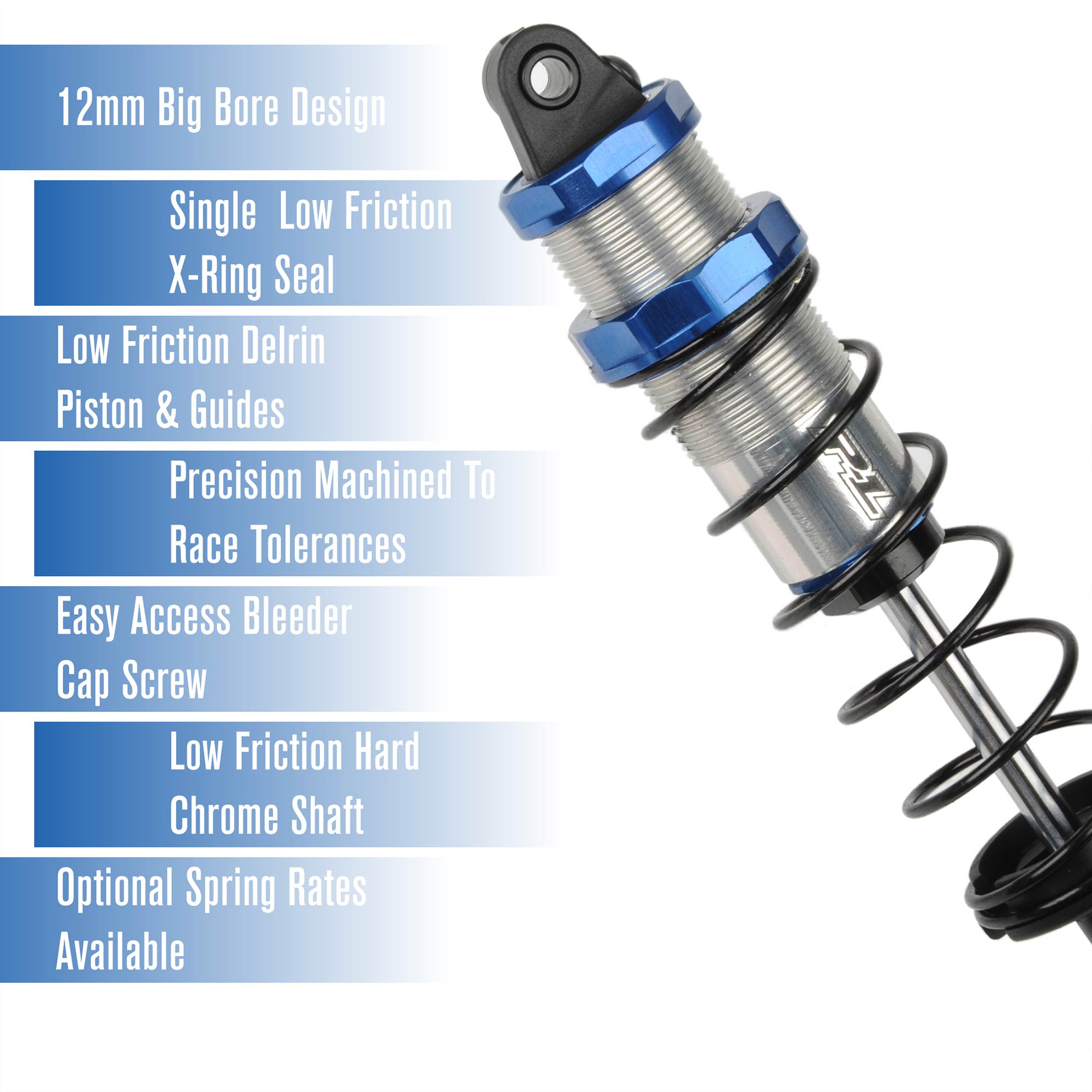 Features:
Smoothest Shocks Pro-Line has Ever Made
Pre-Assembled, Just Fill and Go
12mm Big Bore Technology
Single Low Friction X-Ring Seal
Silky Smooth White Delrin Shaft Guides and Pistons
Optional Pistons and Limiters Included
Easy Access Bleeder Cap Screw
Hard Chrome Coated 3.5mm Shock Shaft
Optional Spring Rates available separately (PRO630821)
Will work with Hardware kit (PRO606305)
Pro-Spec PRO630831 Rear also Available
Overview:
The next generation of Pro-Line Shock Technology has arrived: Pro-Line Pro-Spec Shocks! Now available Pre-Assembled, just fill with your choice of shock oil (not included). Every last detail has been refined to give you the best performing and best looking Shocks ever made. The Pro-Spec Shocks are a 12mm Big Bore design with a Single Low Friction X-Ring Seal. The Pistons and Shaft Guides are made from Silky Smooth White Delrin for Low Stiction and the 3.5mm thick Shock Shaft is Hard Chrome Coated, just like full-scale racing shocks.
The Pro-Spec Shocks feature an easy access Bleeder Cap Screw for consistent shock builds every time. Each pair of Pro-Spec Shocks includes 3 different piston options (1.4, 1.6 & 1.8) and a blank piston for drilling to a custom size. Custom Shock Tightening Tools and optional shock limiters are also included. Optional Pro-Spec Springs are available separately (PRO630821). Upper and lower shock pivot balls are included so you can fit a wider range of vehicles right out of the box.
Experience the Performance of Pro-Line's Next Generation Shock Technology for yourself - Get Pro-Spec Shocks!
Check out the Shock Assembly Video:
Fits:
AE DR10 Front & Rear
Stampede® 2wd Front
Stampede® 4x4 Front
Rustler® Electric Front
Bandit® Front
Short Course Trucks
Other 1:10 scale vehicles with Hardware Kit (PRO606305)
Product Specifications
| | |
| --- | --- |
| Scale | 1/10 |
| Shaft Diameter | 3.5mm |
| Vehicle Type | Short Course Truck |
| Product Length | Extended Length: 88mm Compressed Length: 62.5mm |
| Part Type | Shocks & Shock Parts |