Backorder
|
Next Shipment October 2023

1/10 Optima 4WD Buggy Kit
Backorder
|
Next Shipment October 2023

1/10 Optima 4WD Buggy Kit
Speed has form. The winning formula is … The first OPTIMA model was heralded as a technical masterpiece at its release in 1985 and from then, Kyosho has set the standard in R/C development.
Narrow Open Frame Chassis
Two Drive System Selections
Precision 48-Pitch Gear Modules
High Impact Nylon Gears
Wishbone System Suspension
1/10 Optima 4WD Buggy Kit
Earn
points on this item
ⓘ
Product Details
In The Box
(1) 1/10 Optima 4WD Buggy Kit
(1) Clear Polycarbonate Body
(1) Decal Sheet
(1) Instruction Manual
Needed to Complete
(1) 2+ Channel Radio System
(1) Standard-Size Steering Servo
(1) 540-Size Motor
(1) Electronic Speed Control
(1) 7.2V - 7.4V Battery
(1) Battery Charger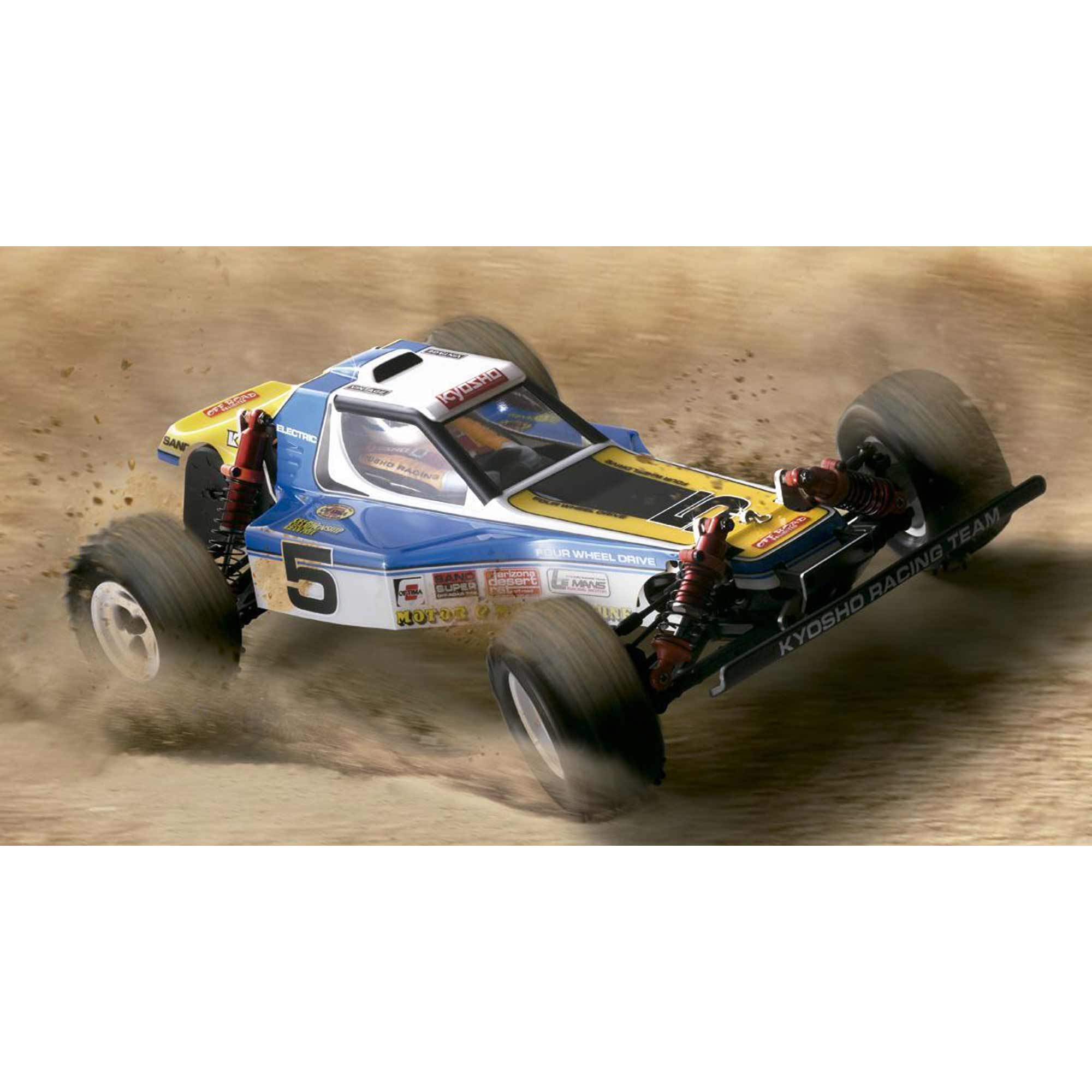 Introduction
Memories of the OPTIMA are fresh even after 30 years and its stylish form and ruthlessly efficient performance still resonate amongst modern racing machines. Now the new OPTIMA is ready to continue the battle for racing dominance, embodying the latest in technological evolution but with the distinctive OPTIMA style. The narrow backbone shaped chassis provides the platform for optimal geometry with large steering angles and double wishbone suspension with long 35mm suspension stroke. Recreated in the image of the original design, the the 4WD chain system is housed inside a sealed compartment and the gears and gearbox at the center of the drive train are equipped with robust metal counter gear pinion and rear diff case. The drive train also features a slipper clutch and precision 48-pitch gear modules that reduce drive loss and fulfill the potential of modern power sources. Modern features include the choice of chain drive or belt drive as well as big bore shocks on front and rear that have been recreated in the original OPTIMA colors, plus hex screws. As a true racing partner, the OPTIMA is ready to race again with the latest advancements in driving performance.
Kyosho Optima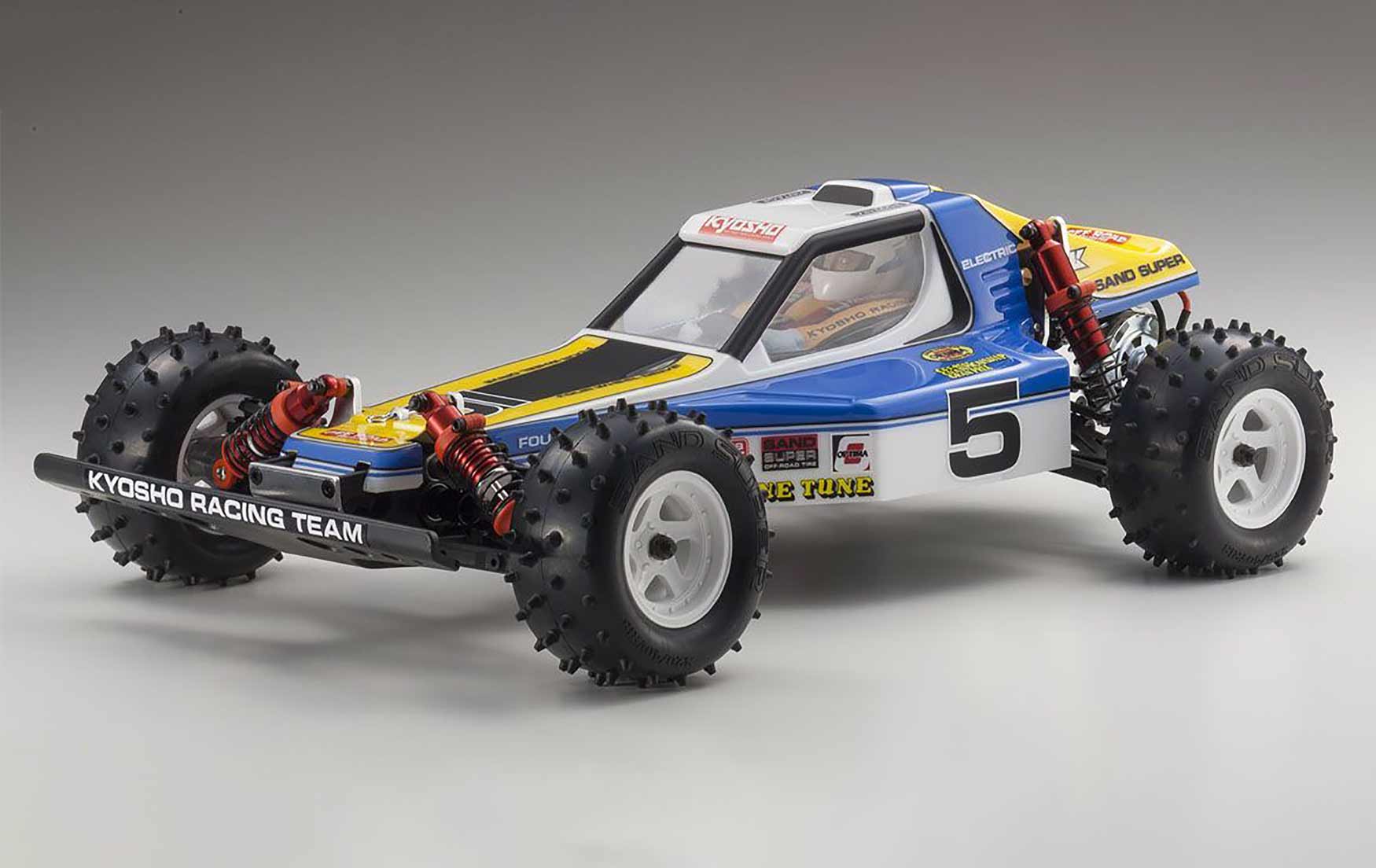 The Optima
The "OPTIMA" name signifies optimal performance. This famous off-road racer is equipped to win in any conditions.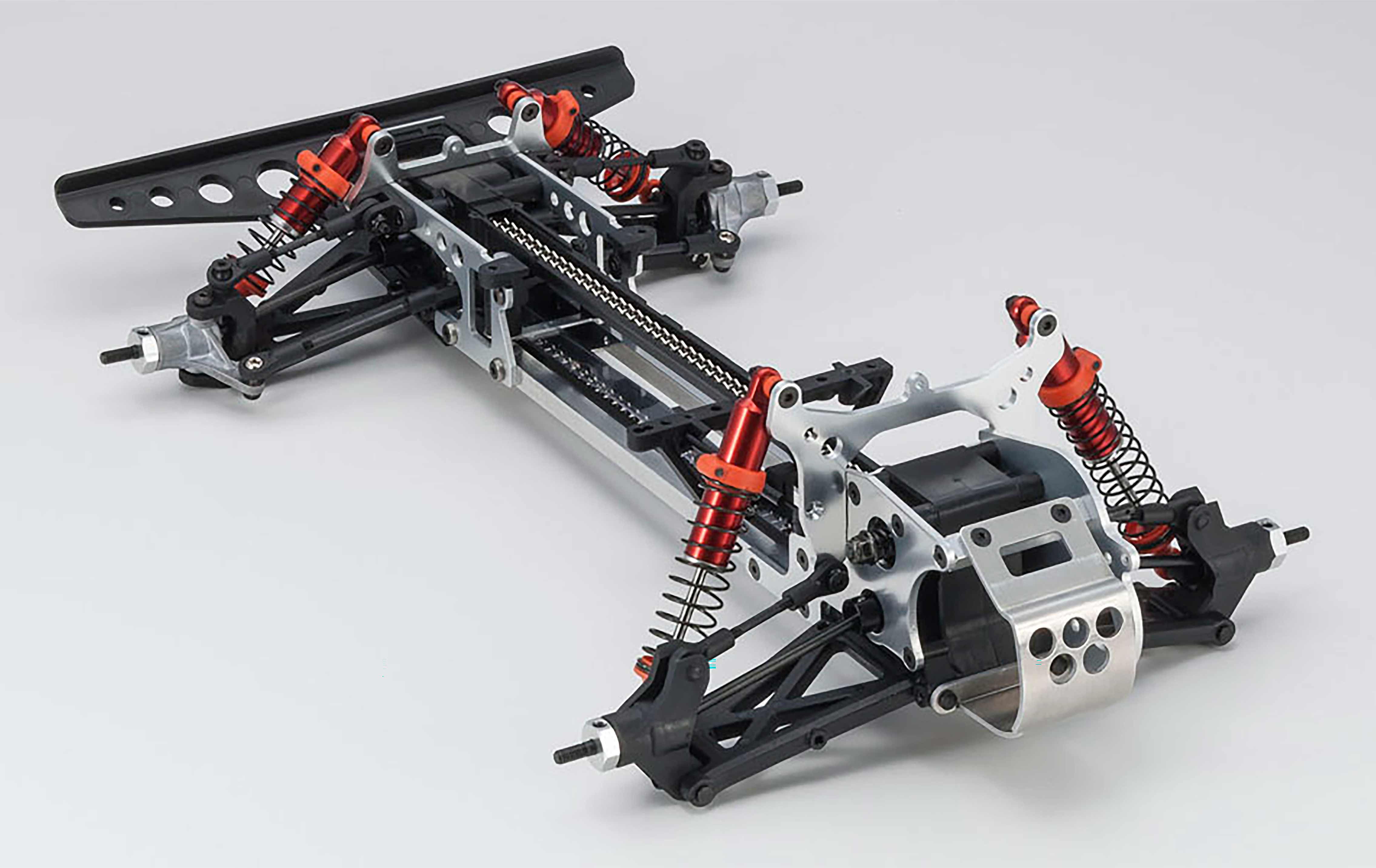 Frame Chassis
4WD mechanics are condensed into a narrow open frame chassis 6061T6 aluminum bars.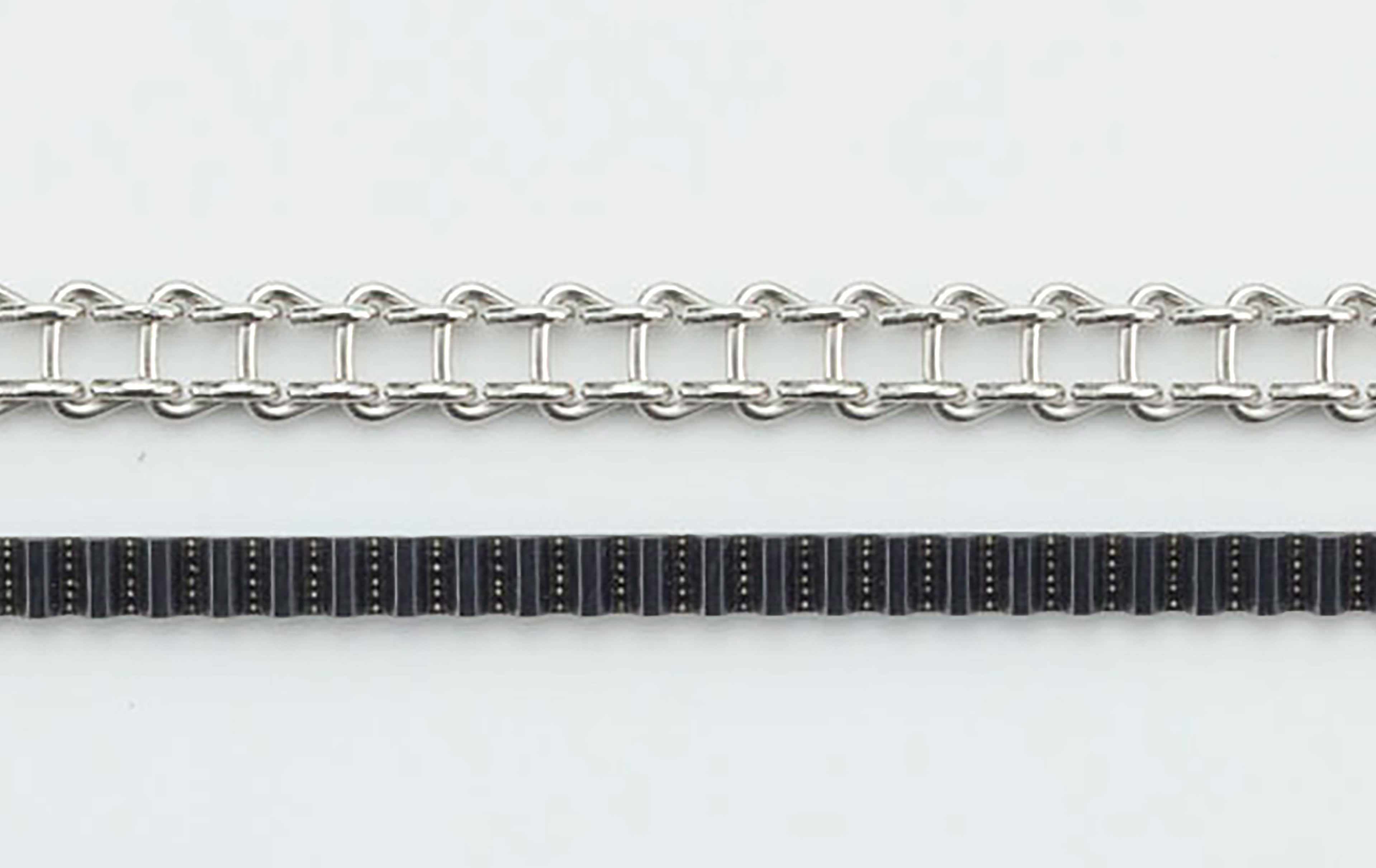 Drive Systems
Two drive system selections: chain drive or belt drive.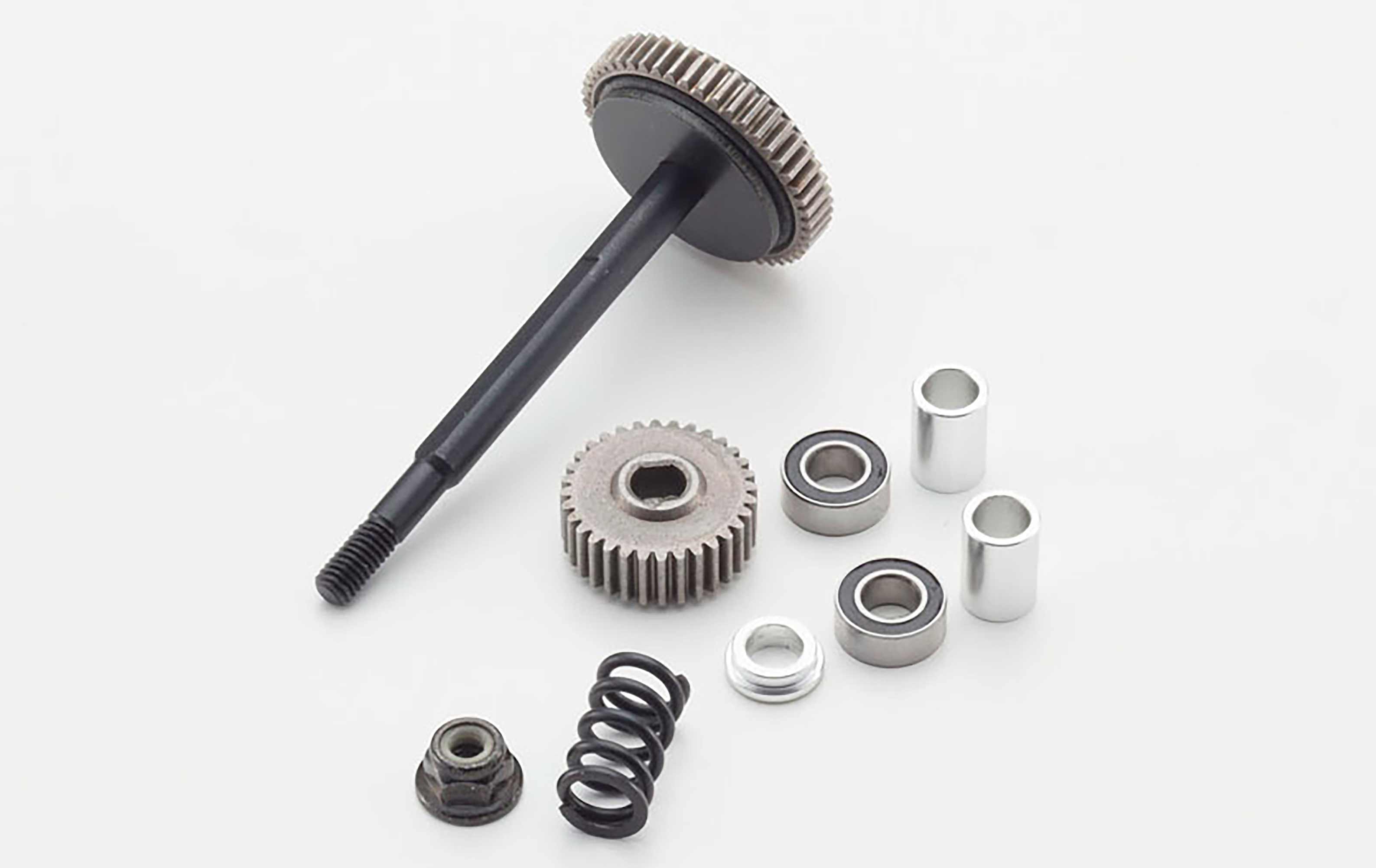 Gearbox
Gearbox equipped with slipper clutch for transmission protection and effective traction control.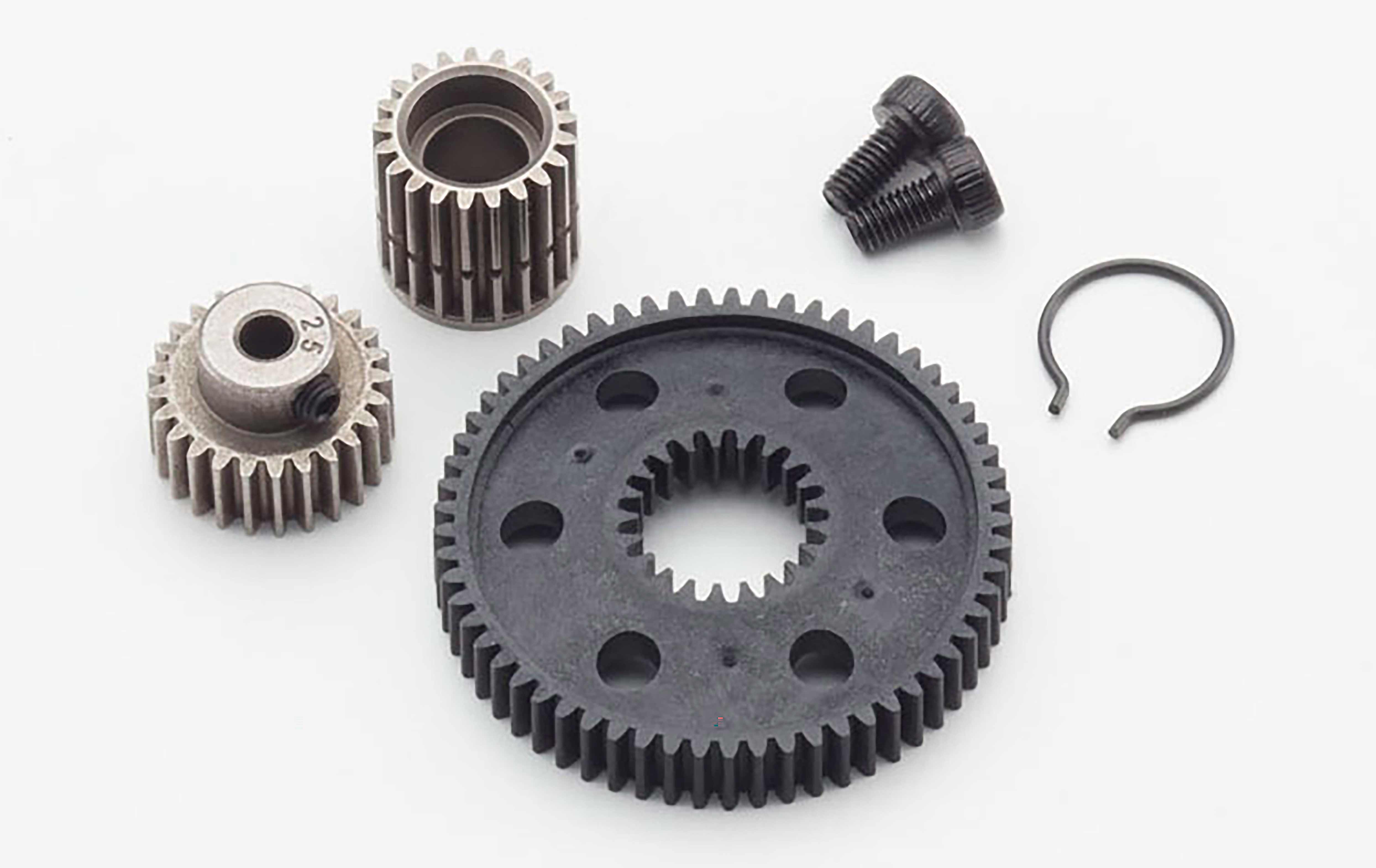 Alloy Gears
Precision 48-pitch gear modules. Sintered alloy gears combined with high impact nylon gears and newly added slipper clutch. This durable design allows efficient power delivery and will cope with the current high power motors.
Product Specifications
| | |
| --- | --- |
| Battery | Sold Separately |
| Gear Ratio | 9.24:1 |
| Ground Clearance | 36mm |
| Motor Size | 540-Size |
| Product Length | 15.6" (396 mm) |
| Steering Type | 2WS |
| Receiver | Sold Separately |
| Differential | Gear Diffs |
| Motor Type | Brushed |
| Speed Control | Sold Separately |
| Wheelbase | 10.2" (259 mm) |
| Power Type | Electric |
| Servos | Sold Separately |
| Vehicle Size | Standard |
| Product Width | 9.4" (239 mm) |
| Radio | Sold Separately |
| Approximate Assembly Time | 10-15 Hours |
| Body | Clear Polycarbonate |
| Scale | 1/10 |
| Product Weight | 3.5 lbs (1500g) without battery |
| Tire Tread | Spike |
| Vehicle Type | Buggy |
| Completion Level | Kit |
| Drivetrain | 4WD |
| Drive Type | Forward/Brake/Reverse |
| Product Height | 4.7" (119 mm) |