1/10 KB10 MAD WAGON VE 3S: Blue

1/10 KB10 MAD WAGON VE 3S: Blue
The Monster Truck, otherwise referred to as the 'Basher' category, has grown in popularity over many generations. With a pickup truck body mounted on a tough chassis and large diameter tires, monster trucks including R/C model versions, are built to go anywhere from the badlands to stadium courses. Now the Mad Wagon VE puts a unique style on a brute R/C machine!
Readyset Includes Pre-Assembled Chassis, Painted Body, And RC System With Pistol Grip Radio
Features Powerful Brushless Motor Unit
Newly Designed Chassis Incorporates A Shaft-Type 4WD With A Proven Double Wishbone Suspension
Equipped With Lightweight Resin Telescopic Universal Shafts On All Four Wheels
Rear Of The Machine Is Fitted With Wheelie Bar
1/10 KB10 MAD WAGON VE 3S: Blue
Earn
points on this item
ⓘ
Product Details
In The Box
(1) KB10 Mad Wagon RTR
(1) Syncro KT-231P+ Transmitter
(3) Hex Wrenches
(1) Cross Wrench
(1) Instruction Manual
Needed to Complete
(4) AA Batteries for Transmitter
(1) 7.4V - 11.1V Battery
(1) Battery Charger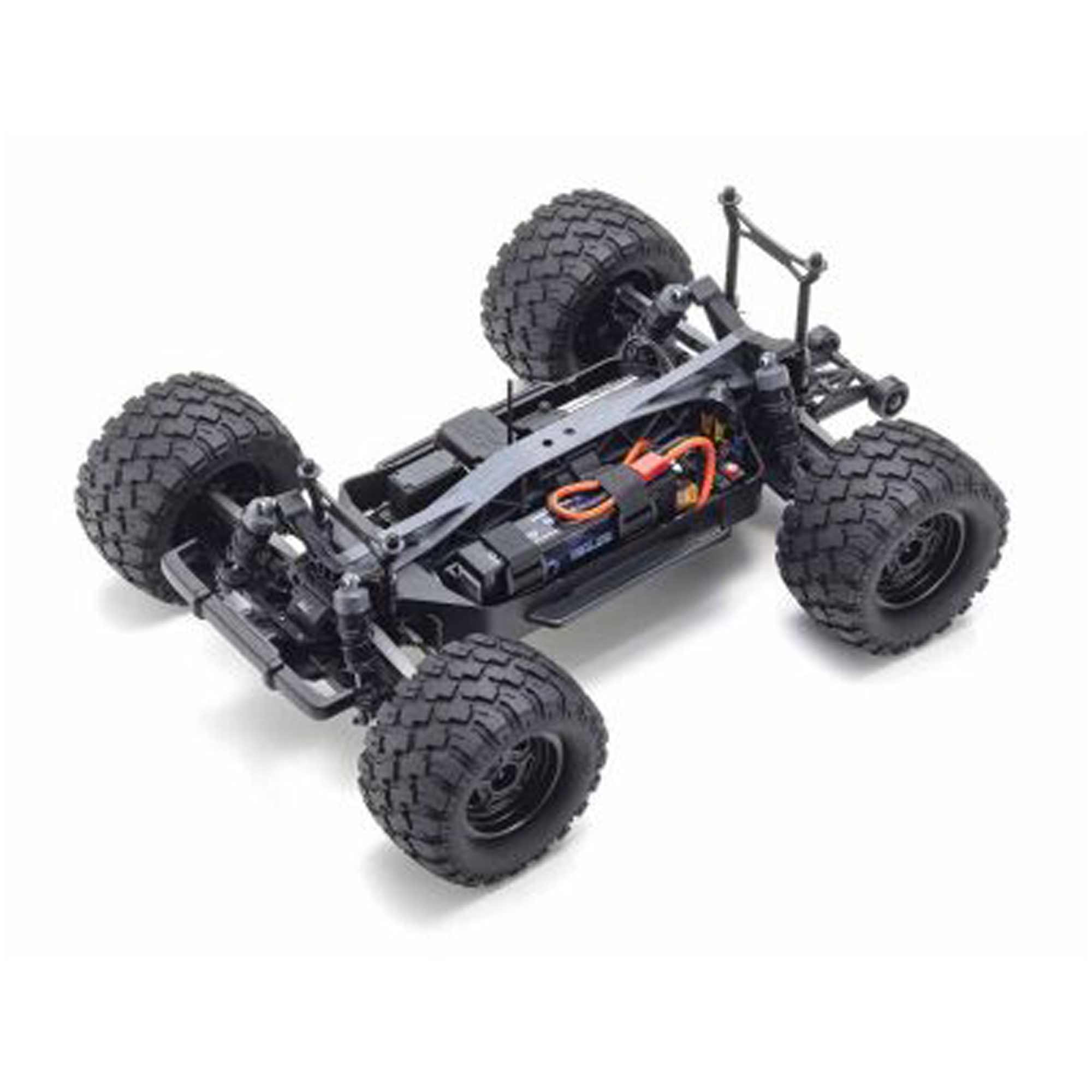 Features
Readyset includes pre-assembled chassis, painted body, and RC system with pistol grip Syncro KT-231P + transmitter
Features powerful brushless motor unit that reaches a maximum speed of 75km/h. RC system is also pre-installed
Includes original design wagon-type body. There are two color variations, and a clear body is also available as an option
Newly designed chassis incorporates a shaft-type 4WD with a proven double wishbone suspension to deliver exceptional driving performance
Fully equipped with (22) ball bearings as standard specification for superior drive efficiency
Equipped with lightweight resin telescopic universal shafts on all four wheels to reduce drive loss and prevent drive shaft drop outs in contact
Kit includes newly designed 2.8 inch tires and wheels. Standard specification 1/10 scale 2.8 inch tires and wheels can also be installed
A wide range of gear ratios can be selected by changing the standard gears included in the kit. This also supports on-road driving
Rear of the machine is fitted with wheelie bar that prevents the truck from flipping from sudden acceleration
Motor battery, charger, and 4 x AA batteries for transmitter are sold separately
Overview
The completely new KB10 4WD chassis design is compatible with 3S (11.1V) high-power lithium polymer (LiPo) batteries and features a newly developed brushless motor and speed controller as standard.
Delivering an optimal balance of high-speed and power, the aluminum main chassis of the KB10 combines front/rear blocks incorporating a split frame and double wishbone suspension to drive the all-terrain 2.8" wheels and tires. As the tire size is compatible with standard wheels, you can vary specifications to suit the type of road surface and conditions. In addition, drivetrain parts are comparable to the 1/8 scale Inferno NEO ST 3.0 parts, providing more than enough capacity for a 1/10 scale machine.
The original 1980's style van body design is produced in 'Ultra Scale' realism. While the body included in the kit is pre-painted, you could create your own custom body coloring design with a clear body as well as elevating the realism with the optional LED light unit.
The Mad Wagon VE is packaged as a pre-assembled Readyset and requires only batteries for the chassis and charger to get up and running. A wide range of optional parts are available to expand and extend your enjoyment of the R/C car hobby.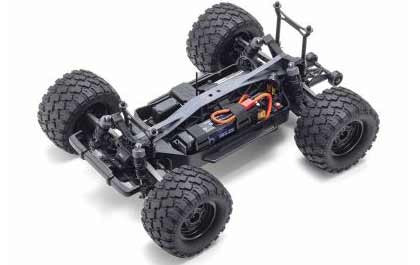 Chassis Design
Aluminum main chassis combines with the superior pitch rigidity of the vertical resin frame to create a high-strength structure that delivers optimal balance of high rigidity and suppleness.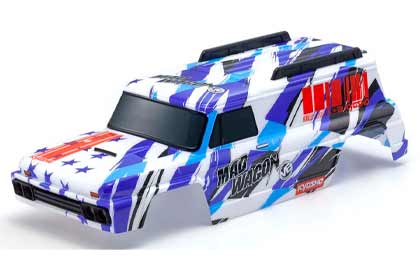 Van-Style Body
Based on 1980's era van styling, this newly designed body is made from durable polycarbonate and finished with paint scheme and decals applied. A separately molded grille and light parts enhance the realism of this "Ultra Scale Body".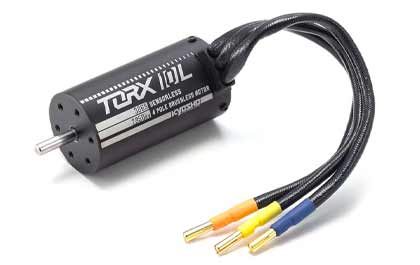 TORX 10L Brushless Motor
Includes newly developed TORX 10L brushless motor. With 38mm diameter and long 68mm specifications, the motor produces 2850Kv (rotations per volt) and efficiently converts power from the 3S LiPo battery into speed and torque.
Waterproof ESC
Equipped with BRAINZ 10+ waterproof ESC (speed controller) that boasts 80A capacity. Top mounted cooling fan manages heat generation to reduce power loss even with extended running times.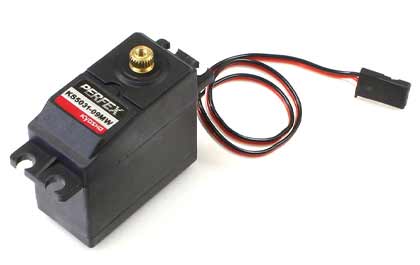 Servo Included
Features the KS5031-91MW servo with 9kg / cm of torque and all-metal gears, promises reliable steering control.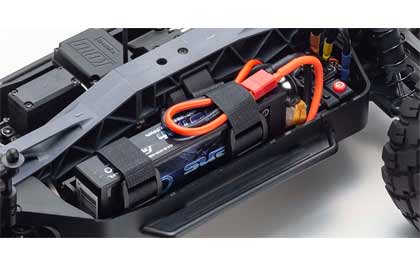 3S Lipo Compatible
Features battery holder suitable for mounting 3S LiPo battery. By offsetting the left side mount of the battery, left-right weight balance can be set to the driver's preference.Also compatible with 2S LiPo battery.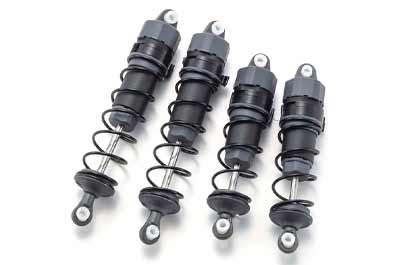 Oil Shocks
Newly designed oil shocks on front and rear suspension deliver smooth shock absorber function. Change suspension settings by installing optional springs to suit a wide range of running conditions and surfaces.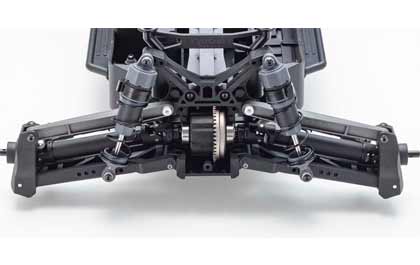 Differential
Features the 4-bevel differential gear from the Inferno NEO ST 3.0 1/8 scale buggy. With more than enough capacity to handle the high-power drive unit, the design also allows easy diff gear replacement for superior maintenance efficiency.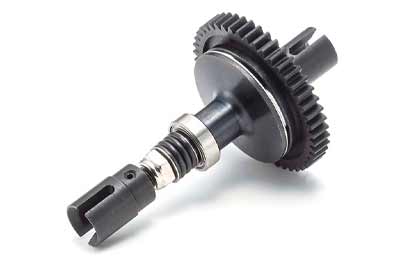 Slipper Clutch
Newly designed slipper clutch effectively protects the drive system from excessive power loads. Aluminum shoe delivers optimal slip characteristics and improved acceleration.
Product Specifications
| | |
| --- | --- |
| Vehicle Size | Standard |
| Product Width | 13.7795" (350 mm) |
| Radio | Included |
| Charger | Sold Separately |
| Receiver | Included |
| Shock Type | Oil Shocks |
| Speed Control | Included |
| Wheelbase | 11.6142" (295 mm) |
| Motor Type | Brushless |
| Power Type | Electric |
| Servos | Included |
| Vehicle Type | Monster Truck |
| Battery | Sold Separately |
| Gear Ratio | 15.22: 1 |
| Product Length | 18.5827" (472 mm) |
| Steering Type | 2WS |
| Ball Bearings | Full Ball Bearings |
| Chassis | Aluminum Main Chassis |
| Completion Level | Ready-To-Run |
| Drivetrain | 4WD |
| Drive Type | Forward/Brake/Reverse |
| Product Height | 7.79528" (198 mm) |
| Scale | 1/10 |