Discontinued
|
This Item is No Longer Available

1/10 Hammerjaw 4WD Rock Bouncer Brushed RTR
Discontinued
|
This Item is No Longer Available

1/10 Hammerjaw 4WD Rock Bouncer Brushed RTR
Product Details

Key Features
Full-time 4X4 drivetrain with fully locked differentials
Anodized aluminum vertical-plane chassis with adjustable wheelbase
Proportional 2.4GHz radio system with throttle and steering control
Waterproof electronics, plus metal-gear steering servo durability
Multi-link independent suspension with oil-filled shocks
Full ball-bearing support plus standard 12mm hex wheel hubs
Scale wheels, tires, LED lights, interior detail and more
Innovative flip-top body with integrated roll cage
Powerful motor and robust speed control
Convertible to 4WD steering (parts sold separately)
2000mAh Ni-MH battery and charger included
Ready-to-Run—nothing more to buy
Needed to Complete
Nothing! Everything you need is included in the box.
What's in the box?
(1) 1/10 Force RC® Hammerjaw Rock Bouncer 4X4
(1) Force RC Pistol Grip Transmitter
(1) Force RC 2.4GHz Waterproof ESC/Receiver
(1) Spektrum 9KG 23T Waterproof Servo
(1) Dynamite 20T Brushed Motor
(1) Dynamite 2000mAh 7.2V Ni-MH battery
(1) 200mA Battery Charger
(4) AA Batteries
(1) User Manual
Overview
The Force RC® 1/10-Scale Hammerjaw™ Rock Bouncer is a Ready-to-Run buggy equipped to claw over anything and detailed to look like the real thing. The body, wheels, and tires are host to a super tough anodized aluminum vertical-plane chassis for long-lasting dependability. The innovative hinged body makes access to everything easy, especially battery changes. Waterproof electronics, a 2.4GHz radio system, and powerful battery ensure that the control you need won't wimp out. Its driveline has full ball-bearing support to deliver its awesome torque and power smoothly. Fully locked differentials, an adjustable wheelbase, and a 4X4 drivetrain make it possible to climb, bounce, laugh it off and keep having fun.
About Force RC
Spend more time enjoying your RC hobby and less money to do so with Force RC® products. Force RC products are hand-picked for their exceptional quality, performance, and value—all designed to allow you to maximize your fun without breaking the bank. Force RC surface vehicles come out of the box at the Ready-to-Run completion level further reducing your cost. Developed and backed by Horizon Hobby, Force RC delivers a truly awesome RC experience.
Video Overview
Tackle the Terrain
Full-time 4X4 drivetrain with fully locked differentials
Waterproof electronics, plus 9 kg. metal-gear steering servo durability
Multi-link independent suspension with oil-filled shocks
Convertible to 4WD steering (parts sold separately)
Powerful 540-sized motor and robust speed control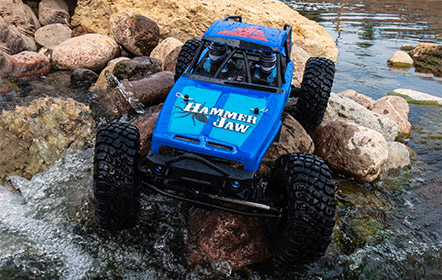 Scale, with Style
Scale wheels, tires, LED lights, interior detail and more
Innovative flip-top body with integrated roll cage
Race inspired driver figures in open cab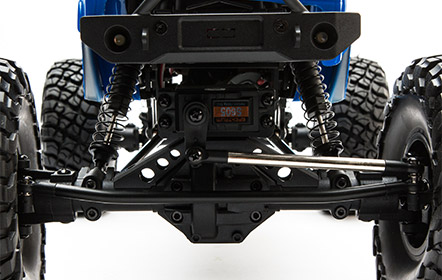 Durability that Matters
Anodized aluminum vertical-plane chassis with adjustable wheelbase
Full ball-bearing support plus standard 12mm hex wheel hubs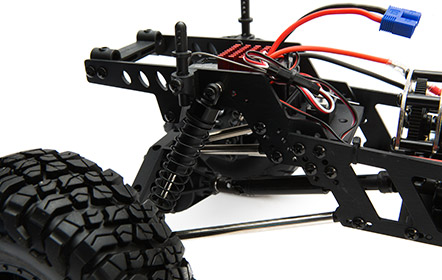 Ready to Run
Everything included – ready to go right out of the box!
2000mAh Ni-MH battery and charger included
Proportional 2.4GHz radio system with throttle and steering control
Charger included