1/10 Hammer Rey U4 4X4 Rock Racer Brushless RTR with Smart and AVC, Currie Red

1/10 Hammer Rey U4 4X4 Rock Racer Brushless RTR with Smart and AVC, Currie Red
Bred for off-road excellence, the Losi
®
Hammer Rey
®
is a SMART, RTR Rock Racer with AVC
®
. It's ideal for victory-minded enthusiasts looking for a superior RC experience with the inclusion of AVC, Spektrum
™
Smart, and incredible scale details.
REALISTIC DETAILS: 1 TO 1 SCALE LOOKS AND PERFORMANCE
POWERFUL: SPEKTRUM™ 3150Kv BRUSHLESS POWER SYSTEM
UNPARALLELED TECHNOLOGY: SMART AND AVC®
1/10 Hammer Rey U4 4X4 Rock Racer Brushless RTR with Smart and AVC, Currie Red
Earn
points on this item
ⓘ
Product Details
In The Box
(1) 1/10 Hammer Rey U4 4WD Rock Racer
(1) Spektrum™ DX3™ Radio System
(1) Spektrum Firma® 130 Amp Brushless Smart ESC (installed)
(1) Spektrum Firma 4-Pole 3150Kv Brushless Motor (installed)
(1) Spektrum™ S614S Metal Gear Servo (installed)
(1) SR6200A DSMR 6-Channel AVC Surface Receiver (installed)
(1) Product Instruction Manual
(4) AA Batteries
Needed to Complete
(1) 2-3S LiPo Battery with EC5™ or IC5™ connector
(1) Compatible Battery Charger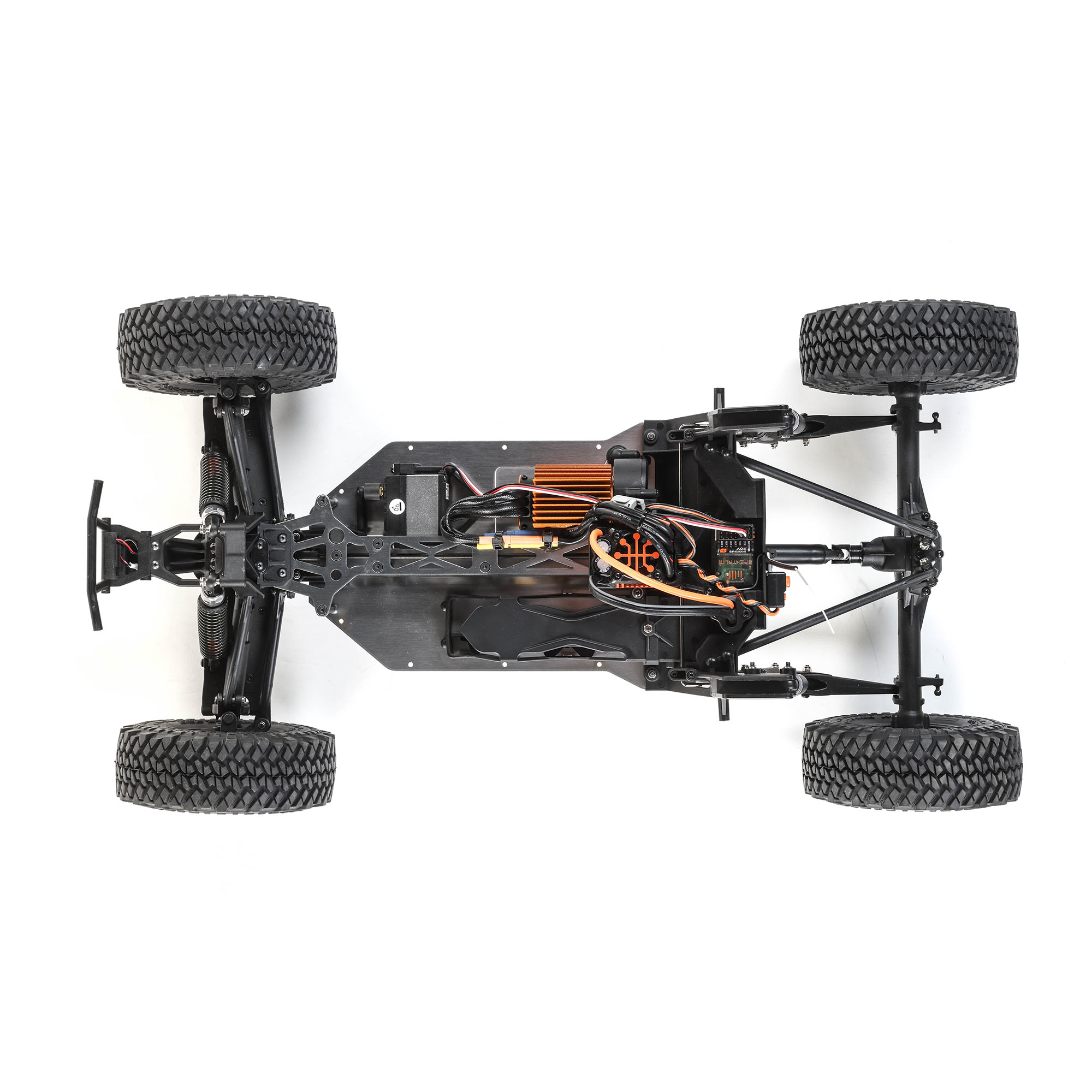 Features
Officially Licensed Casey Currie's U4 Racer
Officially Licensed KMC Machete wheels and Nitto Trail Grappler M/T tires
Spektrum SMART 130A ESC 3150Kv Brushless Power System
Spektrum™ DX3™ Radio System
Updated Steering System
Updated Rear Axle Housing
Independent Front Suspension with a Solid Rear Axle
Waterproof Electronics
Preset Motorplate
LED Light Bars and Headlights
Coil-over Oil-Filled Shocks
Spektrum™ S614S Metal Gear Servo
Sealed Metal-Gear Transmission and Diffs
Rear-Loading Battery
Longer Wheelbase
Spektrum™ AVC® technology
BRED FOR VICTORY
The Losi® Hammer Rey® is a SMART, Ready-to-Run Rock Racer with AVC®. It is officially licensed and based off Casey Currie's U4 Racer. It's powered with a Spektrum™ 3150Kv brushless motor and managed by the Smart 130A ESC, 6-channel DSMR AVC/telemetry receiver, and the new DX3 transmitter that provides Spektrum Smart feedback including live battery voltage. Along with the officially licensed design, the Hammer Rey includes KMC wheels, Nitto tires, and additional details such as new shock reservoirs, fire extinguishers, and new light bars. It comes equipped with a solid rear axle, independent front suspension, and oil-filled shocks, so you can tear across all types of rocky off-road terrain. And you'll do so with the full-throttle freedom that only AVC® technology can provide. The Hammer Rey is ideal for victory-minded off-road enthusiasts looking for the top-of-the-line RC experience with the inclusion of AVC and the three-position limiting switch. With the Hammer Rey, Losi continues to push the limits when it comes to scale details, performance and officially licensed products.
Video Overview
TJ's Overview
Support Video Playlist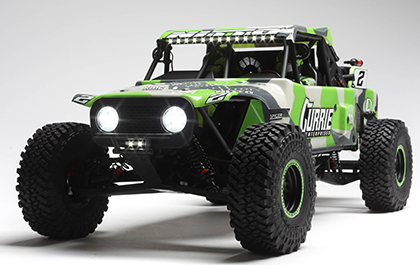 Officially Licensed U4 Racer
Officially licensed and based off Casey Currie's U4 Racer. It features authentic scale details to the Hammer Rey. These will have racers doing double takes as they take on all corners.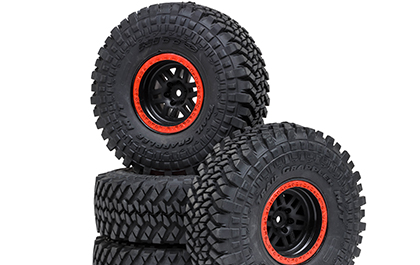 Officially Licensed Wheels and Tires
The Hammer Rey has the look and feel of its real-world counterparts in ways you never imagined with KMC Machete wheels and Nitto Trail Grappler M/T tires.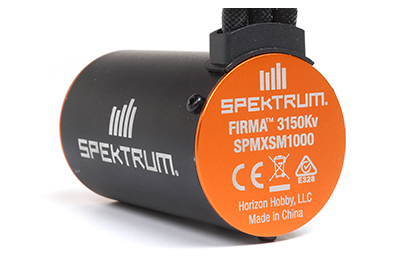 Spektrum™ SMART 3150Kv Brushless Power System
The Hamer Rey comes equipped with a Spektrum™ 3150Kv Brushless motor, a Spektrum™ Smart 130A Brushless ESC, and a Spektrum™ SR6200A DSMR 6-Channel AVC/telemetry receiver providing Spektrum™ Smart feedback including live battery voltage. This potent combination can handle up to 3S LiPo batteries (sold separately) and will allow you to hurtle across the landscape at speeds of up to 40 mph.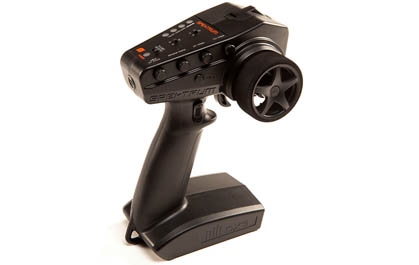 Spektrum™ DX3™ Radio System
The Spektrum™ DX3™ radio system offers advanced features like AVC® technology, a 3-position throttle limiting switch, and travel adjust.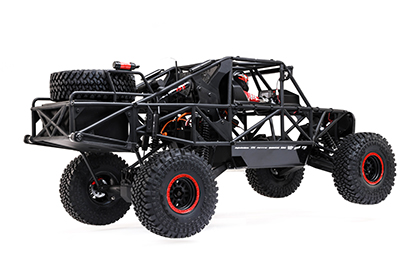 Scale Details
Secondary shock with faux cooling reservoirs, fire extinguishers, Magnaflow exhaust system, upper LED light bar, lower LED light bar, LED headlights, fuel cell, faux sway bar, brake calipers/rotors, side mirrors, and more.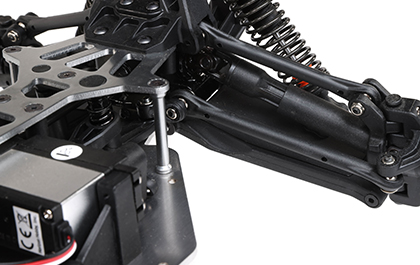 Updated Steering System
The steering servo mount and steering bell cranks have been re-designed for added durability.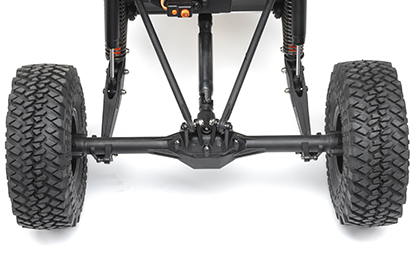 Updated Rear Axle Housing
The Hammer Rey rear suspension allows it to soak up massive whoops and bumps with the same realistic handling and movement of a full-scale U4 off-road racer. The rear axle housing includes an updated third member that uses larger diameter pinion bearings as well as an updated upper rear link mount for added durability.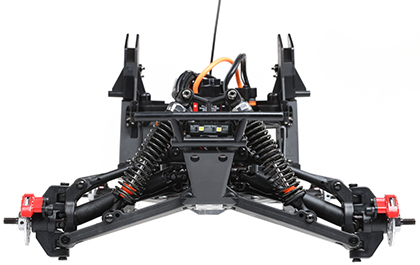 Independent Front Suspension
The front, independent suspension has been carefully engineered letting the Hammer Rey rip across the terrain with confidence. By having fully independent suspension, it allows each side to react accordingly providing more control and more precise steering and handling.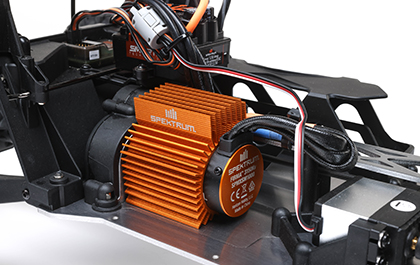 Waterproof Electronics
The Hammer Rey is loaded with waterproof electronics including the receiver, servo and ESC. Everything is sealed against the elements allowing you to splash in the rain, spin in the mud and make tracks in the snow. It's full-throttle freedom to run anytime, rain or shine.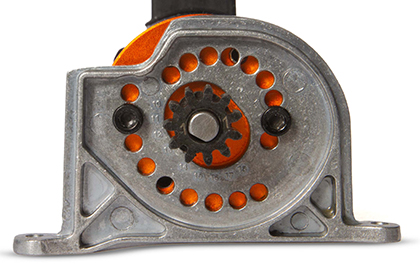 Preset Motorplate
Easier and precise gear mesh settings with different pinion choices.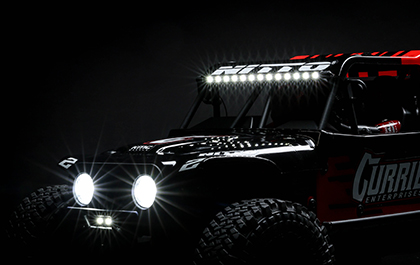 LED Light Bars and Headlights
The fun doesn't stop even when the sun goes down with the Hammer Rey. A brilliant LED lights on the integrated light bars cast more than enough illumination for running at night. Plus, the body-mounted LEDs place only a small demand on the battery allowing you to stay out all night!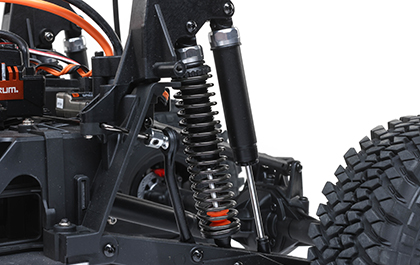 Coil-over Oil-Filled Shocks
The long-travel shocks do a fantastic job of soaking up the energy from big bumps and jumps. They also feature threaded shock bodies with adjustment collars so you can fine tune the pre-load settings of the coil-over springs.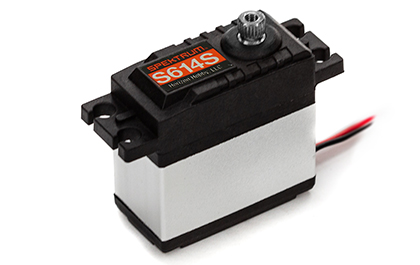 Spektrum™ S614S Metal Gear Servo
Improved high-torque servo provides robust steering.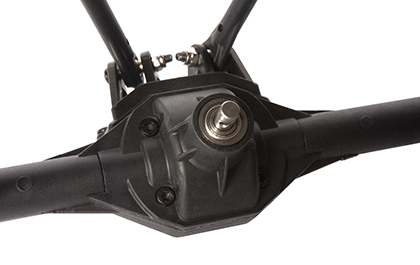 Sealed Metal-Gear Transmission and Diffs
The single-speed transmission, as well as the front and center diffs, are sealed against the elements and engineered to handle the abuse of a high-output brushless motor and punishing terrain. MOD 1 gears further increase the durability of this desert beast. The adjustability of three diffs allows drivers to set their Hammer Rey to handle any track conditions.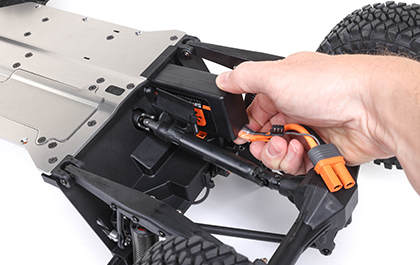 Rear-Loading Battery
The innovative rear-loading battery feature makes it possible to change the battery quickly, easily and without the inconvenience of removing the body.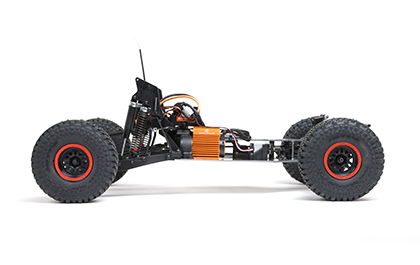 Longer Wheelbase
The longest wheelbase on the Rey platform for increased performance and added stability at speed.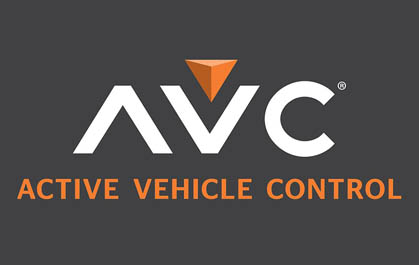 The Full-Throttle Freedom of AVC® Technology
The receiver's built-in AVC® (Active Vehicle Control®) traction control system works behind the scenes, making hundreds of throttle and steering adjustments per second, so more of the motor's power is translated into ballistic speed and acceleration instead of just flying dirt. The patent pending AVC system adds a level of performance that simply cannot be found with any vehicle from any manufacturer other than Horizon Hobby. Like traction control in your full-scale vehicle, you can activate or deactivate the system on the fly and adjust the level of stability based on driving conditions. Any RC vehicle can go fast and with AVC you can go faster while maintaining optimum stability in all driving conditions.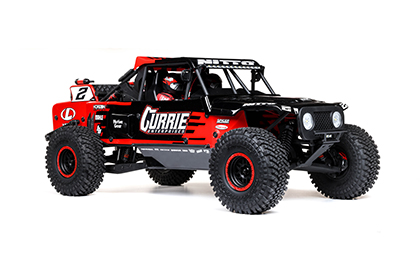 OFFICIALLY LICENSED
Every weekend off-road racing driver, Casey Currie's feet are touching dirt and the gas pedal. His career has taken him all over the world with a highlight being his threepeat at the Baja 1000 in 2017, 2018, and 2019.
Full-scale U4 race trucks are a unique breed. Not only are they expected to cruise at 90MPH across the desert, but also have the torque and driveline strength to get over rock formations that look impossible to navigate.
One reason Casey Currie and his U4 race truck works so well with the Rey platform was the featured independent suspension up front and solid axle in the rear. Of course with Losi, drivers get as much detail as possible while preserving the performance and durability the Rey platform is known for in the RC racing community. The combination is a one-way ticket to victory after victory, bred for the desert and ready to impress.

Product Specifications
| | |
| --- | --- |
| Receiver | Included |
| Shock Type | Coil-over, oil-filled |
| Front Track | 12.37 |
| Vehicle Size | Standard |
| Product Width | 12.37" (314 mm) |
| Radio | Included |
| Charger | Sold Separately |
| Differential | Bevel gear, sealed |
| Water-Resistant | Yes |
| Vehicle Type | Rock Racer |
| Ball Bearings | Yes |
| Chassis | 3mm plate, 6061-T6 aluminum |
| Completion Level | Ready-To-Run |
| Drivetrain | 4WD |
| Drive Type | Forward/Brake/Reverse |
| Product Height | 11.11" (282 mm) |
| Sensored | No |
| Top Speed | 40+ |
| Wheel Hex Size | 12mm |
| Battery | Sold Separately |
| Motor Size | 3150 Kv |
| Product Length | 26.45" (672 mm) |
| Spur Gear | 43T |
| Suspension | Front independent, Rear 4-link |
| Body | Screened polycarbonate |
| Brakes | Integrated with ESC |
| Pinion | 11T |
| Scale | 1/10 |
| Power Type | Electric |
| Gear Pitch | 1.0 Mod |
| Servos | Included |
| Technology | AVC and SMART |
| Motor Type | Brushless |
| Rear Track | 12.37 |
| Speed Control | Included |
| Wheelbase | 17.22" (437 mm) |