Discontinued
|
This Item is No Longer Available

1/10 GRANITE 3S BLX 4WD Brushless Monster Truck RTR, Orange/Black
Discontinued
|
This Item is No Longer Available

1/10 GRANITE 3S BLX 4WD Brushless Monster Truck RTR, Orange/Black
1/10 GRANITE 3S BLX 4WD Brushless Monster Truck with Spektrum RTR
ARA102720
View Alternate Product Details
Product Details

Key Features
Tactic TTX300 3-channel transmitter.
BLX100 brushless ESC and motor combo.
Electronics module with BLX100 brushless ESC, ADS-7 steering servo and Tactic TR326 receiver.
Easy-access drivetrain.
Three-plate slipper clutch.
Servo horn with built-in servo saver.
Power module with pinion indicators.
Aluminum motor plate.
Adjustable wheelie bar.
Adjustable steel turnbuckles.
dBoots Fortress MT tires.
Multi-spoke wheels.
Oil-filled shocks.
Extended height dirt defenders.
A monster with plenty of power!
The GRANITE 4x4 BLX will rock you to the core with its jaw-dropping power and brushless performance. A brushless ESC and motor combo gives you unsurpassed speed, while a Tactic TTX300 3-channel transmitter provides confident control. The included wheelie bar is adjustable, so you can fine-tune rake settings to your preference. Drop in your choice of 6-8 cell NiMH battery, 2S LiPo, or 3S LiPo, and get bashing.
Needed to Complete
5000mAh 50C 2S or 3S Hardcase LiPo with EC5 Connector
Suitable LiPo Charger with Banana to EC5 Adapter
(4) AA Batteries
What's in the box?
(1) GRANITE 4x4 3S BLX Monster Truck RTR
(1) User Manual
Video Overview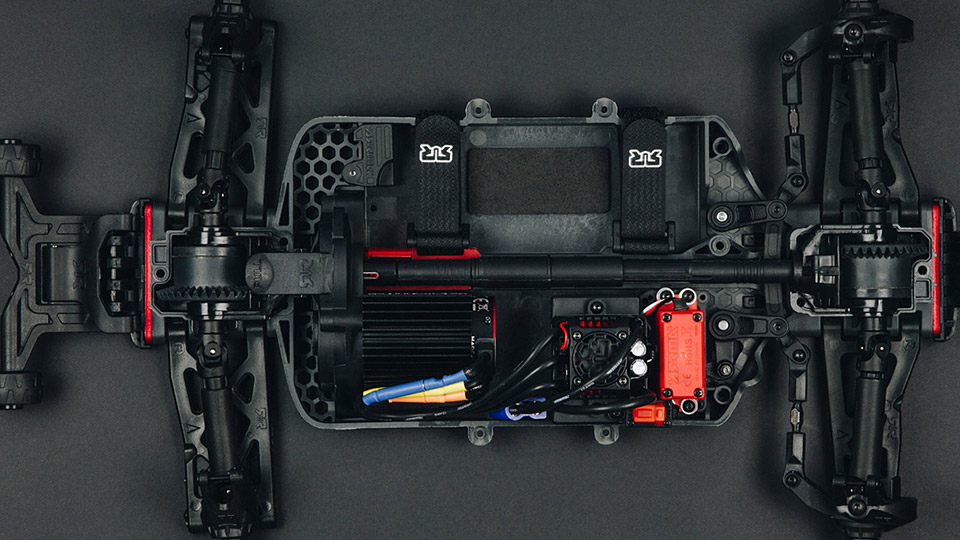 Full-time four-wheel drive (4X4) transmission with front and rear differentials. Telescopic driveshafts in the front, rear and centerline transmit drive from the slipper clutch to each wheel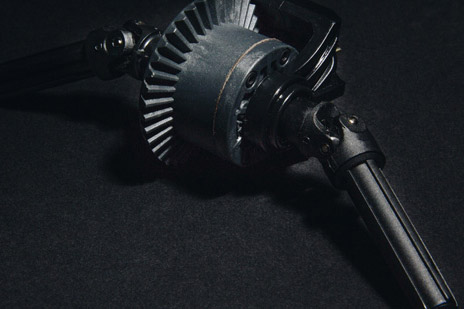 ARRMA Differential Module
Each assembled differential unit is housed in ARRMA's innovative 'yoke' design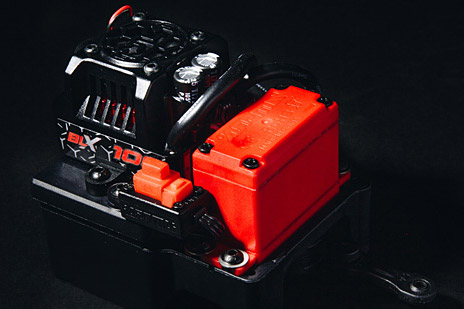 ARRMA Electronics Module
Ultra-compact ESC, servo and receiver packaging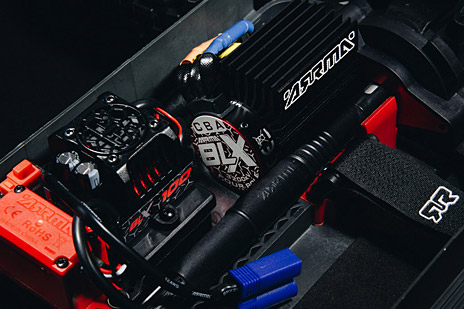 Waterproof BLX100 Brushless Power System
3S capable for incredible torque, acceleration and speed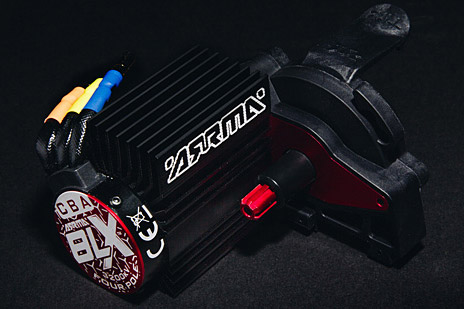 ARRMA Power Module
Consists of motor, motor plate, slipper clutch assembly and gear cover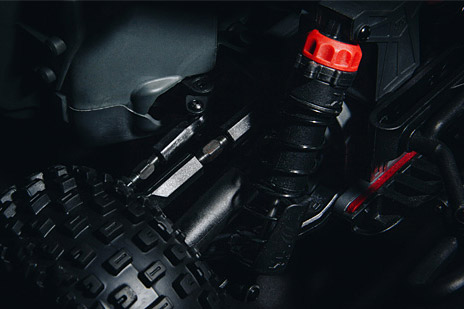 Durable Shocks & Adjustable Links
Run how you want with easy bleed shocks and length adjustable geometry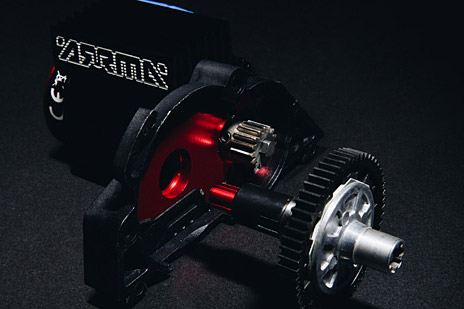 Easy-Access Slipper Clutch
For quick and simple maintenance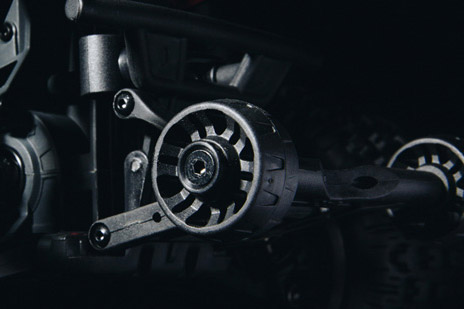 Wheelie Bar
With 3S brushless power, you're gonna need it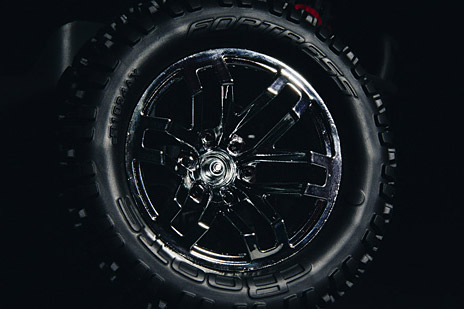 Black Chrome Wheels
Fortress short course tire design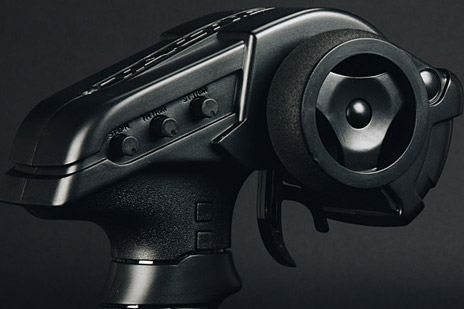 The TTX300 radio system will provide fast and consistent control
Using 2.4Ghz technology, your ARRMA vehicle is controlled by a wheel and trigger style radio transmitter
Ideal for new RC users and experienced bashing fans alike
Adjustable steering and throttle trim will allow you to easily tune your control experience to suit your individual needs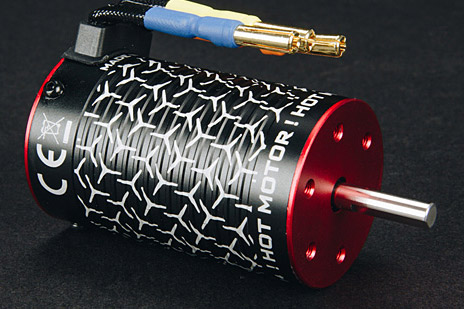 BLX3660 3200Kv Brushless Motor
3200kV brushless motor
3S LiPo ready (2S and 3S LiPo compatible)
Beautifully etched aluminium can
4-pole construction for smooth and consistent power
Gold 4mm bullet connectors for reliable and efficient connection to ESC
Finned motor can for increased heat dissipation
Super strong 5mm shaft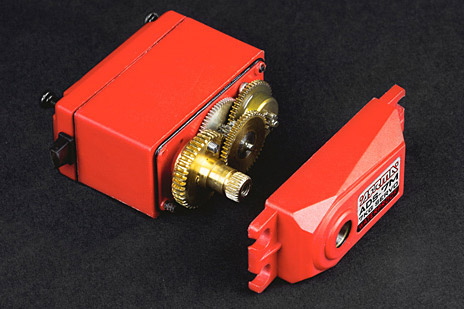 ADS-7M 7KG Waterproof Servo
Strong and super-durable, the waterproof ADS-7M Metal Geared Steering Servo provides fast and reliable control
This super-tough steering servo can reach full articulation in 0.14 sec/0.12 sec 6V/7.2V
All-metal gears for increased strength and long-lasting durability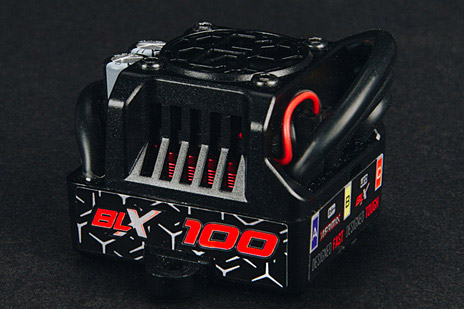 BLX100 Waterproof ESC
Waterproof and dust proof design
100A, 3S LiPo ready (2S and 3S LiPo compatible)
Fitted with reliable EC5 battery connector
Integrated fan for reduced heat during extreme running
Gold 4mm bullet connector for motor wires
Low voltage cut off and thermal overload protection
User programmable punch and brake settings

Product Specifications
| | |
| --- | --- |
| Product Length | 18.74" (476mm) |
| Suspension | Independent |
| Completion Level | Ready-To-Run |
| Drivetrain | 4WD |
| Product Height | 7.7" (196mm) |
| Scale | 1/10 |
| Product Width | 13.5" (342mm) |
| Wheel Type | MT (2.8" 14mm hex) |
| Product Weight | 6lbs 4oz / 2.83kg (No Battery) |
| Vehicle Type | Monster Truck |
| Power Type | Electric |
| Motor Type | Brushless |
| Wheelbase | 11.3" (287mm) |