1 10 Fazon Voltage 2WD Mega RTR

1 10 Fazon Voltage 2WD Mega RTR
This item is no longer available. Updated or related products shown below:
1/10 Granite Voltage 2WD Brushed Mega Monster Truck RTR
ARA102727
View Alternate Product Details
Product Details
Designed to be fast. Designed to be tough.
Your path to power begins with the FAZON VOLTAGE. It arrives ready-to-run out of the box with all the toughness and speed you can handle. Two Lithium-Ion batteries are included, but you can maximize your run time by adding up to four more batteries. With the FAZON VOLTAGE, ARRMA makes it easy for you to double – or even triple – your off-road fun.
2-year limited warranty, beginning at the date of purchase.
Ready-To-Run FAZON VOLTAGE MEGA SRS 2WD Electric Off-Road Speed Truck.
Ergonomic ATX101 2.4GHz radio system with waterproof ADS-5 SRS 70 oz.-in. torque servo.
Two 1500mAh Li-Ion batteries – boost run times by adding up to four more Li-Ion batteries, or add a 6-cell NiMH battery or a 2S LiPo pack.
3-in-1 power system with MEGA 20T 540 motor, MEGA SRS ESC and receiver.
Li-Ion wall charger.
dBoots Dirtrunner ST tires.
Tough multi-spoke wheels.
Oil-filled shocks.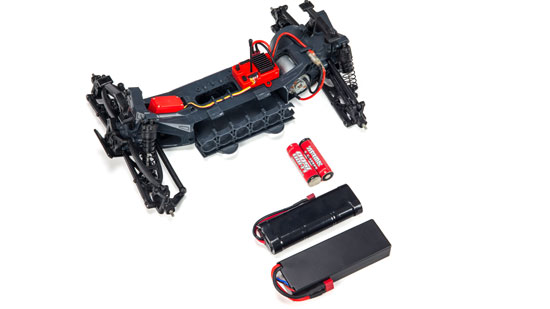 Choose Li-Ion, NiMh or LiPo batteries to power your model. The ARRMA Voltage has multi battery chemistry compatibility that allows you to run 2,4 or 6 ARRMA Li-Ion batteries, or hobby standard 6-cell NiMh or 2S LiPo battery packs.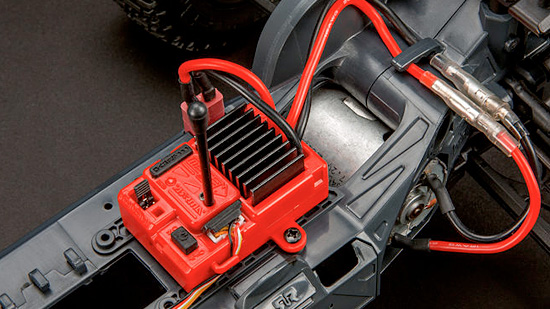 ARRMA MEGA SRS 3-in-1 Unit combines the ESC, receiver and electronic control element of the servo. It features three different battery modes that are user selectable by positioning a jump connector.
An industry standard 3-wire servo can be plugged into the MEGA SRS 3-in-1 Unit.
The power system features a 20T 540 size brushed motor.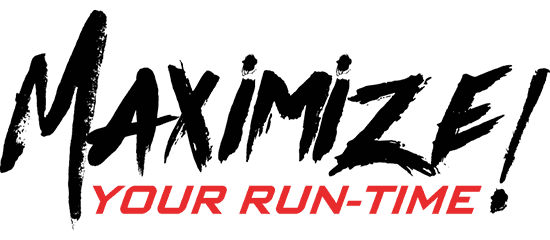 An Industry First!
Each VOLTAGE includes two 18650 Lithium-Ion batteries. Increase your run-time by adding two or four more Lithium-Ion batteries—or drop in a 6-cell NiMH or 2S LiPo pack!
5-9 minutes run-time with 2 Li-Ion batteries.
10-18 minutes with 2 additional Li-Ion batteries.
15-27 minutes with 4 additional Li-Ion batteries.
4-8 minutes with 6-cell NiMH battery.
8-22 minutes with 2S LiPo battery.

Note: run times are dependent on driving conditions, driving style and battery age.
The unique cradle design makes it easy to quickly change between different battery types.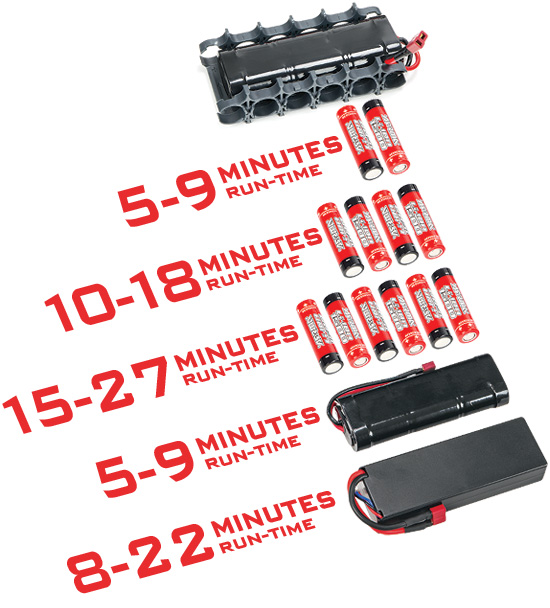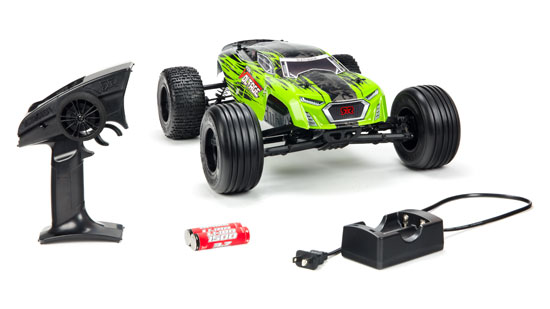 Included in the box you will find a complete ARRMA FAZON VOLTAGE model, ATX101 2.4GHz transmitter, two ARRMA lithium-ion 18650 batteries and a two-cell lithium-ion charger. All that is required to get going are four 'AA' batteries to power the transmitter.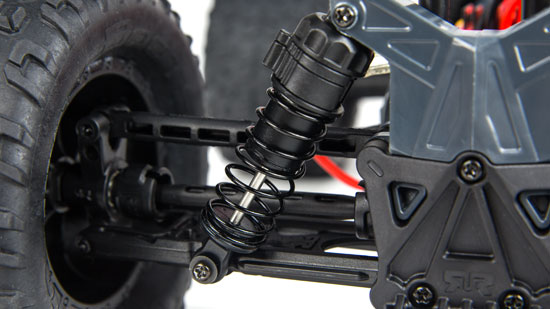 ARRMA Voltage MEGA SRS cars include oil-filled shock absorbers as standard. The springs are loaded from the top of the shocks, making it almost impossible for springs to be lost.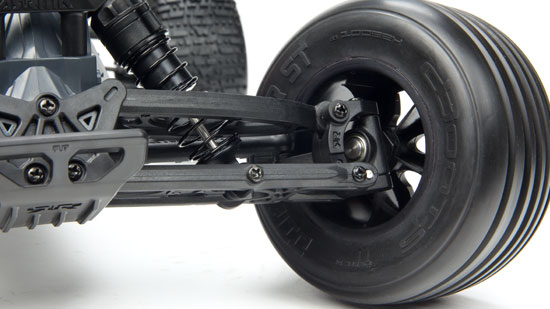 dBoots Dirtrunner ST tires.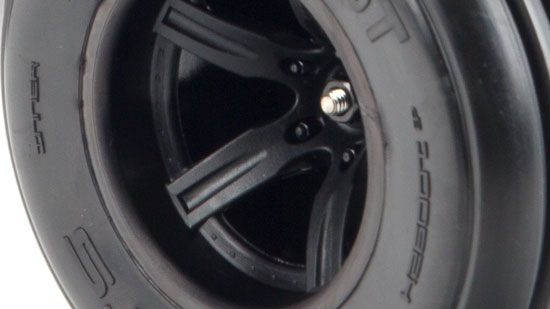 Tough multi-spoke wheels.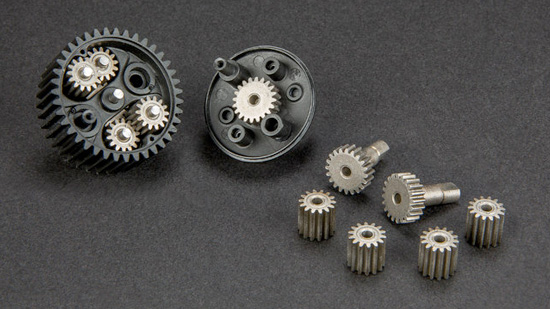 These differentials are TOUGH. The main differential gears have been super-sized with large pitch gears that have been designed to withstand huge torques, allowing lightweight composite material to be used for reduced rotating mass without compromising strength. The differential internals feature full-metal straight-cut gears, ensuring trouble-free operation.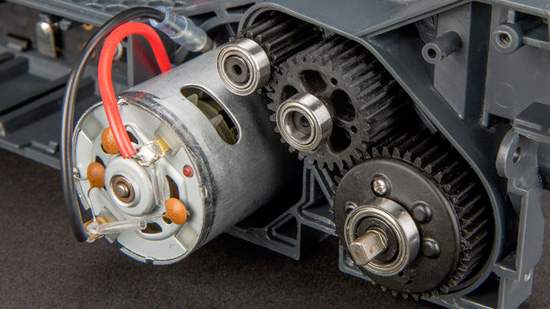 All new transmission design features wide, moulded composite gears that offer massive strength and durability. Power is transferred to the driveshafts through a gear differential with all-metal internal gears. The transmission features ball bearings throughout for smooth and efficient operation.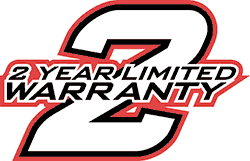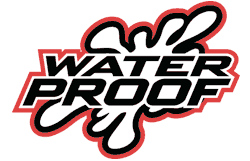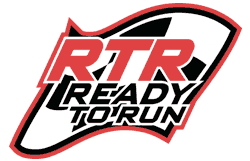 Product Specifications
Specs
| | |
| --- | --- |
| Approximate Assembly Time | No assembly required |
| Battery | 2S LiPo, 2-6 cell Li-Ion, & 6-cell NiMH batteries |
| Charger | 110V wall type |
| Completion Level | Ready-To-Run |
| Drivetrain | 2WD |
| Final Drive Ratio | 12.73 |
| Front Shock Spring Rate | 86 gf/mm |
| Power Type | Electric |
| Ground Clearance | 1.61" (41mm) |
| Inner Tire / Outer Wheel Diameter | 5.0" (128mm) |
| Max Battery Dimensions | 5.55 x 1.89 x 1.02" (141 x 48 x 26mm) |
| Motor Type | Brushed |
| Outer Diameter | 2.8" (72mm) |
| Product Height | 5.9" (151mm) |
| Product Length | 15.79" (401mm) |
| Product Weight | 3.8lbs (1.75kg) with supplied battery |
| Product Width | 12.8" (325mm) |
| Radio | Arrma ATX-101 with dual rate steering, throttle end points throttle and steering trims |
| Rear Shock Spring Rate | 86 gf/mm |
| Scale | 1/10 |
| Servos | 1, ADS-5 SRS 70 oz.-in. steering servo |
| Speed Control | 3-in-1 SRS with 40A ESC |
| Vehicle Type | Stadium Truck |
| Water-Resistant | Yes |
| Wheelbase | 11.22" (285mm) |
| Wheel Hex Size | 12mm |
| Wheel Width | 2.1" (53mm) |