1/10 Everest Gen7 Pro 4WD Crawler Brushed RTR, Black

1/10 Everest Gen7 Pro 4WD Crawler Brushed RTR, Black
The Redcat Racing Everest Gen7 Pro, 1/10 Scale RTR Scale Rock Crawler is changing the way people buy RC crawlers...
Adjustable Wheelbase
Multiple Shock Positions
Adjustable Approach And Departure Angle
Tunable Suspension
Assembled and Ready To Run!
1/10 Everest Gen7 Pro 4WD Crawler Brushed RTR, Black
Earn
points on this item
ⓘ
Product Details
In The Box
(1) 1/10 Everest Gen7 Pro
(1) 7.2V 3000mAh NiMH Battery
(1) NiMH Charger
(1) 2.4GHz Radio System
(1) Instruction Manual
Needed to Complete
(4) AA Batteries for Transmitter
Introduction
Out of the box, the Gen7 Pro comes standard with features, you'd expect to be optional, for a value that is, until now, unheard of in the scale crawler market.
Features
Powder coated 3mm steel ladder frame, 4-Link suspension, Threaded aluminum shocks, Functional 1.9 beadlock wheels, CVA front axles, Steel axle skid plates, Metal spool axle carrier, Ball bearings throughout.
Adjustable wheel base (317mm - 325mm), multiple shock positions, Adjustable approach and departure angle, Tunable suspension.
Many scale accessories: Full inner roll cage, Inner fenders, Outer fenders, Molded snorkel, Shackle mount bumpers with D-rings and Hitch ball, LED mounts, Folding mirrors, Roof rack, Spare tire, Jack, Fuel cans, Shovel, Axe, Sand ladder.
550 brushed motor, Waterproof crawler ESC with 3 selectable brake modes, Hexfly high torque metal gear steering servo, 2.4GHz radio system.
Assembled and Ready to Run - Includes 7.2V 3000mAh NiMH Battery, and NiMH Charger - Requires 4-AA Batteries for Transmitter.
Overview
It all starts with a powder coated 3mm ladder frame chassis, designed and tuned by BPC Custom Chassis and Two Guys Trail Gear. The addition of the low slung forward mounted battery tray and steel electronics bridge create a highly tunable platform that performs alongside customized crawlers costing twice as much.
The Gen7 Pro's, one of a kind, hinged body mount system allows easy access to the battery, ESC and chassis. The front of the body is held in place using a high strength hook and loop system, so there's no need to fumble with, easily lost, body clips. Between the inner roll cage, outer fenders, and roof rack, the realistic body is well protected and looks amazing. Other standard features found on the Gen7 Pro are inner fenders, a molded snorkel, folding mirrors, shackle mount bumpers with D-Rings and ball hitch, LED mounts, and a roof rack loaded with scale accessories. On the roof rack you'll find a spare tire, jack, fuel cans, shovel, axe, and sand ladder.
The Gen7 Pro also includes a Hobbywing brushed ESC, Licensed Interco Super Swamper tires, CVA front axles, and functional beadlock wheels. The stylish 4 door SUV body is similar to what you would find on many modern full size crawlers, and is available in green or black. Also included is a die cut decal sheet with black, white, red and wood grain panel options so you can customize the Gen7 as your own, straight from the box. The Gen7 Pro also includes a 3000mAh NiMH battery pack, NiMH charger and a 2.4GHz radio system, making it one of the very best values in the RC market.
The cost would quickly add up if you tried to build a custom rig like the Gen7 Pro on your own, with all of its included features and accessories. Now, you can save money and get a tricked out RTR scale crawler. All this at an affordable price! The Everest Gen7 Pro includes all these features and accessories, right in the box. It's clear why the Redcat Racing Everest Gen7 Pro is such an incredible value!
Get your Redcat Racing Gen7 Pro today!
Video Overview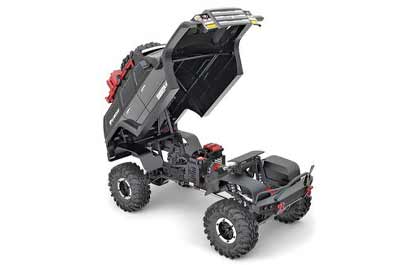 No Body Clips. Easy Access.
Redcat designed the Everest Gen7 Pro with scale looks in mind. The Body tilt system gives you easy, fast access to the battery and electronics. While out wheeling on the trail the body is securely held in place using a hook and loop design.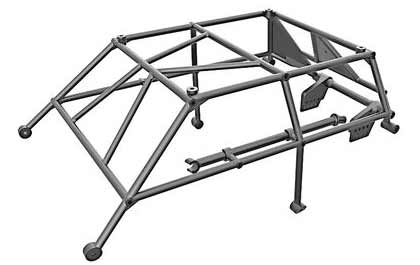 Chassis Mounted Roll Cage
The Everest Gen 7 Pro features a strong roll cage securely mounted to the rear of the chassis. The fenders, roll cage, and roof rack are all securely mounted together creating an extremely strong and functional design.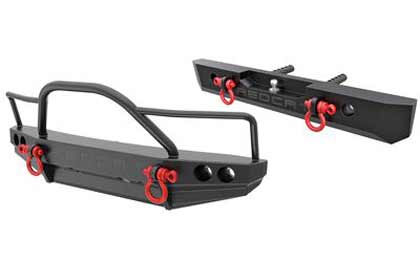 Rugged and Functional Details
Heavy Duty plastic fenders with integrated rock sliders add a scale appearance while keeping the body rigid and protecting against side impacts. Molded plastic inner fenders add to the durability and keep harmful trail debris away from the electronics.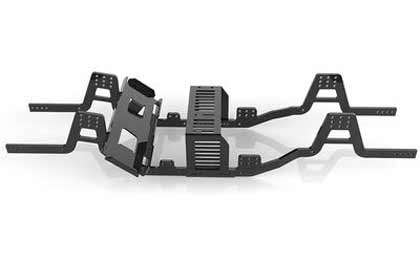 3mm Steel Ladder Frame Chassis
The Everest Gen7 Pro is built around a strong and durable chassis with proven performance second to none. Working with veterans in the crawling community, the Everest Gen7 Pro features a 3mm thick ladder frame chassis designed by one of the top scale crawler builders, BPC Custom Chassis and TG2.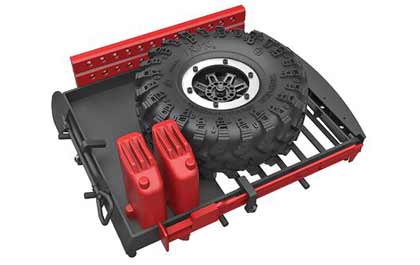 Detailed and Versatile Accessories
Functional full spare tire, two scale ramps, high-lift jack, axe, shovel, and gas cans are included and mounted to the Everest Gen7 Pro roof rack. Accessories can be relocated, removed, and replaced. Optimize the functionality of the roof rack to best for your trail adventure.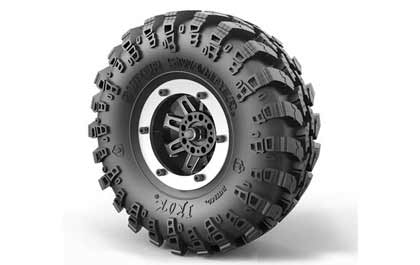 Licensed Interco Super Swamper Tires
Exact scale replica of the high performance IROK Super Swamper tire from Interco uses a patented Three Stage Lug Design. Ths tire was specifically picked for the Everest Gen7 Pro by 1:1 scale crawler enthusiasts for its proven winning performance.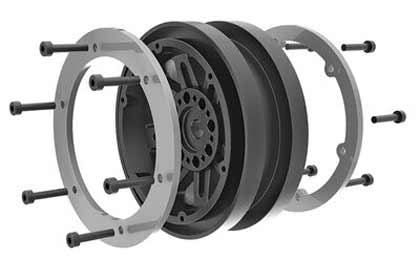 1.9 True Beadlock Wheels
Steel inner and outer beadlocks are mounted to multi-spoke rims. Everest Gen7 Pro performance and versatility is shown once again with these true beadlock wheels. Access to changing ad tuning the tire foams is easy. 2mm thick steel beadlock rings provide maximum strength for securing the tire during extreme wheeling conditions.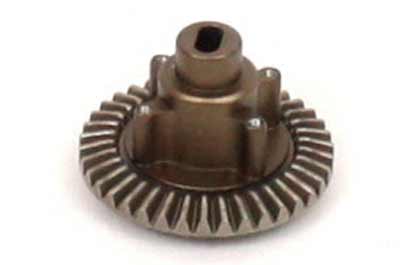 Metal Spool Axle Carrier
Full metal spool axle carrier locks the left and right wheels for maximum grip in technical conditions. Heavy duty ring gear is sure to hold up against the high torque 550 motor.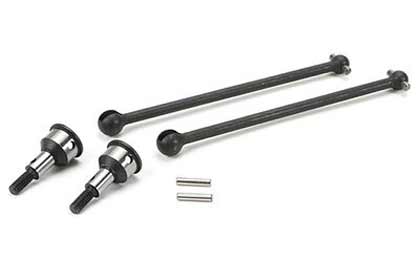 CVA Front Axles
High quality front axles feature a constant velocity joint for smooth operation during extreme steering angles and challenging terrain.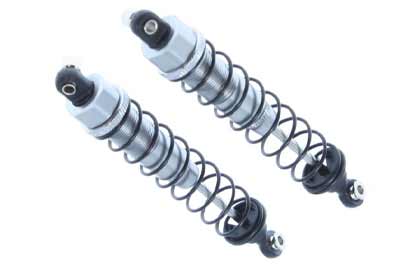 Aluminum Coilover Shocks
The Fullt adjustable oil filled coilover shocks feature a threaded body design that allows the spring height and preload to be easily adjusted for maximum performance.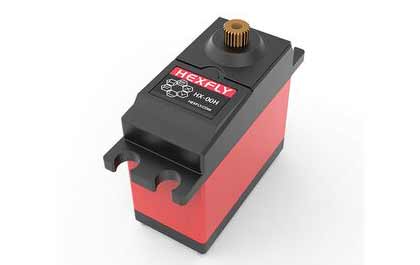 Hexfly Metal Gear Servo
The Hexfly high-torque servo supplies ample power needed to navigate harsh trail conditions. Metal gears translates to precise failproof operationfor the long haul.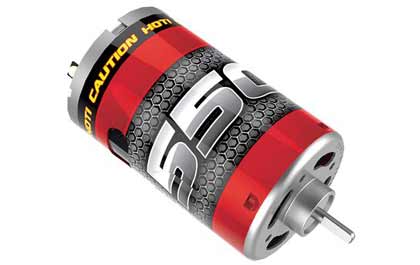 Brushed 550 Motor
Redcat Racing high power brushed motor delivers ample power to the wheels.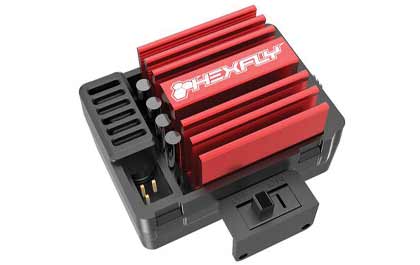 Hexfly Crawler ESC
The New Hexfly Crawler electronic speed control features three selectable drag brake modes; 100%, 50%, and 0%. Able to handle 5-9 cells NiMH, and 2-3s LiPo, the New Hexfly ESC is simply the best speed control in its class.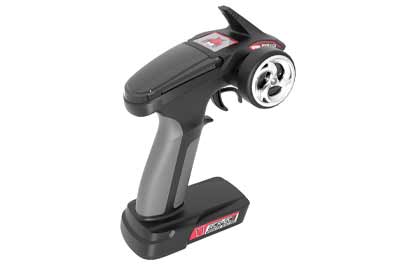 Redcat Racing RCR-2CE 2.4GHz Radio
The Redcat RCR-2CE radio has a sleek lightweight design in a compact and extremely durable package. Using only four AA batteries, the RCR-2CE radio is capable of extreme range with no loss of signal. A flip cover protects the adjustment controls from damage and debris. Throttle and steering reversing, throttle trim, steering trim, and steering dual rate adjustments are easily adjusted from the control panel.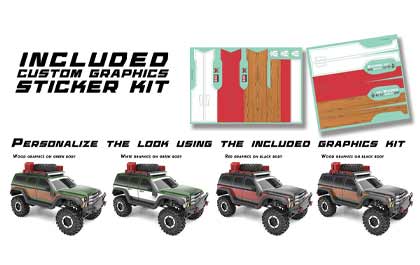 Customize The Everest Gen7 Pro
Included decal sheets can be used to customize the Everest Gen7 Pro to fit your style.
Product Specifications
| | |
| --- | --- |
| Charger | Included |
| Receiver | Included |
| Shock Type | Aluminum Capped Oil Filled |
| Power Type | Electric |
| Speed Control | Included |
| Motor Type | Brushed |
| Wheelbase | 12.5-12.8 in (317-325mm) |
| Product Width | 9.5 in (241mm) |
| Radio | Included |
| Product Weight | Checking with Manufacture |
| Vehicle Type | Rock Crawler |
| Water-Resistant | Yes |
| Connector Type | Deans |
| Product Length | 20.5 in (521mm) |
| Wheel Width | 1.8 in (45mm) |
| Approximate Assembly Time | No assembly required |
| Scale | 1/10 |
| Chassis | Powder Coated Steel |
| Completion Level | Ready-To-Run |
| Drivetrain | 4WD |
| Product Height | 11.3 in (286mm) |