Discontinued
|
This Item is No Longer Available

1/10 BIG ROCK CREW CAB 3S BLX 4WD Brushless RTR, Blue
Discontinued
|
This Item is No Longer Available

1/10 BIG ROCK CREW CAB 3S BLX 4WD Brushless RTR, Blue
1/10 BIG ROCK CREW CAB 3S BLX 4WD Brushless Monster Truck with Spektrum RTR, Blue
ARA102723
View Alternate Product Details
Product Details

Key Features
ARRMA toughness and performance
3S-capable BLX100 Brushless Power System with 100A ESC and 3200Kv brushless motor
50+ mph speed potential
Scale long crew cab body for "street truck" realism
Full-time 4WD transmission with strong diff gears
Tactic TTX300 2.4GHz radio system with metal gear steering servo
Strong telescopic front, rear, and center driveshafts
Oil-filled, self-bleeding shocks
Long wheelbase side guards
Black chrome-plated scale front and rear bumpers
Black chrome-plated street truck wheels
dBoots RAGNAROK MT tires
Adjustable wheelie bar
Modular power, electronics, and differential systems that remove easily for maintenance
Overview
With the BIG ROCK CREW CAB 4X4 3S BLX, ARRMA brings back the popular "street truck" style of the earlier 1/8 scale BIG ROCK — but now, as a 1/10 scale monster truck built on the powerful new 4x4 BLX platform. It's a great step up from brushed bashing and a must for any driver who wants ARRMA toughness and 50+ mph speeds!
Accented by black chrome-plated front and rear bumpers and wheels, the BIG ROCK CREW CAB 4X4 3S BLX truck's long, scale crew cab body marks the epitome of street style. With the included dBoots RAGNAROK MT tires, you'll take it on the run over dirt tracks, trails, and even muddy courses. An adjustable wheelie bar comes standard, letting you enjoy a little stunt fun along the way.
ARRMA engineers made sure the BIG ROCK CREW CAB 4X4 3S BLX Brushless 1/10TH 4WD Monster Truck has the muscle and durability to overcome any challenge. Its transmission and chassis designs, already proven on the GRANITE and SENTON 4x4 3S BLX RTRs, deliver the toughness you'll need to take full advantage of the BLX100 brushless power system. When the 3200Kv brushless motor and 100A ESC do their thing, the BIG ROCK CREW CAB 4X4 3S BLX releases an avalanche of speed.
The BIG ROCK 4X4 3S BLX comes ready-to-run, requiring only battery, charger, and "AA" transmitter batteries. A Tactic TTX300 3-channel radio system is provided for dependable control that perfectly suits your driving style.
Needed to Complete
6 to 8-cell NiMH, 2S LiPo, or 3S LiPo Hardcase Battery
Appropriate LiPo-compatible Charger
4 AA Batteries
LiPo Charging Bag (recommended)
What's in the Box?
(1) ARRMA BIG ROCK CREW CAB 4X4 BLX Brushless 1/10 Monster Truck
(1) Tactic TTX300 2.4GHz Radio System
(1) Product Manual
Video Overview
If you want an RC Crew Cab truck with pounds of scaler realism and mean street presence, then the ARRMA BIG ROCK CREW CAB 4X4 3S BLX is for you. Loaded with ARRMA's 3S BLX100 brushless power system, the BIG ROCK CREW CAB 4X4 3S BLX delivers high speed dirt chucking action all with powerful, muscle-truck looks.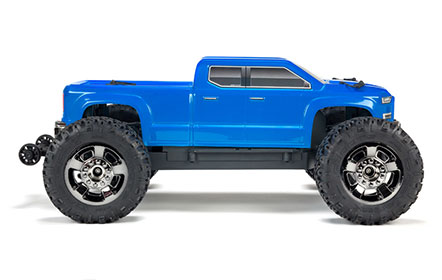 The BIG ROCK CREW CAB 4X4 3S BLX is ready to BLAST. Featuring an aggressively styled truck bodyshell that looks even better up-close and personal, with great attention to detail on the decal and body aesthetics.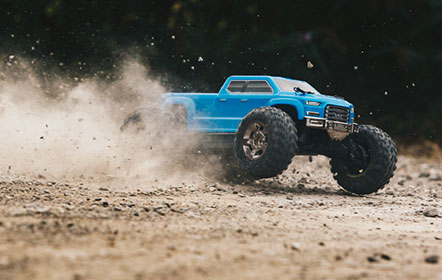 Designed to be fast, designed to be tough, the BIG ROCK CREW CAB 4x4 3S BLX Monster Truck is primed to blast across any terrain. Ready-to-Run and ready for action, the 3S BLX powered BIG ROCK 4x4 provides adrenaline pumping RC action, no matter what the conditions.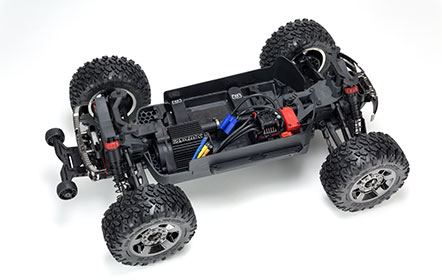 Precision aluminum, tough steel and composite materials, all combined in an easy-to-maintain vehicle design that is built for action, straight from the box.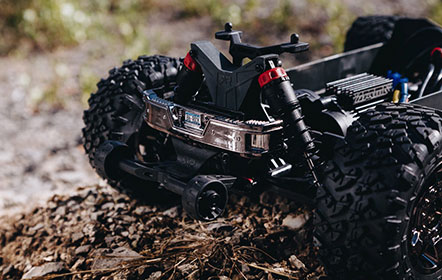 With awesome 3S BLX power and superb traction from the dBoots RAGNAROK MT tires, the BIG ROCK CREW CAB 4X4 3S BLX wheelies for fun. To try and tame the beast, ARRMA have installed an adjustable multi-height wheelie bar, as standard.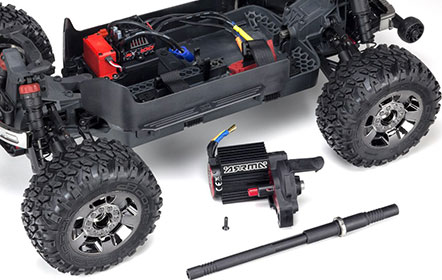 Easy-access Power Module assembly can be removed from the vehicle in seconds, with the removal of just one single screw. The center shaft assembly* is telescopic to assist with easy disassembly and is sprung-loaded to ensure it stays in position during use.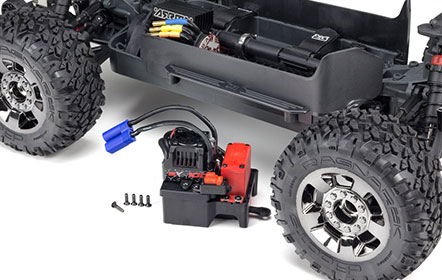 Easy-access Electronics Module assembly can be removed from the vehicle with the removal of only five screws. The module offers quick and easy access to the servo, electronic speed controller and receiver. The two-piece moulding comprises a lower box and upper lid that are sealed with high-quality rubber seals. The ESC and steering servo are attached to this molding, while the receiver sits inside the waterproof box.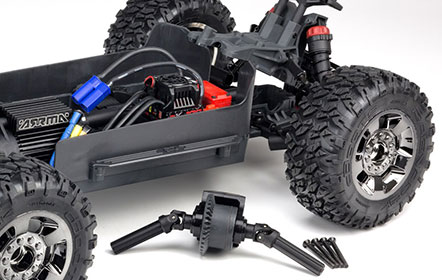 Both the front and rear diff modules are easy to access in the BIG ROCK CREW CAB 4x4 3S BLX, ensuring that you spend more time bashing and less time in the workshop.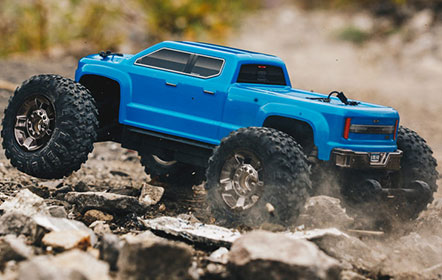 High quality dBoots RAGNAROK MT tires, coupled with black chrome finish multi-spoke wheels, offer high bite on a multitude of surfaces.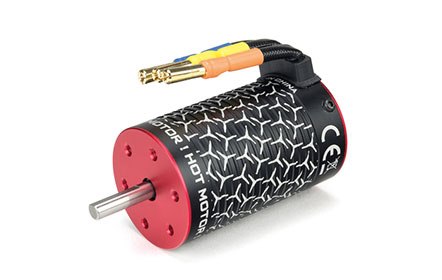 The BLX 3660 3200kV brushless motor provides both speed and torque and is perfectly balanced for use with our BLX100 ESC unit and 3S LiPo batteries. A beautifully etched black aluminum motor can provides a premium look, whilst a four-pole internal configuration keeps the power supply smooth and consistent. Gold bullet connectors allow fast and easy wire removal when you need to clean your vehicle.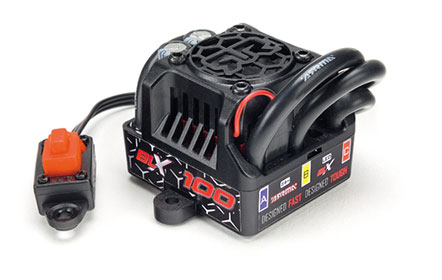 The BLX100 100A waterproof ESC provides consistent power control and is 3S LiPo ready. Fitted with a reliable EC5 battery connector and sporting a built-in cooling fan for reduced heat during intense driving action, the BLX100 ESC has over-voltage protection, and a two-stage LiPo cut-off for added cell management. The fitted 12AWG high-quality wires and 6.0V BEC unit are combined with a three-mode throttle profile (FWD/REVERSE/BRAKE) to provide the ultimate driving experience.
Recommended battery specification: 5000mAh - 35C minimum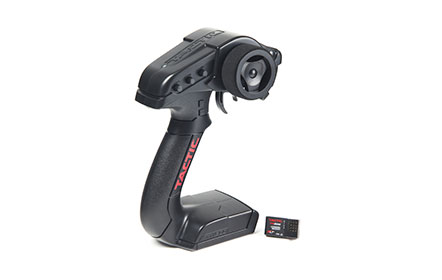 The TTX300 radio system offers fast and consistent control for your ARRMA vehicle. Using 2.4Ghz technology, your ARRMA vehicle is controlled by a wheel and trigger style radio transmitter. Ideal for new RC users and experienced bashing fans alike. Adjustable steering and throttle trim will allow you to easily tune your control experience to suit your individual needs.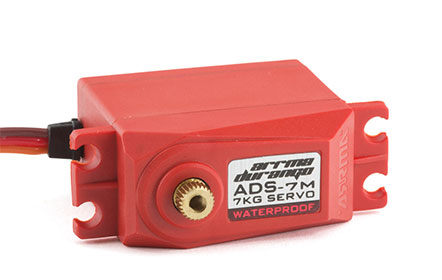 Strong and durable, the waterproof ADS-7M Metal Geared Steering Servo provides fast and reliable control. The ADS-7M has all-metal gears for increased strength and long-lasting durability. The 40mm x 38mm x 20mm case size is industry standard, so the ADS-7M can also be fitted in other RC vehicles. Operating at 6 kg-cm/6.5 kg-cm 6V/7.2V (83oz-inch/90oz-inch), this tough steering servo can reach full articulation in 0.14 sec/0.12 sec 6V/7.2V.

Product Specifications
| | |
| --- | --- |
| Speed Control | ARRMA BLX100 Waterproof |
| Wheelbase | 12.87 in (327mm) |
| Power Type | Electric |
| Servos | ADS-7M Waterproof Metal Gear Servo |
| Product Weight | 6.25 lbs (2.84 kg) |
| Vehicle Type | Monster Truck |
| Water-Resistant | Yes |
| Differential | Gear |
| Wheel Type | MT |
| Inner Tire / Outer Wheel Diameter | 2.81 in (71.5 mm) |
| Outer Diameter | 5.12 in (130 mm) |
| Product Width | 12.91 in (328mm) |
| Radio | 3-Channel Tactic TTX300 2.4GHz |
| Internal Gear Ratio | 2.85 |
| Motor Size | 3660 |
| Product Length | 12.87 in (327 mm) |
| Spur Gear | 57T |
| Chassis | Molded composite |
| Completion Level | Ready-To-Run |
| Drivetrain | 4WD |
| Product Height | 7.19 in (201 mm) |
| Wheel Hex Size | 14mm |
| Pinion | 15T |
| Scale | 1/10 |