Discontinued
|
Select Styles for Availability

1/10 Backbone Rock Racer 4WD RTR
Discontinued
|
Select Styles for Availability

1/10 Backbone Rock Racer 4WD RTR
Product Details
In The Box
(1) Dromida® Backbone™ 1/10 Scale 4WD Rock Racer RTR
(1) 3-Channel 2.4GHz Radio Transmitter and Receiver
(1) 1800mAh Battery with Wall Charger
(1) Product Manual
Needed to Complete
Completely ready-to-run! No additional purchases required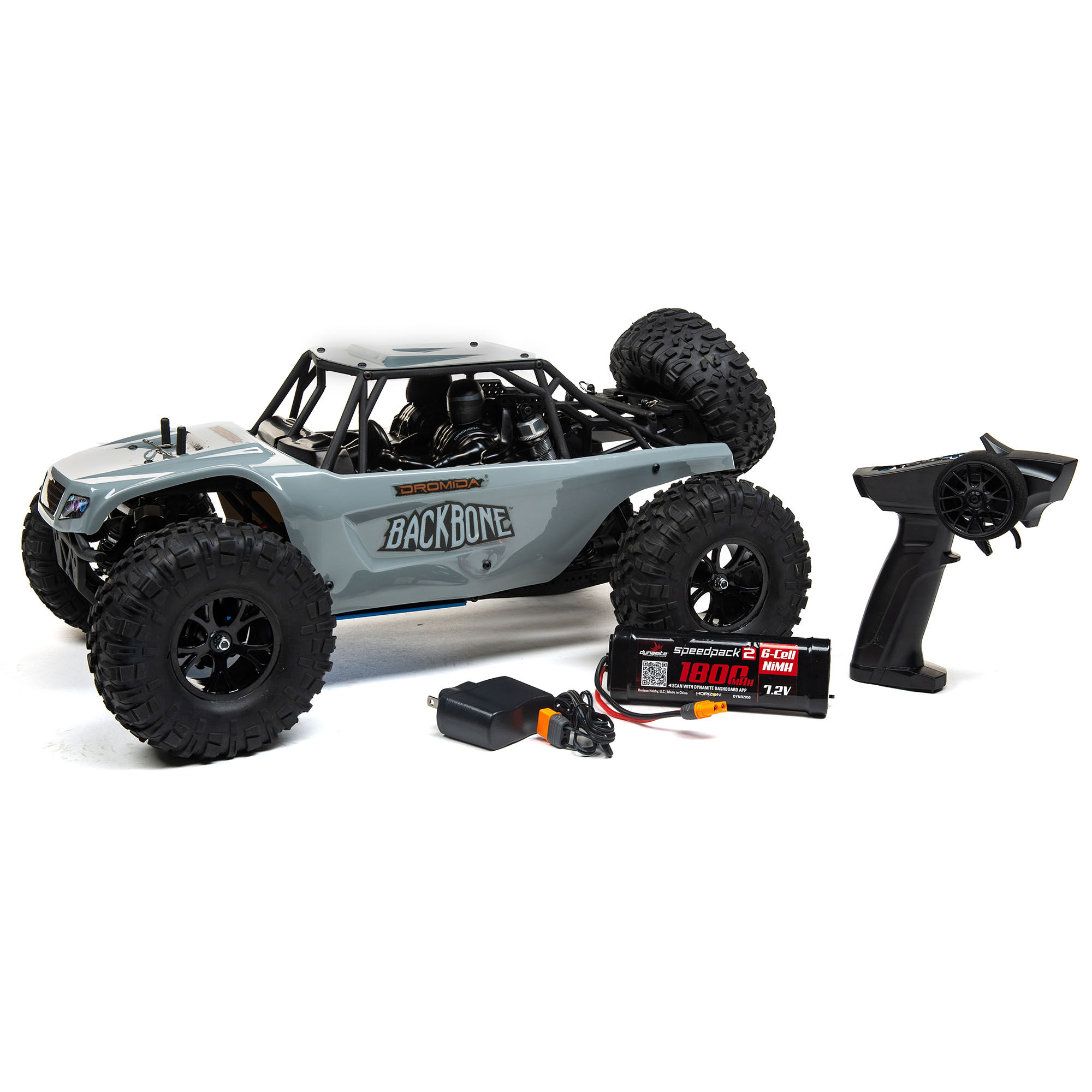 Introduction
The 1/10 scale Dromida® Backbone™ 4WD offers easy operation, rugged engineering and powerful performance — all wrapped up in a ready-to-run machine that's the perfect way for drivers with even no RC experience to enjoy nonstop, all-terrain action.
Features
Fully assembled and ready-to-run, with everything needed to operate included in the box.
Durable aluminum chassis overcomes the challenges of rock racing over rugged terrain.
Easy to drive nearly anywhere, with 4-wheel drive and large, off-road tires.
Independent front suspension and scale-like solid axle rear suspension provide excellent handling.
Threaded shock bodies allow easy suspension adjustments.
Factory-installed 21-turn, 550-size brushed motor delivers excellent speed and torque.
Sealed drivetrain adds protection from the elements.
Roll cage, spare tire and driver figures add exciting scale looks.
Includes a 3-channel 2.4GHz radio system, durable steel spur gear, and 3mm metric hardware throughout.
Overview
Straight out of the box, the Dromida Backbone™ 4WD comes equipped to make fast moves in the backyard and back country. Its aluminum chassis and 4-wheel drivetrain have been toughness-tested over a wide range of challenging off-road conditions. Whether you're looking for a trail blazer, a hill climber and or dust blaster, the Backbone™ 4WD has all the right stuff.
That includes components made from durable, high-strength composites, plus proven transmission and suspension systems that supply traction, speed, and stability. The Backbone™ 4WD is powered by a high-performance, 550 size brushed motor (matched with an all-weather ESC) that sends power through heavy-duty front and rear differentials to both axles.
An independent front suspension and solid axle rear suspension soak up bumps for smooth, consistent handling, aided by easily adjustable, aluminum threaded shocks at each wheel. High-grip, all-weather tires provide the ultimate off-road traction.
To keep any maintenance needs short and sweet, the Backbone™ 4WD Rock Racer has a fully protected spur gear housing and shock-absorbing sprung servo saver. Easy-to-turn, strip-resistant hex bolt hardware is used throughout the design.
The affordably priced, ready-to-run package comes with everything you need, including an interference-resistant 2.4GHz 3-channel radio, 1800mAh battery, and convenient wall charger. For a fast, fun entry into the exciting world of RC rock racing, the Dromida® Backbone™ 4WD is the way to go!
DURABLE ALUMINUM CHASSIS
The Dromida® Backbone™ Rock Racer makes the perfect introduction to rugged RC rock racing, with its tough aluminum chassis and a durable drivetrain that's been tested and proven over a wide range of punishing off-road conditions.
UNSTOPPABLE FOUR-WHEEL DRIVE
The Backbone™ Rock Racer's 4-wheel drivetrain, along with its proven transmission and suspension systems and large, off-road tires, all combine to deliver the traction and stability needed for easy control.
COMPLETE AND 100% READY-TO-RUN
Everything you'll need for rock racing action is included in the box — the fully assembled Backbone™ Rock Racer, interference-free 3-channel 2.4GHz radio system, 1800mAh on-board battery and easy-to-use wall charger.
EXCITING SCALE ROCK RACER LOOKS
In addition to thrilling performance, the Backbone™ Rock Racer offers plenty of scale appeal. Its realistic, ready-to-enjoy body details include a roll cage, spare tire, and driver figures.
Product Specifications
| | |
| --- | --- |
| Power Type | Electric |
| Vehicle Type | Rock Racer |
| Motor Type | Brushed |
| Scale | 1/10 |
| Completion Level | Ready-To-Run |
| Drivetrain | 4WD |