1/10 Audi Quattro A2 TT-02 AWD On-Road Touring Kit

1/10 Audi Quattro A2 TT-02 AWD On-Road Touring Kit
1/10 Audi Quattro A2 TT-02 AWD On-Road Touring Kit
RC Club points earned on this item shown at checkout.
ⓘ
Product Details
In The Box
(1) 1/10 Audi Quattro A2 (TT-02), AWD
(1) HobbyWing THW 1060 Brushed ESC (2-3S)
(1) 540-brushed type motor
Needed to Complete
2-channel radio
Steering servo
7.2volt battery & battery charger
Tamiya PS paint
Features
A2 body is molded accurately in durable polycarbonate.
Features separate metal-plated ABS parts for front and rear light cases, plus fog lamps. Side mirrors, wing and wing caps are molded in white ABS.
Light cases are compatible with separately sold LEDs; fog lamps are not.
5-spoke wheels are molded in silver, and paired with racing radial tires.
The TT-02 chassis is an adaptable and balanced design with excellent stability, plus features such as identical suspension arm and upright components for ease of assembly.
4-bevel differential gears and 4-wheel double wishbone suspension.
Overview
The Audi Quattro A2 is an iconic Rally Race Car that made its mark in the 1980's. Tamiya's 1/10 scale radio control replica brings rally racing fun to hobbyists on the adaptable and easy-driving TT-02 chassis.
TT-02: Adaptable, Balanced Shaft Driven 4WD The shaft-driven 4WD TT-02 chassis employs a longitudinal layout with the battery on the left and the motor on the right, to give excellent stability. In addition, it features identical left and right suspension arms and uprights for ease of assembly, plus easy-to-maintain gearboxes. It is a highly adaptable chassis, as it offers 2 different wheelbases, 2 ground clearance settings and 2 tread set-ups in addition to a range of 10 possible gear ratios. It is not short on looks either, with brake disc-shaped wheel hubs and stylish front bumper supports.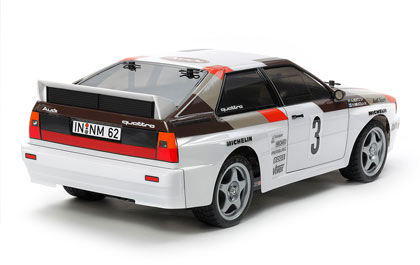 Body
The instantly recognizable form of the car is recreated accurately in lightweight and durable polycarbonate.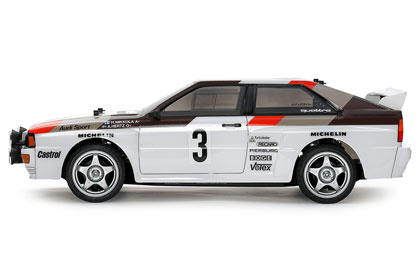 Body stickers
Also included in the kit are stickers to decorate the body, plus masking stickers for use in the paint job.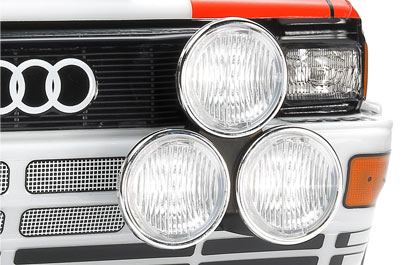 Fog lamps
Separate parts capture the distinctive triple fog lamp clusters, which add to the rally air of the model.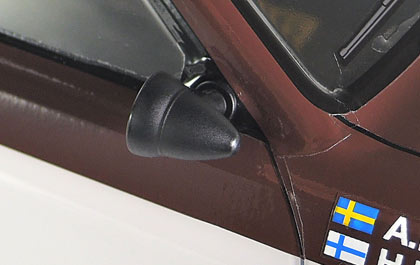 Mirrors
Bullet-shaped side mirrors are also recreated using separately molded parts.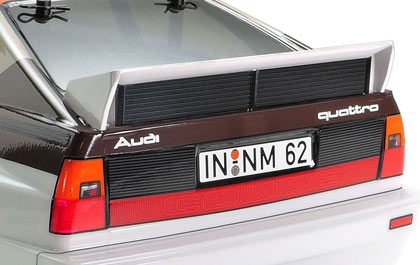 Wing
At the rear of the car, the sporty wing is another separate part, with sticker-depicted oil coolers.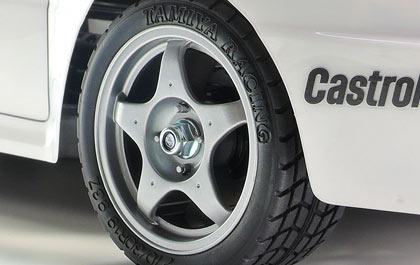 Tires and Wheels
Silver color 5-spoke wheels are paired with tread-patterned racing radial tires that provide a grippy drive.