Discontinued
|
This Item is No Longer Available

1/10 1968 Ford F-100 Ascender 4WD Rock Crawler Brushed BND
Discontinued
|
This Item is No Longer Available

1/10 1968 Ford F-100 Ascender 4WD Rock Crawler Brushed BND
Product Details

Ready to crawl with attitude? The Vaterra® 1968 Ford F-100 Ascender Bind-N-Drive has it all: working LED lights, an officially licensed Ford F-100 body and a caged back with real aluminum panels and spare tire. Take your love of classic Fords to the next level with jaw-dropping scale details. The cab is painted in an era correct two-tone color combo and you can customize it from there. Use this truck with your existing Spektrum radio and hit the rocks with full force. Your next adventure is calling. Answer with the Ford F-100 Ascender.
Key Features
Patented Adjustable Steel Ladder Frame Chassis
Licensed 1968 Ford F100 Cab Body
3-Link Panhard Bar Front Suspension
4-Link Rear Suspension
Aluminum Suspension Links
Floating Battery Tray
Realistic Axle Housings
One-Piece, Low-Profile Locker/Ring Gear
Heavy Duty CV Front Shafts
Single-Speed, Metal Gear Transmission
Oil-Filled, Threaded Shocks
Dynamite brushed 35T crawler motor and waterproof ESC
Licensed Interco Super Swamper TSL SX Tires
Spektrum Metal Gear Steering Servo
Needed to Complete
2S Shorty Lipo Battery Pack with EC3™ connector (see Completion Guide)
Suitable Charger
Spektrum™ DSMR®/DSM2® Transmitter
What's in the box?
(1) Vaterra® 1968 Ford™ F-100 Ascender BND
(1) Spektrum 3-Channel DSMR Surface Receiver
(1) Spektrum 9Kg 23T Waterproof Servo
(1) Dynamite WP 60A Forward/Reverse Brushed ESC
(1) Dynamite 35-Turn 540 Brushed Motor
(1) User Manual

Heavy Duty Suspension
The chassis rides on a 3-link panhard bar front suspension and a 4-link rear suspension. All suspension links are machined from aluminum to handle the most punishing conditions. Oil-filled, threaded shocks soak up the bumps and give you a variety of pre-load settings.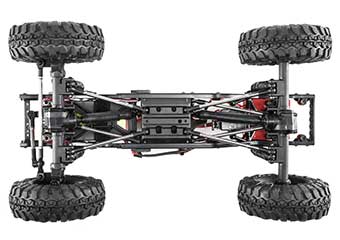 LED Lights
Brilliant LEDs cast more than enough light for running at night without placing a huge current demand on the battery.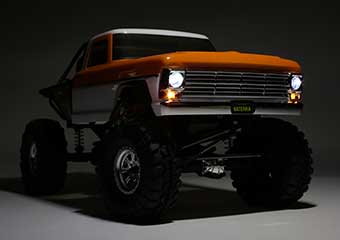 Metal Gear Transmission
In other vehicles, metal gear transmission is an upgrade. With the Ford F-100 Ascender, it comes standard.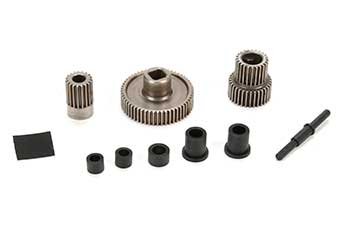 Floating Battery Tray
The battery tray floats over the front axle and is designed to accept 96mm shorty packs. Placing the weight of the battery over the front axle gives the front tires extra traction when crawling over rocks and tackling steep inclines.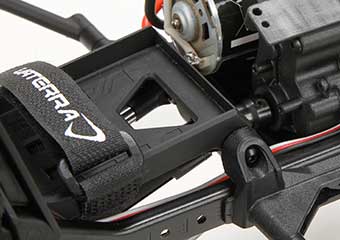 Heavy Duty CV Front Shafts
As with the rest of the drivetrain components, these have been designed to handle rugged terrain. They also allow up to 45 degrees of steering angle – more than most other trucks in this class.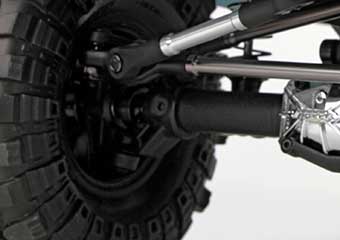 Sticky Compound Interco Super Swamper TSL XS Tires
The realistic drivetrain and suspension are complemented by licensed replicas of Interco Super Swamper® TSL SX tires. Like the full-scale versions, their tread pattern and compound provide excellent grip at almost any angle.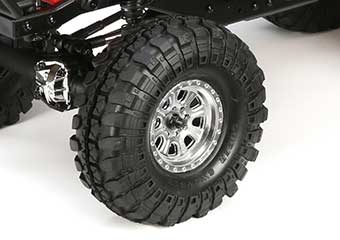 Steel Ladder Frame Rails
Adjustable, stamped steel ladder frame rails set at a 290mm wheel base. The patented adjustable frame can be reconfigured for up to four different wheel bases to fit most scale crawler bodies.

Low Profile Axle Housings with One-Piece Metal Lockers
Thanks to the metal locker, the vehicle won't "diff" out when one wheel is under load. And because of its low profile, the locker and axle housing is smaller and provides more ground clearance.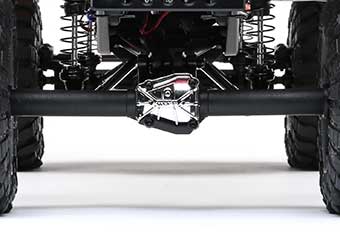 Waterproof ESC, Receiver and Servo
Natural elements such as a creek, streams and mud will not affect the electronics.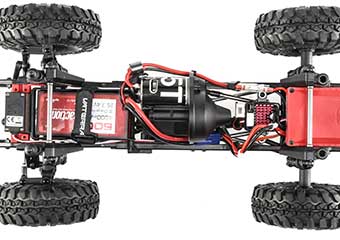 60-Amp LiPo Compatible Waterproof ESC
The Ford F-100 Ascender is LiPo compatible right out of the box and has a crawler mode that provides sweet drag break for steep inclines.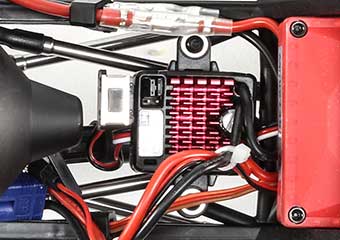 Bind-N-Drive
Bind-N-Drive™ (BND) is a transmitter-less option for RC enthusiasts who already own a surface transmitter featuring Spektrum 2.4GHz DSM Technology. This money-saving innovation allows you to add a Bind-N-Drive vehicle to your collection without the extra cost or clutter of an extra transmitter.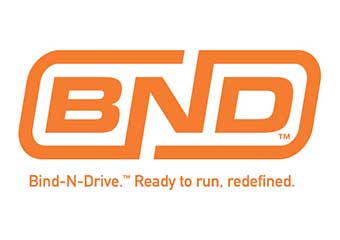 Product Specifications
| | |
| --- | --- |
| Final Drive Ratio | 7.86:1 |
| Rear Track | 8.66 in (220mm) |
| Wheelbase | 11.4 in (290mm) |
| Product Weight | 4 lbs (1.8kg) |
| Tire Tread | Super Swamper |
| Water-Resistant | Yes |
| Power Type | Electric |
| Gear Pitch | 48-Pitch |
| Servos | Spektrum 605 9KG, Metal Gear (Included) |
| Front Track | 8.66 in (220mm) |
| Outer Diameter | 4.5 in (115mm) |
| Product Width | 9 in (229mm) |
| Radio | Sold |
| Approximate Assembly Time | No assembly required |
| Body | 1968 Ford F-100-Painted |
| Pinion | 14T |
| Scale | 1/10 |
| Charger | Sold Separately |
| Differential | Locked |
| Shock Type | Oil-Filled, Threaded, Injection Molded |
| Wheel Type | 8-Spoke |
| Battery | 2S Shorty Lipo Battery Pack with EC3? Connector (Sold Separately) |
| Ground Clearance | 1.06 in (37mm) at Differentials |
| Internal Gear Ratio | 4.05:1 |
| Motor Size | 540 |
| Product Length | 18.1 in (460mm) |
| Spur Gear | 86T |
| Suspension | Multi-link solid axle |
| Wheel Width | 1.1 in (27mm) |
| Ball Bearings | Complete |
| Chassis | Steel ladder frame |
| Completion Level | Bind-N-Drive |
| Drivetrain | 4WD |
| Product Height | 9 in (229mm) |
| Tire Compound | Blue |