"To me, it's about family, community, and sharing time with my son."
Brian Olowiany
@FSRadioControl
@father_and_son_rc
youtube.com/channel/UCgCDML5ZNtd8EwK-uEnqp-Q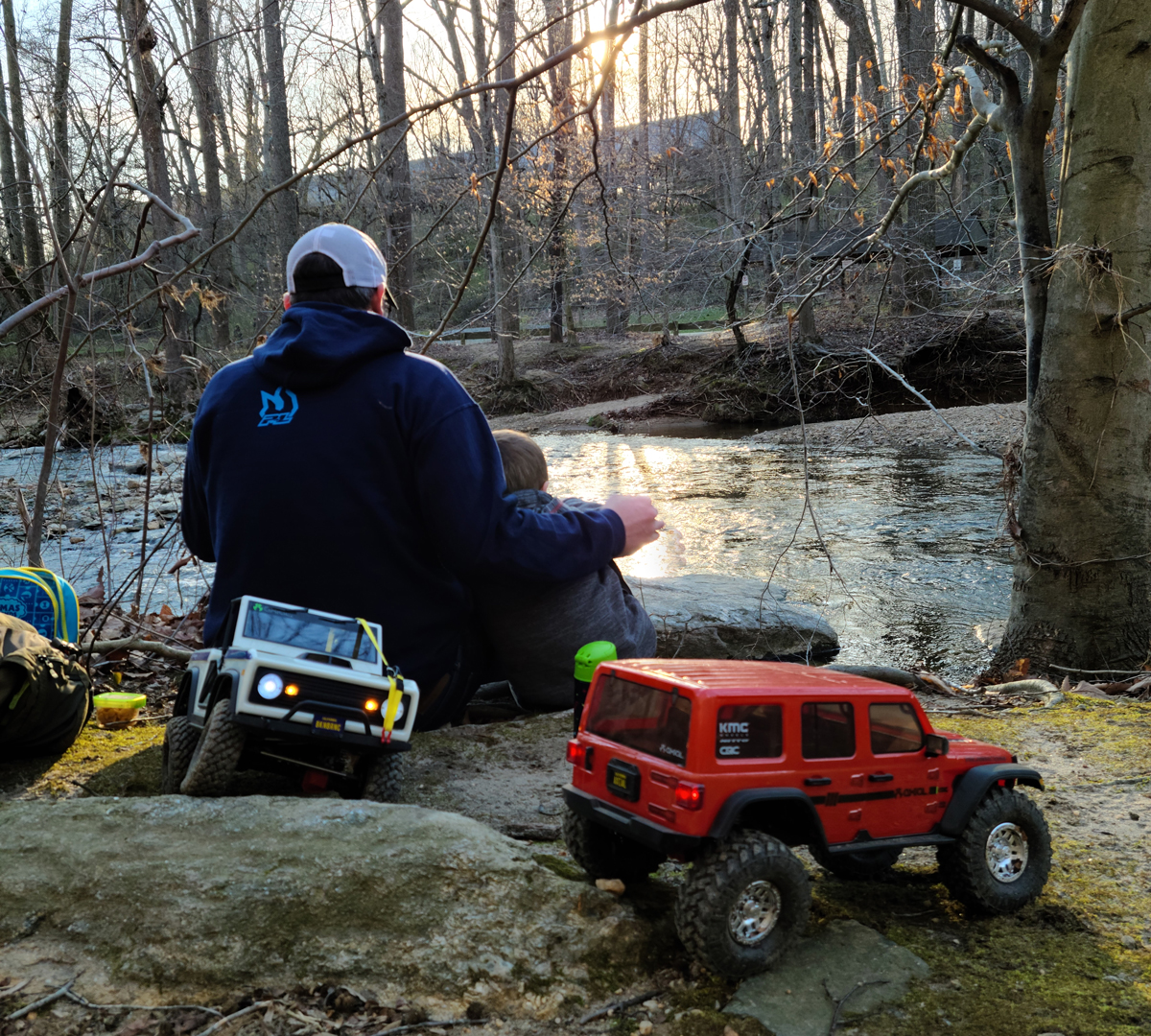 WHERE IS YOUR FAVORITE PLACE TO DO YOUR HOBBY?
Our two favorite places are our outdoor crawler course for our 1/10 scale and our newly built indoor 1/24 micro crawler course. We also get out to our local parks to explore new trails, and we always take a few trucks with us on vacation to explore an entirely new area.
WHAT DOES THE HOBBY MEAN TO YOU?
Simply put, it means togetherness. It is one of the activities that my son and I share a common passion for. I've been in this hobby for a very long time and I'm so happy to share it with my son. It brings us together, gets us outside, and indirectly teaches my son about science and engineering. It helps us both focus on patience, concentration, and creativity. I love seeing how he's progressed from his start at age 2 to where he is now at 4 1/2.
WHAT IS THE RC PRODUCT YOU CANNOT DO WITHOUT?
Wow, that is a tough question. Obviously, we don't want to be without any of it, but if I had to say one product, it's our SCX24 Gladiators. We use them all the time, and they regularly travel with us.
WHAT IS YOUR FAVORITE THING ABOUT RC?
To me, it's about family, community, and sharing time with my son. I've realized that time moves so fast, and we need to take a step back, slow down, and appreciate the time we spend together. RC is the medium that brings us together. His enthusiasm and excitement for the hobby are contagious. Just about every picture of him is of him smiling. It puts a smile on his face and on mine as well. We hope that joy is translated into what we do and makes others smile.
WHO ARE YOUR HEROES? WHO DO YOU LOOK UP TO?
My heroes are people who dare to be different, to take the path less traveled. People like Ferdinand Porsche, who ultimately couldn't find what they wanted, so they built it themselves.
IF THERE IS ANY LOVE-HATE RELATIONSHIP WITH ANY ASPECT OF WHAT YOU DO, CAN YOU DESCRIBE WHAT THAT IS?
By day, I'm a global product manager for a bicycle company. So, in my day-to-day life, I continually develop new and innovative products that inspire and speak to the end consumer. I love creating a product for people to enjoy, and it's so satisfying to see someone out riding a product you created. The downside is that my mind is always working, and it's hard to switch off the creative. RC is an outlet to fuel the creative that isn't related to my work, so I am less likely to get burned out.
DO YOU HAVE ANY RECENT RACES, COMPETITIONS, TOURNAMENTS, ACCOMPLISHMENTS, ETC., THAT YOU WOULD LIKE TO MENTION?
Relative to our hobby, I think our biggest accomplishment is growing our social media presence, meeting great people, and being fortunate to work with great companies that care about this hobby.