Posted: 6/20/23
The RTR Meaning Every RC Car Newcomer Should Know
You've watched your friends enjoying RC racing. You've drooled over their hobby-quality radio control cars. Now you're thinking seriously about getting one of your own, and you've started browsing online and in local hobby stores to find the right RC car for you.
In the process, you've come across a dictionary's worth of unfamiliar terms and mysterious abbreviations. For example, many remote control cars include the letters "RTR" after their names. What does RTR mean?
The simplest RTR definition can be summed up nicely by the words that those letters represent, Ready-To-Run. RTR means that the RC car has been put together for you at the factory. When you lift the lid off of the box, you don't see a bunch of parts bags, a body that still needs to be painted, and a thick instruction manual describing dozens of intricate assembly steps. That would be an RC car kit. Check out the contents of an RTR RC car box and you'll see an RC vehicle that looks like you could start driving it almost immediately. And in many cases, you can.
If you have no interest in kit building and want to get into RC racing quickly, then an RTR RC car is probably right for you. But before you buy one, there's a little more you should know about the RTR meaning so you can make the best choice out of all of the ready-to-run RC cars available.
Factory-assembled is only part of what RTR means.
For RC car hobby beginners as well as for experienced drivers, buying a ready-to-run RC car has many advantages. There are so many positives, in fact, that factory-assembled RC cars have become more widely popular than kits. Most RC car manufacturers offer a larger selection of RTR RC cars than kits as a result.
As already discussed, using the broad RTR definition, you can expect to start driving much sooner with a ready-to-run RC car than a kit. Building an RC car from a kit is not a quick process. It can take days or even weeks. By contrast, you'll need only a few hours to get most RTR RC vehicles ready for action once you remove them from the package.
So you save time. Now let's consider the RTR meaning in terms of cost. Comparing prices and nothing else, an RC car kit might look like a much better deal than an RTR. But look more closely. To build your radio control car kit, you'll need the appropriate tools — so add those to the cost if you don't already own them. And while the cost of an RTR RC car will probably be higher, the price usually includes the radio, power system, and sometimes even a battery and charger. You'll need to buy all of those separately for a kit. Therefore, the more expensive ready-to-run RC car might actually save you money, especially if you're a beginner with no immediate plans to buy any more RC cars.
You can also add convenience to your RTR definition. When you're assembling an RC car kit, it's best to have a space where you can spread out your work and leave it undisturbed between building sessions, away from young children and pets. Any final assembly tasks that an RTR RC car requires can usually be completed in just one sitting.
And finally, confidence is a big part of the meaning of RTR. An RTR RC vehicle has been put together by experts and tested to make sure everything works perfectly before being offered for sale. Drive it according to the manufacturer's recommendations and you can be confident that your RTR RC car will run well and not break down. What's more, its factory-finished body will look professional and attractive. No one needs to know it's your first RC car!
Why a single RTR definition doesn't fit all RTR RC cars.
Now let's look at a few things you can't take for granted about the RTR meaning from one ready-to-run RC car to another. It seems logical to assume that, if an RC car is fully RTR, it must come with everything required to drive it — including the motor, radio equipment, transmitter, on-board battery, and battery charger. Many are that complete. But some aren't, and as long as the RC vehicle chassis is assembled, wheels and tires are supplied, and the body is finished, the manufacturer probably still calls it an RTR.
To be fair, there are good reasons why some RC car manufacturers don't include items like radio equipment with their RTRs. Anyone who's been in the RC car hobby for a while will already own a radio and can save money by using what they have. Experienced RC drivers also often have their own brand preferences for accessories like motors and batteries. They like the convenience of factory-assembly but want to choose some parts for themselves.
Because there is some flexibility in the RTR definition, make sure you understand what the RTR RC car you plan to buy does and does not include. Talk to the staff at the hobby shop. Read the online description carefully. If you'll need additional items in order to run the RC car, ask for recommendations. Confirm that the accessories you buy to complete your RTR RC car are compatible and will deliver the performance you expect.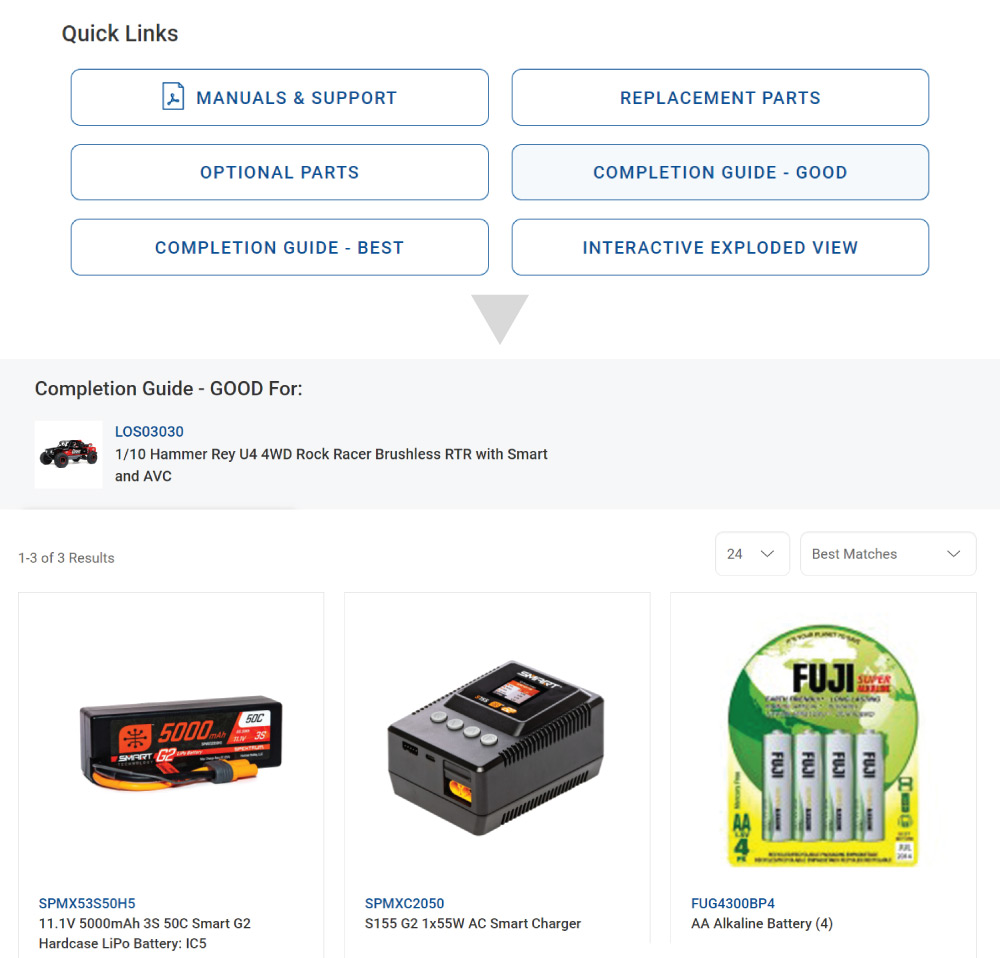 If you're buying your ready-to-run RC car online, look for a completion item guide like this with its description. It identifies specific products that you can use with the RTR RC car for successful operation. Add them to your order with a mouse click and you're all set!
Hobby-quality RTR means being able to make repairs and upgrades.
Technically, those radio-control car toys in department store toy aisles fit the basic RTR definition. They're fully assembled and include everything needed to run them. But they differ from hobby-quality RTR RC cars in several important ways.
First, those toy RTR RC cars aren't intended to have long lifespans. The manufacturers expect you to run them until they break and then never use them again. Hobby-quality RTR RC cars are designed keep going for as long as you're willing to maintain them properly. Even though they're factory-built, you can still take off the bodies, dig into the engineering, clean them up, and fix anything that needs fixing.
Even though they aren't required for assembly, a few basic tools will be good to have on hand to maintain and repair your hobby-quality RTR RC car. Many RTRs come with simple L-wrenches. However, you'll find that a set of hex drivers will make removing and reinstalling your car's hardware much easier. Inexpensive hex driver sets are available in metric and SAE sizes. SAE refers to the standard tool sizes used in America, such as 1/16-inch. You'll also find that a Phillips screwdriver and needle-nose pliers often come in handy.
After you've gained some experience and skill at driving your RTR RC car, you'll probably start wanting more — more power, more durability, and more stability so you can go even faster. That doesn't mean you'll need to buy a whole new car if your RTR definition includes the ability to make upgrades.
Most hobby-quality RTR RC cars can indeed be outfitted with option parts to reach higher levels of performance. Just make sure as you shop for your first RTR RC car that its manufacturer has upgrade parts available for it. Then the RTR you buy won't just be ready-to-run today. It will be ready to keep running for years of fast RC racing fun!