Smart Technology Quick Guide
Navigate through our Smart Technology quick guide to find the product to fit your performance needs.
Safety. Simplicity. Convenience.
With more built-in protections, more "plug and play" functions, plus the ability to provide real-time telemetry without the clutter and cost of additional cords and components, Spektrum products using innovative Smart Technology are the smartest choice for every RC modeler.
One Simple Connection
Just connect your Smart battery to a Smart charger. Its charging parameters and balancing information upload automatically and safe charging begins immediately.

Maintenance-Free Longevity
Smart batteries discharge automatically to a safe storage voltage when allowed to rest for a time period you select (between 12 and 240 hours) — a unique feature that improves performance and extends pack life.
Data on Demand
A microchip integrated into each Smart battery stores a variety of information unique to that pack. The battery shares its data with other Smart devices to simplify charging and help you make well-informed decisions.
Charging Data
Each Smart battery's microchip stores its type, capacity, "C" rating, individual cell voltage, temperature, and more. When connected to a Smart charger, these parameters upload automatically for easy, accurate charging.
Safety Data
Avoid discovering at a critical moment that your battery is unhealthy. Each Smart battery keeps a log of its unhealthy events — such as over-charge, over-discharge, and over-temperature — and it's always at your fingertips.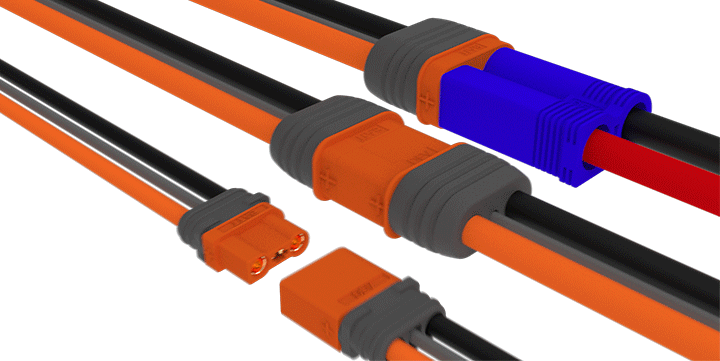 Innovative IC® Connector
In addition to having a unique data transfer wire, Smart battery IC3®, IC5®, and IC2® connectors install easily and securely and increase heat resistance. They're backwards compatible with EC3 and EC5 connectors for using Smart batteries with older systems.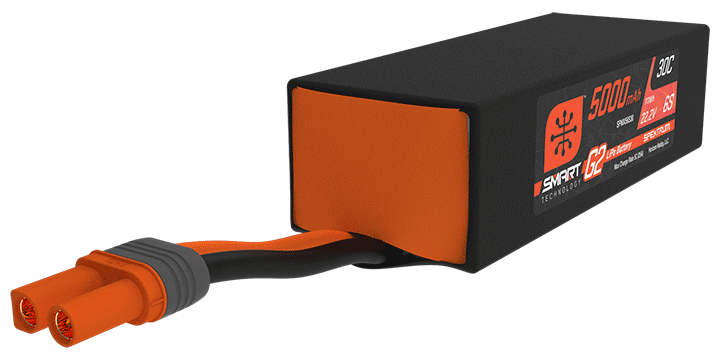 Worry-Free Durability
The cells in Smart LiPo batteries are well-protected against punctures. Surface packs feature a hard ABS plastic case. Soft-case packs for air applications include thicker internal metal plates that also improve heat dissipation.

Available for Your Application
Get Smart LiPo battery benefits for almost any aircraft and vehicle application. Packs are available in a wide variety of styles, capacities, and C-ratings, and at a price and performance level to suit any pilot or driver.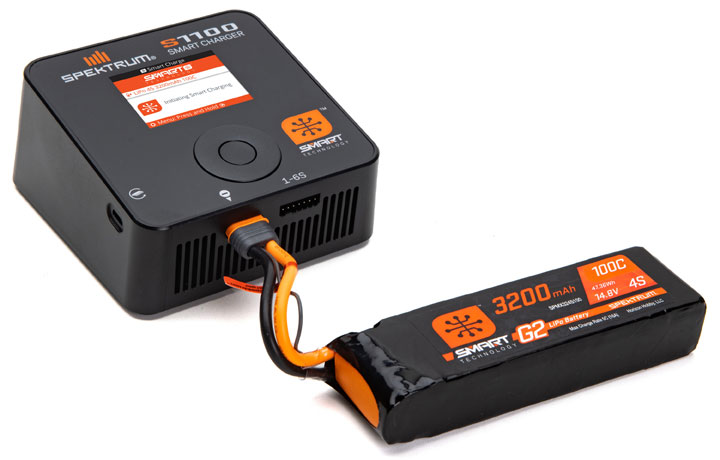 Smart G2 Battery Charging
Generation 2 (G2) Spektrum Smart batteries require the use of a Smart G2 charger — but you can use an earlier Smart charger that has the G2 update, available as a free download at SpektrumRC.com.
Smart Battery Updates
When you plug your Spektrum Smart G2 battery into a Smart G2 charger, the charger will determine if the battery has the latest updates. If not, it will ask if you'd like to update it to the latest version and complete the update.
Unprecedented Safety
The microchip in each Smart battery stores its unique pack data, including charging parameters, and communicates it to the Smart charger when connected. The charger then sets correct charge rates automatically.
Battery Data Tracking
A Smart charger uploads and stores numerous types of data from a Smart battery's built-in microchip. The charger's software uses that information to help you monitor the battery's condition and performance.
Automatic Safe Storage
Smart batteries discharge automatically to a safe storage voltage for longer life and improved performance. Use the battery's default Auto Storage settings or program them with your own preferences using a Smart device.
Hassle-Free Charging
LiPo charging has never been so simple and safe! The Auto Charge feature of Smart Chargers recognizes a Smart battery's charging parameters as soon as you connect the pack.
No Adapters Needed
Smart G2 chargers include IC3® and IC5® charging ports. Just select the one you need — no separate adapters are needed to charge most Smart LiPo batteries.
Easy to Use
The intuitive Smart Charger interface makes it easy to navigate through menus or change and save charge parameters. While charging, the main screen shows data including charge rate, percentage charged, and charge time remaining.
Versatile
Smart Chargers support all popular RC battery types including LiFe, LiIon, LiPo, LiHV, NiMH, and Pb. Only when using Smart batteries, however, will you get all the benefits that Smart technology has to offer.
Updatable Firmware
Smart charging technology constantly evolves and improves. Smart chargers are equipped with a USB or Smart Charger Update Cable input port which lets you update their firmware easily to get the latest features and connectivity benefits. Updates are available as a free download at SpektrumRC.com.
Beyond Batteries
Have a personal device or other Smart equipment that needs a charge? Use the convenient USB output of Spektrum Smart chargers — they're great for more than batteries!
ON/OFF Switch
Smart G2 chargers now include a handy ON/OFF power switch. You can turn the power on and off without having to plug in or unplug the power cord.
One for All
There's a Smart charger with the right features and power output for every RC hobbyist. AC and DC input options are available for the most convenient charging.
All-in-One Telemetry
Smart ESCs do more than regulate power. They also send valuable telemetry including current, voltage, cell balance, temperature, RPM and more to your compatible transmitter in real time.
One Simple Connection
No need to connect multiple wires, sensors, modules, and links that all work independently of each other. A Smart ESC provides a simple, one-wire solution for obtaining telemetry data.
Connectivity Advantage
Smart electronics work together to keep you aware of what's happening in your model. View the data on your Smart-compatible transmitter. The information alerts you to potential issues before they become a problem.
Increased Confidence
Smart ESCs function like a virtual engineer inside your model. They provide a path to the data you need to reach peak performance and increase your confidence in the performance of your electronics.
Modern Programming
Review, change, and save Smart ESC settings directly from your compatible Spektrum transmitter. You can also make updates with a Smart ESC Programmer or the SmartLink app for PCs.
All-Weather Design
Featuring a rugged, all-weather, waterproof design, Spektrum Firma™ Smart ESCs for surface use perform well in nearly any terrain under almost any conditions.
Available for Your Application
There's a Spektrum Smart ESC for almost any application — from crawler vehicles to high-performance electric ducted fan jets.
Powerful and Efficient
Smart ESCs are compact and ready to install with no soldering needed. They feature high-power BECs along with cooling fans and an aluminum heat sink for high efficiency.
Learn how to update the firmware of your Smart electronics.