Discontinued
|
This Item is No Longer Available

UMX™ Beast 3D BNF Basic with AS3X® Technology
$119.99
Price reduced from

$143.99

to
Discontinued
|
This Item is No Longer Available

UMX™ Beast 3D BNF Basic with AS3X® Technology
Product Details
Key Features
AS3X® System for outstanding precision and 3D flight
6-channel DSM2® ultra micro AS3X Rx/BL/ESC unit with Spektrum™ technology
Full 4-channel control with steerable tail wheel
Performance linear long-throw servos
High-output BL180, 2500Kv brushless outrunner motor
Efficient E-flite® 5 x 2.75 propeller
Fully-enclosed battery for clean looks (battery not included)
Rigid construction for better handling
Detailed paint scheme with brilliant graphics and a tinted canopy
Officially licensed
Video Overview
Needed To Complete
- 4+ channel DSM2®- or DSMX®- compatible transmitter
- Flight battery
- Charger and adapter for flight battery (Celectra™ 2S Li-Po charger does not require an adapter)
Overview
The E-flite® UMX™ Beast® 3D aircraft is a totally new experience in all-out 3D flight capability and satisfaction from an amazing aircraft that doesn't need any more space than a small park, a yard or an indoor gym to be enjoyed. Enhanced with the AS3X® System, the UMX Beast 3D plane is specifically set with an aft CG and large control surface deflections for maximum maneuverability. However, instead of handling that feels super sensitive, the UMX Beast 3D plane, with the AS3X System, flies ultra smooth, even in conditions considered windy. Plus, you get locked-in precision and the outstanding control authority necessary to perform 3D more confidently. Designed by aerobatic world champion Quique Somenzini, this authentic UMX re-creation of the full-scale Beast delivers precision aerobatic and 3D excitement with the kind of stability and authority more in common with aircraft many times its actual size. And you get all the benefits without having to spend a lot of time programming. No mixing is required—just add your Li-Po battery, bind to a basic DSM2®/DSMX® airplane transmitter setup, and the UMX Beast 3D plane will instantly offer you the best flight experience possible.
Detailed Information
AS3X System-Equipped UMX Airplanes Deliver the Ultimate RC Pilot Experience
The AS3X® System delivers breakthrough performance for UMX™ airplanes and the freedom a pilot can use to experience RC flight that's more enjoyable than ever dreamed possible.
The AS3X System for airplanes is an exclusive electronic and setup enhancement that makes it possible for you to experience super-smooth flight performance, yet still have full control authority for the kind of flying you want to perform. The advantage of AS3X technology to the RC pilot is a dream come true.
An industry-first, AS3X technology in UMX airplanes is exciting, because it helps the pilot focus more on the thrill of being the pilot of an expertly-tuned airplane than the workload required to stay in smooth control. No longer will you have to deal intensely with flight complications such as turbulence, torque and tip stalls. All you feel is ultra-smooth control even outdoors in moderate wind, so that you're allowed to experience exhilarating aircraft agility that feels natural and quickly build skills as an RC pilot.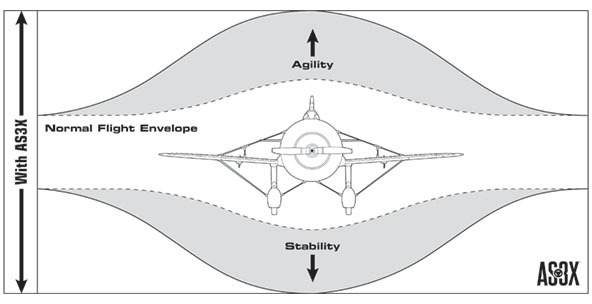 AS3X Gives You More Control
It's all about control. Before AS3X technology, stability and agility were typically limited to a narrow control range, and any attempt to gain more stability meant a sacrifice of agility or vice versa. With AS3X technology, there is no compromise. You get dramatically more control, plus more stability and agility than ever dreamed possible. Whether you're an airplane or helicopter pilot, the comprehensive control AS3X technology offers feels very natural, even in moderate winds, so you always get the best flying experience possible.
AS3X-equipped aircraft will change the way you'll want to fly now and in the future.
There's nothing special you need to do to take advantage of the invigorating control an AS3X System-equipped airplane will offer you. Every airplane equipped with the AS3X System is painstakingly tuned so that you enjoy the locked-in feel and control authority that will help show off your RC pilot skills.
Product Specifications
| | |
| --- | --- |
| Airfoil Shape | Symmetrical |
| Approximate Assembly Time | No assembly required |
| Approximate Flight Time | 5 minutes |
| Scale | Ultra Micro |
| Power Type | Electric |
| Wing Loading | 3.4 oz/sq ft (1.01 g/sq dm) |
| Wingspan | 14.7 in (374mm) |
| Motor Size | BL180 2500Kv brushless outrunner |
| Minimum Required Radio | 4-channel minimum |