Shepflyr T.
5.0 star rating
Sweet Flier!
Review by Shepflyr T. on 26 Nov 2018
review stating Sweet Flier!
Everybody who highly recommended this airplane was 100% right on!
She's a sweetheart!

Flew perfectly with her AR620 on maiden flight and two more flights that day. No trim needed. Not much wind...maybe 5 mph or so. But she definitely did not need AS3X. It would help in a stronger wind, but I'll get longer flight times on her without it.

Yes, the ESC wire is too short. And I had to turn the receiver around so the elevator and rudder wires didn't block the flaps mechanism from working. But with the rx flipped around, she did not fly backwards!

I personally like her to be a bit more responsive, particularly on ailerons for rolls...so I will be moving her clevis in one hole on the horns.

Flew off a very rough grass sports field. Used 1/4 - 1/2 flaps and full up ele for takeoff. Didn't take much distance at all...maybe 45 feet or so.

Landings with partial flaps were a breeze. Used about 150' from final approach to end of her nice, smooth rollout. She didn't nose over on the maiden, but on other flights her wheels got stopped by a clump of grass at rollout end. Just raised her tail up...no damage. What noseover? I didn't see no noseover! Trust me...it didn't happen!

She looks fabulous in the air! Very impressive, especially on slow, close flybys. And she slows down very nicely using flaps...no ballooning.

This plane is a winner! Get one on this sale before they're gone!!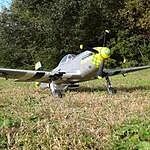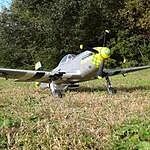 On P-51D Mustang 1.1m PNP with Free Spektrum AR620 Receiver
Great plane for fun
Review by Jafair on 24 Nov 2018
review stating Great plane for fun
I got this plane via Amazon at same price as I had an issue with billing address.
Anyway... setup is super easy. I did not get a manual for assembly but got it in google in 10 secs. Retracts and landig gear works perfect. I only flew it 5 times but it was very easy trim at first. Important: i land and take off from a grass field and it is impresive. No issues at all. Just have to pull elevator to avoid noise dive. It is fast enough with 3S 2200 40C setup. I has to pull back my Lipo a little for CG.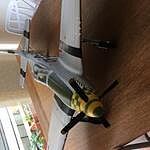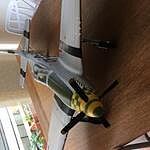 On P-51D Mustang 1.1m PNP with Free Spektrum AR620 Receiver
Another great Value and Mustang from HH
Review by Andy1994 on 26 Nov 2018
review stating Another great Value and Mustang from HH
Very nice quality Mustang. Goes together in literally minutes. No instructions included with mine - but I realized I didn't need them. Needed the extension for the ESC, as others have mentioned. This mustang looks very similar to Eflites? Mustang that is 269.99 - that is a very good bird as well - don't get me wrong. Check the labeling on the receiver, as it has changed ( Channel 1 is ESC, Channel 2 is AIL...etc..)

Here's a trick you need to try:

Get her on her back flying inverted
Approach a stall ( inverted ) - Heading in the direction of an inverted loop
When the stall point is near - punch in full flaps and full throttle!

You should get an inverted tumbling.

You're welcome

Having a blast here in NC,

Andy
On P-51D Mustang 1.1m PNP with Free Spektrum AR620 Receiver
Triple A.
5.0 star rating
great flying P-51
Review by Triple A. on 20 Nov 2018
review stating great flying P-51
Easy to put together. esc wire a bit short to reach receiver. easy fix with 6' extention. Maiden flt with 3S 2600mah. nice take off, (with flaps) very little trim needed flys on rails but not real speedy. has power for nice loops. tried to tip stall it and nothing happened, gently rolled over with easy recovery. landings are easy with or withot flaps. ground tracking is stable. the position of the gear slightly foward of leading edge of wing helps it from flipping or nosing over. Few with a 4s 2600mah.... flies very nice! I like it much better. esc and moter had no issues. battery barely got warm. Timer set for 6 min. plenty of battery life left. not all ot speed. lots of touch and goes and a mixure speed passes. worth every penny!!!
On P-51D Mustang 1.1m PNP with Free Spektrum AR620 Receiver
First flight
Review by Goforit on 18 Nov 2018
review stating First flight
The build was very easy, as advertised, with one exception. The ESC wire is very short. So short that it barely reached the receiver with the elevator/rudder wires hooked up. I had to mount it upside down on the fuse, using a piece of hook & loop tape twice as long as the receiver, to reach past a hole right where the receiver has to go due to the short wires. The AR620 receiver worked great, in spite of my binding it while the fuse and receiver were upside down. I was concerned that the failsafe would be affected, but it seemed to work fine. The plane balanced per instructions with my 3s 2200 battery about in the middle of the battery box. I added a popsicle stick cut short to mount on the rear of the motor mount housing without blocking air flow, and some foam behind it to provide a battery stop in the right location. I like the EPO construction, which is much stronger than the lighter weight foams.
Take-off was uneventful The plane is beautiful, especially in the air and flies great - very scale and solid... until it is stalled, when it drops a wing rather abruptly, which seems to be rather typical of scale fighter planes.
On P-51D Mustang 1.1m PNP with Free Spektrum AR620 Receiver