Rockettman01
5.0 star rating
total awesomeness,,,i got this for
Review by Rockettman01 on 17 Jan 2017
review stating total awesomeness,,,i got this for
total awesomeness,,,i got this for xmas and love it,,,prob 40plus flights on it and I land it at the 3:30 min mark bf lvc warning all flights with stock batts,,,this thing is so awesome flying inside the house, i fly it in,thru and around anything I can find,,get it get it get it and you will love it!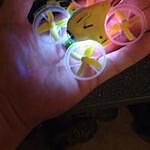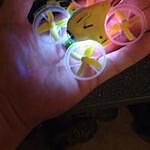 On Inductrix FPV BNF with SAFE Technology
Awesome FPV quadcopter!
Review by Jesse K. on 29 Sep 2016
review stating Awesome FPV quadcopter!
First things first I was worried about the Dipole FPV antenna. Worry not the video reception is amazing. Great reception through the walls and upstairs to downstairs, I was surprised! It also flew outside in a light breeze with ease. Overall this is an awesome FPV quad and I'm happy to add it to my fleet.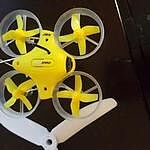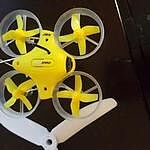 On Inductrix FPV BNF with SAFE Technology
Great drone
Review by Edgar L. on 27 Jan 2018
review stating Great drone
The drone is good to learn to fly in two modes, acro and stabilized, I take advantage of it and recommend you that from the beginning you fly in acro mode, I give it 4 stars because I think that the antenna is not reinforced in the drone, it broke easily after falling, in the image that I show of my drone, has another spare antenna, the rest is an excellent drone, Fly free ...
On Inductrix FPV BNF with SAFE Technology
It ROCKS!!!!
Review by Xyz4 R. on 14 Aug 2017
review stating It ROCKS!!!!
Fantastic for indoor flying and great for outdoor in moderate winds.
Great for beginners.
I've bumped and crashed this all over the place, and so far, all is good.
If anything a frame is super cheap, and you can take all apart in a few minutes.
On Inductrix FPV BNF with SAFE Technology
Nice place to start
Review by City S. on 30 May 2017
review stating Nice place to start
Not sure why everybody is downing this product? It's a nice model to start off with if you are new to fpv. You can always upgrade? Firstly buy yourself a bigger battery,I suggest a HK Nanothech 210 or a tiny whoop brand 220mah. You will never get the flight times of 4-6 min that are given.Or you could cut down the props to a two blade. Use a pair of nail clippers and a sanding file.The reviews of manufacturers always blow things out of proportion. Next upgrade your motors. I suggest going to a 17k or 19k motor from heli Nation. Like I said a good place to start off,for the price point. Good luck... And great flying...
On Inductrix FPV BNF with SAFE Technology