Vintage R.
5.0 star rating
UNDERATED Model Aircraft!!
Review by Vintage R. on 9 Mar 2020
review stating UNDERATED Model Aircraft!!
I just bought the V2 FUTURA, and it 100% does not deserve the 3 star rating its sporting here on this site. It flies great, I get 4 minutes on a 4000 mah battery, landing with about 15-20% capacity remaining. If you use the specified battery size, no cutting will be required inside the canopy assembly base. battery in the full forward position, the CG is on the money. Friend of mine who has been flying for 40 plus years (started when he was a young boy), and mainly only fly's EDF types now, flew my Avanti, then the FUTURA V2, and said if he were me he would just sell the Avanti. Avanti has cool lights, but that is about the only thing it did better. Both models were powered by the V2 FMS Pro 80MM EDF. The FUTURA 2 is very stable, slows down nicely with full flaps, and lands great. On the maiden, it needed almost no trim corrections. I am using mine to learn to become a better EDF powered aircraft flyer. I installed a gyro, but it really does not need it. I like them for the ability to fly when the wind might keep you on the ground. Also the very wide spread main gear make it very stable on the ground if you need to move left to right at speed, if you land long on a paved runway. Mine also makes a unique sound at speed, but I believe it has allot to do with the shape of the inlets. It sound angry to me, when I make a high speed pass at low level. Makes me smile. Its fast, and climbs great! I am adding the clear canopy to mine from V1. I was told it fits, and its on order right now. Mine did have a defect on one of the wings out of the box, dented leading edge, but I bought mine from a brick and mortar store that is a 2 hour drive from me, and its not the fault of the store. I will buy another if I need some parts, because I have learned that FMS is not always the best when it comes to parts availability. Sorry, but that is fact, and already well known throughout the RC community. No secret there. Maybe there were some issues with the early production models, not sure, but this is not a 3 star model. One of my flight was on a dark and gloomy day, and it was a bit difficult to see a couple of times, but I just stayed in a little closer while it was airborne.
I am very glad I bought this model, its all I am flying currently, and also I am very glad I ignored these reviews here, as they nearly kept me from buying this model. Now I am ready to sell most of my tail dragger, propeller driven airplanes...the speed and the sound are great!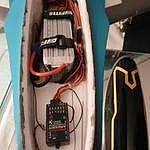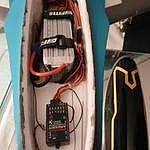 On Futura V2 80mm EDF Jet PNP, 1060mm
Underrated for sure
Review by HOUCH on 11 Oct 2020
review stating Underrated for sure
I agree with Vintage, u don't give a jet a 2 because u think the battery doesn't fit and u don't know how to assemble planes. This jet is solid and is one of my fastest 6c jets in my garage, solid plane
On Futura V2 80mm EDF Jet PNP, 1060mm
Mattl59980
5.0 star rating
Big Bang for the Buck!
Review by Mattl59980 on 14 Mar 2020
review stating Big Bang for the Buck!
Nothing wrong with this jet. Very fast and fun. Many flying turbines make a point to ask about it after they see it fly. All have said they want one. Does that tell you anything?
On Futura V2 80mm EDF Jet PNP, 1060mm
Not the best jet I own but looks good
Review by Chris K. on 24 Jun 2019
review stating Not the best jet I own but looks good
I was excited for the Futura V2 thinking the colors are great and improvements would be great too. I purposely had not purchased an FMS product for a long time due to issues I am about to explain. I am not impressed with the screws provided to assemble the plane as some of the heads were rounded before the wrench even touched them and the ones that appeared to be good easily round/stripped before they were tight. I made a trip to the hardware store to get replacement screws. I would also recommend taping or heat shrinking the elevator and rudder connections as I had two come loose and I spent a good 20 minutes trying to feed them back through the fuselage and the mess of wires and ESC that block the path. I am also not a fan of the linkages provided. A self tapping screw holds the push rods to the control surface control horns. Some of the control horns had to have screws replaced that would grab the opposite side as to avoid them falling off. This plane is a speedster but the control horns and push rods would not indicate that.

Once I was done with the build I was able to fly the Futura several times and it is a good flying jet. Freewing is winning the EDF race for sure, however. I will most likely replace the push rods before I have an unfortunate accident.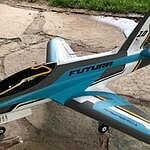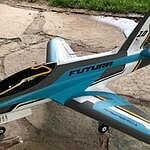 On Futura V2 80mm EDF Jet PNP, 1060mm
Not a very well thought out EDF, poor quality
Review by Loops on 31 Jan 2020
review stating Not a very well thought out EDF, poor quality
First, most 6s batteries don't fit without having to cut out the inside of the canopy. Why it isn't hallowed out like the Havoc is a mystery to me. It's not like it's clear with a pilot in it. The board where all of the servo wires connect is impossible to get to. I had the rudder servo completely jam to the right in flight and that made for a tricky landing. The servos are bad. I know they say digital metal gear "upgrade," but they are still bad. The paint quality is so so. The plane flies nice, but the components are what kills the experience for me. My recommendation is to move on and possibly get an Avanti, or the more advanced Havoc. The Havoc being my favorite.
On Futura V2 80mm EDF Jet PNP, 1060mm