Eluna 1.5m PNP with Free Spektrum AR410 Receiver

Eluna 1.5m PNP with Free Spektrum AR410 Receiver
Product Details

Introduction
The Flyzone® Eluna™ 1.5m motor glider combines graceful soaring capabilities with the carefree fun of sport flying into one versatile design. A long list of features including a brushless power system and full 4-channel control deliver incredible performance and value that will quickly make the Eluna one of your favorite go-to models.
Key Features
Incredible soaring and sport flying capabilities in a single model
Efficient brushless power system with 20A ESC, outrunner motor and folding prop
Full four-channel control with factory-installed servos
Lightweight and durable EPO construction
Bolt-on, two-piece wing with composite joiner
Snap-on canopy hatch offers easy battery compartment access
No glue required for assembly
FREE Spektrum AR410 4-channel receiver included (shipped separately)
Needed to Complete
Full-range, 4+ channel transmitter
1250–1350mAh 3S 11.1V LiPo with EC3™ or IC3™ Connector (EFLB13003S20 recommended)
Compatible LiPo charger
What's included?
(1) Flyzone Eluna 1.5m PNP with:

(1) 20A Brushless ESC (installed)
(1) Brushless Outrunner Motor (installed)
(4) 9-Gram Servos (installed)

(1) Product Manual
(1) Spektrum AR410 4-channel receiver included (shipped separately)
Overview
You don't have to be a "glider guy" to appreciate the Flyzone® Eluna™ 1.5m motor glider. Like a sailplane, the Eluna has the ability to soar and catch thermals. Or you can use its factory-installed electric power system to launch without the need for a Hi-Start while utilizing 4-channel control to sport fly and even perform aerobatics. Its sleek lines and efficient design deliver long flight times, with or without power, when using an economical 3S 1250–1350mAh LiPo battery. The folding propeller and fuselage-mounted wheel make it possible to land on a variety of surfaces, including paved runways and grass, after an easy hand launch and a flight full of soaring plus sport flying fun. The Eluna is a versatile and capable model that you simply won't want to leave at home!
Plug-N-Play® Completion Level
This Plug-N-Play (PNP) model comes out of the box with a factory-installed power system and servos that are ready to connect to the compatible receiver of your choice (Spektrum AR410 Receiver included with combo). Simply install the receiver, finish any final assembly, and fly!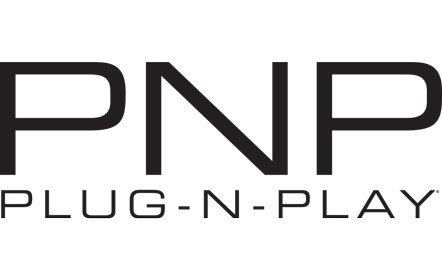 Lightweight and Tough
Fully-molded EPO construction provides a lightweight airframe that's also very durable and easy to maintain.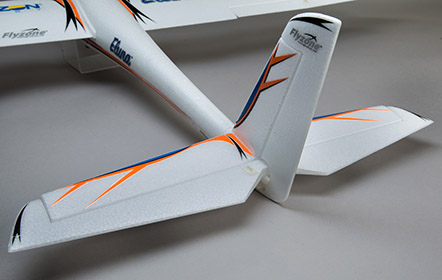 Brushless Power and Efficiency
The efficient, factory-installed power system features a 20-amp ESC, a powerful brushless outrunner motor and a folding propeller.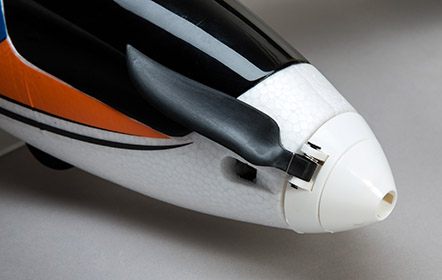 Easy Assembly
No glue is required for final assembly and the Eluna can be ready to fly in less time than it takes to charge a battery. The two-piece wing makes field assembly/disassembly, plus transportation and storage, easy and convenient.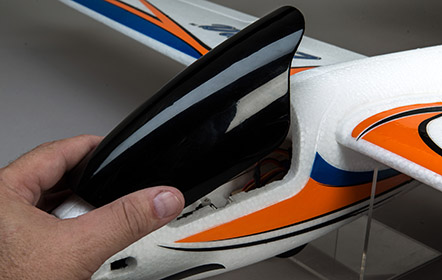 Product Specifications
Specs
| | |
| --- | --- |
| Approximate Assembly Time | Less than 1 Hour |
| Approximate Flight Time | 7 minutes |
| CG (Center of Gravity) | 2" (51mm) back from the leading edge of the wing at the root |
| Completion Level | Plug-N-Play |
| Power Type | Electric |
| Landing Gear | Center belly mounted wheel |
| Minimum Required Radio | 4-channel |
| Minimum Speed Control | 20A ESC with EC3 battery connector |
| Motor Size | 28-30-1050Kv brushless outrunner |
| Product Length | 36.2" (919mm) |
| Propeller Size | 9.45x7 folding scimitar style |
| Recommended Motor Battery | 3S 1200 - 1500mAh with EC3 connector |
| Servos | Four 9G micro |
| Spinner Size | 2.2" (55mm) |
| Wing Area | 344.5 sq in (22.22 sq dm) |
| Wing Loading | 10.17 oz/sq ft (31.03 g/sq dm) |