DHC-2T Turbo Beaver 1.5m Rx-R with Spektrum AR620 Receiver

DHC-2T Turbo Beaver 1.5m Rx-R with Spektrum AR620 Receiver
Product Details
Key Features
A scale replica with STOL capability and all-terrain versatility
More powerful brushless motor, 3-blade propeller and 40A ESC
Receiver-ready with five-channel control including functional flaps
Scale detail, authentic corrugation, rivets, plus a well-appointed cockpit
Sleek turbine-power appearance features matching prop, intake and exhaust detail
Functional LED navigation, anti-collision and landing lights
Two-piece wing with carbon fiber spars, hinged flap and dual-servo ailerons
Wing fences improve low speed performance and make landings easier
Durable landing gear with large tundra-style tires and a steerable tailwheel
Includes matching float set with water rudders for great surface handling
Factory-finished with a vibrant paint scheme and graphics
Easy assembly—can be ready to fly in less time than it takes to charge a battery
Needed to Complete
Full-range, 5+ channel transmitter and receiver
1800–2200mAh 3S LiPo flight battery
Compatible LiPo charger
What's in the box?
(1) FlyZone DHC-2T Turbo Beaver 1.5m Rx-R
(1) Brushless Outrunner Motor
(1) 40A Brushless ESC
(5) Micro Servos
(1) User Manual
Overview
No other aircraft in the North American Territory has made greater community impact serving its pioneers than the De Havilland DHC-2 Beaver. Refurbished versions can be upgraded in many ways, including conversion to turbo-prop engine power. The Flyzone® DHC-2T Turbo Beaver 1.5m delivers a realistic looking model of the outback master with smooth running turbine engine power capable of speeding in and out of any terrain in the territory.
The Flyzone® DHC-2T Turbo Beaver 1.5m Rx-R is a scale replica of the legendary bush-plane equipped with the most popular STOL extras. Loaded with scale detail upon an authentic outline, from the well-appointed cockpit to the intricate surface features, you'll be proud to show this model off. At the work bench, it's a model that takes shape fast with assembly that's basically a bolt-together process. Two-piece wings are a big part of this model's convenience along with a completion level that includes a factory-installed power system and servos that are ready for your receiver and battery. The more powerful brushless motor and 3-blade prop deliver the performance punch that inspires bush pilots to take on all conditions and terrain, while operational flaps and built-in wing fences improve slow speed handling. And with the factory-installed LED navigation lights, you don't have to stop the fun when the lighting gets low. Rugged aluminum landing gear equipped with large tundra-style wheels make it possible to fly from just about any airstrip. But if that's not enough to excite you, you can also enjoy flying at a pond or lake by bolting on the included floats equipped with dual operational water rudders.
Video Overview
Turbo Power
The more powerful brushless motor is equipped with a 3-blade propeller that works with popular 3S 1800-2200mAh LiPo batteries to deliver an abundance of thrust and beyond-scale performance.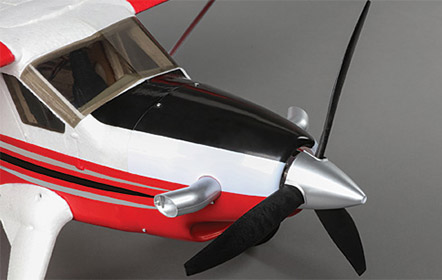 Authentic Appearance
Scale detail includes rivets, panel lines, surface corrugation, plus detents highlighting door panels and hatches found on the full-size aircraft. On the inside, the cockpit is impressively appointed with a simulated instrument panel, crew seating and clear windows. The outside delivers a sleek Turbo Beaver appearance that combines the classic tail shape with a sleek nose section featuring a three-blade scimitar-prop and large intake scoop all highlighted by a shimmering spinner and exhaust.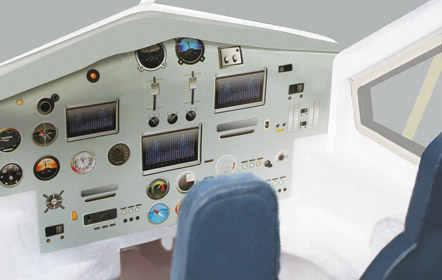 Functional Detail
Functional flaps widen the flight envelope to make takeoffs and landings shorter and slow-flight more stable. Plus, vivid LED navigation lighting visually enhances appearance in any condition for flight orientation recognition beyond compare.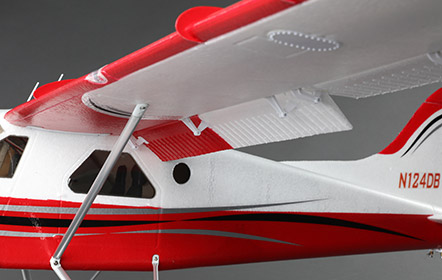 Wheels or Floats
The shock-absorbing steerable tail wheel and aluminum main landing gear equipped with tundra-style wheels allows for operation from a wide variety of not-so-smooth surfaces. And the included float set equipped with dual water rudders is easy to install for operation from water.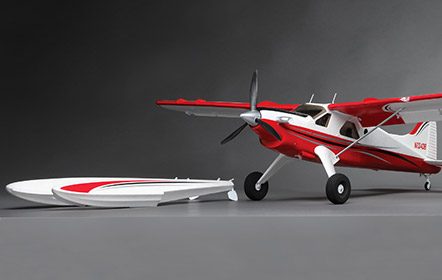 Rx-R Convenience
This Rx-R (PNP) model comes with the motor, ESC and servos installed. All you need to do is finish some final assembly, install a receiver, charge a battery and fly!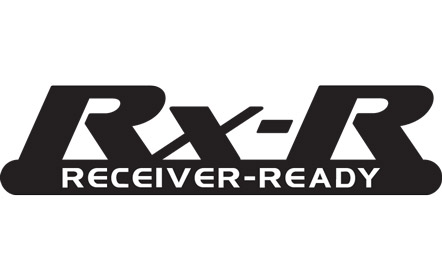 AR620 6-Channel Sport Receiver
A compact, full-range DSMX receiver with telemetry is included! It features an antenna-less design for convenience, performance and durability!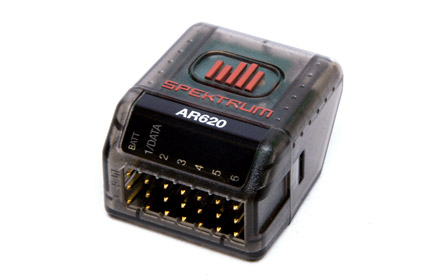 Product Specifications
Specs
| | |
| --- | --- |
| Airfoil Shape | Semi-Symetrical |
| Approximate Assembly Time | 1-3 Hours |
| Approximate Flight Time | 8 min |
| CG (Center of Gravity) | 2 to 2-1/2" (51-64mm) from leading edge |
| Completion Level | Plug-N-Play |
| Flaps | Yes |
| Power Type | Electric |
| Material | EPO |
| Minimum Required Radio | 4-channel |
| Minimum Speed Control | 40A |
| Motor Size | 4011-920kV |
| Product Length | 40.5 in (1029 mm) |
| Propeller Size | 11 x 7.5, 3 bladed |
| Recommended Motor Battery | 3S 2200-2600mAh |
| Servos | 9g included and mounted |
| Speed | 60 mph |
| Transmitter Range | Full range |
| Wing Area | 430 in2 (27.7 dm2) |
| Wing Loading | 16.1-18 oz/ft2 (49-54 g/dm2) |
| Wingspan | 59.5 in (1510 mm) |