Discontinued
|
This Item is No Longer Available

AR9000 DSM2 9-Channel Receiver
Discontinued
|
This Item is No Longer Available

AR9000 DSM2 9-Channel Receiver
Product Details
Key Features
9 channels
External and internal receiver
Patented DuaLink technology
Patent pending ModelMatch prevents flying a model using the wrong model memory (feature does not work with module systems)
ServoSync (feature does not work with module systems)
SmartSafe failsafe system
US patent 7,391,320
Overview
The AR9000 combines two internal receivers and one remote receiver for path diversity and ultimate radio installation flexibility. The radio system simultaneously transmits on two frequencies creating dual RF paths. This dual path redundancy, plus the fact the remote receiver(s) is located in a different location, exposes each receiver to a different view of the RF environment providing unmatched path diversity.
A second remote receiver (SPM9545) can be added to the system to increase the receiver's view of the RF link. This option might work well in giant-scale aerobatic planes or jets where installations become challenging. Remote receiver extensions are available in 6", 9", 12", 24" and 36" lengths to provide a variety of installation options.
Spektrum's optional Flight Log (SPM9540) is compatible with the AR9000. The Flight Log displays the receiver's real-time voltage. It also shows individual internal and remote receivers' RF link data and overall system RF link performance.
While the optional remote receiver and Flight Log are not necessary to operate the AR9000, some large or complex models may benefit from having these items included in the setup. Every model is unique, and Spektrum's receiver solutions allow you to customize the radio installation to match the unique demands of all your radio system installation needs.
Always purchase products from a Horizon Hobby, Inc. authorized dealer to ensure authentic high-quality Spektrum product. Horizon Hobby, Inc. disclaims all support and warranty with regards, but not limited to, compatibility and performance of counterfeit products or products claiming compatibility with DSM2 or Spektrum.

Attention: Horizon Hobby has confirmed that all Spektrum Products being sold by KoKo Technology are counterfeit.  We consider it a danger to use these products, waive all liability and will not support any warranty or service in regards to them.
This product is not intended for use by children under 14 years of age without direct adult supervision.
Detailed Information
Recently we've received three reported cases of AR9000 receivers failing when being used in high-vibration applications. All failures occurred in Spektrum team member's 90-size glow helicopters mounted with minimal or no vibration isolation. In all three cases, the leads of the electrolytic can-style capacitor on the base PCB experienced vibration fatigue and failure.

Our staff is reworking all AR9000s in our stock to bond the capacitor to the PC board to eliminate any movement under vibration loads. All shipments as of 08/14/07 will be corrected.

For customers that already have AR9000 receivers, it is highly recommended that you return your AR9000 to our Spektrum service center and we will promptly correct the issue.

If you feel confident in doing so, follow the instructions below to bond the capacitor to the PC board.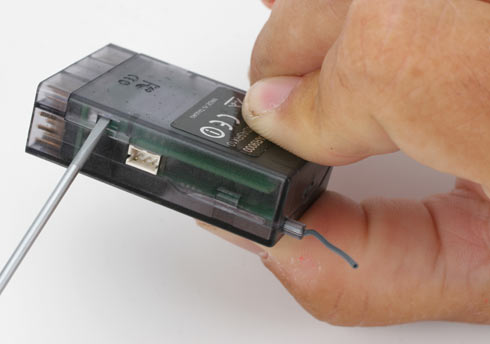 Step 1: Using a small, flat screwdriver open the receiver case by gently prying on the tabs to release the bottom half of the case and remove the PC board.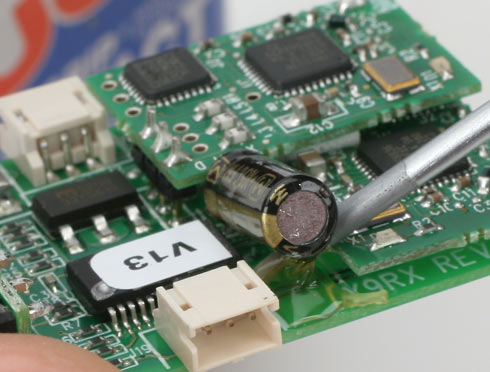 Step 2: Gently, slightly raise the capacitor as shown and apply contact cement between the capacitor and the PC board as shown. Do not use acid-based RTV.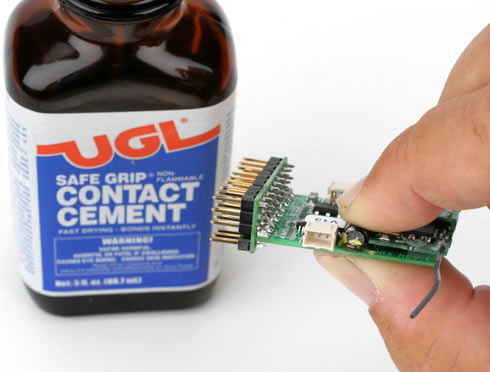 Step 3: Press the capacitor back in place making sure the capacitor is securely bonded to the PC board.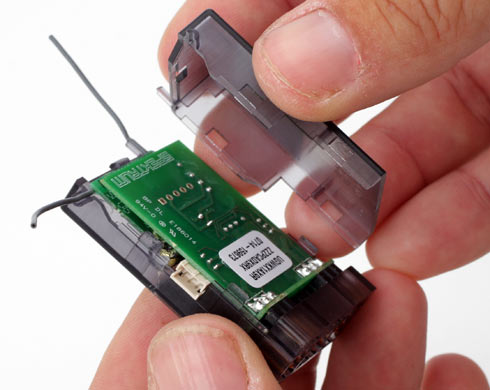 Step 4: Reinstall the PC board in the case and snap the case halves in place.