Backorder
|
Next Shipment February 2023

1/48 Avro Lancaster B Mk.III/ Mk.I Kit
Backorder
|
Next Shipment February 2023

1/48 Avro Lancaster B Mk.III/ Mk.I Kit
The Avro Lancaster was one of the RAF's main heavy bombers during WWII.
1/48 Scale Plastic Assembly Kit
Based On The Latest Research Information
Propellers And Late-Type Front Canopy Have Been Faithfully Depicted
Parts For Two Merlin Engines Are Included
Gun Turrets Are All Movable
1/48 Avro Lancaster B Mk.III/ Mk.I Kit
Free financing w/Easy Pay

ⓘ
Earn
points on this item
ⓘ
Product Details
In The Box
(1) 1/48 Avro Lancaster B Mk.III Kit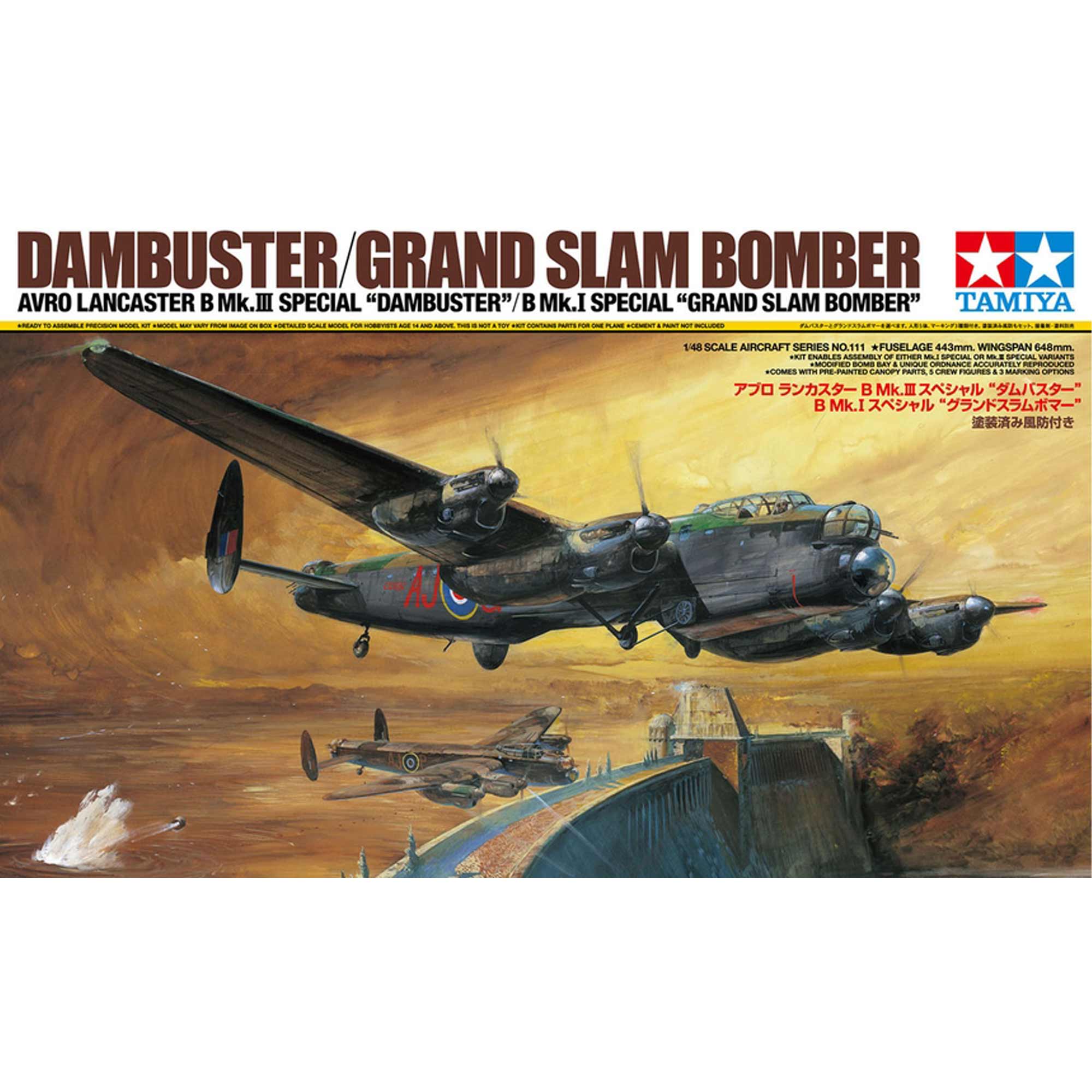 Overview
Among the variants, the Mk.III "Dambuster" and Mk.I "Grand Slam Bomber" were best known and the most famous. The "Dambuster" was changed to attack dams in Germany. It was equipped with special bouncing bombs which would skip across the water to the dam wall and explode below the surface of water to inflict structural damage. The "Grand Slam Bomber" was designed to carry the 10-ton Grand Slam earthquake bomb and its bomb bay doors and dorsal machine guns were removed to reduce weight to do so. These Lancaster's used the Grand Slam on such important targets such as U-boat bases and rocket manufacturing sites. The Tamiya model faithfully captures all the detail of this historic and famous WWII planes in 1/48 scale.
Features
Kit includes parts to depict the Lancaster as either a Mk.I "Grand Slam" or a Mk.III "Dambuster" variant
Based on the latest research information, details such as early-type propellers and late-type front canopy have been faithfully depicted
Parts for two Merlin engines are included. Engine nacelles can be depicted in either open or closed state
The gun turrets are all movable
Pre-painted as well as unpainted canopy parts are included
Comes with 3 marking options and 5 crew figures