RC Helicopters
Shop the best RC helicopters in the industry! Blade RC offers helicopters for all experience levels. We also offer a full line of RC helicopter parts, technology and accessories to compliment your passion for RC Flight.

Save $80 on the Blade 330 S!
The Blade 330 S is the key to success for any RC enthusiast joining the exciting world of collective pitch helicopters.
Order Now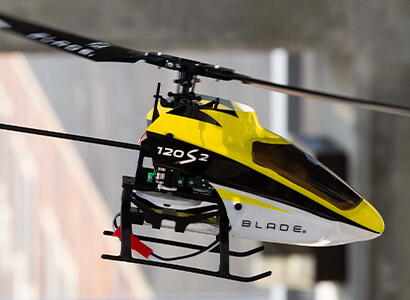 Blade 120 S2 Now $30 Off!
Break through the heli learning barrier with this fixed-pitch RC Heli trainer - Begin your RC Heli journey here!
Order Now
Blade 230 S Smart RTF Basic
Learn to fly collective pitch helicopters with the Blade 230 S Smart Ready-to-Fly Basic RC Helicopter.
Order Now
Fusion 180 Smart
A high-performance 3D machine featuring the latest advancements in Spekrum technology.
Order Now