RC Helicopters
Shop the best RC helicopters in the industry! Blade RC offers helicopters for all experience levels. We also offer a full line of RC helicopter parts, technology and accessories to compliment your passion for RC Flight.
Getting Started with RC Helis
Get your orders in for the holidays! Blade offers top of the line beginner helis equipped with SAFE technology. Also explore RealFlight Simulators - including some favorite Blade helicopters!
Shop Now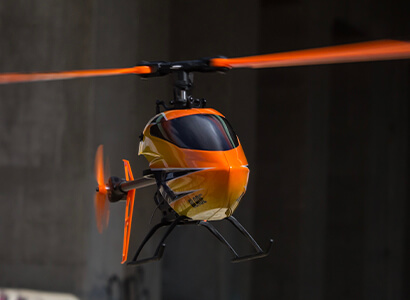 Blade 230 S Smart
SAFE technology, progressive flight modes, and Smart technology built in - learning on this collective pitch heli is a breeze.
Order Now
Selling Fast!
Take yourself to the next level with the Blade 330 S - a highly-tuned machine with innovative Smart and SAFE technology.
Order Now
Blade 120 S2
Break through the heli learning barrier with this fixed-pitch RC Heli trainer - Begin your RC Heli journey here!
Order Now
Helicopters
Our selection of RC Helicopters are quality built and designed for maximum performance, durability and fun. Check out the best remote control helis from Horizon Hobby!
View More