RC Planes
Conquer the air with Horizon Hobby's RC airplanes. Shop remote control airplanes by type, completion level, or size. We also carry a full line of replacement airplane parts, batteries, chargers, tools and accessories to compliment your passion for RC flight.
Savings Up To $450!
Save up to $450 on popular helicopters, aircraft engines, and accessories with coupon code AUTUMN at checkout. Ends 10/2.
Shop Now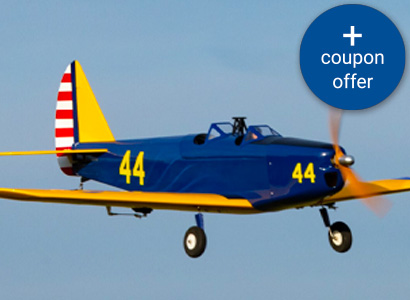 New from Hangar 9!
Pre-order an Hangar 9 Funscale PT-19 PNP through September 29th and receive a coupon for 50% off a Spektrum AR637T Telemetry Receiver (SPMAR637T). A $57 dollar value!
Pre-Order Now
New! E-flite Beechcraft Twin D18
Well-equipped with many scale details, functional features, and Smart Technology, the E-flite Beechcraft Twin D18 is a modern-day marvel for a wide range of pilots.
Pre-Order Now
Connect With Your Hobby
RC Nation is a brand-new online social community website built by radio control enthusiasts FOR radio control enthusiasts. Sign up today!
SIGN UP
Airplanes
The Horizon Hobby RC Airplane category is your one stop shop to conquer the air. Here you'll find RC planes in multiple different completion levels and sizes. You will also find many different types of rc airplanes including RC beginner planes, also known as trainers, as well as RC Jets, Float Planes, Scale Civilian, Scale Military, 3D, Aerobatic, Sport and Non-scale RC planes from every skill level.
View More