RC Planes
Conquer the air with Horizon Hobby's RC airplanes. Shop remote control airplanes by type, completion level, or size. We also carry a full line of replacement airplane parts, batteries, chargers, tools and accessories to compliment your passion for RC flight.

New! Commander mPd 1.4m
The E-Flite Commander mDp is updated and upgraded for more power, better control, plus Smart technology to make it more capable and fun fly than ever before.
Order Now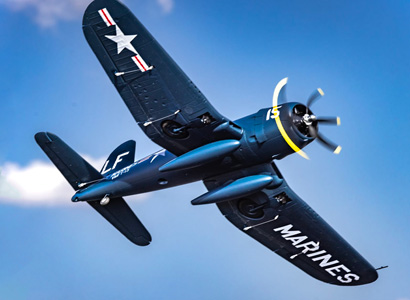 Guaranteed to ship by 06/24!
Hurry, Pre-Order now! First shipments of the new E-Flite F4U-4 Corsair BNF BASIC VERSION will be on their way to your doorstep and available at local retailers on 06/24/22.
Pre-Order Now
New! E-flite Cirrus SR22T 1.5m
Updated and upgraded to offer improved scale-like and sport flying, higher speed and higher energy aerobatic capabilities.
Pre-Order Now
New and In Stock! E-flite T-28 Trojan
The Smartest, most powerful, and easiest to fly "full-house" T-28 yet - Now with optional-use SAFE Select!
Order Now
Airplanes
The Horizon Hobby RC Airplane category is your one stop shop to conquer the air. Here you'll find RC planes in multiple different completion levels and sizes. You will also find many different types of rc airplanes including RC beginner planes, also known as trainers, as well as RC Jets, Float Planes, Scale Civilian, Scale Military, 3D, Aerobatic, Sport and Non-scale RC planes from every skill level.
View More