RC Airplanes
Conquer the air with Horizon Hobby's RC airplanes. Shop remote control airplanes by type, completion level, or size. We also carry a full line of replacement airplane parts, batteries, chargers, tools and accessories to compliment your passion for RC flight.

New from E-flite!
Pre-order an E-flite Carbon-Z T-28 Trojan BNF Basic through February 23rd and receive a coupon for 50% off one Spektrum 22.2V 5000mAh 6S 30C Smart LiPo Battery (SPMX50006S30).
Pre-Order Now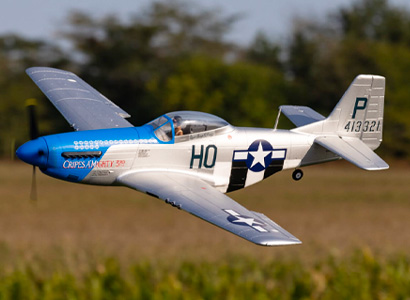 New P-51D Mustang from E-flite!
Updated and upgraded to be the easiest-to-fly full-house Mustang model yet, capable of scale-like, sport, high speed, and aerobatic flying
Order Now
Shop Airplanes by Skill Level
New to RC airplanes? Ready for a new challenge? Or are you simply looking for your next airplane? Our industry-leading brands offer airplanes from Skill Level 1 models perfect for first-time pilots to Skill Level 4 models for the most experienced pilots.
Shop Now
Best Selling Aircraft Of 2022
Our community has spoken! Shop the biggest hits in our RC plane lineup from best brands like HobbyZone, E-flite, and Hangar 9.
SHOP NOW