productdetail
{"new":false,"items":[{"salePrice":"17999","price":"22999","itemCatentryId":"10514883","quantity":"","bruisedBox":false,"definingAttributes":{},"itemPartNumber":"PKZ1600"}],"hasCompletionKit":false,"productStatus":"2","youTube":["VtzZO8utpg4"],"hasPartsList":true,"completionKitQuantity":"0","hasCompletionGuide":false,"productId":"10514882","productPartNumber":"PKZ1600","productDetailUrl":"/products/focke-wulf-190-rtf-electric-PKZ1600","isBuyable":"0","attributes":{"Spec_Fuel Type":"Electric","BrandID":"PKZ","Spec_Flying Weight":"28 oz/790 g","Spec_CG (center of gravity)":"approximately 5.74 in (146mm) forward from trailing edge","Spec_Aileron":"proportional","ABCCode":"D","Spec_Trim Scheme Colors":"light gray dark gray red black white and yellow","TariffCode":"9503.80","Manual_Name_1":"ParkZone Focke-Wulf 190 Engligh-Only Manual for US and Canadian Customers","Manual_Name_2":"ParkZone Focke-Wulf 190 5-Language Manual (Contact Info is for Customers Outside of North America)","Manual_1":"8501_FW190_English_manual_cropped.pdf","Manual_Name_3":"Accessories Chart","Spec_Wingspan":"39.5 in (1000mm)","Manual_2":"PZKFocke-WulfIntManualHRCropped.pdf","Spec_X-Port":"Equipped with X-Port but no external port","Manual_3":"PKZAccessoriesChart.pdf","Spec_Landing Gear":"none","Spec_Gear Ratio":"0.12569444444","BOL":"70","IntShipRestriction":"0","Spec_Plane Type":"Park Flyers","MSRP":"229.99","WIDTH":"16.75","LENGTH":"43.75","HEIGHT":"6.25","ProductClass":"1","Spec_Recommended Environment":"Outdoor","Spec_Transmitter Range":"2500 ft","Spec_Throttle":"proportional","Spec_Motor Size":"480 Power with gear reduction","Spec_Experience Level":"Intermediate","Spec_Elevator":"proportional","Spec_Rudder":"no","Spec_Approx. Flying Duration":"10–12 minutes with stock Ni-MH 15–20 minutes with optional 3S 2200mAh Li-Po pack","Oversize":"1","Spec_Radio":"3-channel FM proportional (27MHz)","WEIGHT":"6.85","Spec_Prop Size":"10 x 8","Spec_Charger":"1.2-amp 5- to 10-cell Variable Rate DC Peak Charger","CountryOrigin":"CN","warranty":"1-authorized-warranty-period-date-of-purchase","Spec_Overall Length":"33.5 in/850mm","Spec_Servos":"2 PKZ 5-wire","Spec_Available Frequencies":"6 channels on 27MHz"},"productBrand":"ParkZone","auxDescription":"","productName":"Focke Wulf 190 RTF Electric","bazaarVoice":{"numberReviews":"2","rating":"3.50000"},"discontinuedProductReplacementUrl":""}
Focke Wulf 190 RTF Electric
by ParkZone (PKZ1600)
This item is no longer available, however we may have replaced them with newer versions. Please follow the link below to see the related product.
Product Description
Key Features
One-box purchase includes: proportional 3-channel FM radio system, 9-cell 10.8V 1000mAh Ni-MH battery pack, 1.8A variable rate DC peak charger and 8 "AA" batteries for the transmitter
Li-Po compatible
Realistic scale appearance and flight behavior
A ready-to-fly design—just attach the wing and horizontal tail stab, and install the rechargeable battery pack
Reusable 27MHz proprietary radio system includes receiver, electronic speed control and 5-wire servos
2 transmitter-selectable flight modes
A one-piece, semi-symmetrical airfoil with low attach point for better handling in the wind and smoother flight
Durable, steel wire pushrods for precise and consistent control
X-Port™ technology compatible
Gear-reduced 480-power motor for great climb rate
Three jumpers on the receiver allow for flexibility when reusing the receiver
Needed To Complete
You won't need anything else to get your ParkZone® Focke-Wulf 190 up in the air. Because it's a ready-to-fly, everything required to head to the skies is included in the box. A one box purchase means - No gluing. No painting. No radio installation. No hassles. JUST FLY! That's the beauty of ParkZone.
Overview
Dubbed the "Butcher Bird," the Focke-Wulf 190 was the Luftwaffe's most potent piston-engine fighter of WWII. In the hands of a capable pilot it was more than a match for any Allied fighter, including the awesome P-51D Mustang. Now you can experience the thrill of flying this warbird legend on a smaller scale with this fully aerobatic Charge-and-Fly™ reproduction from ParkZone.

And getting it airborne is about as simple as it gets. Just attach the wing and tail, connect the battery to the charger and in as little as 40 minutes, you're flying. Prolific park flying fans will also be pleased to know that the receiver/ESC module and two servos can be removed and used in other speed 370 or 400-class electric aircraft. That includes V-tails and delta wings, thanks to selectable control mixing in the receiver. You can also adjust the speed control's auto-cutoff to work with 3-cell Li-Po packs. And, with minor modification, you can set it up for exciting aerial combat using the X-Port™ adapter that's included.

To maximize the performance of your ParkZone® Focke-Wulf 190, please consider these optional parts:

Sonic Combat Module™ (HBZ4020)
An X-Port adapter is included that lets you equip your plane with a Sonic Combat Module and recreate epic air battles with similarly equipped ParkZone P-51D Mustangs. Some minor modifications to the Sonic Combat Module are required.

9-cell 10.8V 1000mAh Ni-MH (PKZ1027)
Keep downtime to a minimum with extra battery packs.

3-cell 11.1V 2100mAh Li-Po (THP21003SPL)
For the ultimate in speed, climb performance and flight time, try a Li-Po pack like this one from Thunder Power. A Li-Po compatible charger is required.

Celectra™ 1- to 3-Cell DC Li-Po Charger (EFLC3005) Li-Po battery packs require a Li-Po specific charger. The Celectra from E-flite is the perfect match for Thunder Power Li-Po battery packs.




Charge-and-Fly convenience, outstanding flight performance and exciting scale realism—with the ParkZone Focke-Wulf 190, you get it all.

The ParkZone Promise:
ParkZone Charge-and-Fly aircraft are for experienced RC pilots who want a high-performance park flyer without the hassle of having to build one. You get everything you need to go from box to sky in as little time as it takes to charge a battery pack. No gluing. No painting. No radio installation. No hassles. Just fly.
Detailed Information
This snowy shot of the ParkZone FW-190 makes it look as the full scale one did during WWII cold winter dog fights.(Top Right) The ParkZone P-51D Mustang and Focke-Wulf 190 are a great-looking pair and are the perfect match for dog fighting, just as they were during World War II.(Top Left) This rear shot shows off the trim scheme on the top of the wing, as well as the scale details on the tail. (Bottom)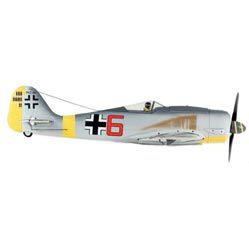 The low attach point and shape of the airfoil help pilots to successfully complete loops and rolls, just like the full scale pilots did.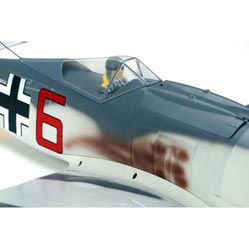 We've taken details seriously with this plane, with our painted pilot and German cross decals, even to the point of replicating the notorious exhaust residue that was very commonly found on the full-scale fighters.
The ParkZone Focke-Wulf 190 includes a painted pilot for real scale looks!
We've made improvements to the battery hatch and compartment to include hook-and-loop straps to keep your battery secure, and a custom-fit cradle for both the Ni-MH and Li-Po battery packs. Additionally, the hatch is held down by a magnet for easy access.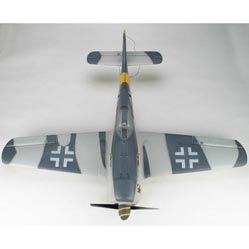 The top of the plane features an authentic two-tone grey camo paint scheme and traditional German cross and crest decals. All of the painting and application of decals are taken care of at the factory to save you time and let you get in the air quickly!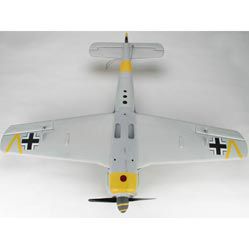 Here you can see the German crosses that were popular features on full scale Focke-Wulf 190s. The yellow tips also help you keep the plane's orientation in check while it's in the air.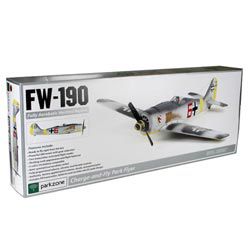 Our sharp-looking box has lots of information to help you see why we have the best (and currently the only) Focke-Wulf 190 ready-to-fly on the market. It also gives helpful information about optional and upgrade parts, such as a Li-Po battery and charger.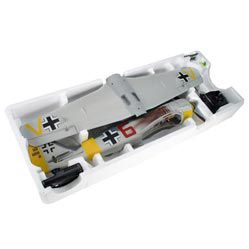 This is how the ParkZone FW-190 ready-to-fly looks when you slide it out of the box.
These are all of the pieces that are safely packed in your one-box purchase ready-to-fly Focke-Wulf 190 - spare prop, instruction manual, battery pack, 1.8A variable rate DC peak charger, transmitter and AA batteries for it, wing, and horizontal tail.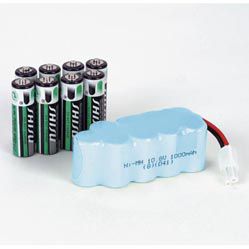 Your ready-to-fly FW-190 comes with 8 AA batteries for the transmitter and a 9-cell 10.8V 1000mAh Ni-MH battery pack.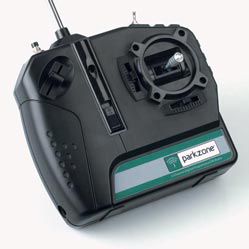 ParkZone's 3-channel FM transmitter boasts 2 transmitter-selectable flight modes, one for mild and one for wild, in addition to an X-Port button and an alarm to tell you when it's time to change your AA batteries.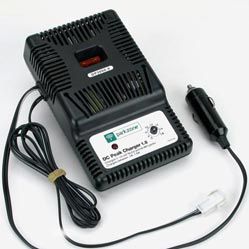 The 1.8A variable rate DC peak charger can handle the battery that comes with your FW-190, or any other 5- to 10-cell Ni-MH battery pack.
As you can see, the ParkZone FW-190 is the perfect size - big enough to see all the great features, but small enough to easily fit in your car.