productdetail
{"hasCompletionKit":false,"items":[{"salePrice":"15999","price":"21999","itemCatentryId":"10522825","quantity":"","bruisedBox":false,"itemPartNumber":"PRB2150","definingAttributes":{}}],"new":false,"productStatus":"2","youTube":[],"hasPartsList":true,"completionKitQuantity":"0","hasCompletionGuide":true,"productId":"10522824","productPartNumber":"PRB2150","productDetailUrl":"/products/shockwave-26-ep-rtr-w-python-PRB2150","isBuyable":"0","attributes":{"Spec_Speed Control":"ESC","IntShipRestriction":"0","BrandID":"PRB","Spec_Completion Level":"Ready-To-Run","MSRP":"219.99","LENGTH":"35.0","WIDTH":"9.3","HEIGHT":"8.3","ProductClass":"1","Spec_Length":"26 in","ABCCode":"D","Spec_Motor Size":"550","TariffCode":"9503.80","Spec_Experience Level":"Beginner","Spec_Hull Length":"22-29 in","Manual_Name_1":"Shockwave 26 EP RTR Manual","Spec_Boat Type":"Deep-V","Spec_Radio":"JR Python","WEIGHT":"6.3","Manual_1":"prb2150-manual.pdf","CountryOrigin":"CN"},"auxDescription":"","productBrand":"Pro Boat","productName":"ShockWave 26 EP RTR w/Python","bazaarVoice":{"numberReviews":"0","rating":"0.0"},"discontinuedProductReplacementUrl":""}
ShockWave 26 EP RTR w/Python
by Pro Boat (PRB2150)
This item is no longer available, however we may have replaced them with newer versions. Please follow the link below to see the related product.
Product Description
Key Features
JR Radio System
Water proof ESC
550 size motor
Overview
ProBoat's compact new version of the ShockWave is an exciting electric- powered ready-to-run boat at a great price.
Sleek,shorter,and spirited The ProBoat&149; ShockWave 26 EP shares the same slippery shape of its big 55" gasoline-powered cousin, but is about half the size. This allows it to run just about anywhere and doesn't require a whole lot of cargo space. Its clean, electric operation is a plus for those who are looking for a low-maintenance way to enjoy a little fun at the lake. Best of all, it is completely built and ready for action. All that is left to provide is a 7.2V sport pack, charger, and alkaline batteries for the transmitter.
On the water, the ShockWave 26 EP is a spirited performer. Its motor, hull design, and battery placement have been optimized by the wizards at ProBoat to provide exceptional balance and speed using an economical 1500mAh sport battery pack. Run times are about 6 minutes on a full charge, with speeds reaching as much as 14 mph. It's plenty maneuverable too. Crank the wheel at full speed and the ShockWave will carve tight 10-foot circles in either direction. It is anything but your average ready-to-run boat.
Detailed Information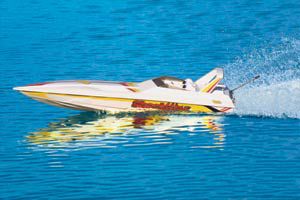 Like its performance, the equipment included with the ShockWave 26 EP is also a step above the average ready-to-run. A sophisticated forward-only, electronic speed control regulates the powerful 550-type motor for silky smooth acceleration and maximum power output. The preinstalled radio system is genuine JR and includes the reliable Python pistol grip transmitter. Even with all this, the ShockWave 26 EP RTR can be taken home for less than $160 bucks. When you're ready to take the plunge into boating, do yourself a favor and give the ShockWave 26 EP RTR a look at your nearest hobby shop. For just a few bucks more than some toy from the local retail super store, you can enjoy a ready-to-run boat with truly electrifying performance.