A true breakthrough in versatility, the 9 channel, 30 model memory, 3 model type XP9303 will adapt to your RC needs at a level that's absolutely unprecedented. Fact is, while the 9303 is right at home guiding the simplest of sport models, park flyers and gliders, its capacity for more complex assignments – including meeting the demands of a wide variety of competition disciplines – is virtually unlimited. So if you're still working your way up to the challenges and thrills of large aerobatic models, multi-engine scale planes, 4 wing-servo camber-changing sailplanes, the latest CCPM helicopters or sport-level jets, the XP9303 will be ready when you are.
Even before you explore the XP9303's virtually limitless programming options, you'll be sure to notice its incomparable feel – its ultra-smooth sticks, precision switches and levers, innovative Rolling Selector, plus case ergonomics that'll have it melting in your hands. It's the unmistakable feel of JR quality, and you'll experience it every time you remove your 9303 for yet another of the countless flying sessions you're certain to enjoy with it.
Whether your favorite planes are engine or electric, scale or aerobatic, basic or complex, the XP9303's airplane software has everything it takes to bring out their best - and everything it takes to make flying them the most enjoyable experience possible. For instance:
- There's a 3 position flap program whose elevator compensation provision includes a delay feature to smooth its position-to-position transitions.
- Using the 9303 "Wing Type" screen's channel assignment feature, setting up synchronized dual–servo elevators, rudders, ailerons, flaps – even throttles – is a walk in the park.
- Taking advantage of the radio's Triple Flight Modes (which are selected by a single, 3-position switch), offers in-flight re-configurations that can really reduce pilot workload. (Imagine what 3 different sets of rates, trims, mixes, etc., can accomplish when they're activated by the flick of only one switch.) A bit more time to set up? Sure. But pros will agree: It's time well spent.
- By using creative combinations of the 9303's multi-function button switch (ordinarily just a "snap roll button"), its multi-point mixes and independently adjustable servo speed feature, inventive modelers will achieve a myriad of unique functions for special control and accessory operations.
- Flyers using the 9303's gyro system will discover it's the most versatile ever. It handles multiple gyros, then makes it possible to switch activate them or even tie them into flight modes.
- With the 9303's throttle curve feature, it's possible to customize your throttle response just the way you like it. Torque-rolling aerobatic flyers can, for example, flatten throttle response in the hovering range. Scale flyers will create a more linear throttle response. And twin flyers will find this invaluable for synchronizing engines.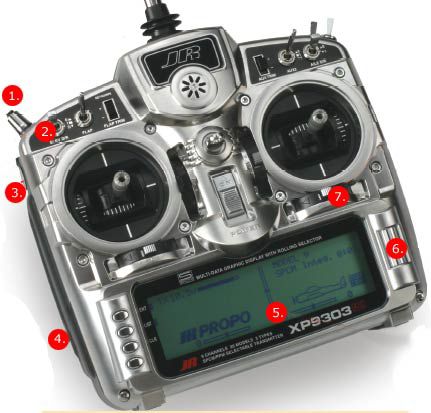 Multi-function button switch. Besides working as a timer or snap roll button, it's assignable to numerous 2-position tasks. Retracts are an example: Touch once for gear up, touch again for gear down.
Dual rate switches may be used as designated. Triple rates are available as components of the 9303's flight modes, when they're activated.
Dual side levers offer handy access and flexibility when they're used with a program mix and/or assigned to virtually any function you choose.
The XP9303's flexible and versatile programming requires phenomenal memory and processing power. Not surprisingly, the 9303 employs an advanced, powerful microprocessor with nearly 6 times the RAM and ROM of previous generation systems.
Largest-in-its-class dot matrix display enhances comprehension and accommodates more information at a higher resolution.
JR's innovative, exclusive Rolling Selector System is at the heart of the 9303's programming operation. You'll roll to scroll, press to select, roll to adjust and press to store. It's fast and it's intuitive.
JR's exclusive 3+1 trim system combines the precision of 3, digital flight-axis trims with an analog throttle trim for immediate visual and tactile reference to idle position.
| | |
| --- | --- |
| | All sailplane programs are easily accessed through this Function Menu. Using the Rolling Selector, simply move the shaded cursor over the desired program, press, and you're in! |
| | In any activated flight mode, in-flight camber adjustment of your model's entire trailing edge may be facilitated using the 9303's Flaperon and Flap Mix screens. A range of values may be programmed for each mode (Speed, for example might be from newtral to -5 and Launch might be +25 to -5), and control may be assigned to the transmitter's side levers. |
| | With the Active Flight Trim System, the 9303 automatically recalls the preset position of elevator, rudder, aileron, plus flaps and flaperon for each activated flight mode. This permits you to set trim conditions on the ground and make refinements in the air. Flaps and flaperon trims are accessed via the rocker switches. |
| | Butterfly Mix (or crow) is essential for landing. Use this screen to easily establish settings for flaps, flaperon and elevator controls all at one time. Two settings available – the other could be used for full-time camber control if desired. |
| | Using the Device Select screen, you'll open up your flight modes, assign your channels, and inhibit functions as desired. Shown in the photo, we're in the process of assigning the Launch and Land flight modes to one of 7 available locations! |
| | The 9303's Differential System may be used for both ailerons and flaps, and a set of values may be programmed for each flight mode. To maintain adequate control for spot landings using a butterfly mix, for example, you might select to employ reverse differential. |
| | With five available flight modes, it's nice that JR helps you sort them out. In addition to its labled switches, the 9303's main screen Flight Mode Reminder Display clearly identifies the commanded flight mode at all times. |
| | The Motor Hold System, especially for electric flyers, allows the user to inhibit the motor control in any desired modes. This frees the "throttle stick" for camber control if so desired. For safety, motor can be shifted to the momentary switch button. |
| | For smooth, up-to-2-second , mode-to-mode transition, the XP9303's Flight Mode Delay System may be activated. For in-flight override of the delay, a "break" feature may also be programmed to permit instantaneous transition if required. |
| | Using a Multi-Point Programmable Mix, it's possible to program a non-lin |