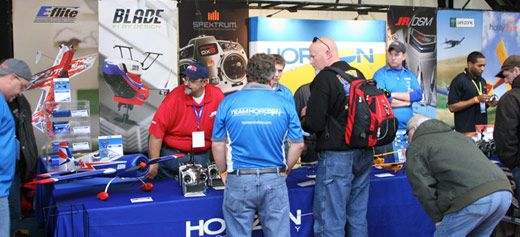 February 12th and 13th 2011 brought a convergence of modelers into the Central Illinois area for what has become the largest indoor flight event in the industry. Hosted by Great Planes every February E-fest brings together over 300-pilots and a large number of vendors to hit the climax of the indoor season. Held at the University of Illinois Armory this huge indoor venue delivers some of the best indoor flying in the country. Frank Noll is the Event Director who makes sure everything keeps running on time without issues. Events include combat, pylon racing, the prize regatta, a scale competition, the helicopter smack down and "lights out" night fly for all who attend.

The two days are packed full of great times and plenty of open flying for those who wish to just enjoy the calm indoor air with their ultra micro model or foam 3D model. 2011 could have been called the "Ultra Micro Storm" by all accounts as no matter where you looked you saw Ultra Micros of all types in the air. The team of pilots from Horizon Hobby showcased many great products including the new Blade mCP X, the ParkZone Ultra Micro Corsair and Ultra Micro Mosquito Mk VI, as well as other Ultra Micros we know and love.

We interview some old friends, meet some new friends and just get to see some of the greatest indoor flying one could ever hope for. So take a look inside and see what E-fest is all about and make sure to put it on your calendar for next year in mid-February. Even if you live in the warmer southern climates, you might want to stop in and take a look at this incredible segment of RC flying!