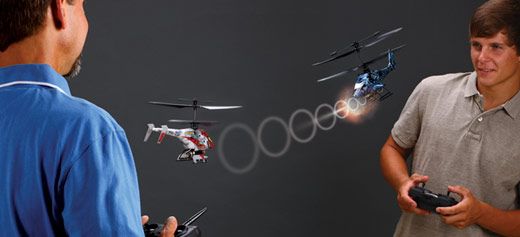 Horizon Hobby has introduced the new Force brand of helicopters. Initially there are two new micro, coaxial helicopters designed to provide a really fun battle/play experience. The Force MH-35 and FHX helicopters have similar performance to the popular mCX and mCX2 helis that have created so much interest in RC helicopters. They are ultra-lightweight, "battle-hardened," with self-stabilizing flight characteristics and a mil-spec gyro system making them easy to fly even for new heli pilots. Each has a built-in battle module that will send and receive infrared signals, allowing you to shoot down your opponent in mid-flight and blow up the ground target.

These RTF models include a 5-channel transmitter with "firing triggers" that, in combination with the helicopter's infrared battle module, enable the in-flight battle game play. The system can be programmed to allow teams of friendly and enemy pilots to individually target and hit opposing helicopters and ground targets. The ground targets are also programmable to allow hits by either or both teams resulting in many kinds of "battle missions" to be played. While in battle, the helis will react to being shot by spinning in place and eventually being grounded by safely powering down.

Our video will outline the features and give you a chance to see just what these "military" helicopters look like. This is going to be fun so take a look and see what you think.

Features:
• 100% factory assembled, test flown and ready to fly right from the box
• Multi-capability Battle sensor both sends and receives infrared signals.
• Coaxial, counter-rotating rotor head design makes for easier flying
• Specially designed 5-channel battle transmitter included.
• 120mAh 14C single-cell 3.7V lithium polymer battery pack
• Integrated charger built right into the transmitter.
• Full line of replacement parts available