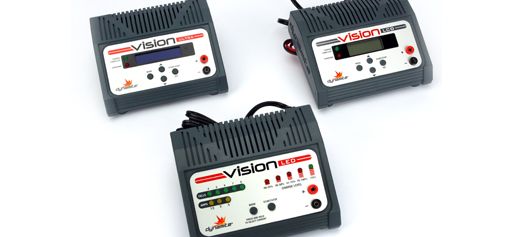 Whether you're running an off-road car or truck, boat or any RC vehicle, you're going to need to recharge a battery from time to time. With the range of chargers that are out there it can be a hard job figuring out what charger is right for you. Enter the Dynamite Vision series of chargers into the mix. These three chargers, the Vision LED, the Vision LCD and the Vision Ultra, will provide you with a quality charge each and every time without being overly complicated.
These new Vision chargers combine an easy-to-use charging device and an overall compact design to be great chargers you'd love to have in your pit box. Featuring AC/DC operation, banana plugs for the charge leads, four-button operation and more these chargers are a great revamp of the Vision lineup. We had a chance to spend some quality bench time with each of these chargers recently to see how well they perform.
Technical Specs
Manufacturer: Dynamite
Part Number(s):
Vision LED (DYN4069)
Vision LCD (DYN4068)
Vision Ultra (DYN4067)
Product Type:
AC/DC Ni-MH/Ni-Cd Battery Chargers (LED/LCD)
AC/DC Ni-MH/Ni-Cd/Li-Po/Li-Fe/LiIon/Pb Charger (Ultra)
Target Audience: Backyard bashers and casual enthusiasts looking for a quality peak detection charger
What's In the Box
All three Vision chargers come out of the box in the exact same fashion. Each feature a small footprint that will be welcome on any workbench, hard-wired AC and DC power cords sprouting from the rear of the cases, two buttons on the face of the Vision LED, four buttons on the face for operation on the Vision LCD and Vision Ultra and banana jacks on the face of the chargers for the charge lead outputs. Speaking of charge leads each Vision charger includes a charge lead that features a Tamiya-style charge connector that will be compatible with a vast majority of entry-level and RTR vehicles. Overall these chargers are very clean, simple and easy-to use right from the box.
Box-To-Bench Setup
Getting the Vision LED, Vision LCD and Vision Ultra chargers up and running was incredibly easy. All I had to do was plug each charger in, connect the charge leads, set my cell count on the Vision LED, select the charge rate on all three chargers and I was ready to go. I'd say, in total, getting these chargers going took less than five minutes each. It doesn't get much easier than this.
The one thing I couldn't get over with these chargers was just how nice and easy they were to get up and rolling, how little space they took up on my bench and how quiet they were while charging. That, to me, is one of the nicest updates to the Vision line - the nearly silent operation thanks to the redesigned fan unit. I don't always have the ability to charge on my workbench and sometimes charge on my desk to be able to monitor a battery's charge status while I work on something else. The nearly silent operation means I don't need to disturb others around me while they work. Granted, my situation is somewhat unique but it also really exemplifies the difference.
Programming
Let's be honest here, a charger that's not easy-to-use and intuitive can be more of a hindrance than a help. Thankfully all three Vision chargers are really quite easy to use which is especially appreciated since a majority of these will probably wind up in the hands of less-experienced RC-ers. Even the top-of-the-line Vision Ultra was a snap to get used to and operate.
Setting up the Vision LED couldn't have been much easier. It literally took me less than a minute to get everything set up to be able to charge my 6-cell, 1800mAh Dynamite Speedpack test battery. I tapped the Mode key until I had selected a 6-cell battery. Once that was done, I held down the Mode key until it changed to the proper charge rate, and for this pack I selected 3-amps. From here I plugged in the charge leads, connected the battery and charging was underway.
The Vision LCD was a little more time intensive to set up, not because it was more difficult but simply because you have more options. The first thing I did was to set the charge rate which is adjustable at .5-amp increments. As I was using another 1800mAh Speedpack, once again I set the charge rate to 3-amps, just as on the LED. Once the battery was connected, I hit the start button and the Vision LCD was on its way. The blue backlight made the display very easy to read and interpret.
The one thing I cannot say strongly enough is how nice the display on the Vision Ultra is. From the size of the font, the blue backlight which is even sharper than the LCD's (something I thought was almost impossible) and just the sheer amount of info that's on the screen, it's pretty awesome for a charger at this price. The Vision Ultra can store up to 10 charging profiles that you can scroll through and customize, based on your particular charging needs. Once you have a profile selected and have chosen your charge rate and chemical type, you can start charging. During the charge process the Vision Ultra will display the charge rate, chemical type, charge time, cell voltage and the mAH put into the pack. For a 2-line display, there's a ton of awesome info there for you to monitor what's going on with your battery.
Testing
As I mentioned above, I used a Dynamite 1800mAh Speedpack with both the Vision LED and Vision LCD. I was really surprised at how fast each of these chargers was able to charge these battery packs. Sure, they're not a super-high-zoot-high-capacity pack which will shorten the charge time—that's a given. Other chargers at a similar price of the Vision LCD and Vision LED, however, occasionally stop charging during a charge cycle to measure and monitor the battery's voltage and capacity. This sounds simplistic but if your charger's not charging for part of the time it's only natural that it will take longer to get to a complete charge. Both the LED and LCD, along with the Ultra, monitor the battery voltage and capacity on-the-fly which will reduce the overall charge time of your batteries. If it seems complicated don't worry. In the end all it means is that your batteries will charge faster and you'll have less down-time between runs.
For the Vision Ultra I decided to test it with both Ni-MH packs and Li-Po packs. After all what's the point of having a LiPo-compatible charger if you're not going to have it charge a Li-Po or three? I was able to quickly and easily change from one profile to another and back again when changing batteries on the Ultra. Now I want to be serious for just a moment here…you need to always make sure you are charging with the right chemical type selected. If you are using a Ni-MH pack always charge in Ni-MH mode. The same thing goes for Li-Po, Lead Acid or any other cell type. Selecting any other type could have some really nasty consequences, including possibly starting a fire. Ok, enough Mr. Serious.
I charged up a few different Li-Po packs with the Vision Ultra that I ran in my Pro Boat Formula FASTech and my HPI Blitz. The main thing I was interested in was how the packs would perform after being charged on the Vision Ultra versus my Passport Ultra. Now one main difference between those two chargers was the fact that the Vision Ultra doesn't have an integrated balancer like the Passport Ultra does. In the end I couldn't tell much of a difference, if any, in the charge quality between the two. I did hook the packs up to my external balancer after I had a few cycles on them with the Vision Ultra. I'm happy to say that the Vision Ultra did a very good job of not only charging my Li-Pos, but maintaining them too.
Final Thoughts
The Dynamite Vision chargers have received a well-deserved update and the changes aren't just cosmetic. From the Dynamite Vision LED, to the Vision LCD and the top-of-the-line Vision Ultra each charger provides a fast, quality charge without batting an eye or being overly complicated to use. If there's any take-away from this review, it should be that a quality charger doesn't need to be overly complicated to do a good job.
I spent a good amount of time tinkering with each of these new chargers on my bench and I am very pleased with their overall performance. I really think these are the perfect chargers for anyone looking to upgrade from a timer charger, wall charger or a charger included with an RTR to their first peak detection charger. The AC/DC operation makes it easy to charge anytime, anywhere. Beyond that these chargers work well enough that you won't be rushing to replace them anytime soon. There are still a ton of people using Ni-Cd and Ni-MH packs out there and those people will need to charge those packs. For those looking for an inexpensive AC/DC Li-Po charger, then look no further than the Vision Ultra for your charging solutions. At the end of the day the most important question to ask of a battery charger is if it will charge your batteries. These Vision chargers absolutely will without taking you to the poorhouse.