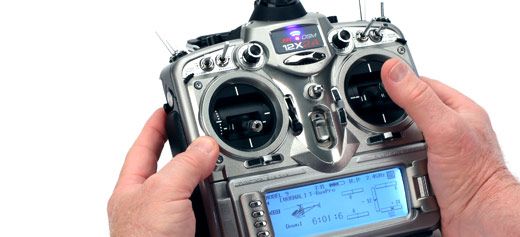 The new radios have some features that make our flying experience even more fun. While I was reviewing the T-Rex Pro 450 I had the opportunity to set it up with the JR 12X transmitter. Now, I have a terrible time remembering to start the flight timer when I fly airplanes or helicopters, so I was happy to see the "stick timer" function in the 12X. Well I found that it goes beyond that. For electric models we really need to be able to time the motor run time as opposed to the flight time. This means that when the throttle is at "idle" the timer should stop (when we are not using battery power) but then it should start again as soon as the throttle is advanced. The 12X offers this feature, so I thought I would show the steps I followed to have it working properly.
After making this setup, I am able to accurately time the motor run of my helicopter and know exactly how much battery power I have left. Take a look at the video and see what you think. The 12X provides even more ways to use multiple timers for applications like powered sailplanes where you would want to time the motor run time as well as the total flight time. See what I mean, this is all more fun!

Steps
System Mode List
Select the correct model memory
Scroll to Stick Position Switch and select
Assign SPSO: To Throttle
Set Position to L100 (this is low throttle point where the timer will stop running)
Set ON: to Hi
Set SYM to OFF
Function Mode List
Timer 1 - set to Down-T or Stop W - whichever you prefer; I used the countdown mode.
Start: Select SPS0
Set Time: I set to 7:30 which gives me some time to land the model before the battery is gone
Interval: You can set it to hear a tone each minute during the flight. I set this one to INH.
Down Alarm: I set to 20 seconds. This sets the warning time as you reach the end of your flight.
One Time: Set this to Off - this is the key to the stick controlling the timer.
There you have it.